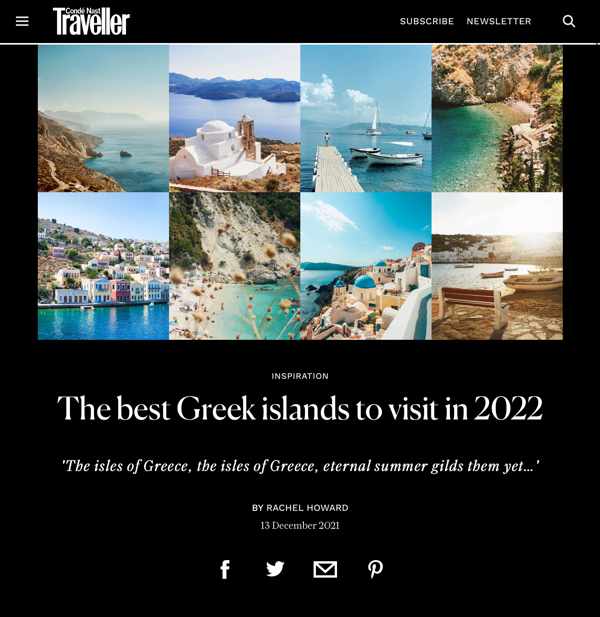 Island mini-guides:  If you're hoping to pay a first-time visit to the Greek isles in 2022, or make a return trip to see one or more islands you're not already familiar with, travel journalist Rachel Howard might help you find the places most suitable to your personal tastes and holiday priorities.
Howard writes extensively about Greece travel destinations, and her work appears regularly in leading international magazines and newspapers.
Her latest article for Conde Nast Traveller magazine,  The best Greek islands to visit in 2022, is a mini-guide that profiles nearly two dozen islands, ranging from such perenially-popular tourist magnets as Corfu, Mykonos, Santorini, Crete and Rhodes, to less-commercial and much quieter places in between, like Folegandros, Symi and Ithaca.
Howard's guide suggests 23 islands she feels might be "the best" for specific traveller lifestyles and preferences, such as Serifos for "naturists and purists,"  Ithaca for "lovers and loners" seeking a "mythical retreat," Zakynthos for "seaside holidays with toddlers or teens," Paxos for "the perfect blend of seclusion and sophistication," and Hydra for "a long weekend with the art crowd." Of course, her list also includes islands that will be appealing for noteworthy natural features and distinctive local characteristics, like Amorgos for "deep blue seas and wide open spaces," Tinos for "traditional villages and knockout tavernas," Symi for "castaway coves and a picture-perfect port," and Naxos for "endless sandy beaches."
Looking for a honeymoon destination? An island renowned for exquisite cuisine? A decadent party haven or an authentic hideaway with a bohemian buzz? Howard has recommendations for islands perfect for those features, and more.
Her easy-to-read piece mentions highlight attractions on each island, top things to see and do, and places to stay.
The article is illustrated with a photo of a scene on each island (except Skiathos, for which the editors mistakenly selected a photograph of Elia beach on Mykonos), and is peppered with links to additional photo galleries, travel guides and previously-published magazine reports about some of the destinations.