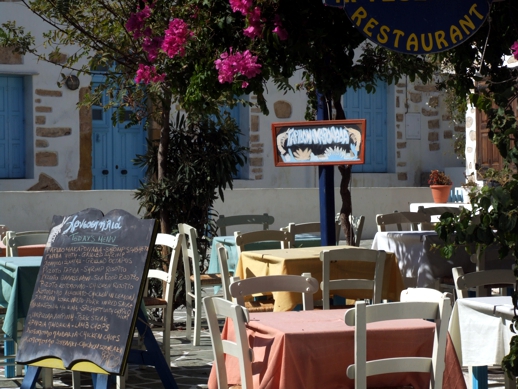 A chalkboard menu lists dinner specials at Chrisospilia restaurant
Missed opportunity: The colourful open-air dining terrace at Chrisospilia restaurant caught our attention while we were walking around Chora village shortly after arriving at Folegandros island several years ago.  It was late afternoon and the restaurant wasn't open at the time, but the chalkboard menu indicated that the evening dinner specials would include a variety of chicken, pork, lamb, pasta and risotto dishes, along with grilled shrimp and grilled octopus.
We meant to return for a meal, but Chrisospilia somehow slipped our minds while we were busy exploring the island, and we never made it there (surprisingly, we didn't get back down the street where it's located, even though we thought we had walked every lane in Chora at least twice.) 
It wasn't until we were reviewing our trip photos back home, and saw several pics of Chrisospilia, that we realized we had forgotten to drop by for dinner. We had delicious meals at other restaurants, but their dining areas weren't as attractive as Chrisospilia's. We'll try to check it out if we ever return to Folegandros. It has received a series of excellent reviews this year on TripAdvisor.com, which currently ranks Chrisospilia as the #11 restaurant out of 44 on the island.
Scarlet and pink bougainvillea provide a colourful canopy for the open-air dining terrace at Chrisospilia restaurant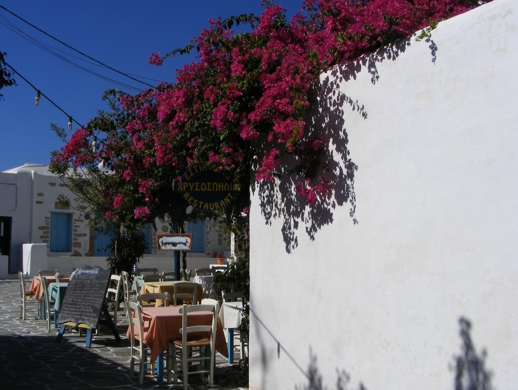 Side view of the Chrisospilia restaurant terrace