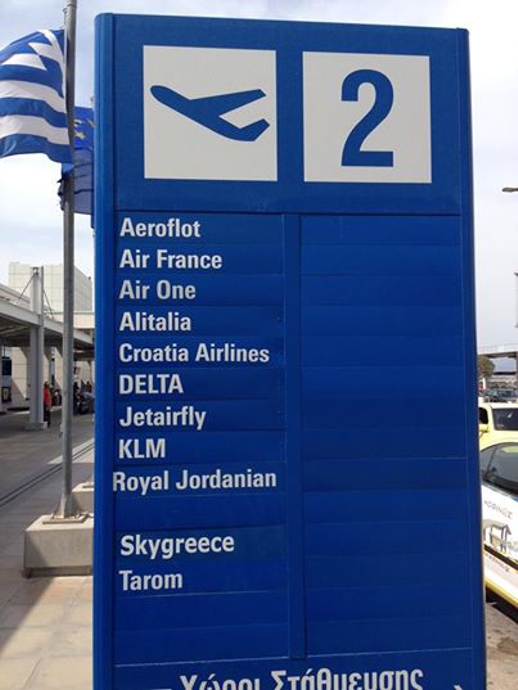 SkyGreece Airlines posted this photo on its Facebook page today, announcing that its name was just added to signage at Athens International Airport
Sign of things to come?: SkyGreece Airlines is one step closer to commencing flights — its name was added to signage on the departures level of Athens International Airport today, in preparation for tomorrow's launch of charter service to Stockholm.
The photo shown above was posted on the SkyGreece Facebook page at what was lunchtime for the four North American cities to which it is supposed to eventually offer service — Montreal and Toronto in Canada, and New York and Chicago in the United States.
The photo was accompanied by the comment: "Officially today our sign went up at Athens International Airport," but no further information was provided about possible schedules or fares.
The upstart airline's last news release had been posted March 31 on its Facebook page, announcing that it had submitted documentation required to obtain all necesssary licences and permits from the American and Canadian Civil Aviation Authorities. It added that, "in order to respect the American and Canadian Civil Aviation procedures," SkyGreece would not issue any further press releases until all required licences had been obtained.
Hours after posting the sign photo to its Facebook page today, SkyGreece added a post confirming that it will operate on a charter service basis until it secures the necessary legal paperwork to begin flying to North America, and will not comment further until that happens.
Charter service to Scandinavia, Eritrea and Somalia
The latest post drew swift reaction on social media, quickly receiving hundreds of "likes" and dozens of comments on Facebook.
In one comment, a Facebook member said: "First flight out tomorrow departing at 17:00 hours from Athens to Stockholm, Sweden! Routes will be as of June to / from Asmara – Eritrea, Mogadishu – Somalia, Stockholm – Sweden and London Gatwick – UK. Hope to see some more coming in soon. Good luck!"
I thought the remark about flights to Africa was just a joke, but the fellow who posted the comment said he wasn't kidding.
"The US and Canada will be coming in at some point, as I gather once the permits have been granted from their Civil Aviation Authorities. It's not so easy when one is new and wants to come in and have some of that pie that has been enjoyed all this time by Delta, US Air, Air Transat and Air Canada. I think we just need to be a little patient," he said.
First flight to Stockholm on June 19
The Greek Air News Facebook page subsequently posted a photo of the sole SkyGreece airplane along with a statement confirming that the airline's first commercial flight will indeed be to Stockholm, at 17:00 on June 19.
"The airline SkyGreece signed a cooperation agreement with the Swedish Tour Operator Flyolympic.Se and on account of it flies in Europe, Africa and Asia," an English translation of  the Greek Air News post indicates. "SkyGreece will perform and flights from – to Athens-London (Gatwick)-Stockholm (Arlanda)-Asmara (Eritrea)-Mogadishu (Somalia) For more information and ticket reservations, you can visit the official website www.flyolympic.se or FlyOlympic to your travel agent. Good start SkyGreece!!" the translated post concludes.
So perhaps there is a huge demand for flights between Greece and Mogadishu after all. Nevertheless, I'm hopeful SkyGreece will soon be able to announce fares and flights to North America — if their prices are competitive and their flight dates are decent, I would consider them for a return trip to Greece later this summer.
I previously reported on SkyGreece in posts published on the blog on March 25 2014, January 10 2014, and June 25 2013. Click on the links for each of those reports to see photos and obtain more information about SkyGreece Airlines. And stay tuned for further updates.