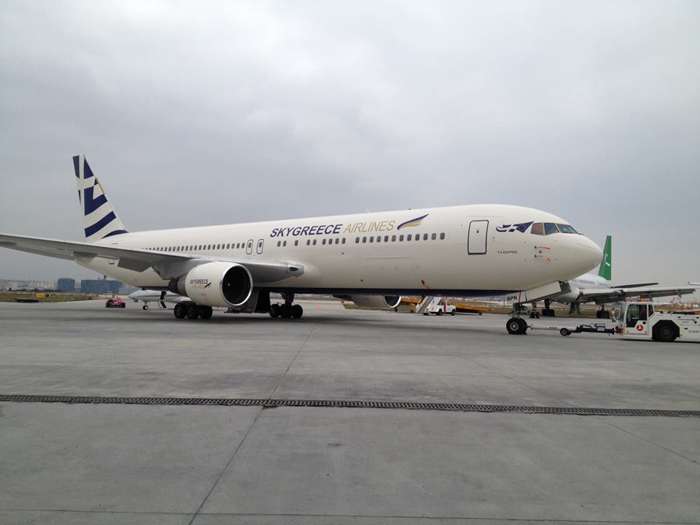 Facebook page photo of the SkyGreece Airlines aircraft
Application approved: Canadian travellers may soon have a third option for direct flights to and from Athens now that the Canadian Transportation Agency has approved SkyGreece Airlines' application to offer scheduled service between Canada and Greece.
In a ruling released January 20, the Agency said it has approved the SkyGreece request "for a licence to operate scheduled international services between member states of the European Community and Canada."
SkyGreece is a private company incorporated in Athens, It has offices in Montreal, Toronto and New York.
In a post on the SkyGreece Airlines Facebook page today, the airline said it is "extemely happy" with the Agency's long-awaited decision.
"More great news about SkyGreece Airlines S.A. and its new and exciting flight program will be unveiled in the next few days," the airline added.
There is no word yet on the results of SkyGreece's similar application for a licence to offer service between Greece and the USA.
As I reported in a March 25 2014 blog post, Greek media had reported that SkyGreece was hoping to commence flights between Greece and New York during the summer of 2014. But the applications for licences to fly to Canada and America took longer than expected, and as I reported in a post on June 18 2014, SkyGreece began operating charter flights to certain destinations in Europe and north Africa instead.
Although SkyGreece has only one aircraft at present, service to Canada would give travellers an alternative to Air Canada and Air Transat, which are the only Canadian airlines currently offering direct flights between Canada and Greece.
I've been curious to see how competitive the SkyGreece fares will be, but even if they're dirt cheap I won't be flying SkyGreece to Athens — I've already booked flights with Air Transat for my next Greek holiday this spring. But if their prices are good, and their schedule reasonable, I definitely would consider SkyGreece for subsequent flights.
I will keep you posted on any forthcoming route and fare announcements from the airline.