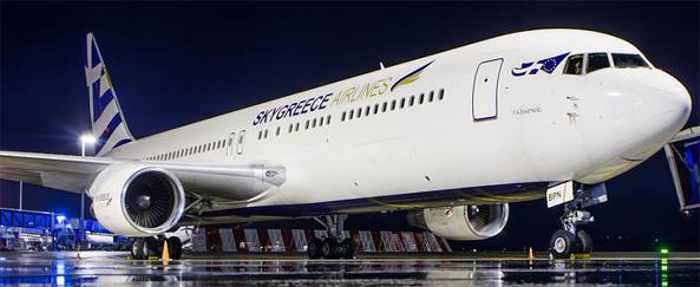 SkyGreece Airlines posted this photo of its Boeing 767-300ER  aircraft to its Facebook page today.
Routes revealed: Travellers will have more choices for direct flights between Canada and Greece beginning Sunday May 17.
That's the day SkyGreece Airlines is expected to launch service between Athens and Toronto, with three flights per week.  On Wednesday May 20, SkyGreece will start a once-weekly flight to Toronto from Thessaloniki, and on Saturday May 23 it will debut a once-weekly departure from Athens to Montreal.
More good news: SkyGreece will offer service during winter months, too, with two flights per week from November 2015 until April 2016. (The flights to and from Thessaloniki will only be seasonal, however.)
Canadian charter airline Air Transat and Air Canada rouge, a "leisure" division of Air Canada, are the only carriers presently offering direct flights between the two countries — and only during the spring to fall travel period.
First-ever service between Thessaloniki and Canada
SkyGreece will become the first carrier to offer scheduled commercial service between Thessaloniki and Canada. The two Canadian airlines fly to and from Athens only.
The SkyGreece transatlantic schedule was revealed January 30 on the Greek Air News Facebook page. The Greek Air News report did not include any information about fares for the flights between Canada and Greece. Curiously, SkyGreece didn't make any announcement about its new routes on either its website or its Facebook page on January 30. It did, however, post two photos of its single Boeing 767 aircraft on Facebook (including the one I have republished at the top of this post) along with the comment "The family will be growing soon!!", which suggests SkyGreece may soon be adding more aircraft to its fleet.
But on January 31, SkyGreece did post news of its routes (indicating slightly different service starting dates than Greek Air News had mentioned.) "We have listened to the continuous demand of the Greek community in Canada and in Greece and decided to develop our flight schedule to meet the demand.," the airline stated on its Facebook page.
Executive appointments announced
As I reported in a January 21 post, SkyGreece received Canadian regulatory approval this month to commence scheduled service between the European Community and Canada. In an announcement about the Canadian Transportation Agency decision, SkyGreece promised to unveil its "new and exciting flight program" within days.
A private company based in Athens, SkyGreece has offices in Montreal, Toronto and New York.
On January 26 the airline announced the appointment of Denis Codere as its deputy chief commercial officer, and on January 28 it announced the appointments of Eleni Kessaris and Louise Cofsky to director positions on its Canadian management team.