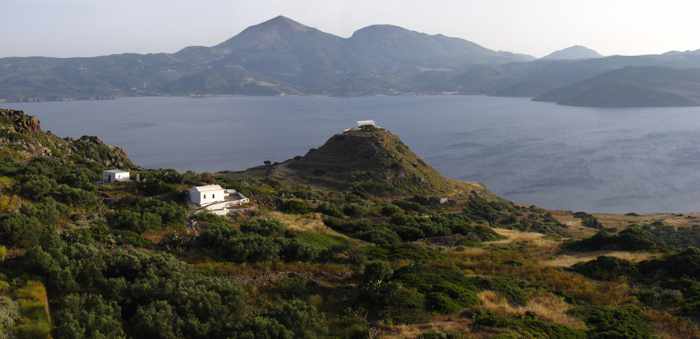 Halara Studios view of the Bay of Milos and the island's west side
Scenic viewpoints: Several readers recently asked about places to stay or visit on Milos to enjoy amazing views and scenery. On our last trip to the island we stayed at Halara Studios in Plaka village, where we had inspiring views of the Bay of Milos from our windows and from the long terrace outside our room.  (Plaka is the capital of Milos island.) Another option for accommodations is Studios Betty, about which I've heard good comments. It's located only a few meters from Halara, and offers substantially similar views.
But the best vantage point on the island is Kastro, the summit of the peak that rises a few hundred feet above Plaka. If the thigh-burning uphill hike to Kastro doesn't take your breath away, the views from there certainly will — especially at sunset. (If your legs and lungs can't handle the hike all the way to the top, the terrace outside Thalassitra church part way up is a good viewing spot, too.)
And if you have mobility issues and can't climb the steep stairs to either Thalassitra church or Kastro, head for the Korfiotissa church in Plaka. The wide terrace on the west side of the church offers marvellous views as well. Want to sit back and sip a drink or glass of wine while watching the sun go down? You can't beat the patio at Utopia Cafe (see my April 4 2012 post about sunset watching from the bar.)
Below are several pics showing some of the Bay of Milos views from Halara Studios, Plaka and Kastro.  You can view additional photos in the Milos 2011 photo collection on the MyGreeceTravelBlog Flickr page.  Take a look, in particular, at the Halara Studios, Plaka village and Kastro at Sunset albums.
Also visit the Plaka Milos Facebook page for more photos and information.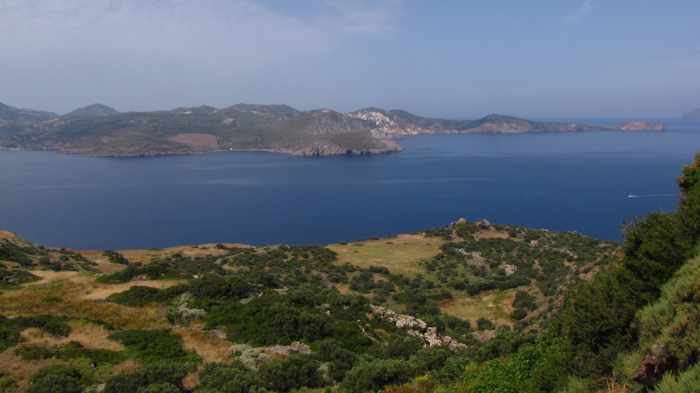 Another Halara Studios view of the Bay of Milos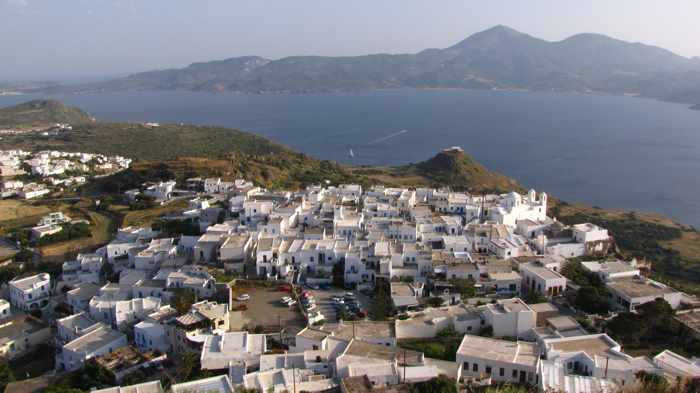 Kastro view of Plaka village and the Bay of Milos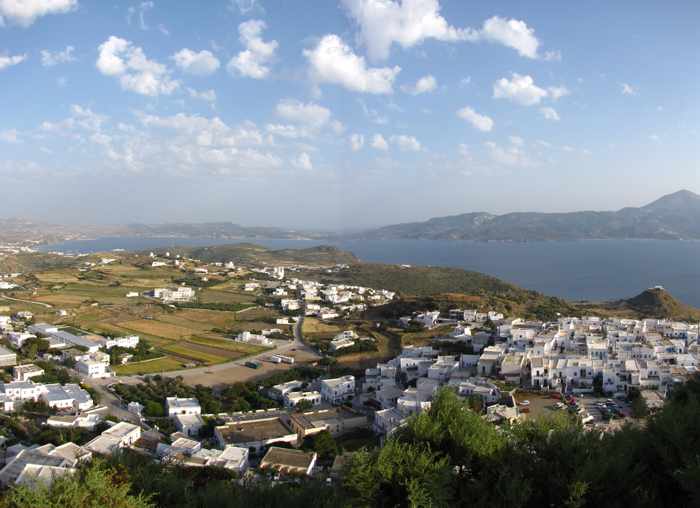 Kastro view of Plaka (right), Tripiti village (center) and the bay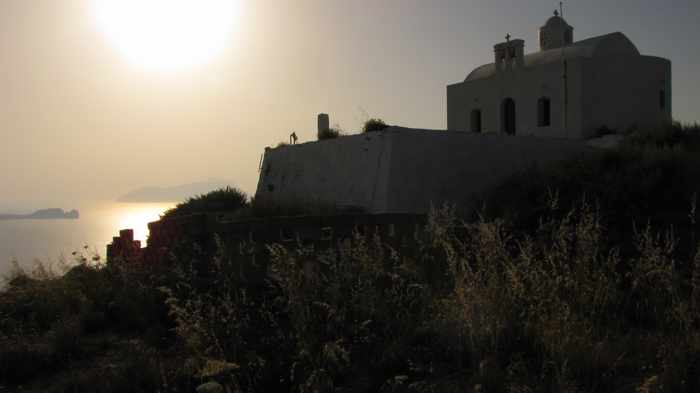 The church of Kimisi of Theotokou (Assumption of the Virgin church) is a superb sunset viewing spot on Kastro, high above the Bay of Milos (left)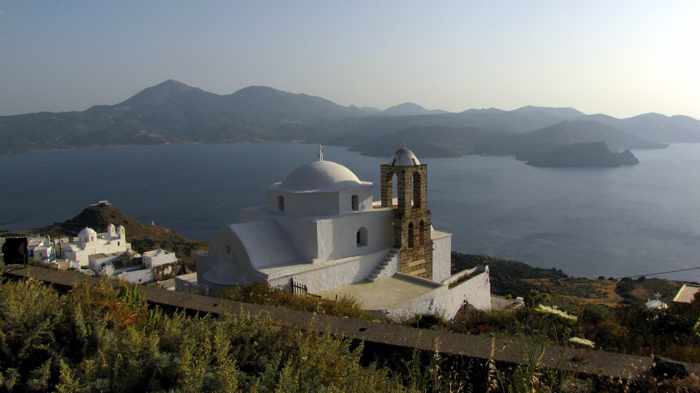 Thalassitra church sits roughly halfway up the mountain peak between Plaka and Kastro. Its terrace is an excellent place to view the sunset if you can't make it all the way up to Kastro.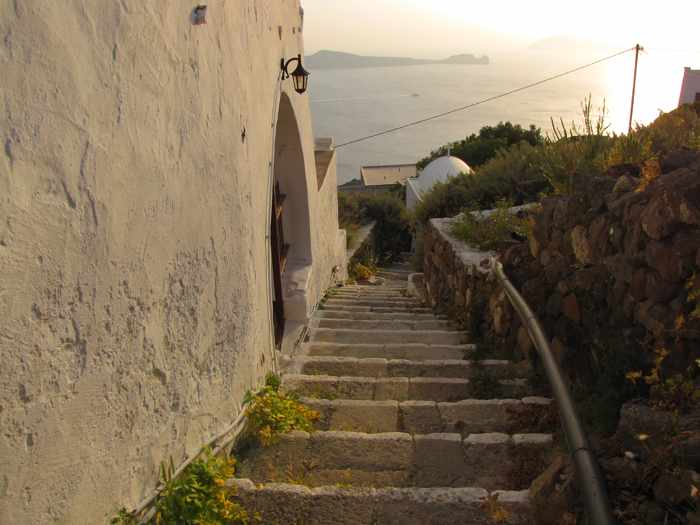 Looking down some of the steps on the mountainside below Kastro. At left is the Thalassitra church.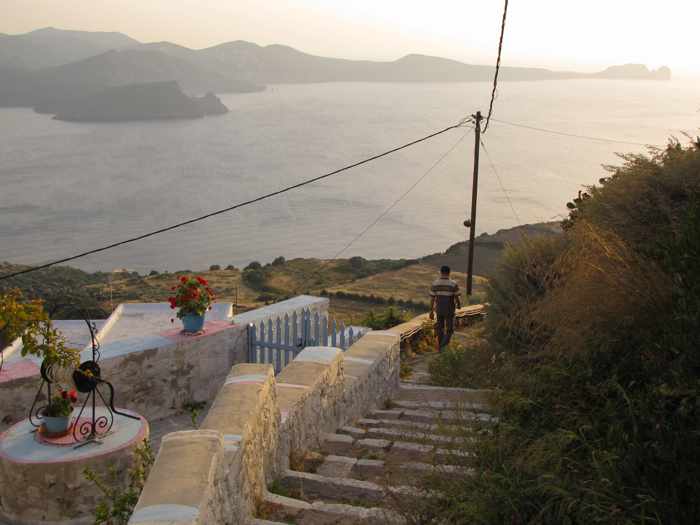 A great view of the Bay of Milos from steps farther down the hill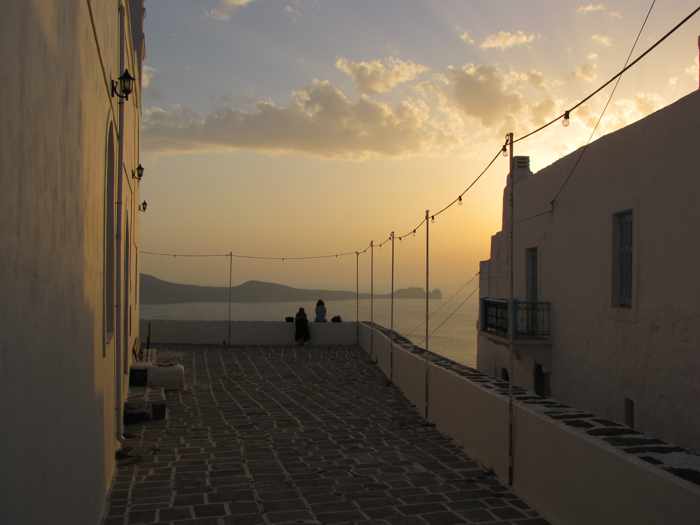 The terrace at Korfiotissa church in Plaka is an excellent place to take in the sunset and the superb Bay of Milos scenery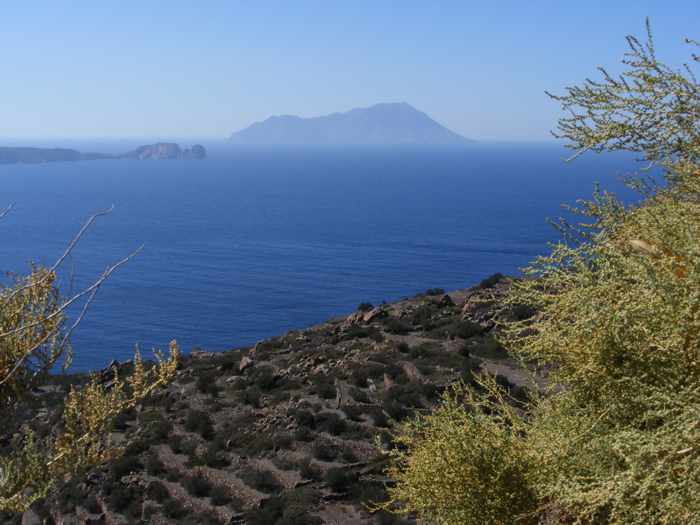 An afternoon view from Plaka toward Cape Vani, the rocky point at the mouth of the Bay of Milos (upper left), and nearby Antimilos island