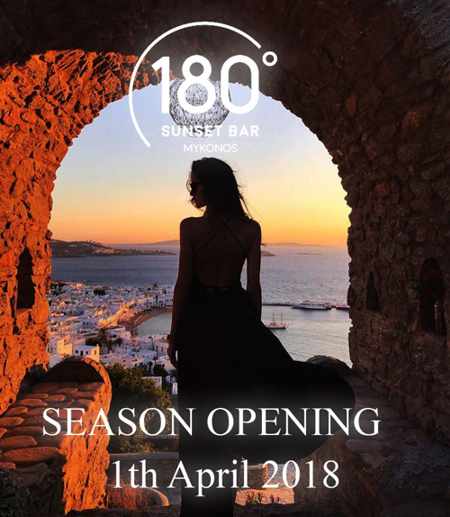 180º Sunset Bar re-opens the doors to its amazing sunset-view cocktail terraces on Sunday April 1
~ Updated on February 10 ~
Summer kickoff: Winter cabin fever must be setting in — I have begun receiving  inquiries from people wondering when bars and clubs will be opening on Mykonos for the 2018 travel season.
I couldn't give any precise dates for specific venues until  January 10, when 180º Sunset Bar  announced that it will launch its season on Sunday, April 1. It's the first Mykonos venue to announce its plans so far, but more of the island's popular drinking and partying places should be releasing their summer opening dates in the next few weeks. Last year, most venues opened their doors in either late April or early May, and this year shouldn't be any different, though some spots might open in time to celebrate Greek Easter weekend (April 6 to 9).
Guapaloca Bar and Paradise Beach Resort are also opening in April, which means that partying resumes at Paradise Beach in less than three months.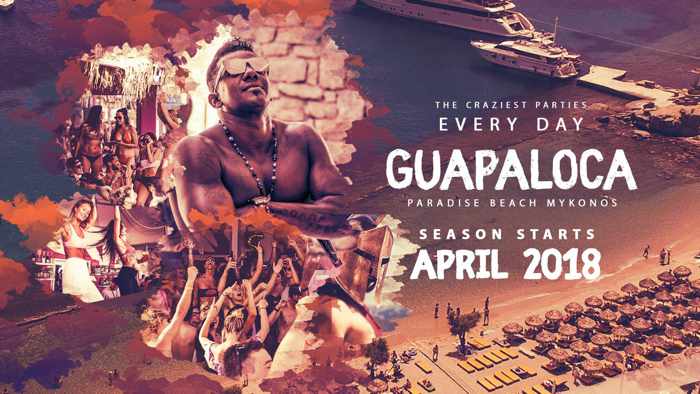 Daily prties resume at world-famous Paradise beach in April when Guapaloca bar starts its season
April 22 is opening day for Tropicana club at Paradise beach
I will update this post with additional information when other bars and clubs announce their official start dates.
People also have been asking if I know of summer job opportunities on Mykonos.
The hugely popular Scorpios club at Paraga beach issued a hiring notice in December (see below), while in early January the posh Principote Panormos Mykonos restaurant and bar complex at Panormos beach invited applications for positions there. If you're interested, Panormos requests you send your photo and resume to: info@principote.com 
DK Oyster restaurant and bar at Platis Gialos also announced on social media that it is now hiring, and on January 22 the SantAnna Mykonos beach venue invited applications for summer associates (see below).
In February, Kalua bar at Paraga beach will be holding employee recruitment events in Athens and Thessaloniki in February (see below). 
If you'd like to work on Mykonos this year, your best bet is to email any bars and clubs that interest you to ask about job opportunities. Get those emails out ASAP — positions will get filled fast.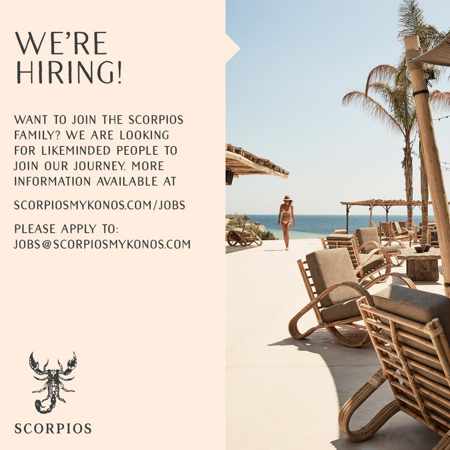 Scorpios posted this hiring announcement on social media at Christmastime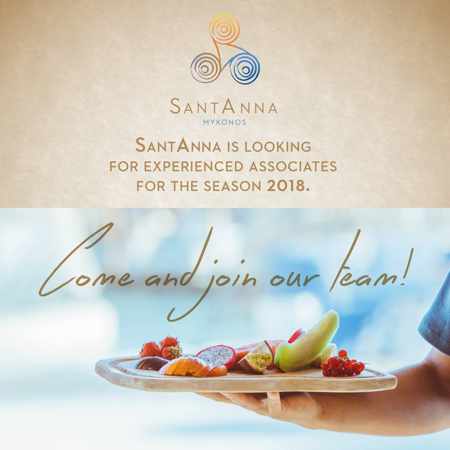 The hottest new beach club on Mykonos last year, SantAnna at Paraga beach is recruiting staff for summer 2018