~ continued from page 1 ~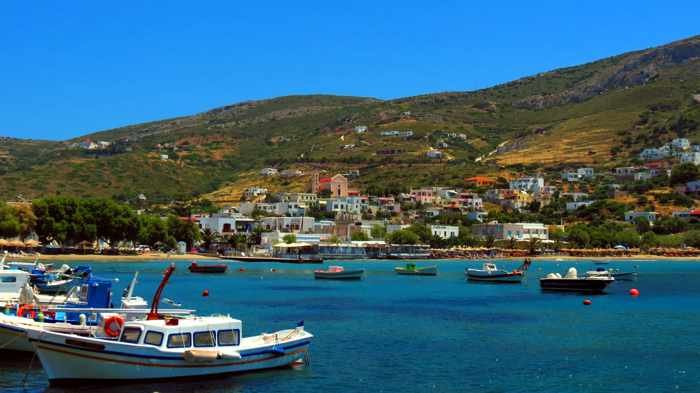 Kini sights and attractions
With beaches and restaurants as its primary attractions, Kini will be a suitable destination if your holiday goal is to unwind and take things nice and slow, occupying your time between meals with sunbathing, swimming, leisurely sightseeing walks and watching superlative sunsets. If you get antsy to do something more — like going shopping, visiting cultural and historic sites, or checking out trendy restaurants and happening nightspots — the island's vibrant capital, Ermoupoli, is only a short bus, car or taxi ride away.  There is much to see and do elsewhere on Syros, including other beach and village areas besides Kini, but I will leave those for discussion in a future post. This guide will focus on Kini and its immediate vicinity, since that's the part of the island we know the best from having stayed there.
So, what's in Kini? Besides the village, which is interesting to explore (and which has excellent places to eat), there are three good beaches — Kini , Lotos and Delfini. Kini beach extends along most of the village seafront, while Lotos is 600 meters down the bay and Delfini is just 2 kilometers away.  All three can be reached by car or on foot. Beach enthusiasts also can take a regularly-scheduled boat trip to several remote, secluded beaches on the northwest side of Syros. During the tourist season, the Syros Adventures speedboat Perla1 makes several return trips per day from the pier at Kini harbour.  It takes passengers to a half dozen beautiful coves and bays that are accessible only from the sea.
For those who wish to add some physical activity to their holiday rest and relaxation routines, several footpaths and hiking routes in the area offer the chance to get some exercise while enjoying beautiful scenery every step of the way.
Visitors seeking a brief break from the sun and sand can visit the small Kini Aquarium near the southern end of Kini beach, or the Agia Varvia Monastery on the road to Ermoupoli, 1 kilometer from Kini.
Below are photos and descriptions of the local attractions and beaches.
Agia Varvara Monastery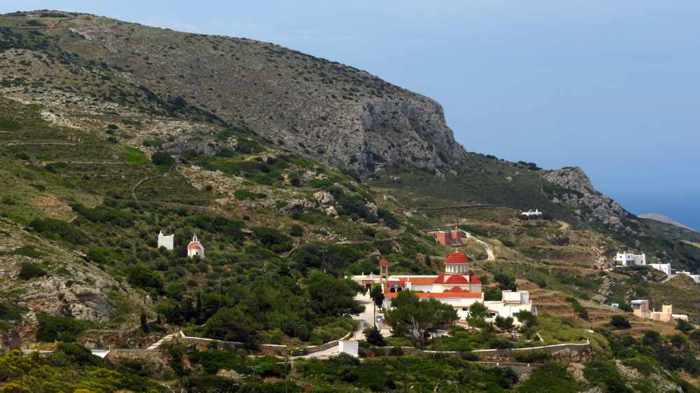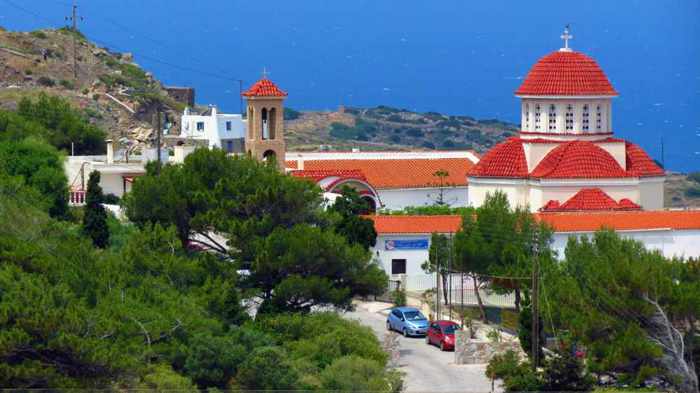 The Monastery of Agia Varvara
The distinctive red-tiled domes of Agia Varvara Monastery are bound to catch your attention when you drive the highway between Ermpoupoli and Kini. Built around 1900 to replace an older and much smaller church, the monastery complex is positioned high on the mountainside about one kilometer from the village, and has outstanding views of the entire Kini Bay area from its building and grounds. While its big red domes are impressive enough, the Orthodox convent is more famous for what's inside — frescoes, icons and hagiographies of of its namesake, Agia Varvara (Saint Barbara).
From the 1940s to the mid 1990s, the monastery operated an orphanage for girls, and for a time, an elementary school. More recently, the convent's nuns have run a weaving school and workshop, where knitwear and other woven items are displayed and available for purchase. More information about the monastery, along with a small gallery of photos, can be found on the Terrabook page for Agia Varvara.
I can't make a personal recommendation on whether the monastery is a must-visit attraction, since we haven't yet had the opportunity to see the inside. We were hoping to take a peek while we were walking to Ermoupoli one day, but just as we reached the entrance road several busloads of children arrived for a school visit, and we figured it wouldn't be a good time for us to pop in during such a busy period.  We'll leave having a look at the icons and paintings for another trip.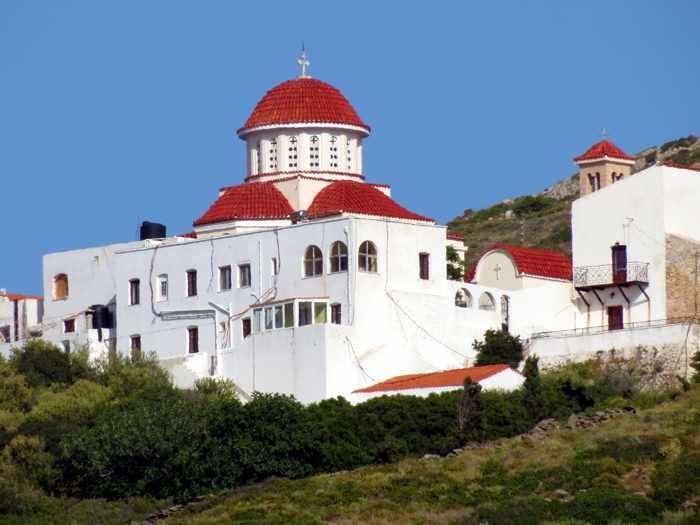 The Panagia Gorgona  memorial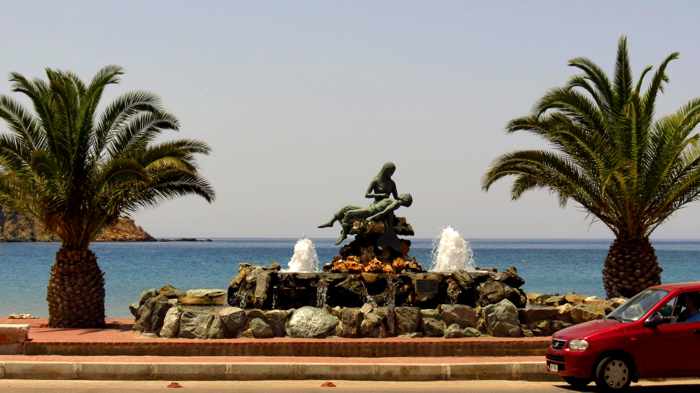 The Panagia Gorgona monument and fountain at Kini beach
One of the first things visitors arriving at the Kini beach strip will see is Panagia Gorgona (Virgin Mary the Mermaid), an impressive fountain and sculpture installation right beside the beach. A memorial to fishermen and others lost at sea, the monument features a poignant bronze statue by Athens-born sculptor Giorgos (George) Xenoulis. It depicts the Virgin Mary as a mermaid, sitting on a reef and holding the body of a drowned sailor. (The Virgin Mary is a patron saint of fishermen and sea voyagers.) The monument and fountain are illuminated at night.
Panagia Gorgona is situated on the Kini beachfront across the road from the Blue Harmony and Sunset Hotels.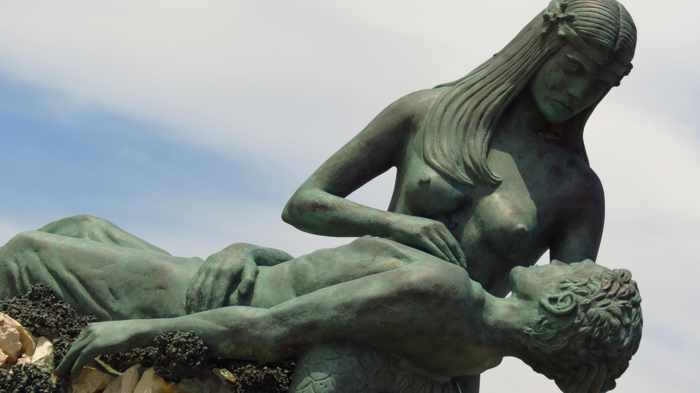 A closer view of the bronze figures sculpted by Giorgos Xenoulis, above, along with afternoon and sunset-time view sof the fountain, below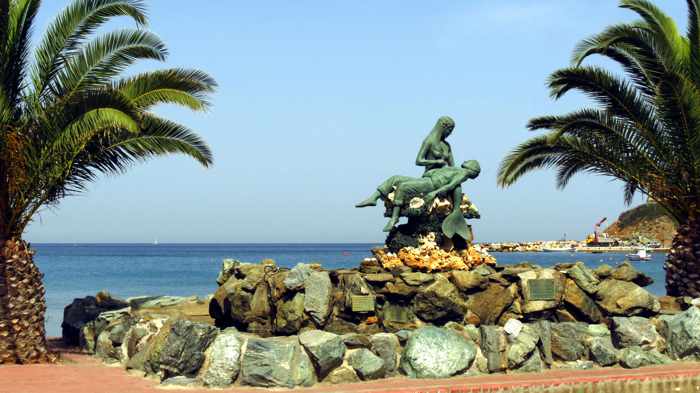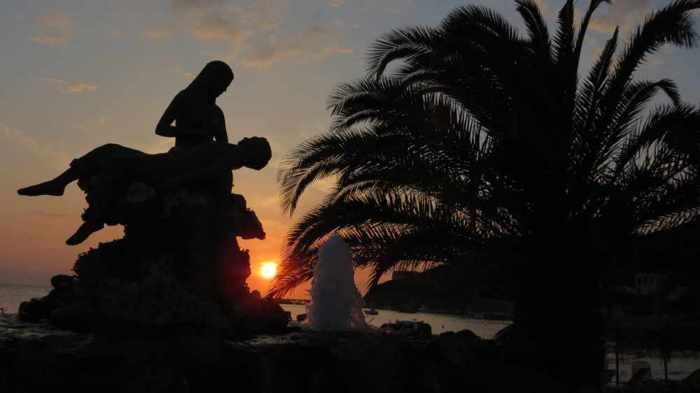 Kini Aquarium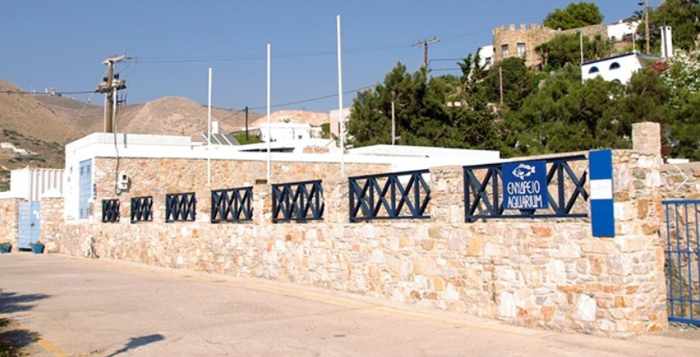 Kini Aquarium street view photo by the travel site yallou.com
You wouldn't expect to find an aquarium in a small Greek island village, so we were surprised when we came upon the Kini Aquarium while walking along the road from Lotos beach to Kini beach. We were interested in taking a look around, but the entrance gate was locked — we had missed the opening hours. Another time we arrived just as it was closing. As a result I can't share any personal impressions about this attraction; however, online reviews suggest it is worth a short visit.
 A combination aquarium and museum, the facility has a collection of tanks containing local species of fish,  flora and fauna, exhibits of traditional fishing boats and equipment, and some artifacts recovered from the sea. Entry costs only a couple of Euros per person. Visitor comments and photos can be seen in the Kini Aquarium listing on TripAdvisor.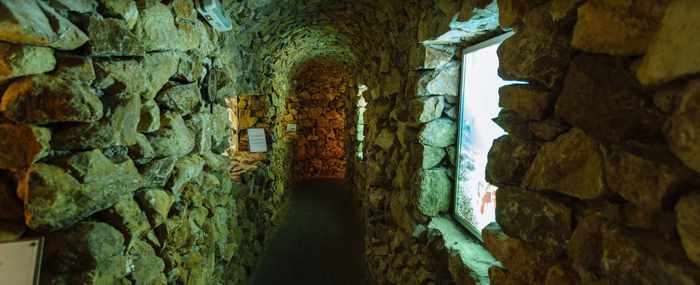 Kini Aquarium interior photo from syrosisland.gr
Kini beach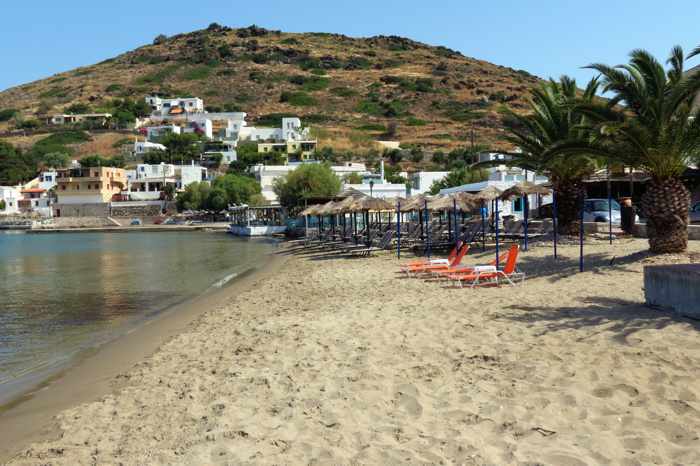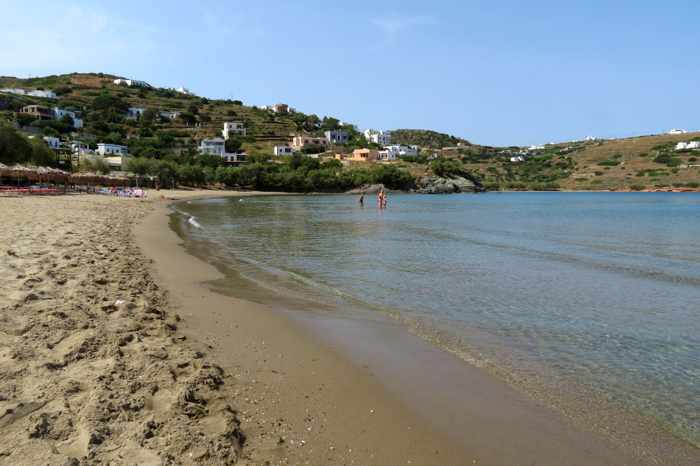 Looking north along Kini beach (top picture) and then south, from a vantage point on the sand near the Panagia Gorgona fountain
Kini's key natural attraction is the sandy beach that extends along the village seafront.  Sections of the beach are organized with lounge chairs and umbrellas maintained by the restaurants and hotels situated directly across the beachfront road. Food and beverage service is provided at the sunbeds. During our visits, a kiosk opened during daytime on the beach near the Panagia Gorgona fountain; it sold snacks, beverages and many sundry items.
By day beachgoers have views of the beautiful bay, and if they stay into the evening they might see one of the stunning Kini sunsets.
Below are some of our photos showing the beach at different times of day.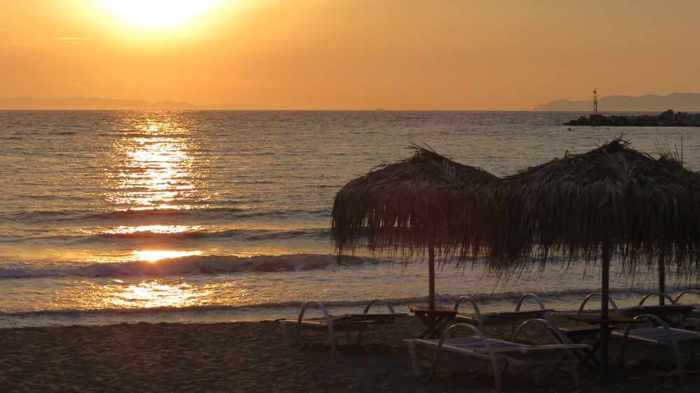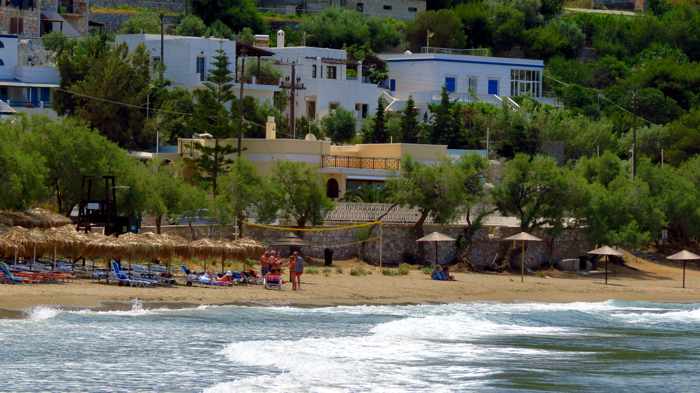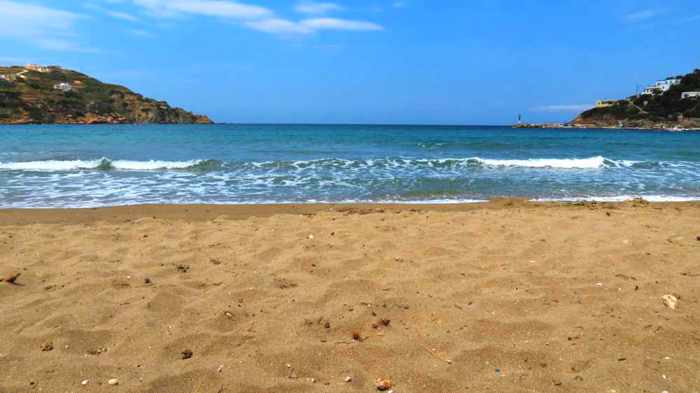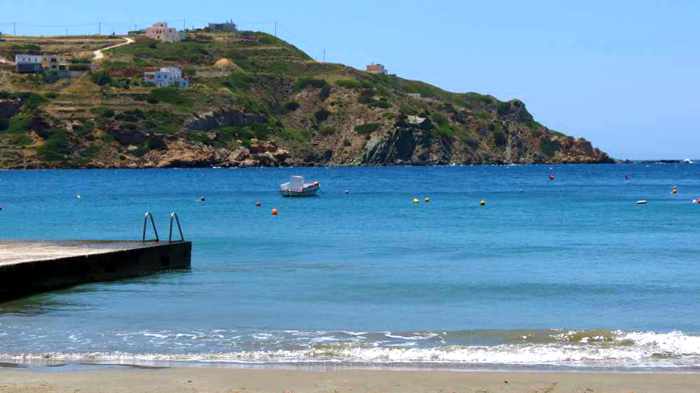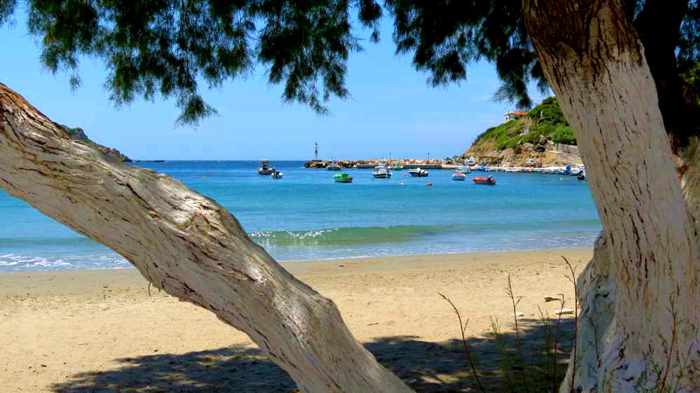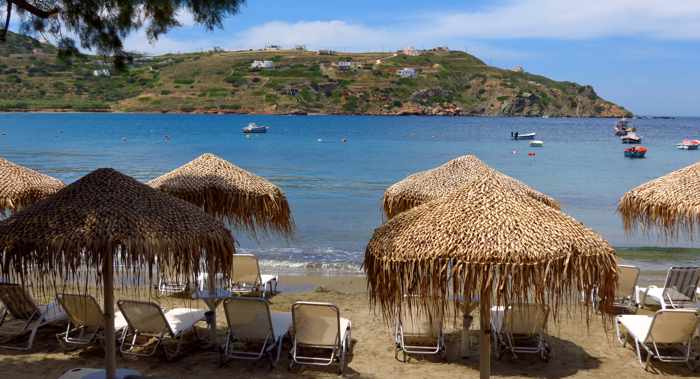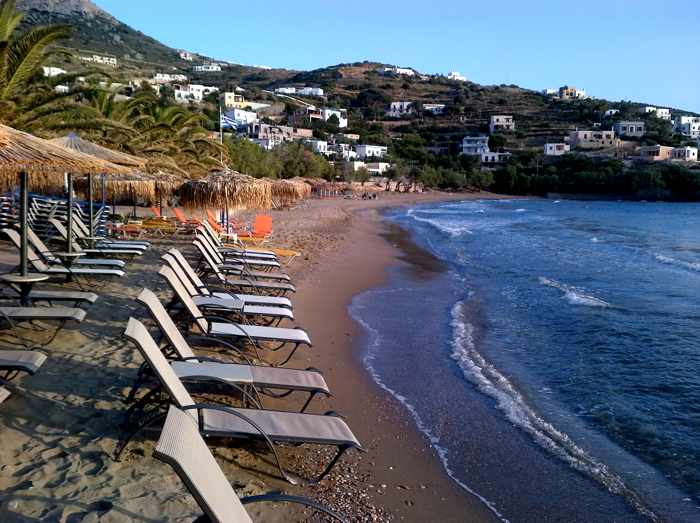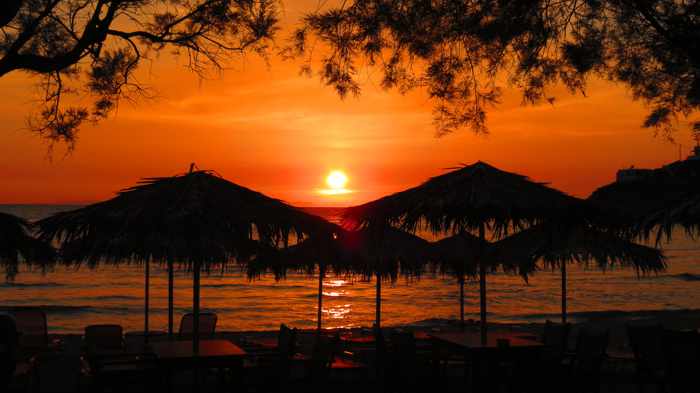 Lotos beach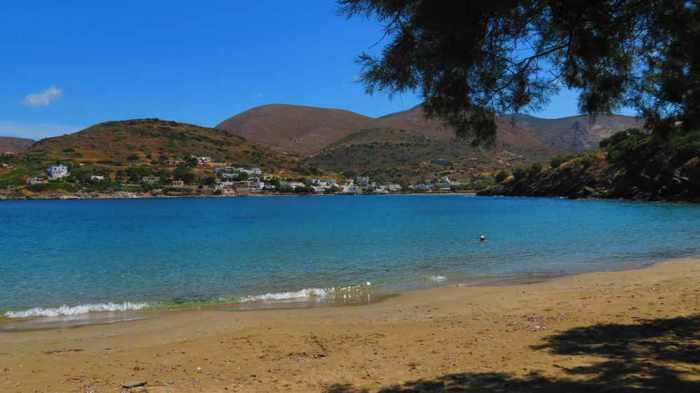 View toward Kini village from the middle of Lotos beach
Lotos beach is on the southern side of Kini Bay, several hundred meters from Kini beach. It's walking distance from the town along a road above the scenic coast; however, getting there from Kini on foot requires walking a road with a long gradual incline, followed by a very steep descent to Lotos beach on the other side of the hill. Getting to Lotos isn't as tough as walking back to Kini. The first few minutes of the return trek involve a thigh-burning, huffing-and-puffing climb up that steep hill to reach the point where the road starts its downward dip toward the village. I wouldn't recommend walking to or from the beach to anyone who is in poor physical condition or who has mobility issues — moving up and down the hill will require strenuous effort. 
Lotos is not organized with sunbeds or other facilities, but there are several permanent umbrellas planted in the sand, and shade is provided by a row of trees along the beach.  The shade trees, the great views and the low-season peace and quiet make Lotos my favourite beach in the area (largely because I personally prefer beaches that aren't cluttered with rows of lounge chairs and umbrellas).
Below are some of our photos of Lotos beach — and the steep road leading to it.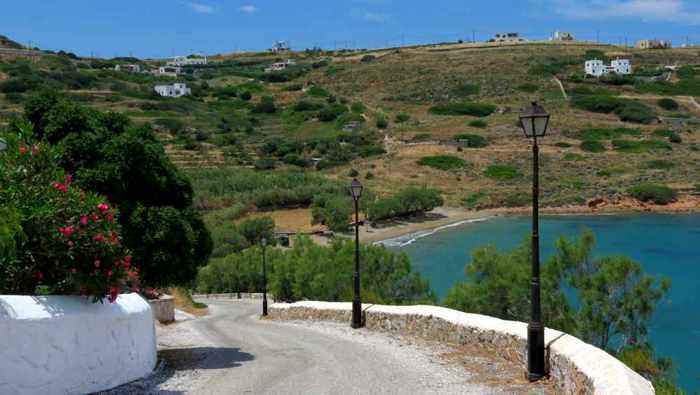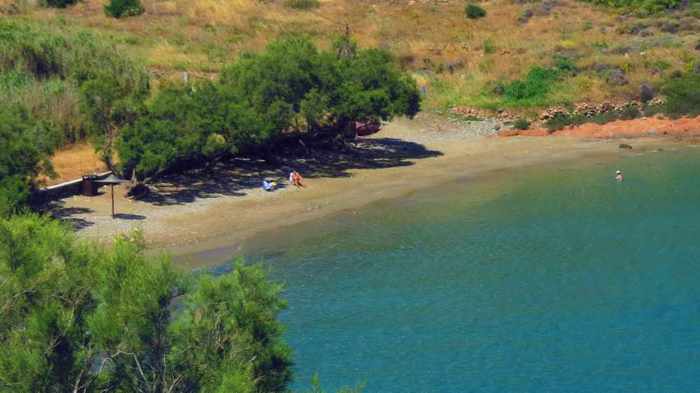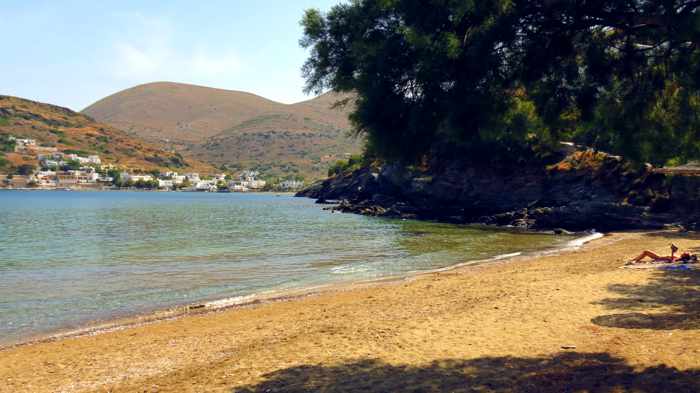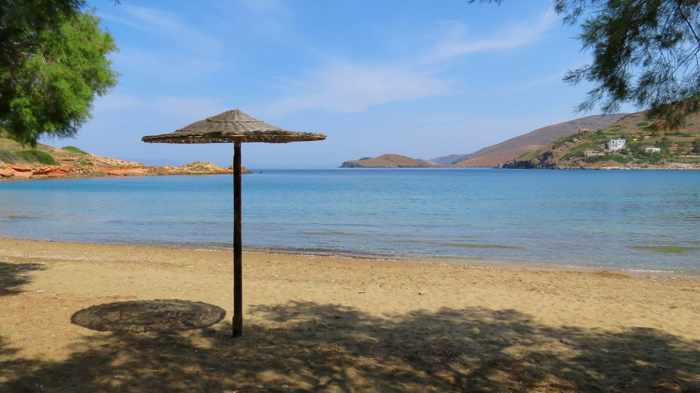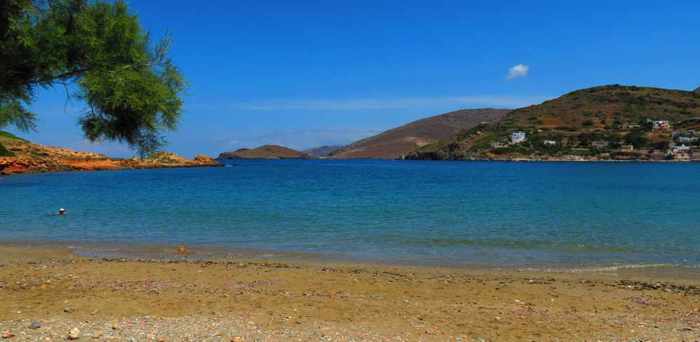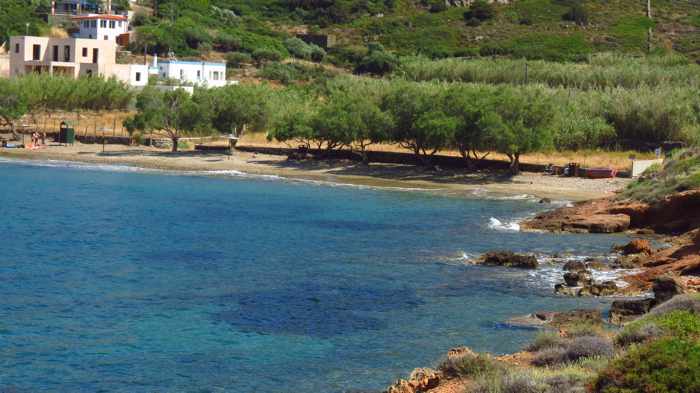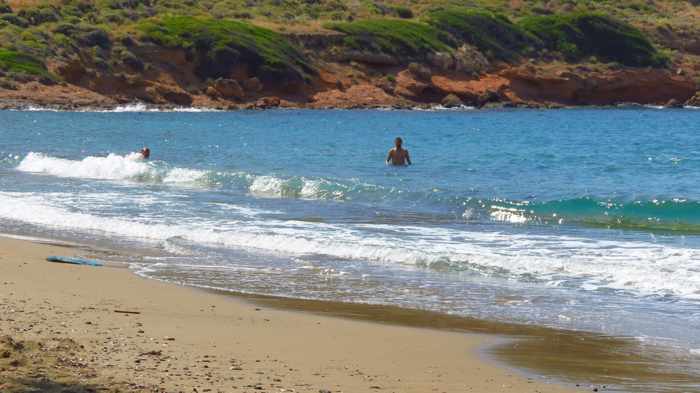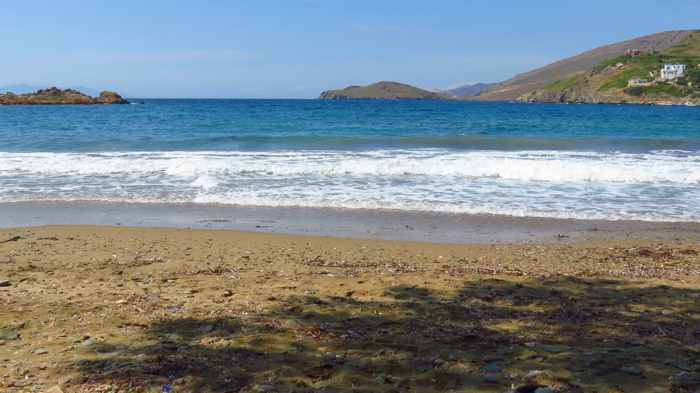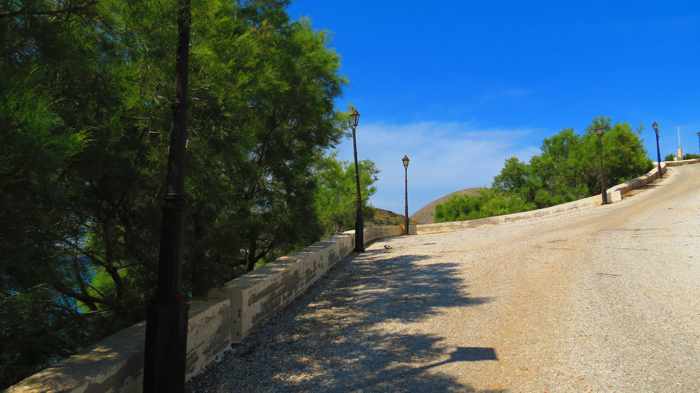 Delfini beach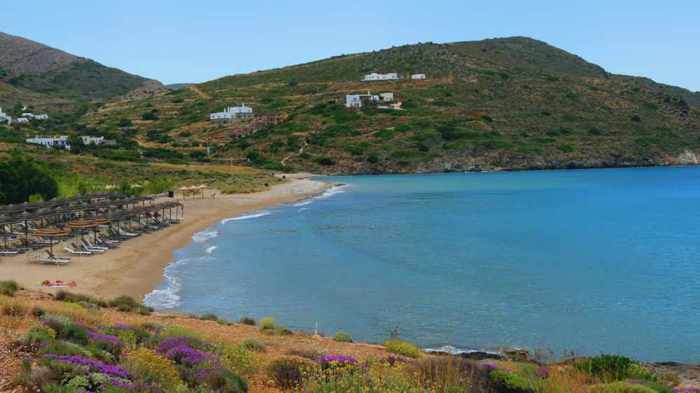 View from the organized north side of Delfini beach
Considered one of the best beaches on Syros by many regular visitors, Delfini is a short drive from Kini, and is reachable on foot by road or coastal trail, both of which take about half an hour to walk. Delfini is almost two beaches in one. The sandy north end of the beach is organized, with a taverna, canteen and sunbeds, while the sandy southern section has no facilities and has been popular with nudists during each of our visits. The midpoint of the beach is covered in rocks and stones and juts into the bay, conveniently dividing the strand into two sections — clothed and nude.  The first time we went to Delfini a long swath of the beach was completely covered in stones, but the following year the rocky patch was considerably smaller. Winter storms likely have an impact on the condition of the sand, so the surface may vary in places from year to year. 
Delfini beach has been extremely tranquil whenever we have been there, with only a handful of people at the organized section and about an equal number of sunbathers and swimmers in the clothing optional zone (as we fully expected, since we were travelling in low season).  But I'm sure the beach gets busy during July and August.
Below are some of our Delfini photos, beginning with the organized northern strip of beach and moving southward to the area where we've seen nudists let it all hang out.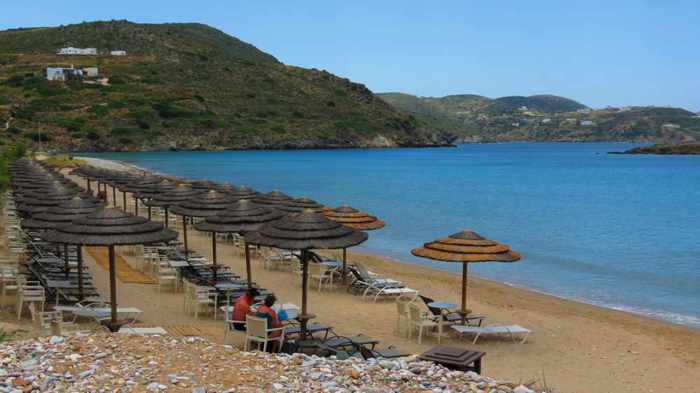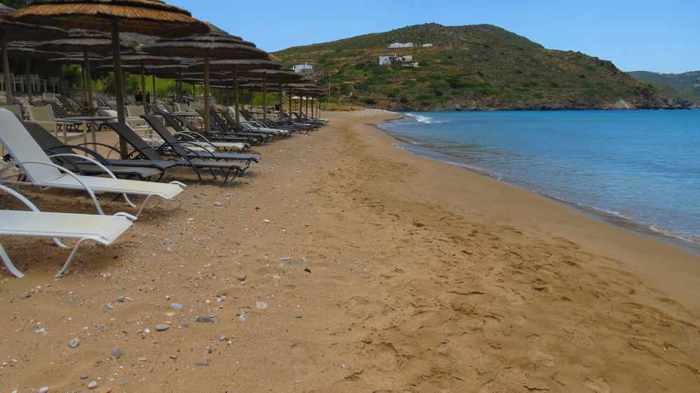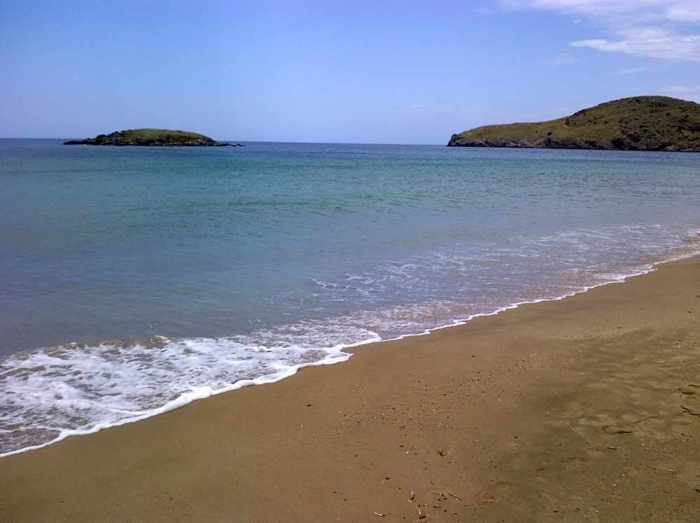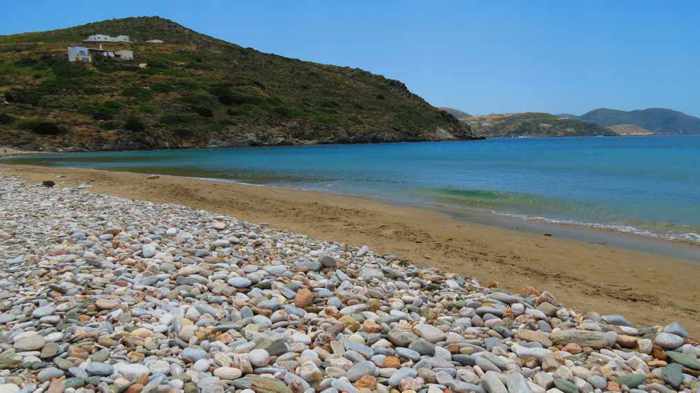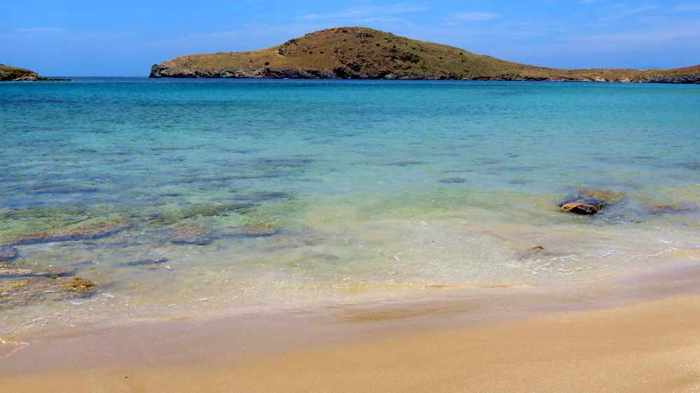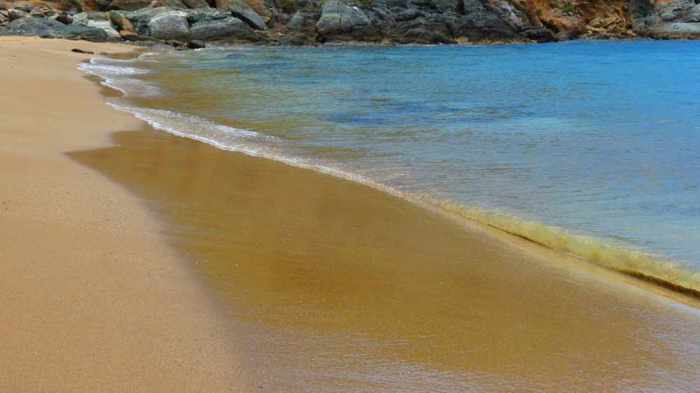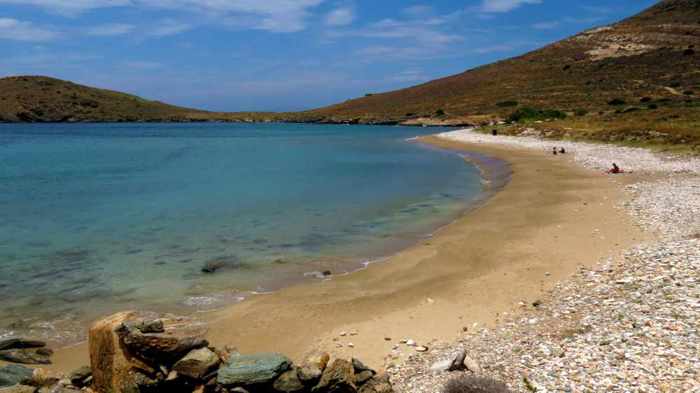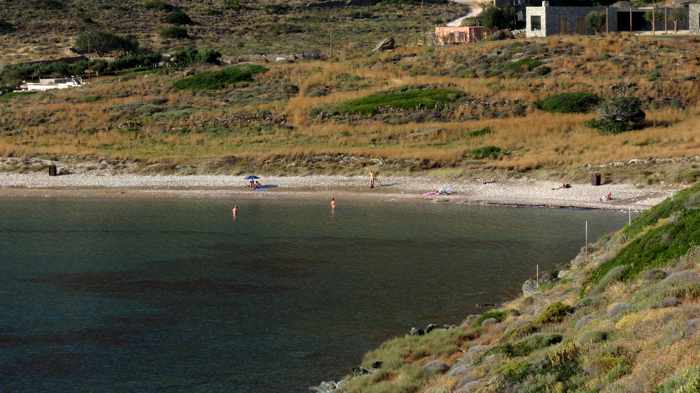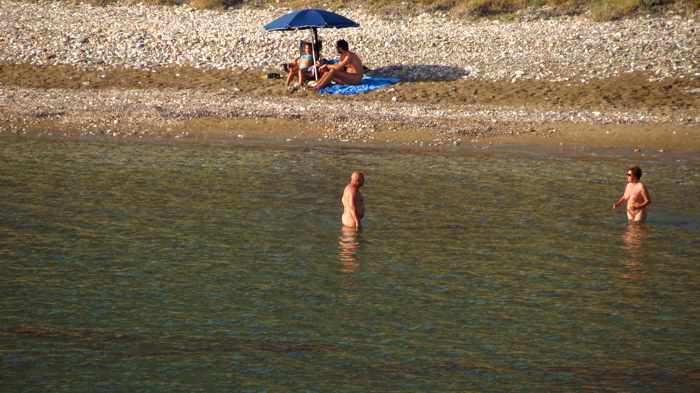 Boat trips to remote beaches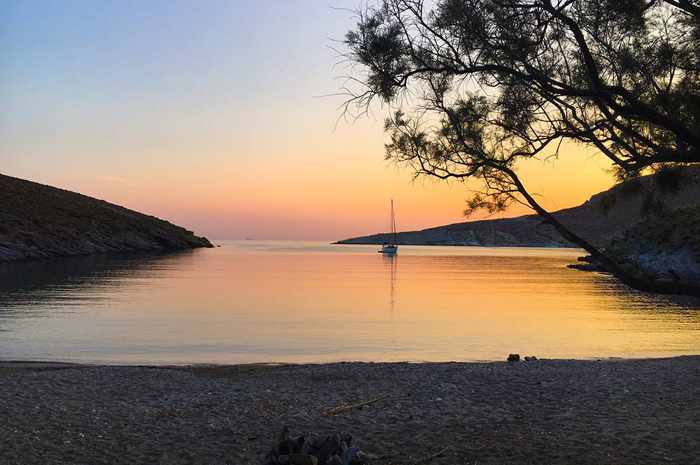 Idyllic Grammata beach is seen at sunset in a photo from Syros Adventures, which operates daily boat trips to Grammata and several other isolated beaches on the northwest coast of Syros
Although Kini is blessed with its own picturesque beaches, a local excursion business offers visitors a unique opportunity to spend time enjoying the peace, serenity and scenery at virtually untouched, natural beaches on the northwest coast of Syros. Situated in alluring bays and coves in the Ano Meria region of Syros, the remote beaches are not accessible by road, so they aren't surrounded by houses, hotels, tavernas or beach bar. In fact, they have no facilities of any kind — just pristine strips of sand or pebbles curving along crystal-clear waters.
Boat trips to the beaches are provided by Syros Adventures, which Nikos Printezis has operated since 2000. During the tourist season (from May until the end of September), Nikos transfers travellers from Kini harbour to their choice of beaches on his 20-passenger speedboat, Perla1. The ride to the farthest beach takes approximately 30 minutes, but along the way Nikos approaches each of the beaches — Varvarousa, Aetos, Lia, Megas Lakos, and Marmari, plus Grammata and Gria Spilia, which are both situated on Grammata Bay — so passengers can get a close-up look at the scenery and surroundings and decide which one they'd like to spend their time on.  (Nikos also can recommend the best beaches to visit based on prevailing wind and sea conditions for any given day.) The boat makes several return trips per day, depending upon the weather.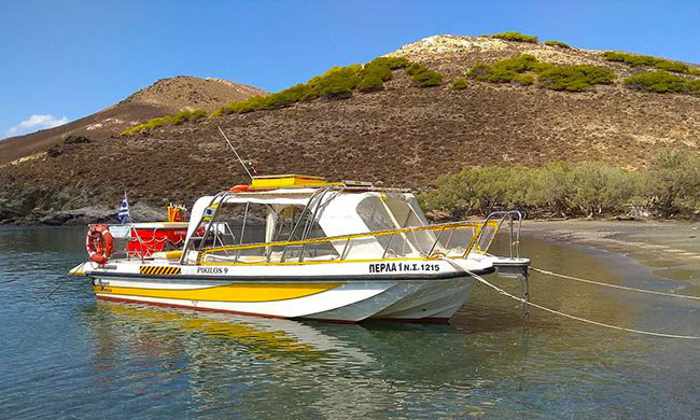 The Perla1, seen in a photo from the Syros Adventures, website, can carry up to 20 passengers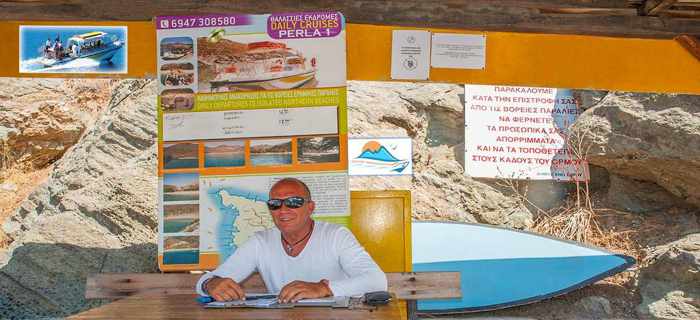 This image from the Syros Adventures Facebook page shows Perla1 captain Nikos Prentezis at the tour kiosk at Kini harbour
Reservations are required, and can be made by telephone call to the local number 6947308580. The Syros Adventures website has contact information as well as a booking request form, while the company also can be reached through the Syros Adventures page on Facebook, which has direct links for booking and messages. The exact May 2019 start date for the boat trips has not yet been set, but Nikos told me the tour schedules will be posted on the website and Facebook page once they are available.
Besides the excursions to the remote beaches, Syros Adventures offers a sightseeing and adventure trip for groups of up to 12 people, plus visits to the amazing Agios Stefanos cave chapel on the seaside near Galissas.  Private trips also can be arranged.
We haven't taken one of the tours yet, so I can't provide any personal feedback about the experience, but you can read more than two dozen reviews on the TripAdvisor listing for Syros Adventures.  However, I can say that while we have been in Kini, other travellers have told us the tours are excellent, and they described the trip to the remote northwest beaches as a "must do" activity.  We will be making certain we book one of the trips next time we're on Syros.
The photos below, all from Syros Adventures, show the beaches that passengers can choose from. Galleries on the Syros Adventures website contain additional photos, along with descriptions of each beach.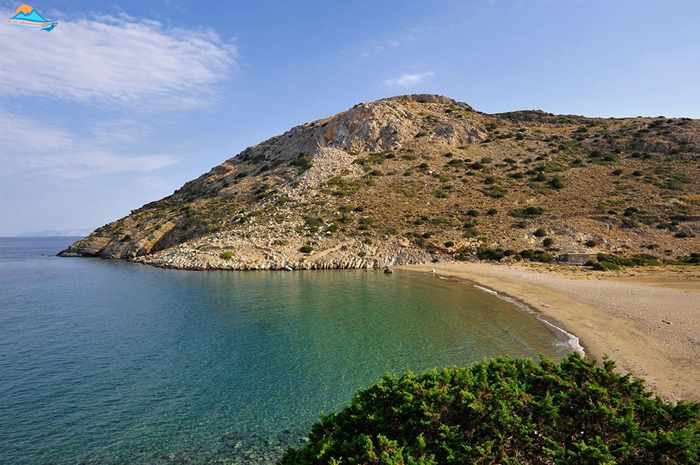 Varvarousa beach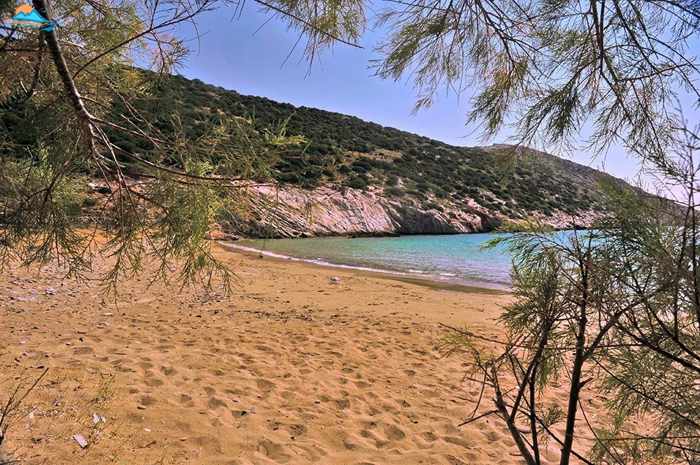 Aetos beach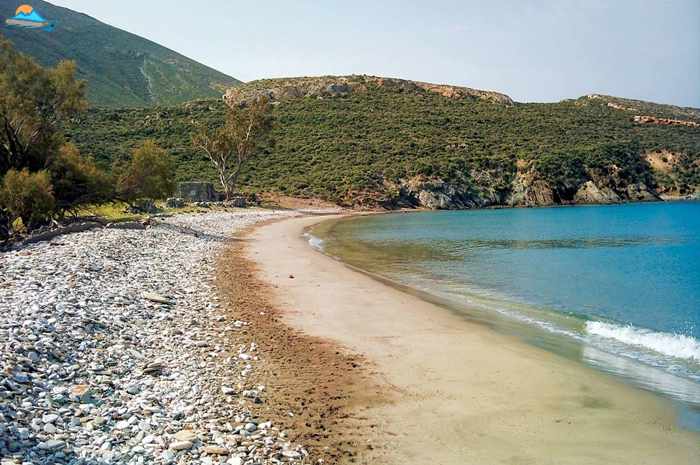 Lia beach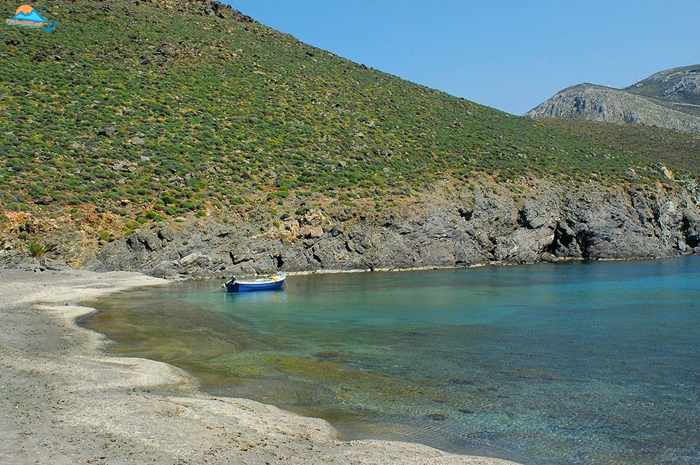 Megas Lakos beach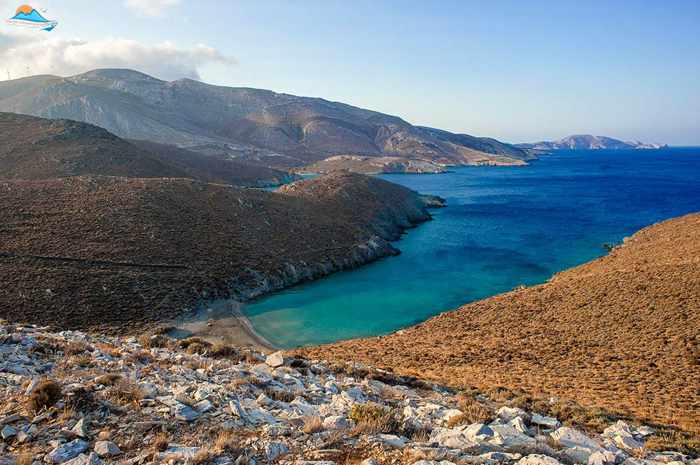 Marmari beach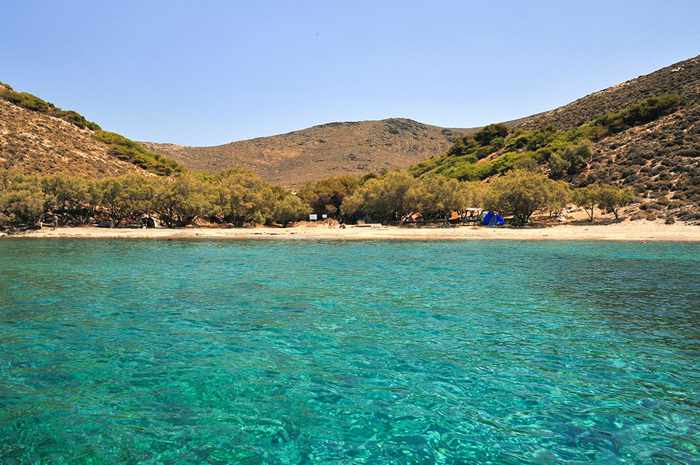 Grammata beach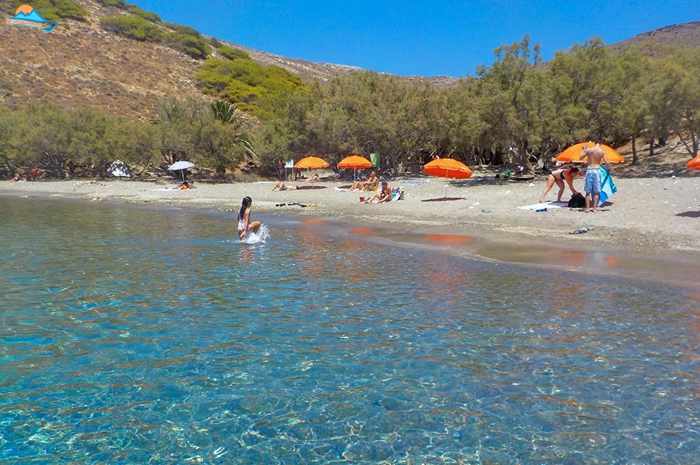 Gria Spilia beach
Scenic walks and hikes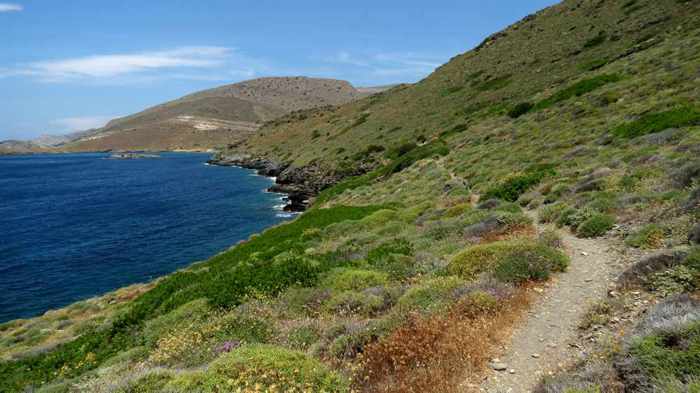 The coastal path from Kini to Delfini beach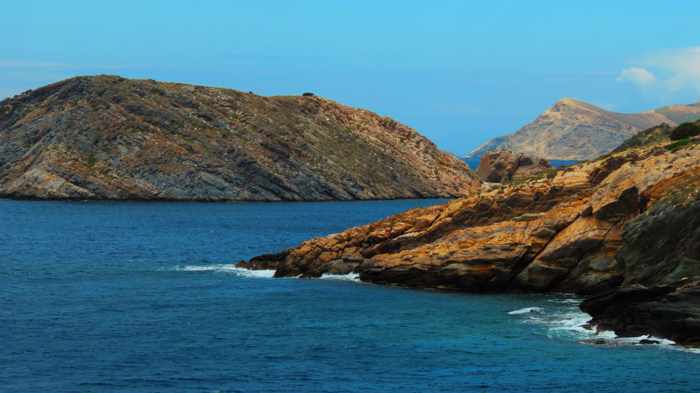 Views of the rugged northwest coast of Syros, from the end of a short walking trail that starts at Delfini beach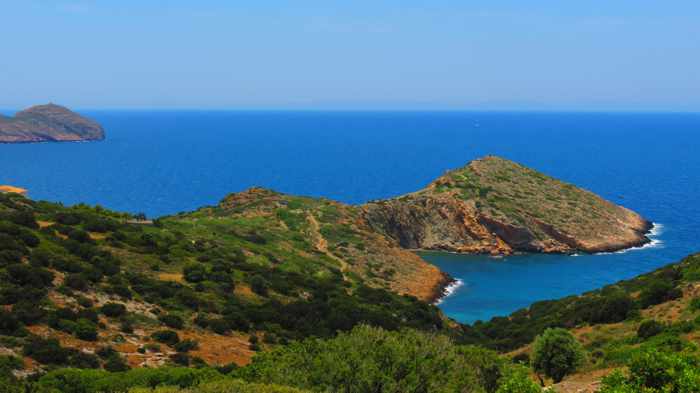 Scenery along the hike from Lotos beach to Galissas
Travellers who like to include walking and hiking among their holiday activities will find a variety of interesting and scenic routes to explore in and around Kini, including short walks to nearby beaches and much longer treks to other beach village areas.
Kini beach is a convenient quick stroll from most of the hotels and rental accommodations in the village, but going from there to Lotos beach entails a walk of several hundred meters along a coastal road that first goes up a hill and then down a very steep slope for the final approach to Lotos. The road provides walkers with superb views of the village, bay, and both beaches, and a good cardio and leg workout in the process. 
To reach Delfini beach, walkers can choose from two different routes — the inland road from Kini village, or the much more scenic seaview trail that winds across hillsides high above the coast.  Both routes take about 25 to 30 minutes. We sometimes use the coast trail to get to Delfini, and walk back along the road for a change of scenery.
From Delfini walkers can continue north another 30 minutes to secluded Varvarousa beach, which can be reached only by foot or by boat, or they can wander along a trail that overlooks Delfini Bay and provides a peek at the rugged coastline to the north.
Delfini road view of the beach and bay area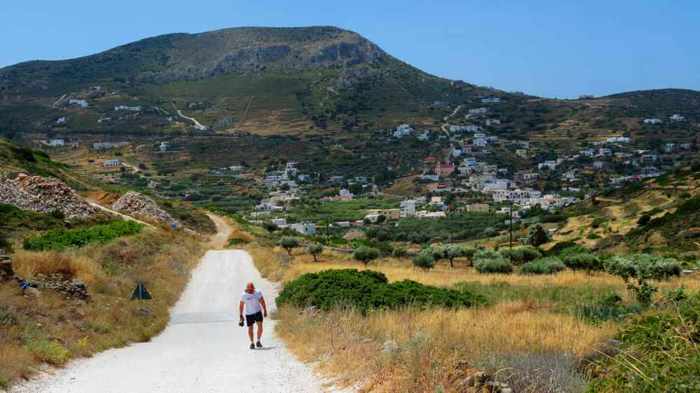 A view of Kini village from the Delfini beach road
Our favourite walk is an inland route that begins at Lotos beach and ends at the village and beach area of Galissas, about 6 kilometers southwest of Kini. This is the longest of the walks, taking from 60 to 90 minutes to complete, but it offers the most diverse scenery, including breathtaking views of the sea and coast, hillsides dotted with houses and dreamy luxury villas, fields full of wildflowers, farm properties, and more.  The route starts with a dirt and stone track that climbs a hill to the Dani settlement overlooking Lotos and Kini. From there, walkers follow a paved country road for about 15 to 20 minutes before getting back onto a trail for the rest of the hike to the outskirts of Galissas. At that point, the route follows side roads to the beach and taverna strips at Galissas.
Many trekkers use this route to make a daytrip to Galissas, where they can spend time at one of the two beaches there, check out the scenic views from hilltop Agia Pakou church, and enjoy a meal in one of the village's tavernas or snack bars before returning to Kini. We have incorporated this walk into our own daytrips to Galissas several times, and once walked considerably farther to check out other areas, like Finikas, several kilometers beyond. A few times we have only walked part of the route, up to the Dani area, where we have enjoyed walking along the various country roads.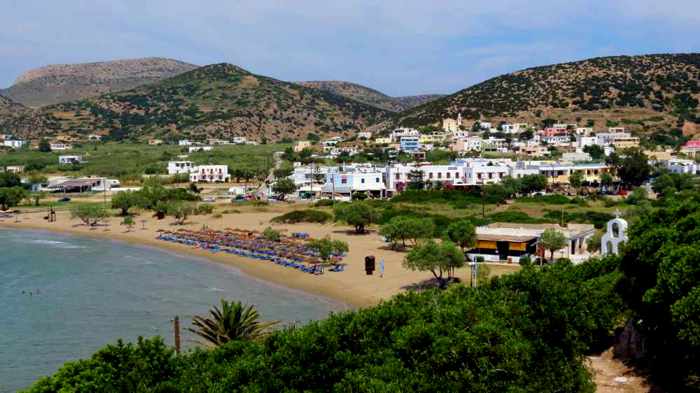 Galissas beach and village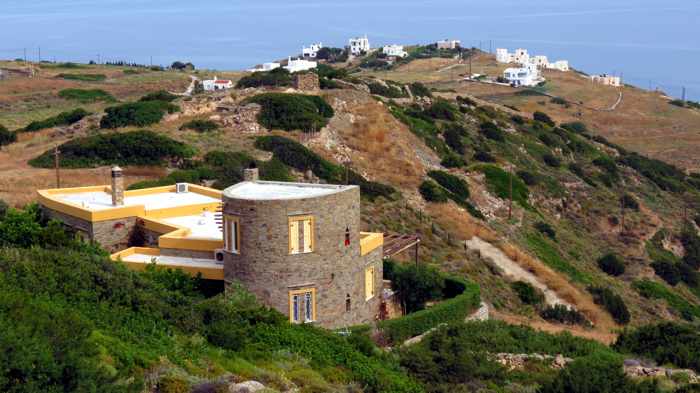 Some of the hilltop villas we saw during a walk from Lotos beach to the nearby settlement of Dani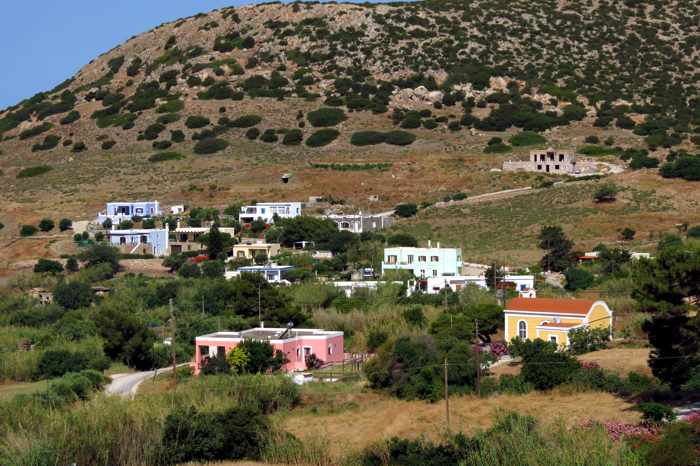 A church and houses in a hamlet between Kini and Galissas
Other extended walks are possible — we have even walked all the way to Ermoupoli several times, following the main highway as far as the turnoff to Alithini village (which has outstanding views of the city, port and coast, by the way). The road through Alithini ends at a footpath that descends the mountainside to the lower part of Ano Syros village above Ermoupoli. Roads and stepped lanes lead from there into the heart of the city. It's a long and tiring trek, but worthwhile for its incredible views of Ermoupoli.
For those who don't feel like trekking along narrow dirt trails or hiking to beaches, short walks in Kini village can be just as enjoyable. We often explore the roads and back lanes of the main village area since there's plenty to see: the local architecture and design of houses and apartment buildings; curious yard decorations and ornaments; flower gardens, vegetable plots and olive tree groves; and friendly (and not so friendly) family pets and domestic farm animals. When we take walks at home, we don't get to see bougainvillea or blooming oleander bushes, chickens, goats or sheep, or gardens brimming with flowering artichokes and zucchini, so it's a real treat to see those in Kini. For that matter, we also don't see mountains, coastlines and turquoise seas back home, but Kini abounds with beautiful views of those.
Lanes and roads on the hillsides around Kini also are interesting to wander, and at many points present terrific views of the village and bay.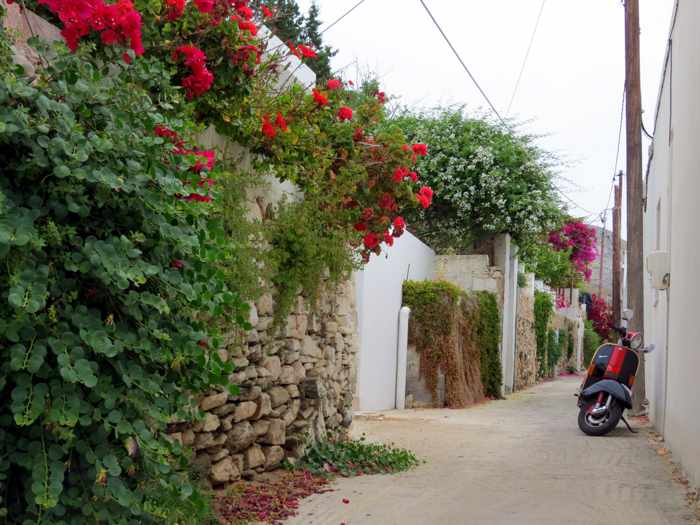 We enjoy wandering along the village streets and back lanes …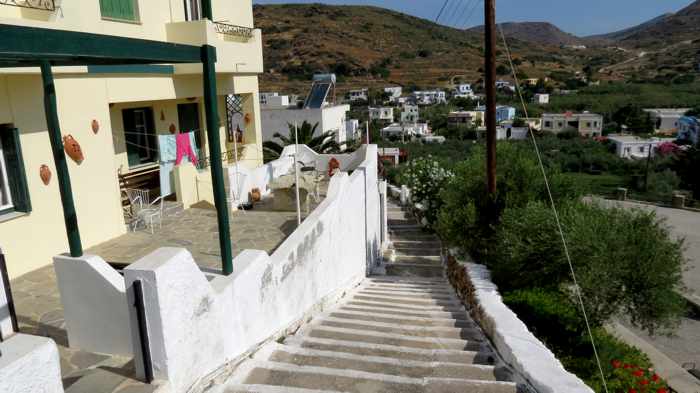 … climbing up or down stairs that we encounter on the hillsides …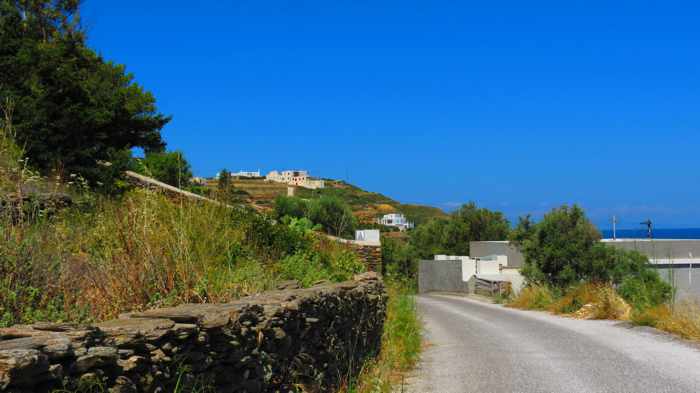 …and following roads in the countryside to see where they lead.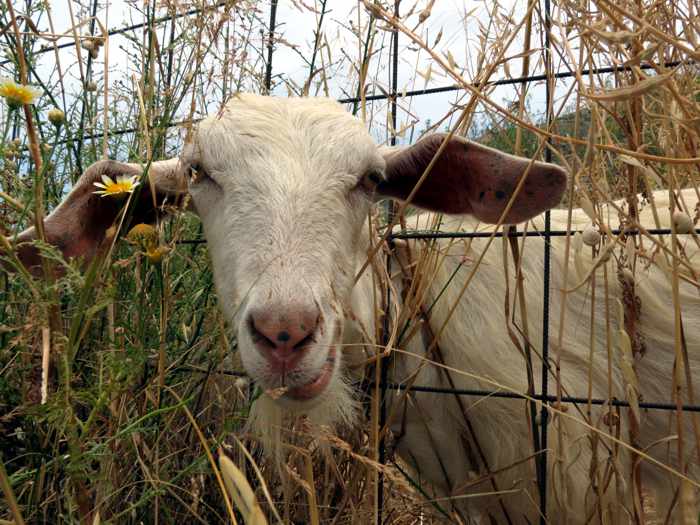 There's always something interesting to see while walking in Kini — like this local resident who stuck his head through a fence to say hello as we passed the field where he was grazing with a group of friends
Please click on the link below to turn to page 3, where I describe the various places to eat and drink in Kini
Page 4 profiles many of the accommodations available in Kini village.
CONTINUED ON PAGE 3