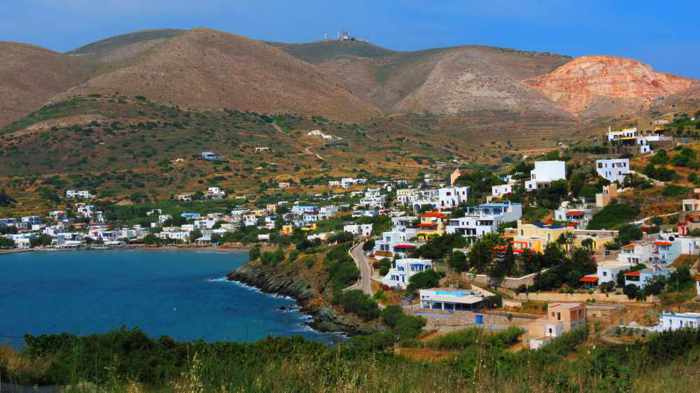 Evening view of the Kini Bay area, from a hill behind Lotos beach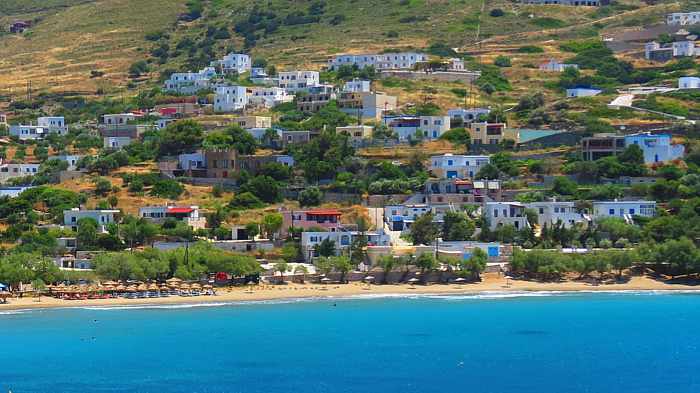 Houses and holiday accommodations on the hills behind Kini Beach
Fishing boats moored in the small harbour at Kini Bay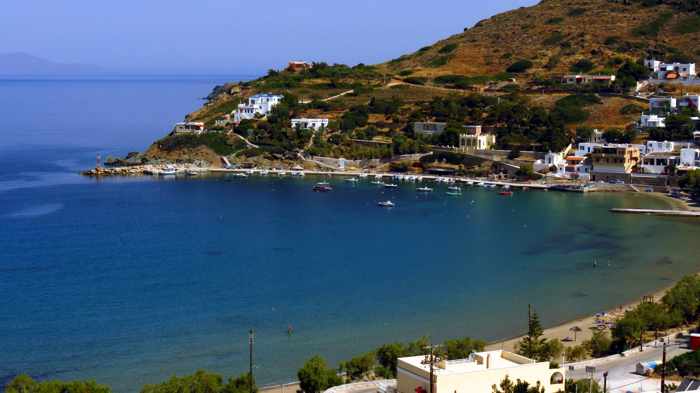 Overlooking Kini beach, bay and harbour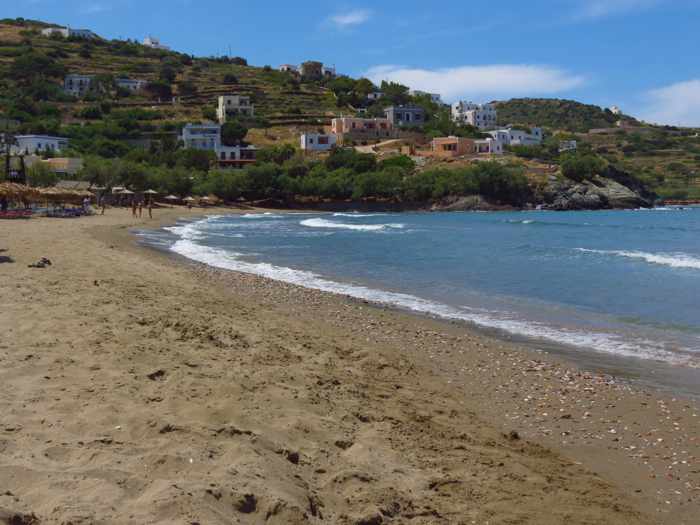 A quiet morning at Kini Beach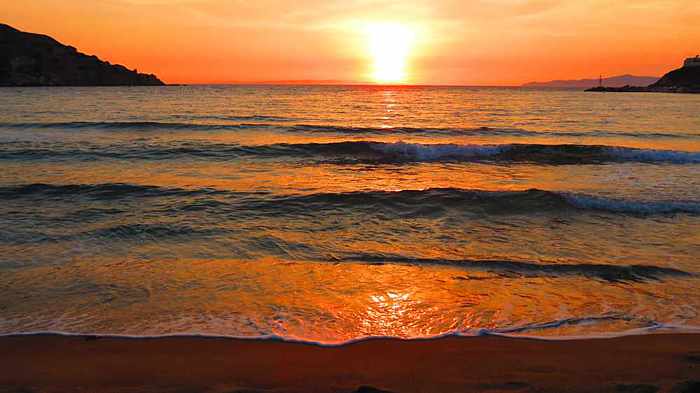 Waves reflect the golden hues of sunset above Kini Bay 
Photo tour: It seems I have stoked some interest in Syros.
After I posted that Travel + Leisure magazine had profiled Syros island in its February 2019 issue, a number of readers have been in touch to say they are now thinking about going there for part of their island hopping holidays this summer.
And since I had mentioned that Syros is one of our favourite islands, some asked if I could recommend a specific beach resort area for them to consider.
So far we have stayed twice at just one beach location — Kini Bay — and loved it, but we have been to a few other beach areas that are popular with tourists, including Galissas, Finikas and Poseidonia. We would probably choose to stay at one of those places on our next trip to Syros, simply for a change of scenery and the chance to to experience a different part of the island.
But I wouldn't describe Kini or any of the others as "resorts" per se; rather, they are fairly small villages situated on or near sandy beaches and scenic coastlines, each offering a respectable selection of accommodations and restaurants. You won't find strips of shops or nightclubs at any of these locations, but there are mini markets and grocery stores where visitors staying in studio apartments or villas can purchase food and sundry items they might need.
What we particularly enjoy about Kini Bay is its beautiful setting on a picturesque bay, where holidaymakers can relax on two sandy beaches — Kini and Lotos — or at nearby Delfini, which is reasonable walking distance from the village.  Galissas beach can be reached either by car or on foot (a hiking path that winds up and down hills high above the rugged coast), while boat trips to two isolated beaches north of Kini are offered in season.
I'll tell you more about the area in a separate post I'm currently working on, but in the meantime I have gathered dozens of our pictures to show you why we have been so keen on Kini.
Please click on the link below to take a photo tour of colourful sights and scenes at Kini Bay.
CONTINUED ON PAGE 2