— continued from page 1 —
Openings in June
Lucky Fish restaurant on N. Kalogera Street in Mykonos Town started its season on June 1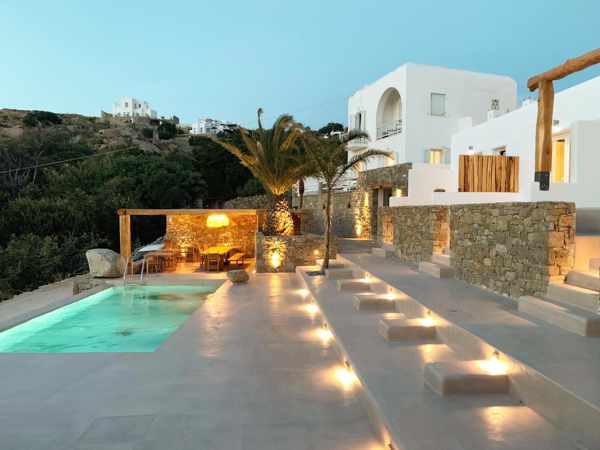 June 1 is opening day for Aelia Mykonos Luxury Retreat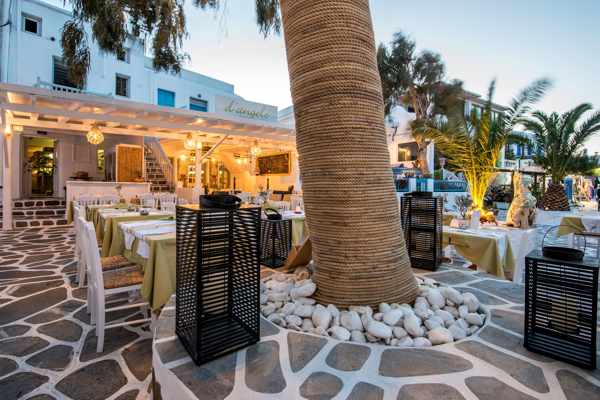 D'Angelo restaurant in Mykonos Town is back for its 10th season starting June 1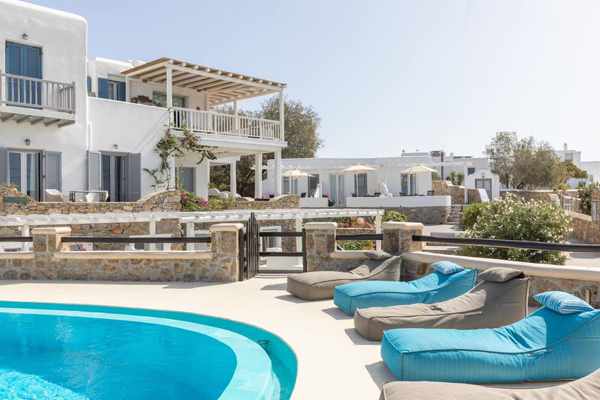 Villa Konstantin opens its doors for the season on June 1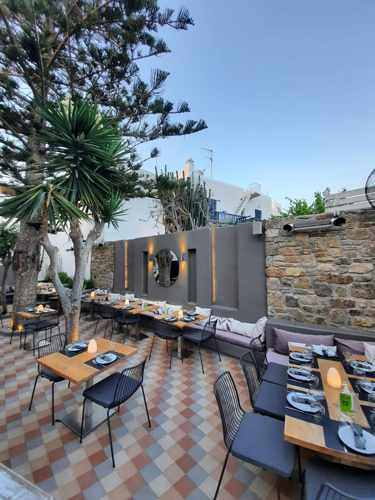 Kalita restaurant returns on June 1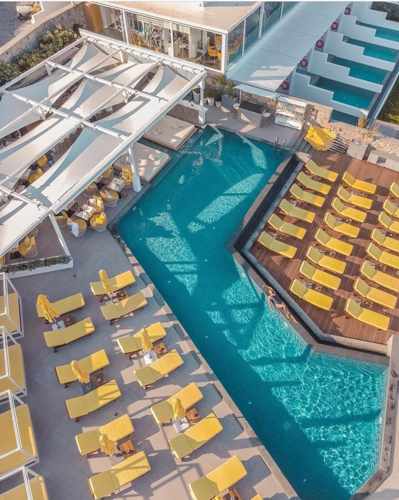 Myconian Korali Relais & Chateaux Hotel opened its doors on June 1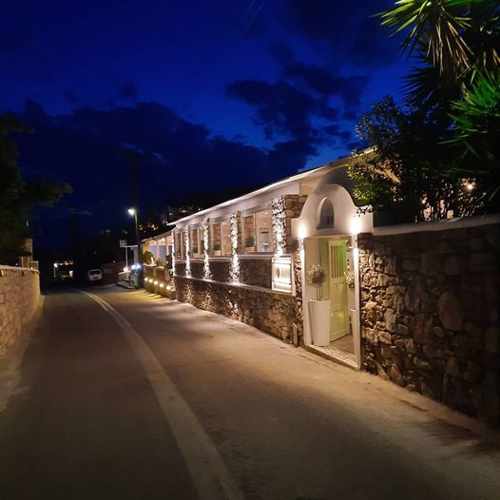 June 1 is opening day for Vasilikos Bar & Restaurant at Agios Ioannis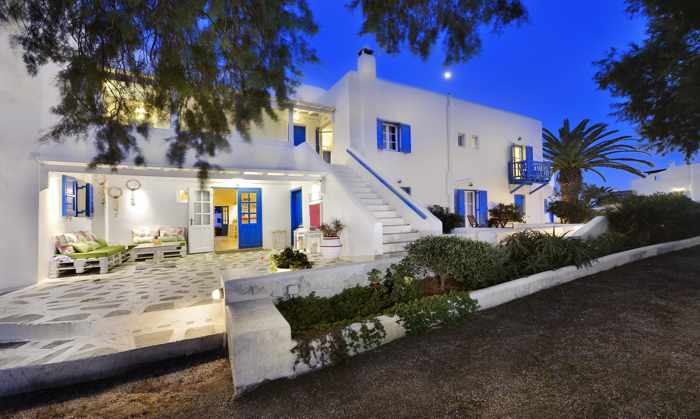 June 1 is opening day for Erato Hotel at Ornos
June 1 is opening day for Agrari Beach Bar at Agrari beach
June 1 is opening day for Koursaros Greek restaurant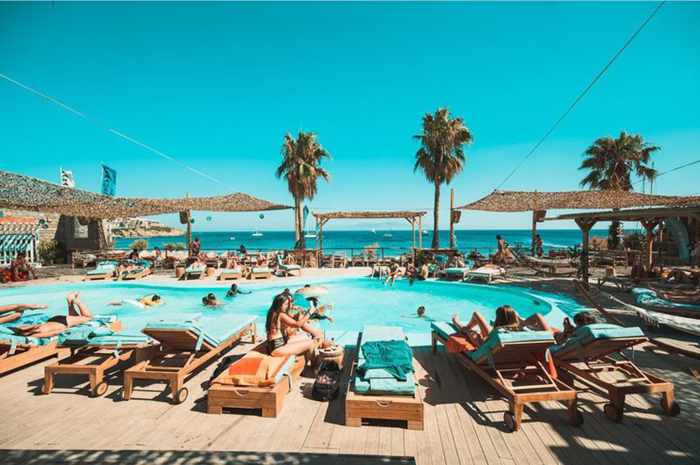 June 1 is opening day for Paradise Beach Club at Paradise beach
Remezzo fine dining restaurant and bar opens on June 1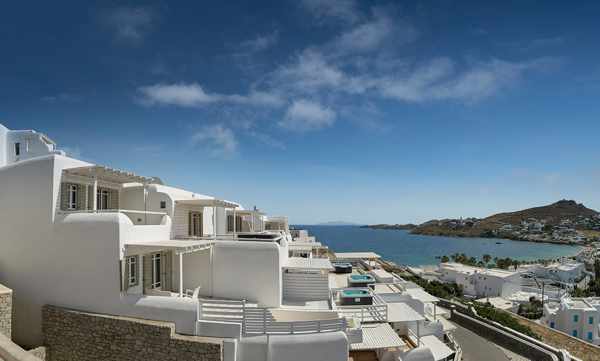 Deliades Hotel at Ornos will open on June 1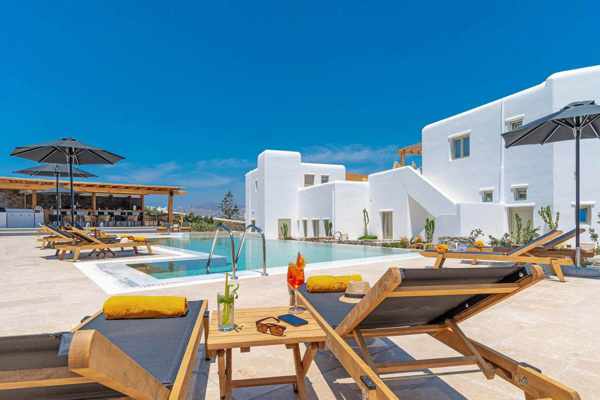 Mykonos Cactus Hotel opens its doors on June 1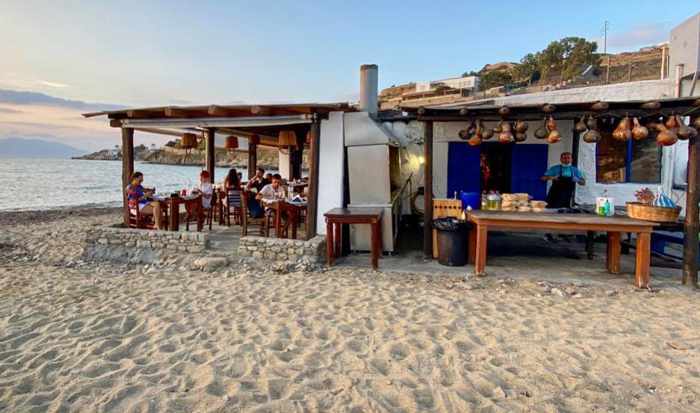 Joanna's Niko's Place Taverna on Megali Ammos beach returns on June 2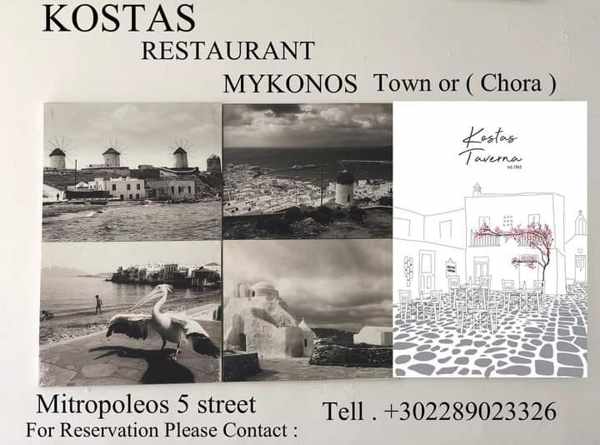 June 2 is opening day for Kostas restaurant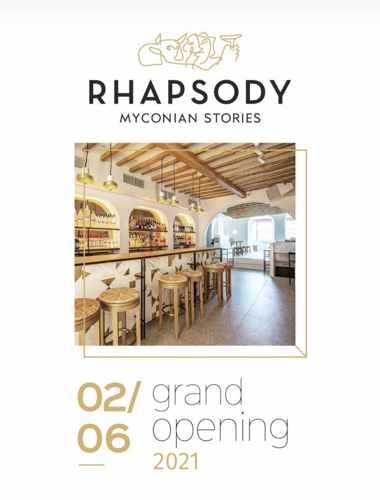 Rhapsody Bar at Little Venice opens on June 2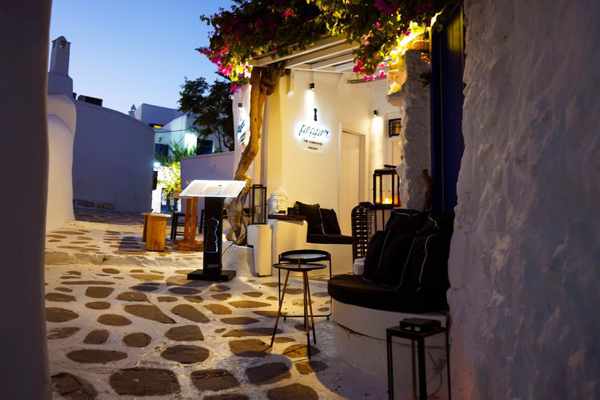 Pepper "Grill Gastronomy" restaurant holds its official season opening on June 2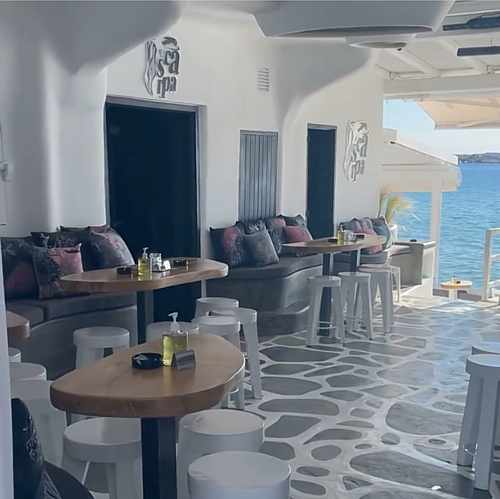 June 3 is opening day for freshly-renovated Scarpa Bar  on the Little Venice seafront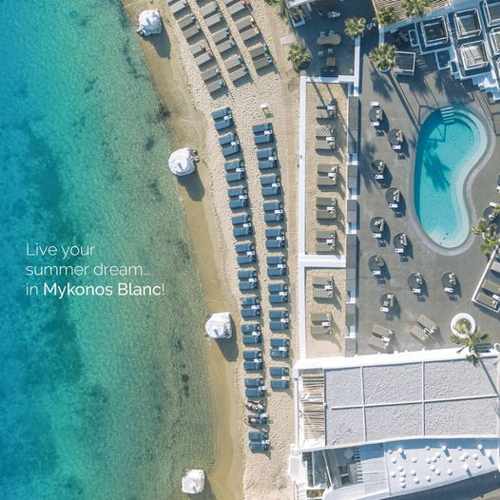 June 3 is first day of the season for Mykonos Blanc Hotel at Ornos beach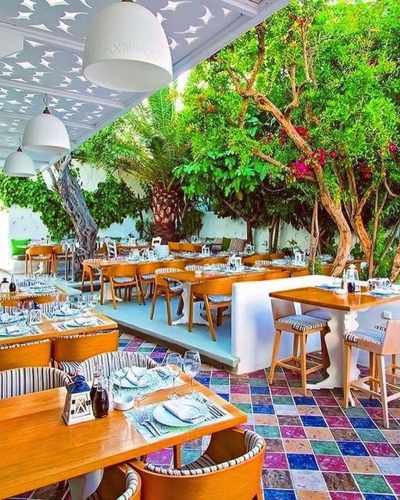 Mamalouka restaurant and bar returns on June 3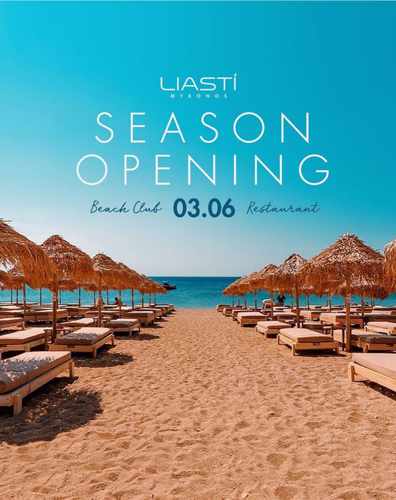 Liasti restaurant and beach club at Lia beach will kick off its summer on June 3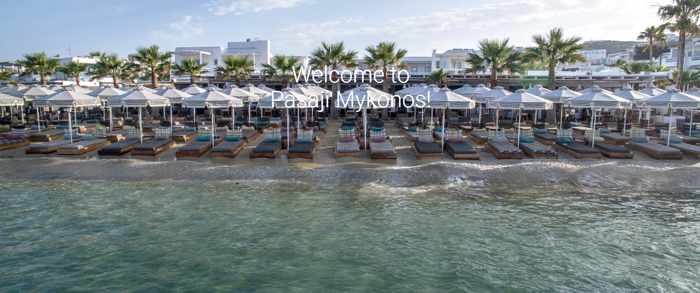 Pasaji restaurant and beach bar at Ornos beach opened on June 3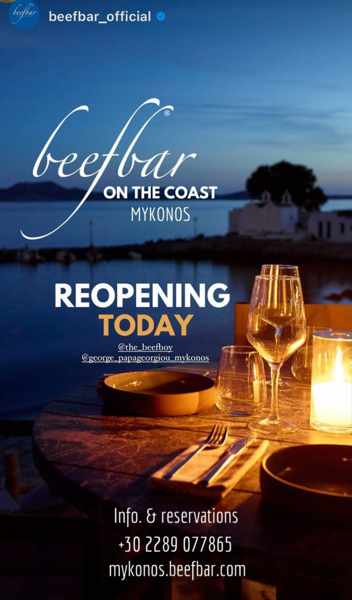 Beefbar on the coast, at Agios Ioannis beach, is back on June 4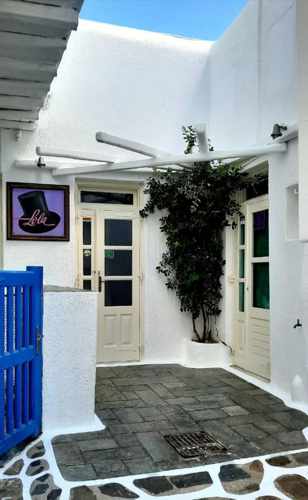 Lola Bar opens its doors on June 4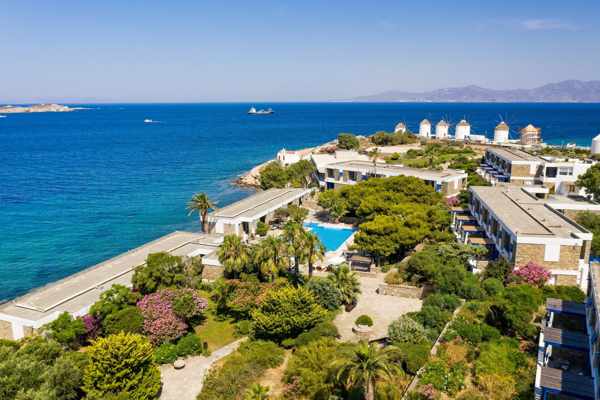 The iconic Mykonos Theoxenia Hotel opens its doors on June 4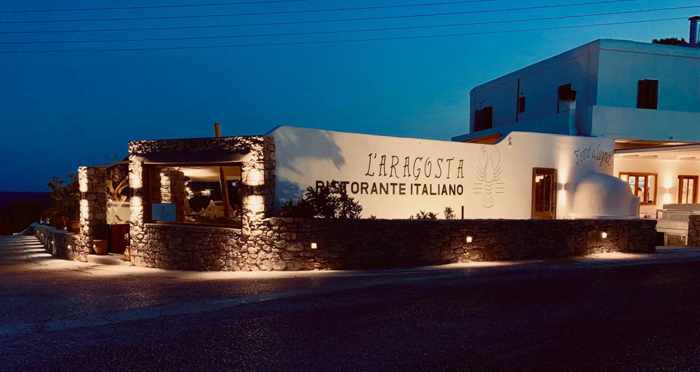 L'Aragosta Ristorante Italiano reopens on June 4
June 4 is opening day for Fokos Taverna at Fokos beach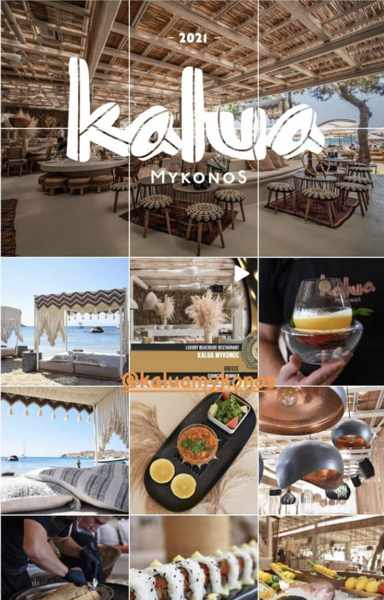 Kalua restaurant and beach bar at Paraga beach will open on June 4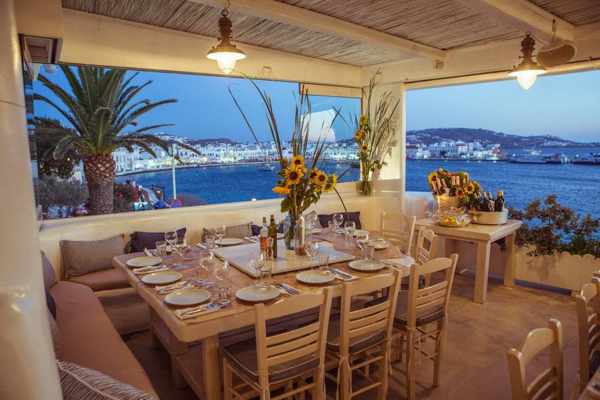 Roca Cookery reopens on June 4
Summer starts on June 4 at Solymar beach restaurant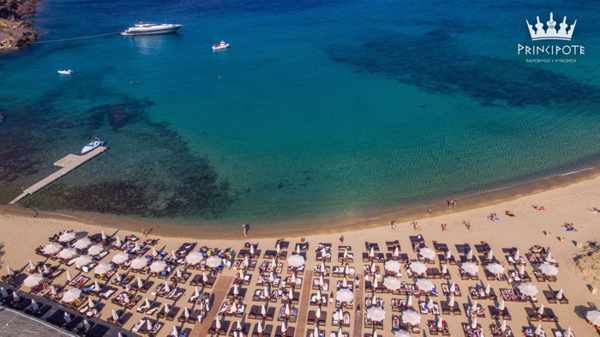 Principote beach club, restaurant and bar starts its season on June 5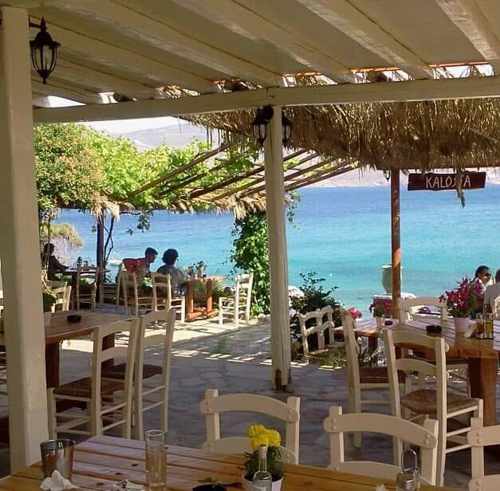 Kalosta Restaurant at Panormos Beach opens on June 5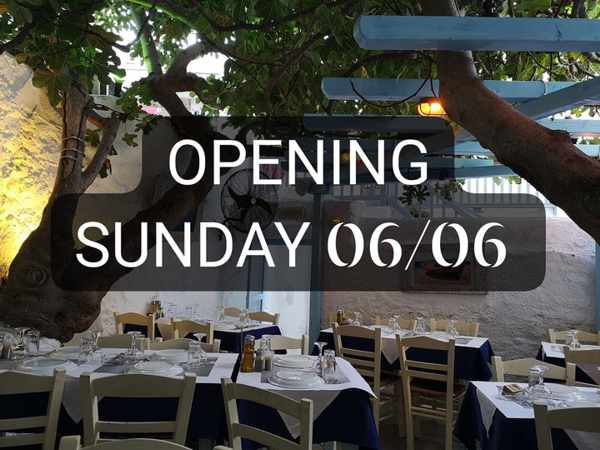 Kounelas Fish Tavern starts its season on June 6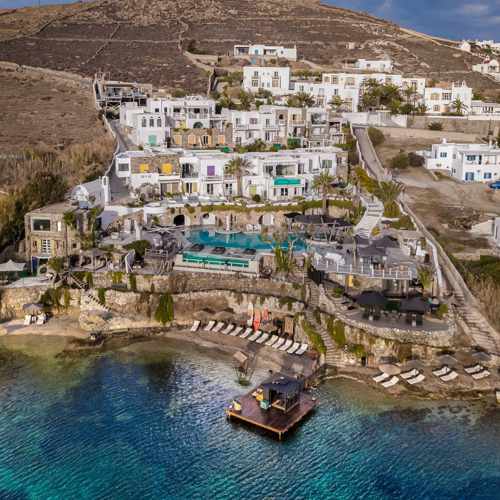 June 6 is opening day for the Kivotos Mykonos luxury boutique hotel at Ornos

June 7 is opening day for Anemos Apartments and Studios at Ornos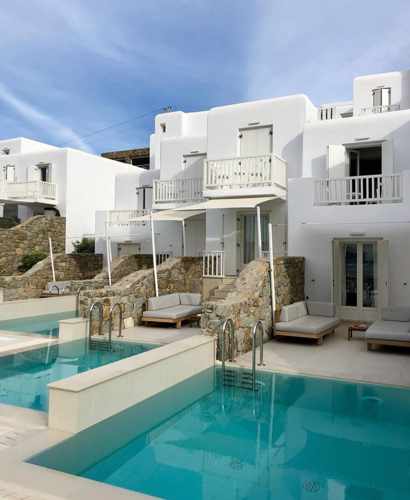 June 8 is opening day for Myconian Kyma Design Hotel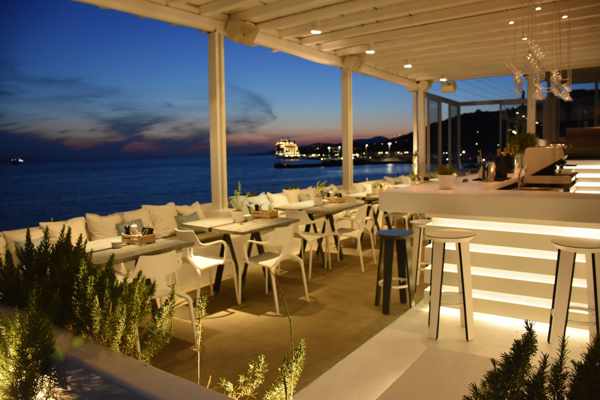 June 8 is opening day for Compass restaurant near the New Port at Tourlos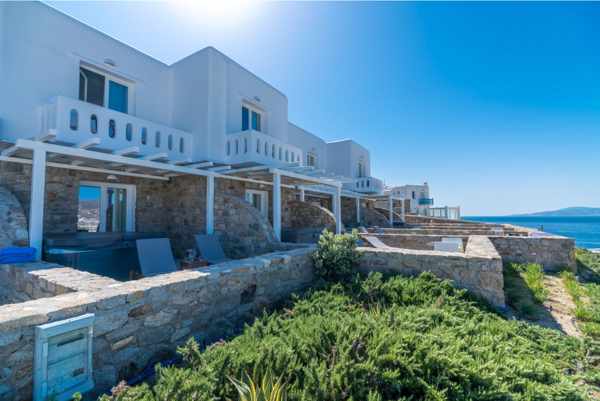 Cape Mykonos Hotel opens its doors on June 8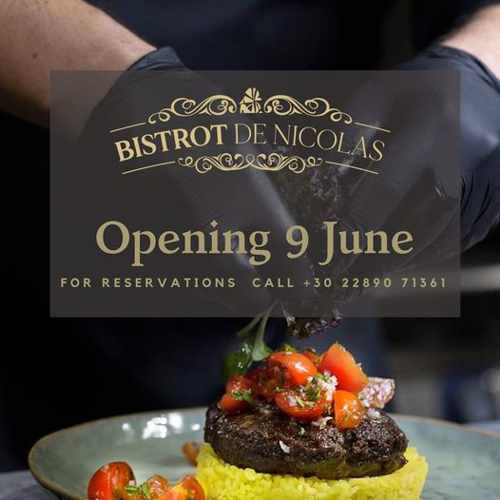 Bistrot de Nicolas will open on June 9
Sunrise Mykonos Hotel at Agrari beach opened on June 9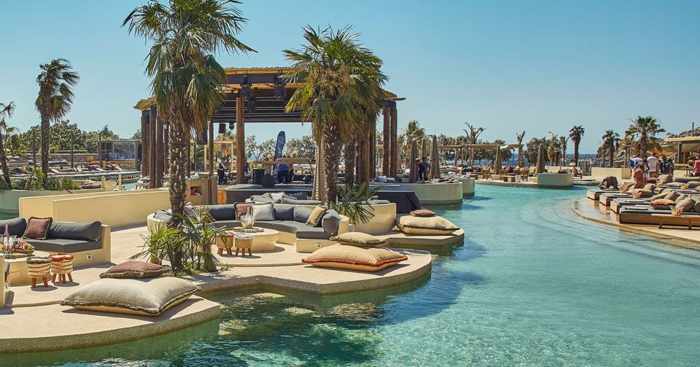 SantAnna beach club at Paraga beach opens June 9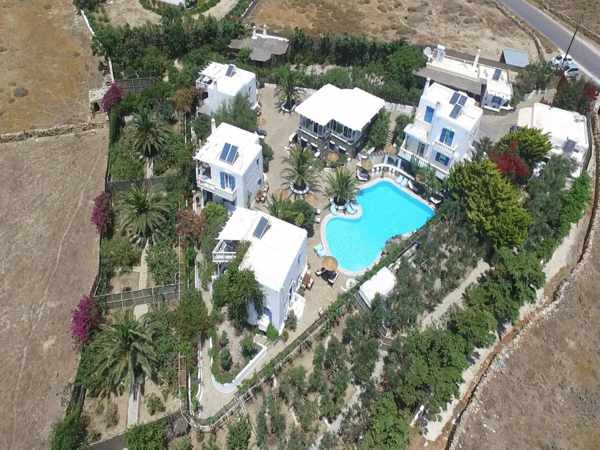 June 10 is opening day for Iro's Boutique Hotel near Kalo Livadi beach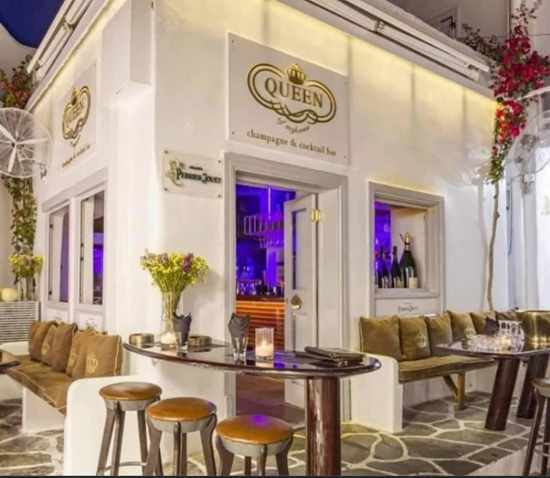 The most popular street club in Mykonos Town — Queen of Mykonos Champagne and Cocktail Bar — starts its season on June 10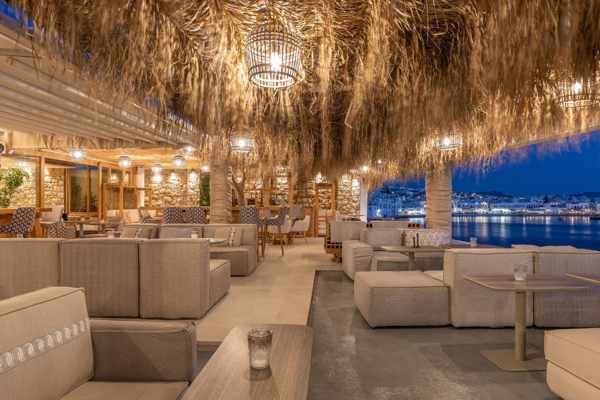 BluBlu Lounge, restaurant and bar reopens on June 11.  Situated on the hillside overlooking the Old Port area, BluBlu is open for breakfast, brunch, snacks, dinner and sunset cocktails. Its wheelchair-friendly premises include a Sports Room with large projection TVs, a Game Room and a play area for kids.
The brand-new Platis Souvlaki, located at the Argo Hotel at Platis Gialos beach, held its grand opening on June 11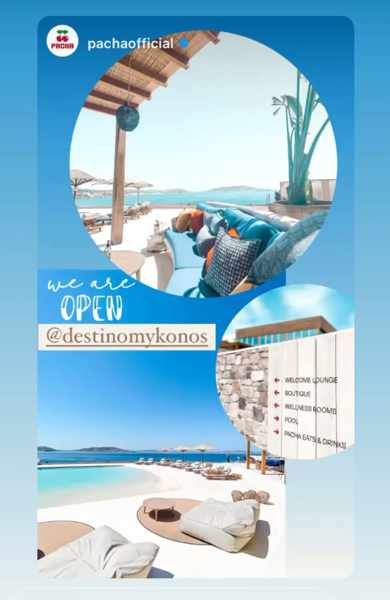 The 5-star Destino Pacha Mykonos luxury hotel originally was scheduled to open Tuesday June 1, but pushed back its opening to June 11. It's situated on a clifftop overlooking Agios Stefanos beach, in the premises previously operated as Oniro Mykonos — A  Shanti Collection Resort.  Like its "sister" Destino Pacha hotel in Ibiza, the Destino Mykonos promises "the ultimate adult playground where life is celebrated from sunrise to sunset and beyond."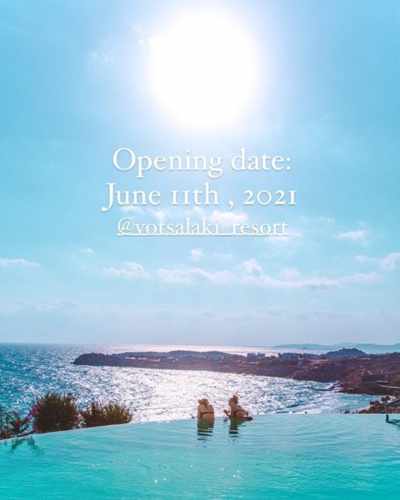 Votsalaki Boutique Resort at Paradise Beach will open on June 11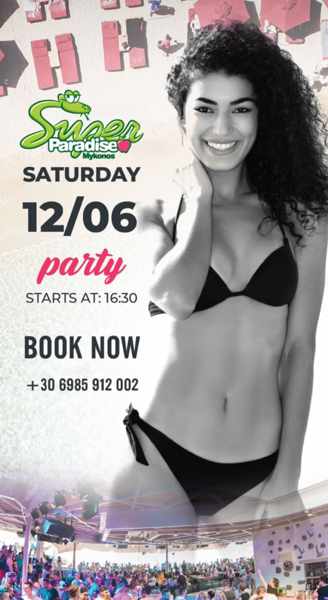 Super Paradise beach club throws its first party of the summer on Saturday June 12 starting at 4.30 p.m.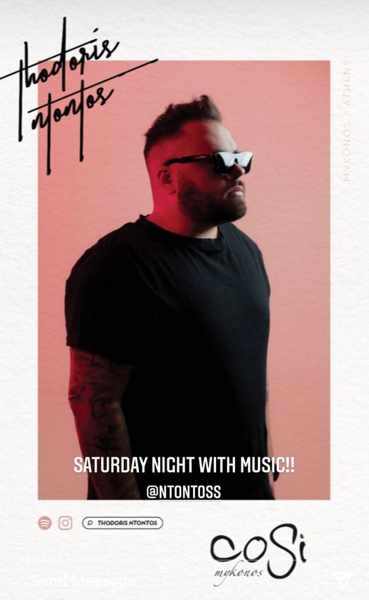 DJ Thodoris Ntontos will play at Cosi bar on Saturday June 12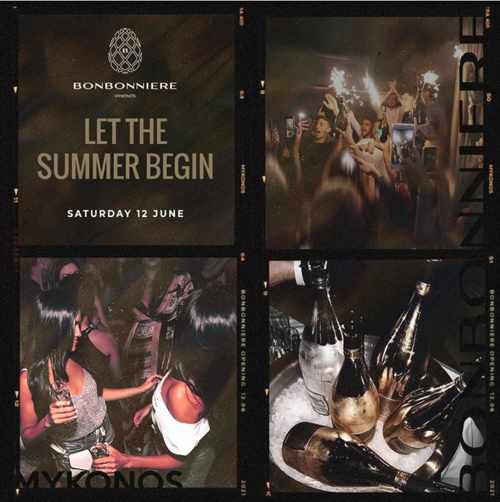 Bonbonniere club in Mykonos Town is back starting June 12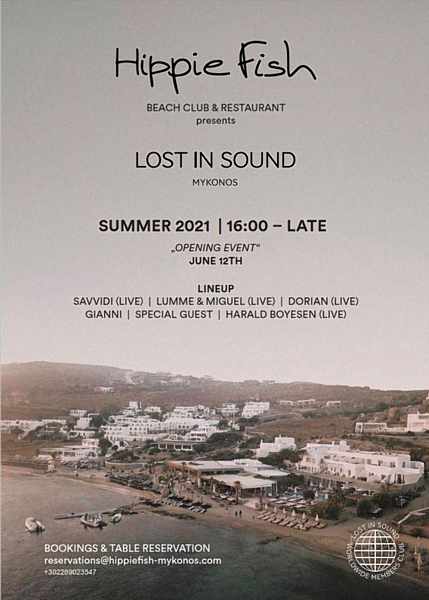 Hippie Fish beach club and restaurant at Agios Ioannis beach will be hosting the opening event for Lost in Sound Mykonos on June 12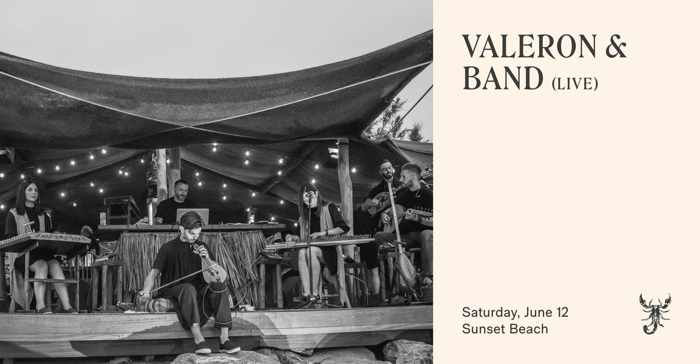 Scorpios beach club starts its music rituals program on Saturday June 12 with Valeron and his band performing. The event begins at 5.30 p.m.
Sunset-view dining returns to the Kouros Hotel's Narcissus restaurant on June 12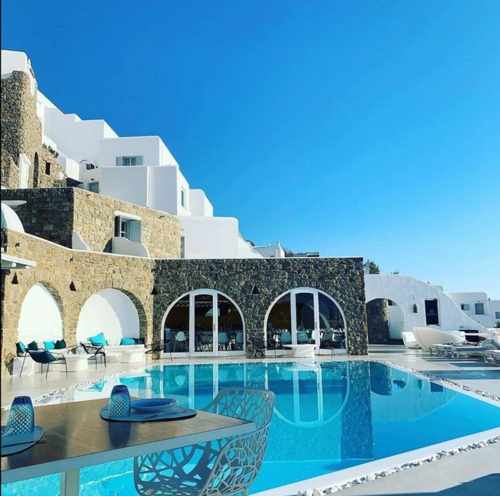 June 12 is opening day at the 5-star Kouros Hotel & Suites luxury boutique hotel and spa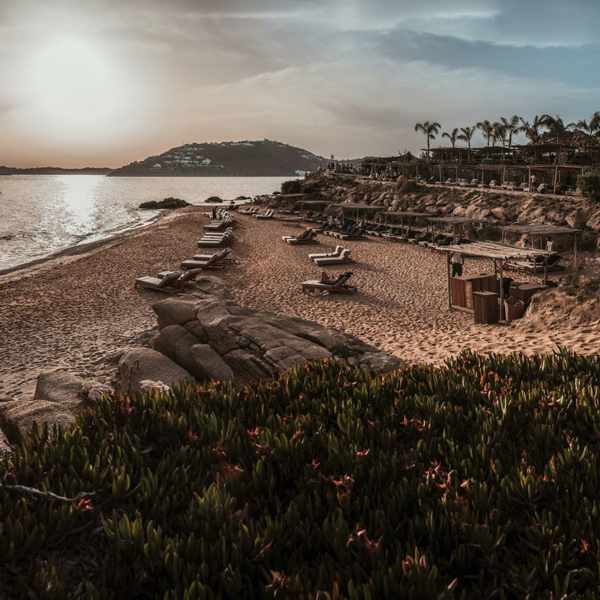 Kaz James and Jean Claude Ades are the featured entertainers at Scorpios on Sunday June 13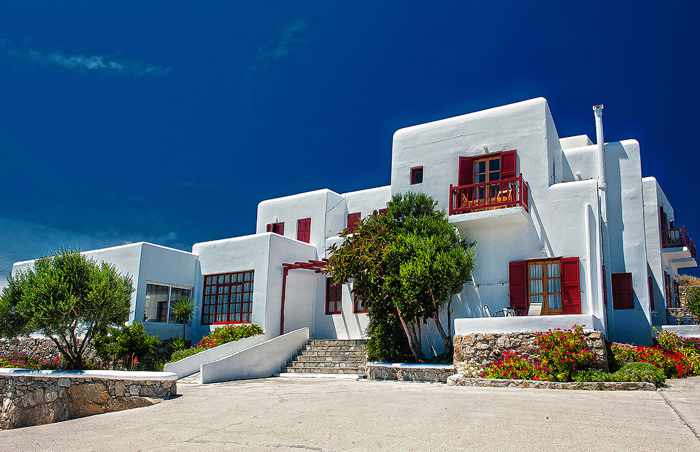 Family-owned Charissi Hotel opens on Monday June 14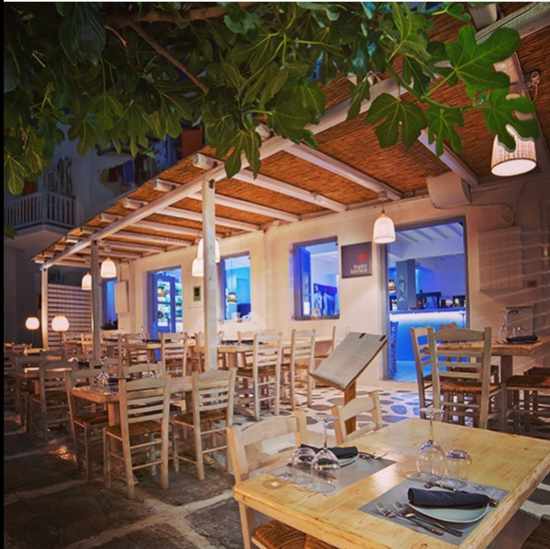 Funky Kitchen restaurant opened on June 14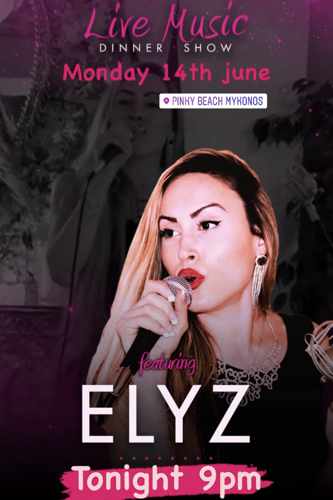 Pinky Beach Club presents live music entertainment featuring vocalist Elyz on Monday June 14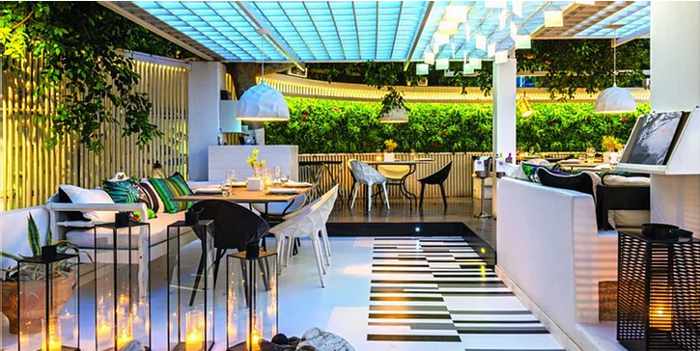 June 15 is opening day for the acclaimed Krama fine Greek dining restaurant in the Semeli Hotel in Mykonos Town
Busulas restaurant at Goumenio Square in Mykonos Town returns on June 15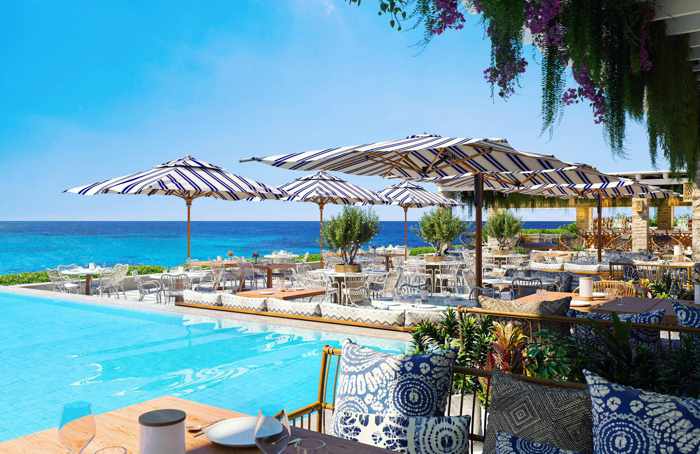 Wednesday June 16 is opening day for Mykonos Social, the newest project of Michelin-starred restaurateur Jason Atherton. Situated in the Santa Marina Mykonos luxury resort at Ornos, Mykonos Social will offer a Mediterranean and Greek cuisine menu created by Atherton and overseen by executive chef Kostas Papathanasiou. 
Violinist Tina Psalidi returns to Anax Resort on Tuesday evenings this summer.  Her first live show is set for Tuesday June 15 at 8 p.m.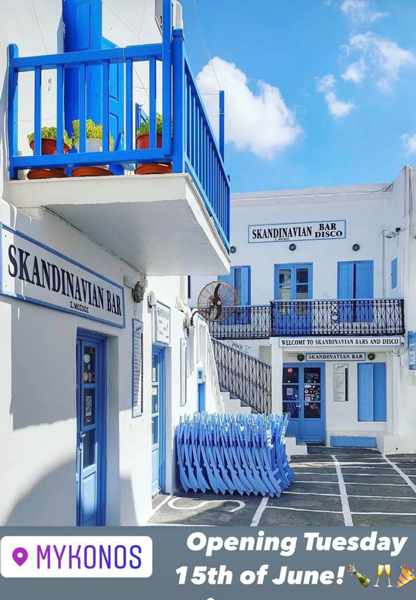 Skandinavian Bar held its "soft opening" on June 15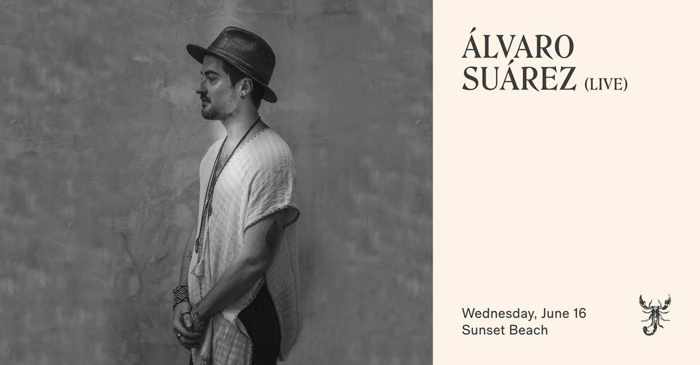 Alvaro Suarez performs for the sunset ritual at Scorpios on June 16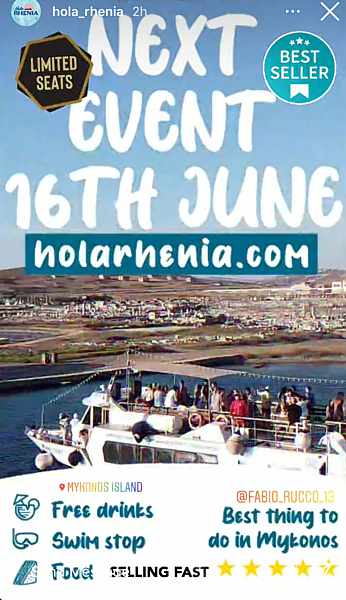 Another Hola Rhenia boat tour is being held on June 16. The trips to Rhenia island are being offered three days per week during June, and daily throughout July and August.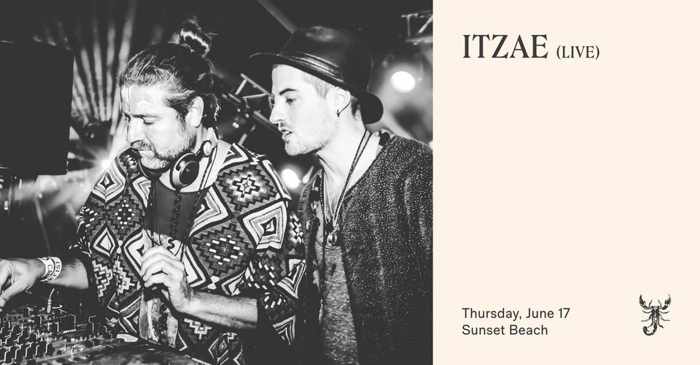 The June 17 sunset ritual at Scorpios features entertainment by Itzae, a collaboration between MoM and Alvaro Suarez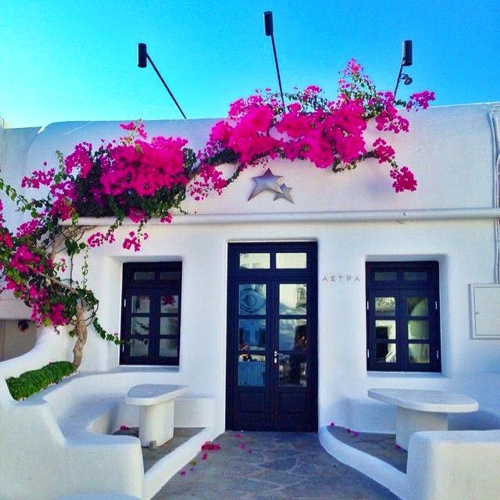 Astra club will be opening for its 34th season on June 17. Because of Covid-related restrictions on venue capacity, reservations will be required for entry. No walk-in visitors will be accepted.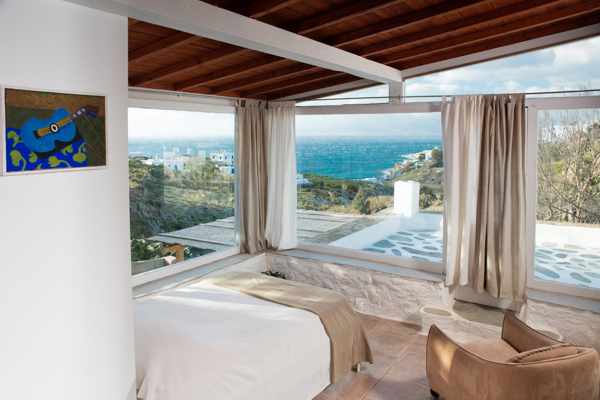 Mykonos Lillys Home and Sunset Suite in the Vrisi district of Mykonos is open for summer bookings

Ftelia Bay Hotel, a 4-star boutique property near Ftelia beach, opened this week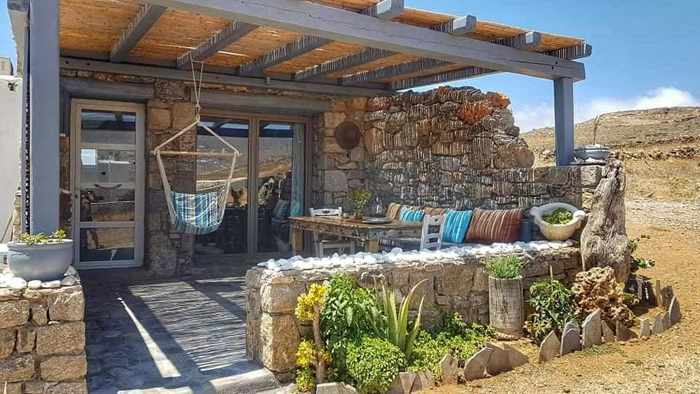 The Ftelia Surf Houses near Ftelia beach have opened their doors again and are taking accommodation bookings for this summer through Airbnb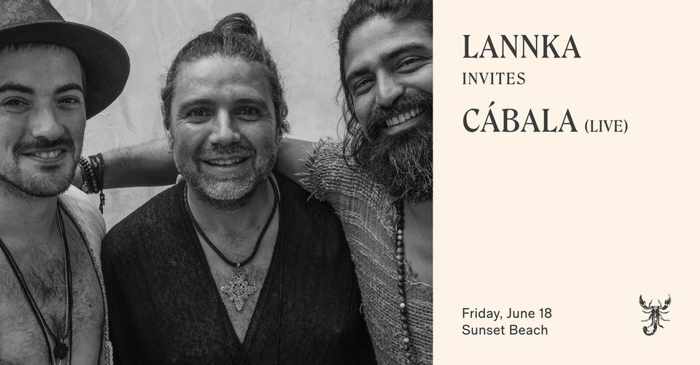 Scorpios presents Lannka and Cabala on June 18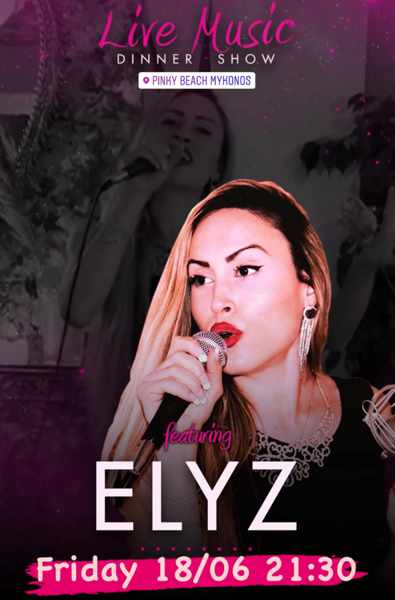 Vocalist Elyz will entertain during the live music dinner show at Pinky Beach club on Friday June 18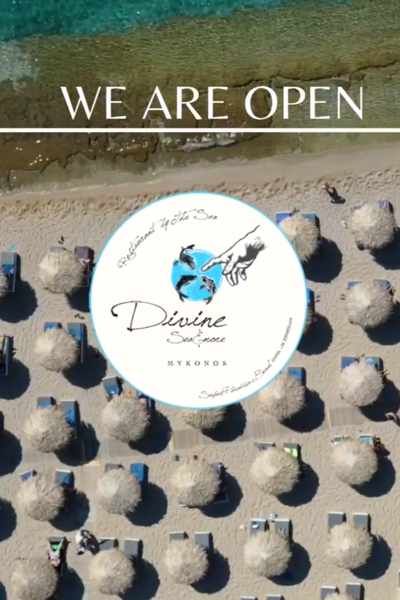 Friday June 18 is opening day for Divine Sea & More restaurant and bar at Super Paradise beach
Friday June 18 is opening night for SeaU Mykonos Bar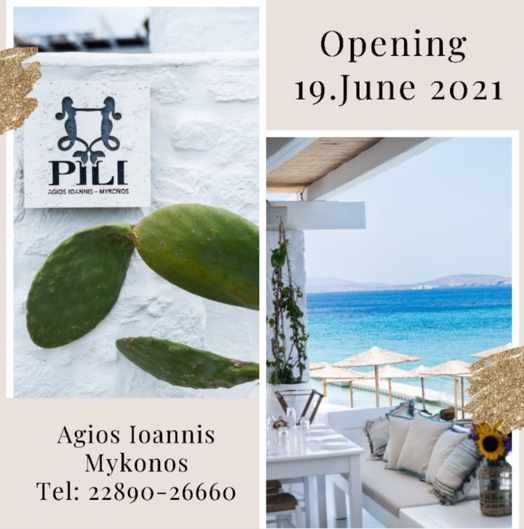 Pili restaurant on the beachfront at Agios Ioannis will start its season on Saturday June 19
On Saturday June 19, Kalua presents entertainment by singer Shaya and the club's resident DJ, Giannis Oikonomou. The reservation-only event starts at 5 p.m.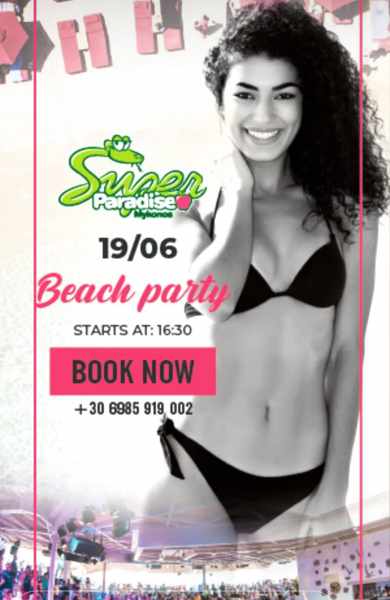 Super Paradise beach club is throwing a beach party starting at 4.30 p.m. on Saturday June 19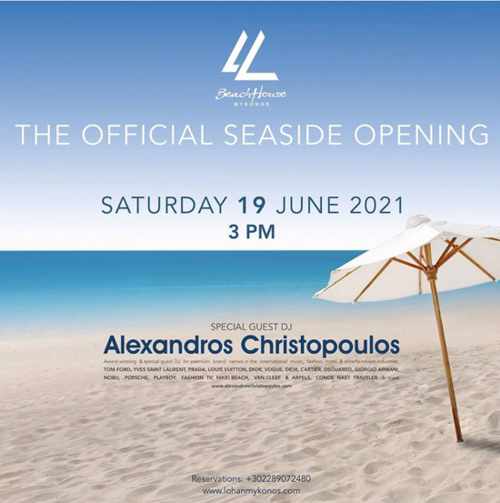 Alexandros Christopoulos will be special guest DJ for the official opening party at Lohan Beach House on Saturday June 19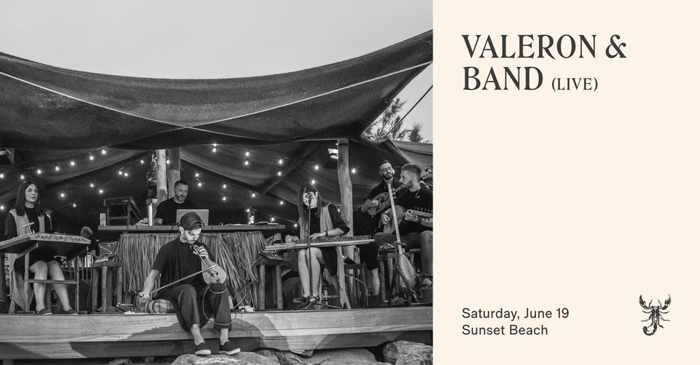 Valeron and his band perform at Scorpios on June 19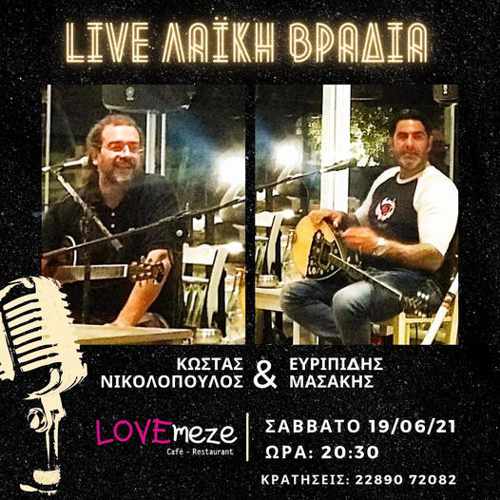 On Saturday June 19, Lovemeze restaurant presents an evening with live folk and rebetika music performed by musicians Kostas and Euripides. The event starts at 8.30 p.m.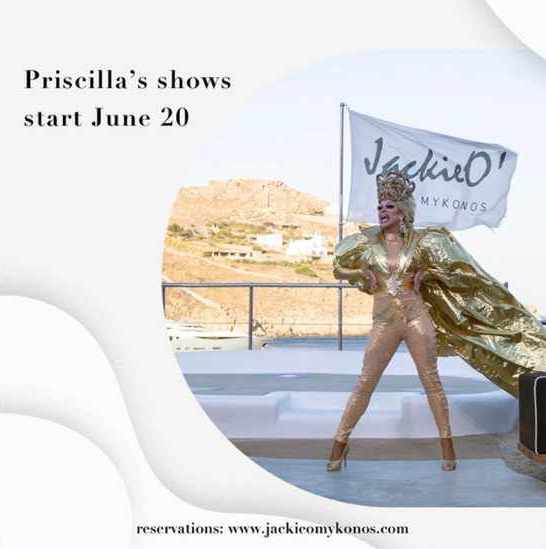 Priscilla returns for her daily drag shows at JackieO Beach Club at Super Paradise beach starting Sunday June 20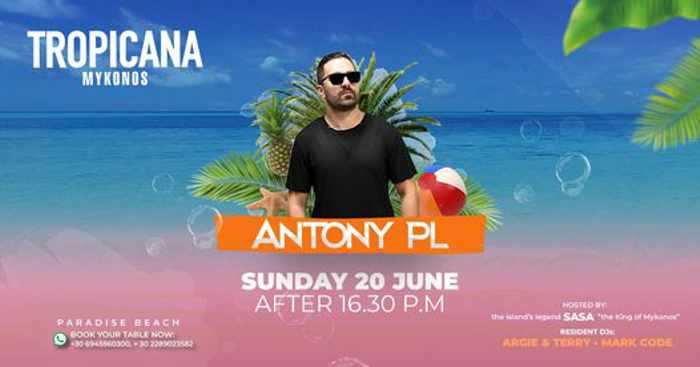 DJ/Producer Antony PL will take over the decks for a special guest DJ set at Tropicana on Sunday June 20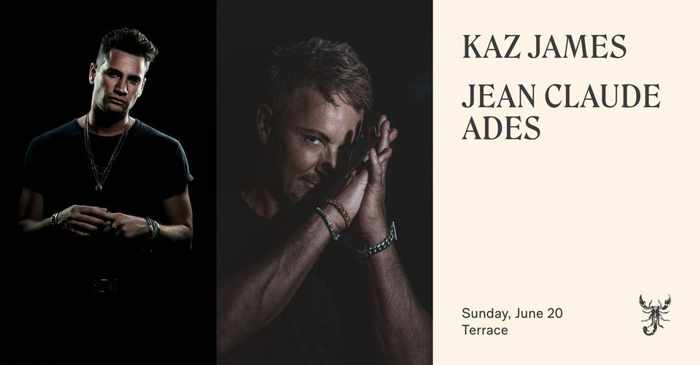 Kaz James and Jean Claude Ades headline the sunset ritual at Scorpios on Sunday June 20
Pere Ubu Mykonos, the Greek fine dining restaurant in the newly-opened Kalesma Hotel near Ornos, will be celebrating the Holy Spirit holiday weekend with a special live DJ set on Sunday June 20.  Yannis Mitsokapas along with Evridiki from Zucca Radio will be on the decks for this event, which starts at 7 p.m.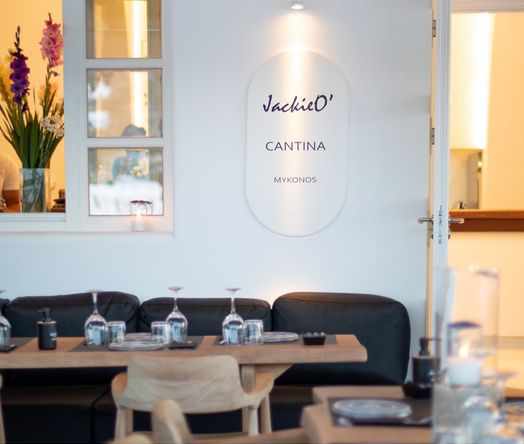 The new JackieO' Cantina restaurant opened June 21 next door to the JackieO' Town Bar on the Mykonos Town seafront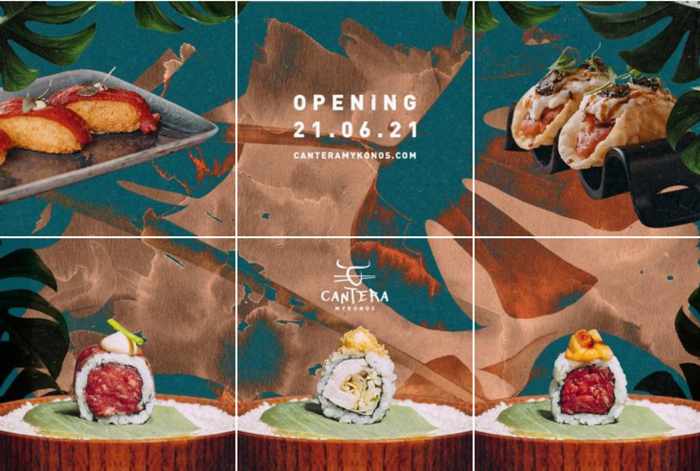 June 21 is opening day for the new Cantera meat fusion restaurant at Little Venice
Lemurian will perform during the Tuesday June 22 sunset ritual at Scorpios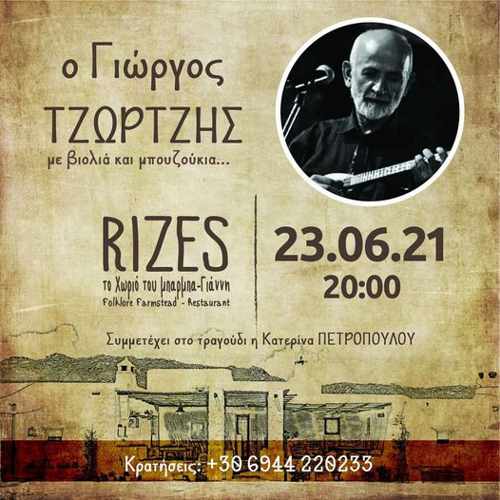 On Wednesday June 23, Rizes Folklore Farmstead presents an evening of traditional Greek music performed by Giorgos Tsortzis. The event begins at 8 p.m.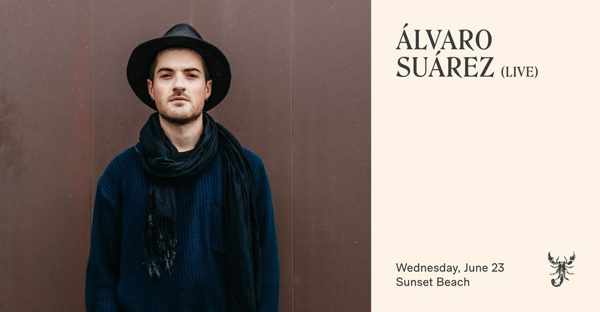 Scorpios presents Alvaro Suarez on Wednesday June 23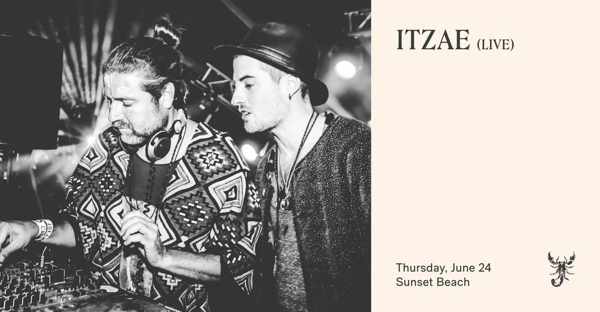 The June 24 sunset ritual at Scorpios features music by Itzae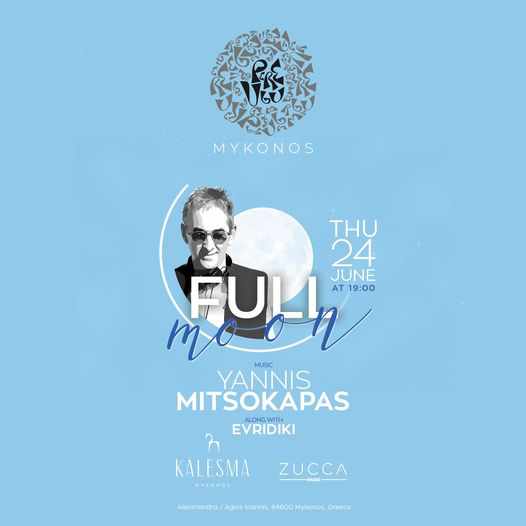 On June 24, Pere Ubu Mykonos restaurant at the Kalesma hotel will host a Full Moon Party featuring a live set from DJs Yannis Mitsokapas and Evridiki Mitsokapa from Zucca Radio. The event starts at 7 p.m.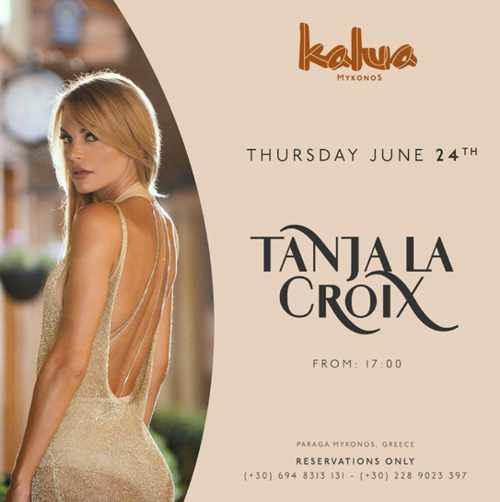 DJ Tanja La Croix makes her first Mykonos appearance of the summer at Kalua on Thursday June 24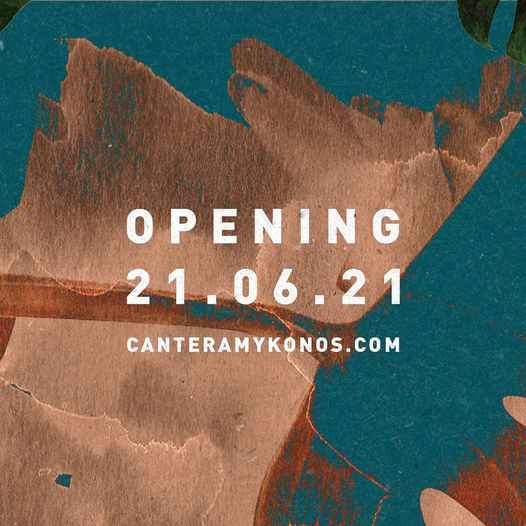 Cantera Mykonos, a brand-new meat sushi restaurant situated at the Little Venice seafront of Mykonos Town, will hold its "soft" opening on Monday June 21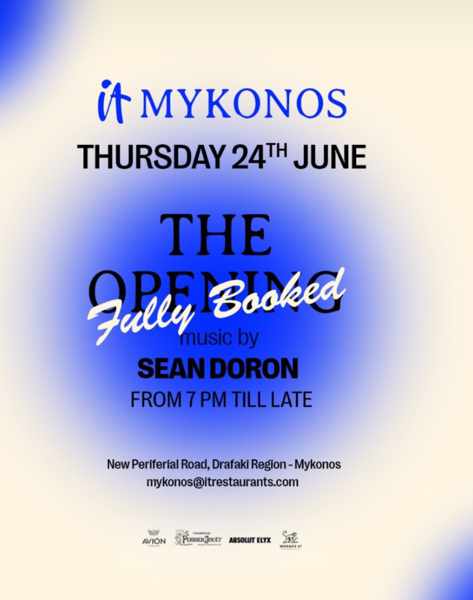 The new IT Mykonos restaurant and lounge, located in the Drafaki district on the edge of Mykonos Town, will open June 24 with music by DJ Sean Doron.
Friday June 25 at 6 p.m. is the soft opening of Farma House at Ftelia beach. All we know about it so far is that it's a "new concept" venue offering "experimental sounds of Mykonos" and "a new sunset spot." The opening party will feature music by Lehar and the resident DJ for Mykonos's Sanctus nightclub, Riccardo Del Bianco.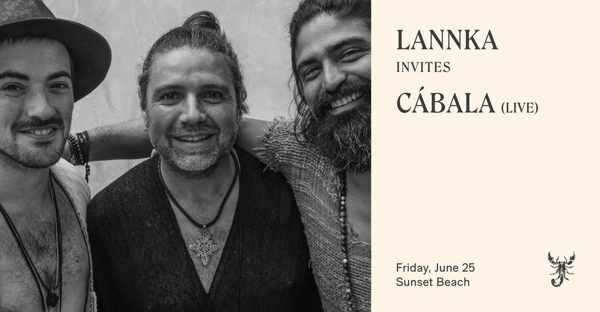 Lannka and Cabala appear at Scorpios on June 25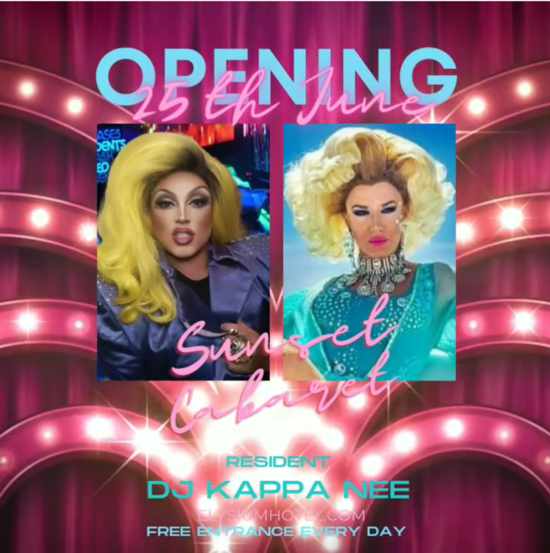 Nightly Sunset Cabaret shows return to the Elysium Hotel in the School of Fine Arts District starting Friday June 25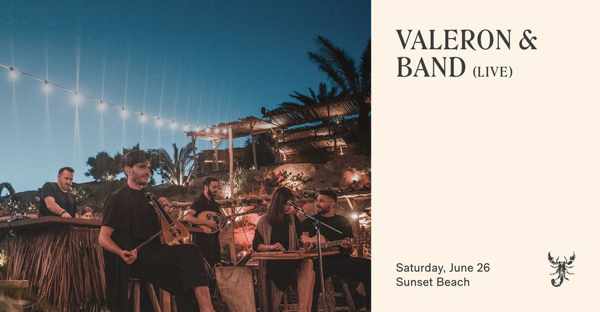 The Saturday June 26 sunset ritual at Scorpios features entertainment by Valeron and his band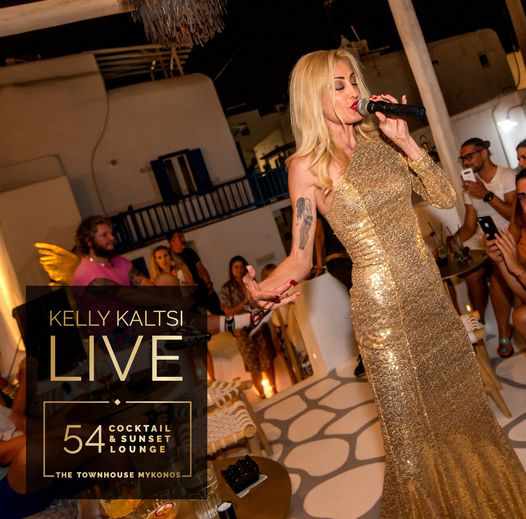 Singer Kelly Kaltsi will perform at 54 Cocktail Bar & Sunset Lounge on Saturday June 26 starting at 10 p.m.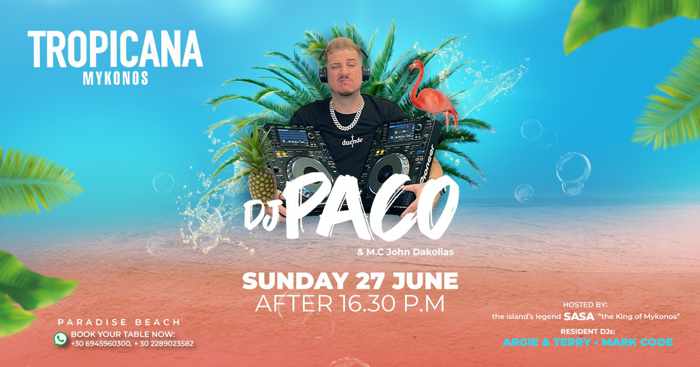 Greek RNB DJ & Producer Constantine Paco will be on the decks at Tropicana on Sunday June 27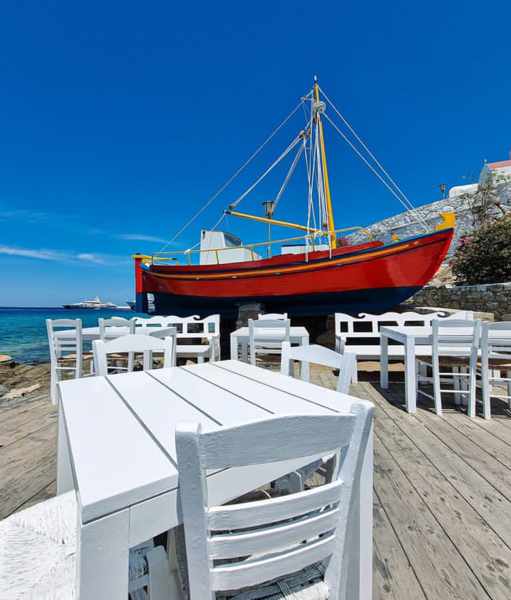 Thursday June 24 is opening day for Baboulas Ouzeri, located on the Kaminaki harbourside of Mykonos Town (just look for the traditional fishing boat "Mathios," seen in the photo above, which has been a much-photographed Mykonos icon for decades).  Long-time Mykonos visitors will remember Baboulas, which became a seafood restaurant called Salparo Mykonos around 2015.  Now Baboulas is back in the seaside space, serving simple and authentic Mykonian cuisine " just like the old days." Baboulas describes itself as "the least gourmet restaurant on the island," and will be celebrating its 30th anniversary this year.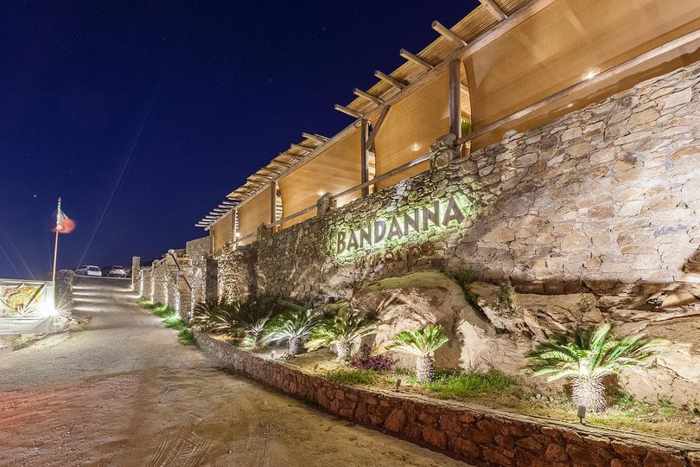 Friday June 25 is opening day for Bandanna Mykonos, located in the island's Glyfada area (along the highway from Mykonos Town to Ano Mera). The restaurant previously had been located at Kalafatis, but relocated to Ano Mera in 2020 — its 25th year of operations.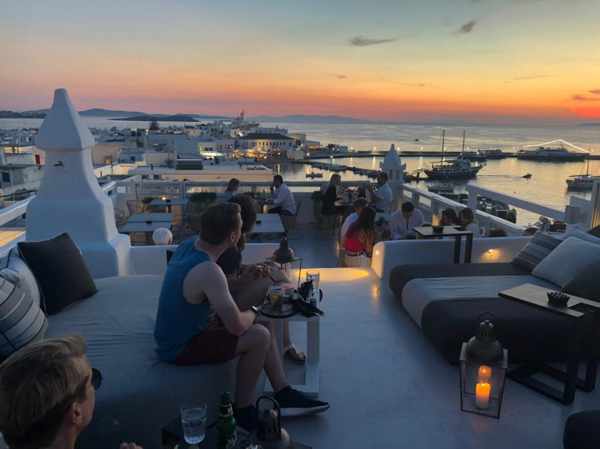 The TownHouse, a boutique luxury hotel near Manto Square in Mykonos Town, has opened its new rooftop SkyBar. The patio offers impressive town and harbour views and is a great spot to enjoy a cocktail while watching the sunset. While SkyBar is a hotel amenity intended primarily for its registered guests, a limited number of seats may be available for visitors. To inquire about availability and reservations, contact SkyBar by telephone at: +302289028543, or email: bar@mykonostownhousehotel.com. Also situated in TheTownHouse is the popular 54 Sunset Bar and Cocktail Lounge.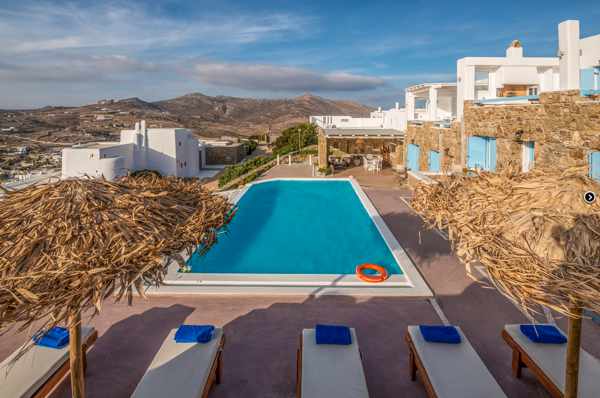 Manolia View apartments and villas is now open for the summer. The property is situated on a hilltop in the Agia Sofia area of Mykonos, high above the Mykonos New Port, and has amazing sea and sunset views.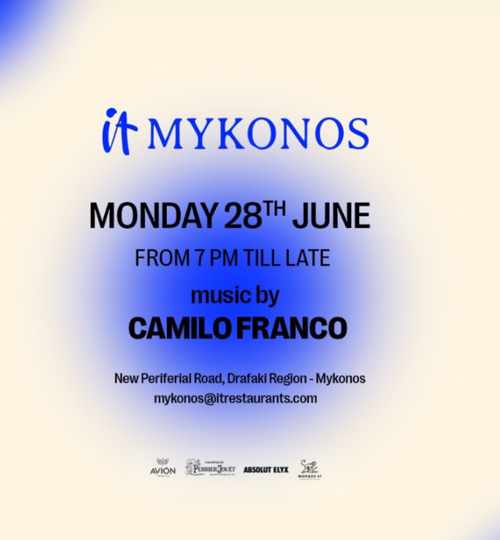 DJ Camilo Franco will play at IT Mykonos on Monday June 28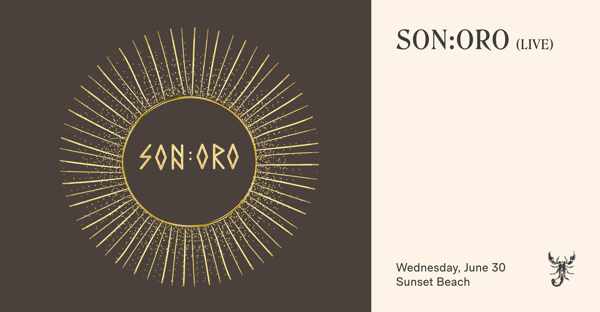 SON:ORO is the featured musical artist performing at Scorpios on Wednesday June 30