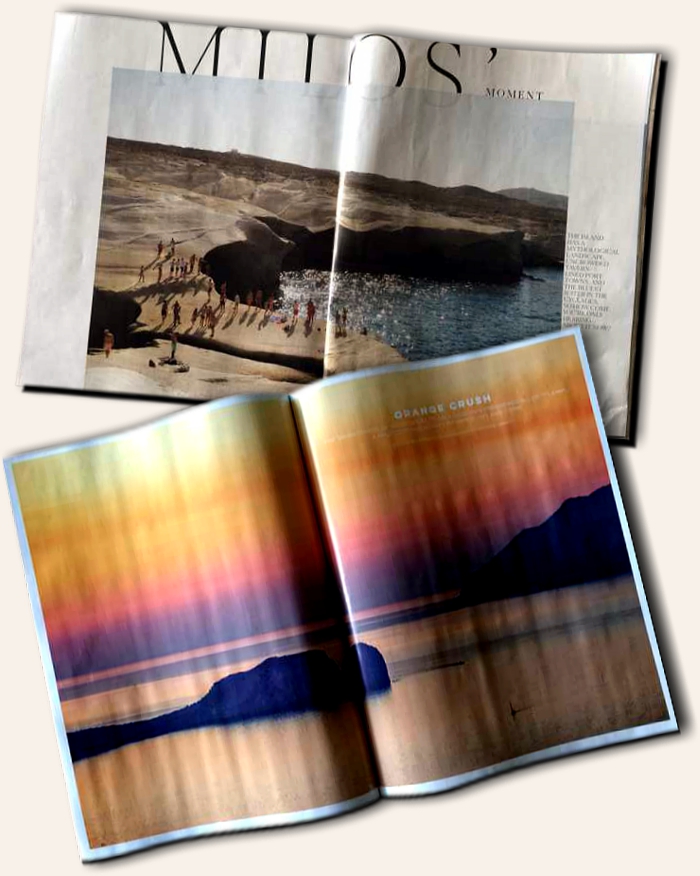 Two top travel magazines profiled Milos island this summer.  The article Milos' Moment appeared in the May edition of the American Conde Nast Traveler, while Orange Crush was published in the UK's Conde Nast Traveller in June.
Media darling: If you're considering a visit to Milos in 2018, you might be wise to start making your holiday plans and hotel reservations ASAP — especially if you have your heart set on staying in any of the island's upscale accommodations (which are in rather limited supply), or if you wish to spend time in the Skinopi village area, in particular.
The reason? Milos has been profiled numerous times this year by leading international publications and travel websites, some of which have hailed it as an "undiscovered" and "secret" Greek island "paradise." With all the positive publicity — boosted by scores of shared posts on social media — I suspect there could be a surge in tourist traffic to Milos next year, and likely for summers to follow.
As for Skinopi, its favourable mention in three highly influential publications could turn the little-known settlement into a trendy new Greek Island getaway destination for upmarket travellers seeking seclusion, style and scenery.
I can't explain why so many media have developed such keen sudden interest in Milos, or why some of the magazines think they have just stumbled upon a fabulous place few people know about. I first read about Milos in Greek Islands travel guidebooks back in 2004, and my partner and I went there in 2007, the same year another major travel magazine, Islands, published Milos Rocks, a cover story heralding the so-called "undiscovered" isle in the western Cyclades. Has Milos remained a hidden hideaway for the 10 years since Islands "discovered" it? Hardly. 
We went back for a second visit in 2011, while numerous friends and acquaintances have also made one or more trips there during the last seven years.  I have seen Milos included in Greek Island travel guides published since at least 2009 by major British publications, including The Sunday Times Travel Magazine and even Conde Nast Traveller, which that year highlighted Milos in a two-page "Best Beaches" write-up. Meanwhile, I have noticed steadily increasing interest in Milos on TripAdvisor and other travel forum sites in the last few years and, for my own part, I have published half a dozen posts about Milos here on the blog since 2012.
Although I won't further debate whether Milos is indeed "secret" or "untouched," I do believe it's a remarkable Greek Island in many respects, and well-deserving of greater attention from travellers.  I could explain why by repeating some of my previous blog posts, but instead will let some extremely well-travelled writers describe why you should visit Milos yourself. Please click on the link below to continue reading on page 2.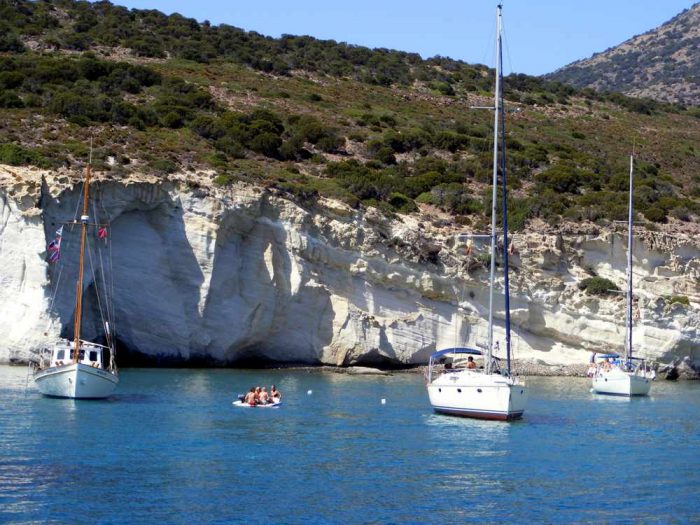 Sailboats at Kleftiko, one of the most popular coastal stops for round-the-island tours of Milos
CONTINUED ON PAGE 2