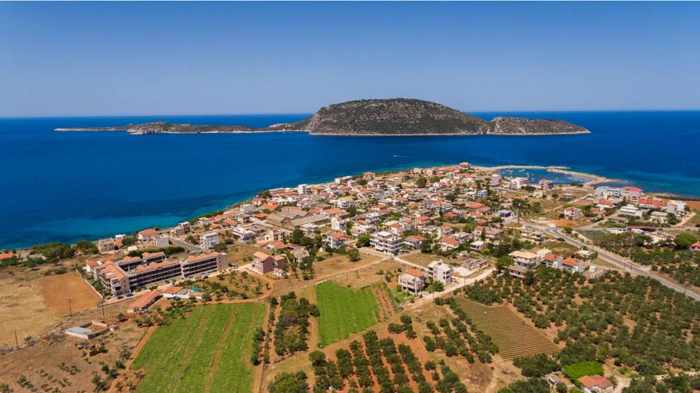 An aerial view looking west toward the town of Marathopoli and Proti Island. The photo is from the website for Marathopoli's Artina Hotel Nuovo, where we stayed two nights while visiting historic sites, towns and attractions on a road trip through the Messenia region of the southwestern Peloponnese .
Great location: I didn't know anything about Marathopoli when our travelling companions suggested we use the small seaside town as a base during two days of our road trip in the Messenian region of the Peloponnese last spring. Quite frankly, I didn't know exactly where it was or what was there, and I doubt I had even heard of the place before they mentioned it.
What we discovered when we got there, on Day 2 of our trip, was a quiet, laid-back town that was a perfect spot to unwind after busy days of driving, hiking and sightseeing. And, just as our friends had pointed out, it was very conveniently located. All of the major attractions we wanted to see — Methoni Castle, Voidokilia beach, the old castle of Navarino, and the town of Pylos — were less than 40 minutes away. Many more historic sites, beaches and natural attractions we didn't have time to visit were within reasonable driving distances as well, including The Palace of Nestor; Golden Beach – Mati and Vromomeri beach; and the Valta waterfall,  Neda River, Polylimnio lakes and waterfalls, Gialova wetlands, and more. 
From a tourist perspective, Marathopoli isn't a particularly remarkable town in and of itself. Although it's located on the coast, the built-up area of businesses and residences is spread across flat terrain, so it doesn't boast a naturally picturesque and scenic setting like the more famous Messenian hillside towns of Pylos and Kyparissia. Its streets aren't as photogenic, since there are no cobblestone lanes lined with rustic old houses and impressive historic buildings to stroll around.
When we arrived at Marathopoli and passed through the main section of town on the way to our accommodations, we found a compact commercial strip with three supermarkets and several other shops catering to the local residents, a couple of cafes and tavernas, and a number of vacant storefronts.  The business area, which occupies just a couple of short blocks, is fairly basic and nondescript — it hasn't been fancied up with boutique shops, hipster cafes and trendy wine bars geared to upmarket travellers. From what I recall, it didn't have any shops selling T-shirts and tacky cheap souvenirs, either. The town seemed unassuming and refreshingly "non-touristy," at least at the low season time we were there. (It could be a slightly different story during the peak travel months of July and August, though.)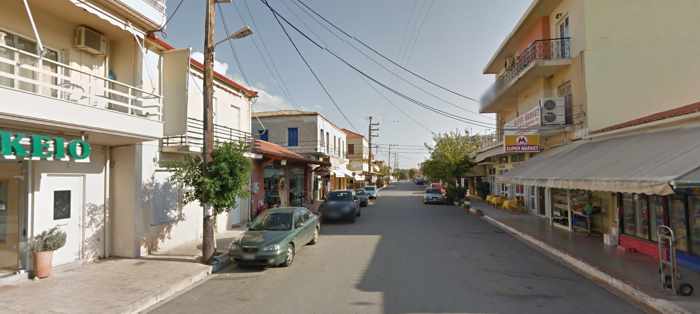 A Google Streetview photo of the business area along Marathopoli's main street
However, Marathopoli does have an attractive pedestrian zone just off the main drag, where visitors will enjoy going for coffee, drinks or dinner, or to take walks with views of the sea and Proti Island.  One block, which leads from the main street toward the sea, has been pleasantly landscaped with brick and flagstone pavement, benches, planter boxes, and old-style streetlamps. Restaurants, a few shops and a bank occupy the buildings along both sides of the block. The street intersects with a flagstone-paved pedestrian walkway (Πεζόδρομος — pezodromos) that extends along the seafront all the way to the town harbour.  Locals refer to it in English as The Sidewalk, and it is the town's go-to area for a good selection of fish tavernas, traditional Greek restaurants, coffee shops and bars, many of which have open-air patios along the seafront. We found the pedestrian areas incredibly quiet in daytime and early evening, but humming with people and activity at night, once all of the restaurants had opened.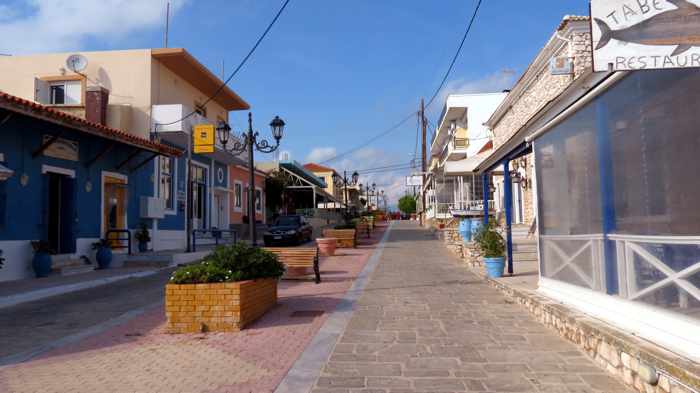 Visitors will find a bank, shops and restaurants on this block-long pedestrian street which leads from the main road toward the seafront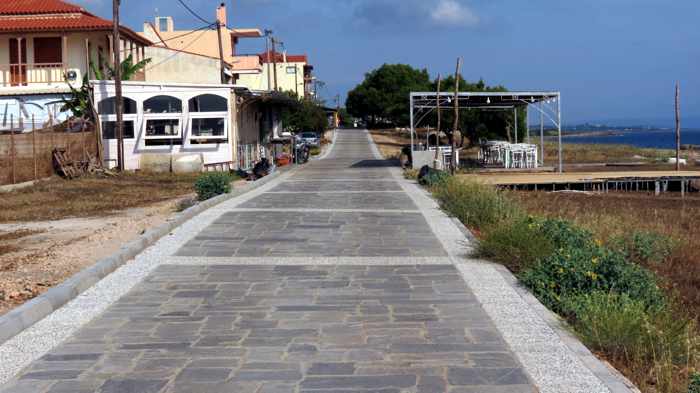 The pedestrian promenade known locally as The Sidewalk overlooks the seaside and extends from the restaurant zone all the way to the town harbour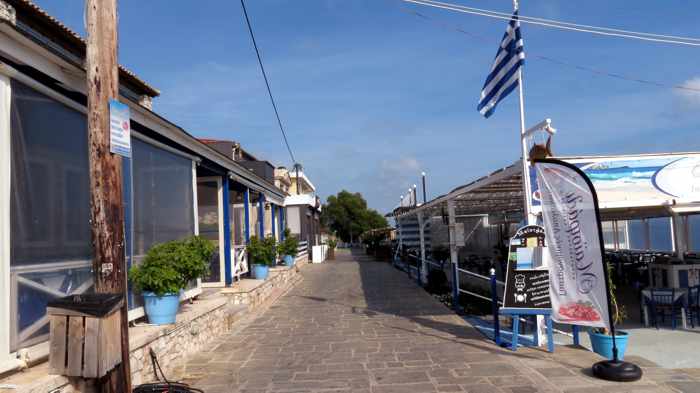 The Sidewalk offers a variety of dining options, including cafes, fish tavernas, restaurants and bars, most of which have patios on the seaside
But The Sidewalk isn't what draws tourists to Marathopoli. The two main attractions for visitors are Proti Island and Lagouvardos beach, both of which are easily accessed from town.  Proti is reached on excursion boats from the Marathopoli harbour, and offers swimming and cliff jumping at secluded Vourlia beach, trekking on a variety of island trails, rock climbing, snorkeling and scuba diving. Lagouvardos is a large golden-sand beach about 3 kilometers from town, and is popular for board and wind surfing, stand up paddle boarding, swimming and other water sports.  (More information about Proti and Lagouvardos will appear in an upcoming post.)
If you're planning to travel in western Messenia and looking to stay in a mellow, realxed location with appealing attractions close by and plenty more within reasonable driving distance, take a closer look at Marathopoli.  For us, its location just couldn't be beat. Our only regret was that we didn't spend another night or two there; we never made it to Lagouvardos, and at the time of our late May visit the tour boats to Proti Island had not started operating.  But we did enjoy the town's unhurried, low-key atmosphere, excellent dining, and beautiful sea and sunset views.
For additional information about the town and top attractions nearby, check out the official Marathopoli Tourist Guide as well as as Jessica's excellent overview article, Marathopoli and the beautiful surrounding area in Messenia, Greece, from the Athens Coast lifestyle website.
To see more of Marathopoli, take a look at the aerial video below, then turn to page 2 where I have posted photos that we shot while wandering around the town and enjoying the almost traffic-free streets.
Aerial views of Marathopoli and Proti Island are featured in this 2-minute video by Nikos Tsiak
CONTINUED ON PAGE 2