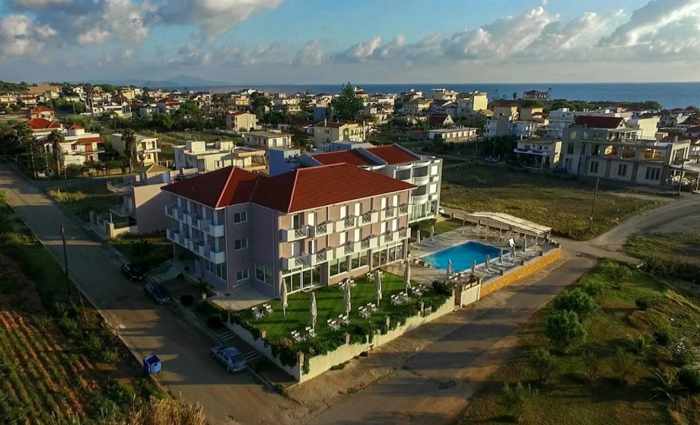 We enjoyed our spacious, comfortable rooms at the Artina Hotel, seen here in an aerial image shared on Google by Nikos Tsiak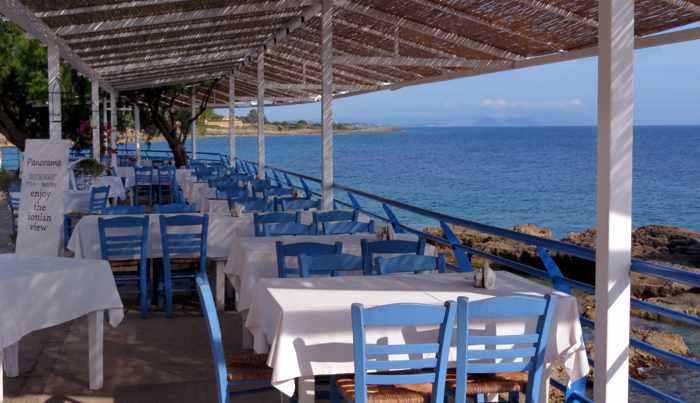 On our first night in Marathopoli, we had dinner on this seaview patio at Panorama Fish Tavern Restaurant …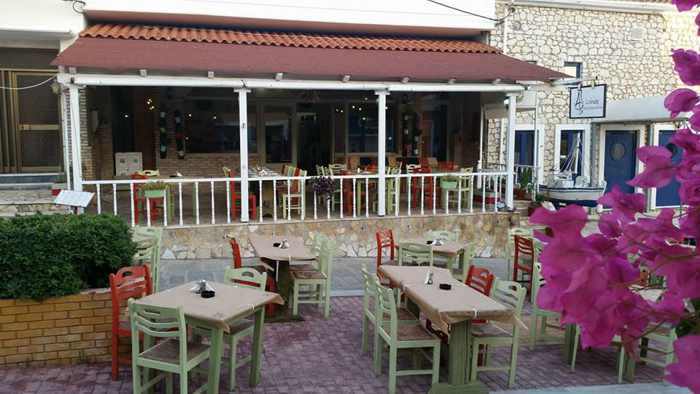 … while the next night, we enjoyed mezes at Artoinos Μεζεδοπωλείο, seen in a photo from its Facebook page
Great food & accommodations: We ate well and slept well during our brief 2-night stay in the small seaside town of Marathopoli last spring.  Our only disappointment? Not having more time to enjoy our lovely hotel room longer, or to try other restaurants besides the two where we had delicious dinners.
As I mentioned in my March 20 2018 post describing Marathopoli, we had chosen to base ourselves in the town so we could easily access top sites and attractions in Messenia during our road trip through the region. 
Though Marathopoli has fewer than 700 residents, it has a surprising variety of accommodation options, ranging from a budget-friendly campground to 2-star hotels, studio apartments, and luxury suite hotels. Choices include:
♦ the 15-room Hotel Rania (shown as Rania Apartments on Google Maps);
♦ the two-star Porto Marathos, a 33-room property with single, double and triple rooms, as well as four apartments;
♦  Artina Hotel and Artina Hotel Nuovo, two connected hotel buildings with apartment-style suites and a shared swimming pool, breakfast room, and gym;
♦  Megalos Kampos Hotel & Resort, a property offering four large studio apartments and two maisonettes;
♦  Pefkides, a complex of five separate luxury apartment residences that share a large garden area and a swimming pool; 
♦  Agrikies Country Retreat, a complex of four maisonette guest houses that can accommodate up to 5 persons each;
♦  Camping Proti, a full-service campground with spaces for tents and trailers, and facilities that include a cafe-bar, minimarket, TV room, swimming pool, laundry, kitchen and shared refrigerators and freezers;
♦  Esperides, a complex of five independent holiday apartments; 
♦  Faros Luxury Suites, a seaside hotel with 11 kitchenette-equipped luxury apartments; 
♦ Mesogeios Hotel, a group of studios and apartments situated between Marathopoli and Lagouvardos beach;
♦  Lagouvardos Apartments, a collection of seven small, furnished houses near Lagourvardos Beach;
♦   Edem Suites, a collection of standard and family-sized maisonettes near Lagourvardos;
♦   Dialiksari Villas, a complex with six individually decorated houses, and
♦  Messinian Horizons, a complex of 5 luxury maisonette villas situated about 3 km south of Marathopoli.
Our travel companions had suggested we all stay at the Artina Hotel Nuovo, and it proved to be an excellent choice: the location was good; the breakfast buffet was enjoyable; the sea and sunset views were wonderful; and our spacious, well-appointed rooms were extremely comfortable. The nightly rates were very reasonable, too. I would love to stay there again. (You can see photos of our room and the hotel on page 2 of this post.)
For dining, we were again spoiled for choice and had to decide from such top-rated restaurants as:
♦  Maistrali Restaurant & Fish Tavern;
♦ Miggas Vassilios Taverna;
♦ Riki Mediterranean Restaurant (operated by the proprietors of the Megalo Kampos resort);
♦ Faros Restaurant in the Faros Luxury Suites hotel;
♦  Pame Bounti grillhouse;
♦ Entheon Italian cuisine and pizzeria; and
(A bright new arrival on the Marathopoli dining scene, Opos Palia (Όπως Παλιά_Μεζεδοπωλείο-Ψησταριά), didn't open until after our visit.)
For a late dinner on our first night in town, we went to Panorama Fish Tavern on the restaurant and bar strip that residents call The Sidewalk. Every dish we ordered — the calamari, horta, grilled local cheese, and meatballs — was tasty and enjoyable, while the service was very good.
The next night we chose Artoinos Mezedopolio, which had received great reviews on travel websites and restaurant apps. Our selections there included skordalia, gigantes, chick pea balls, spetzofai sausages, fried pork in white wine, and pleuvrotos mushrooms. We loved everything and would be hard-pressed to list a favourite, but all of us agreed that the sausages and mushrooms were stand-out dishes.  The wine and service were excellent to match. Artoinos would probably be the first place we'd go for dinner next time we return to Marathopoli.
And what about the Marathopoli nightlife? We didn't experience any of it ourselves, but the town does have a lively bar and nightclub scene, especially during the main summer travel months. Popular spots for drinks, music and partying include:
♦ Animus Wine Bar and Cafe
♦ Puerto Club
♦ Loco Bar, and
♦ Diva Club
If we had stayed out late for a night on the town, though, we certainly would have enjoyed coming back to the Artina Nuovo to crash in our super-comfy beds and awake to the calming panoramic views of the harbour and sea.
Below are panoramic photos I shot on my iphone, showing the interior of our spacious room at the Artina Nuovo as well as the morning and sunset views from our balcony:



More photos of our room and its views, plus pictures of the hotel, can be viewed on page 2 of this post. Of course, more photos and information about the Artina Nuovo, and its sister Artina Hotel, as well as online booking, can be found on the official hotel website.
For customer reviews of the various places to eat in the town, check the Marathopoli restaurant listing on TripAdvisor.
CONTINUED ON PAGE 2