This is the second instalment of a three-part series examining how Milos island became a media sensation around the world in 2021.
In Part 1, we described how Milos's popularity surged in mainstream travel publications and and websites, as well as in high-profile fashion advertising campaigns, social media posts by music and television celebrities, and more.
Here, in Part 2, we show how Milos made its mark in articles and reports published not only in travel magazines and blogs, but also in publications focussed on business, fashion, architecture, lifestyle, and hotels.
Part 3 takes a look at the impression Milos made in cinematic travel films and in YouTube videos by top international travel vloggers.
— Magazine profiles of Milos —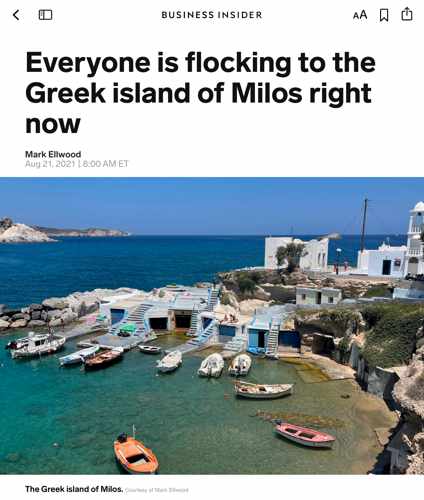 The Mandrakia fishing settlement is seen in a photo journalist Mark Ellwood shot for a Business Insider report on Milos's rising popularity
Milos made headlines in Business Insider magazine, which reaches 23 million influential readers. In a report published in late August, writer Mark Ellwood notes that the Greek islands were a top destination for tourists seeking a holiday break during the ongoing Covid pandemic. But Milos appears to be attracting additional attention this year, he says. Like better-known Greek islands, Milos "has seemed both safe and accessible. For its extra buzz, though, credit a combination of the mines, the media, and Mediterranean yacht culture," Ellwood observes.
Milos had a long mining history thanks to its mineral-rich volcanic geology, which blessed the island with unbelievably colourful cliffs, coastlines and beaches  — a huge draw for Instagrammers and fashion photographers seeking unusual and exotic landscapes for their photo and video shoots. As Ellwood notes, "Its Insta-ready landscape is a viral-marketing asset for models and brands." And since many of the striking landscapes are best viewed from the sea, Milos has become "a must-stop on Mediterranean yachting itineraries."
Ellwood interviews local entrepreneurs, travel experts and top influencers to learn more about why Milos has become such a desirable destination, particularly for premium travellers.
Read what they had to say in his insightful report, Everyone is flocking to the Greek island of Milos right now.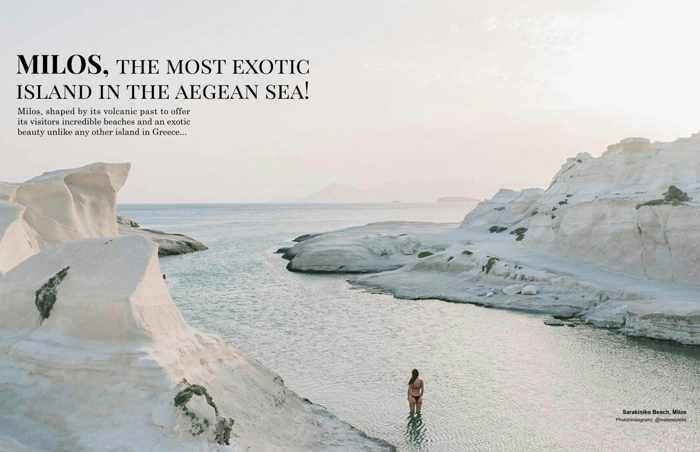 A scene from Sarakiniko beach illustrates a feature story on Milos in the digital magazine 500 Best Hotels Greece
"Milos is a phenomenon of colours, architecture, natural beauty, geology, history and culture, tradition," notes a feature article published in the spring/summer edition of 500 Best Hotels Greece.
The 15-page piece provides interesting details and descriptions of the island's villages and its myriad beautiful landscapes and natural attractions, including beaches and coastal areas. The article is informative, but worth checking out simply to have a look at the nearly three dozen gorgeous photos that accompany the text. The magazine asserts that Milos is a "dazzlingly beautiful island," and the images conclusively support that claim.
The article is free to read in a digital version on the 500 Best Hotels Greece website.
The story and full edition of the magazine can also be read in the 500 Best Hotels Greece Issue No. 4 version on the Issuu.com app.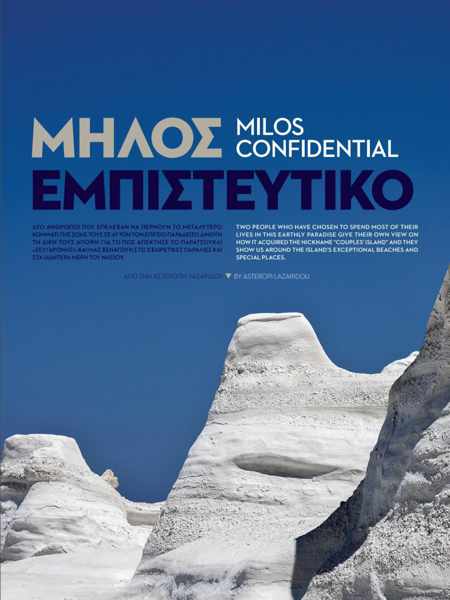 A Sarakiniko landscape scene illustrates a Milos article that appeared in summer edition of  Minoan Wave magazine, published by Greek ferry company Minoan Lines.
For her Minoan Wave magazine article Milos Confidential, writer Asteropi Lazaridou spoke to two Milos residents to get local insights into the island's "exceptional beaches and special places."
Emmanouela Kaoustou, owner of  the traditional products shop Milokipos, struggled to suggest a short-list of her five favourite beaches simply because the island has so many she likes, each one different from the other. "In general, this is one of the many positive things about Milos, it has countless beaches, small unspoilt spots, you have endless choices and you can find somewhere to be almost alone, even in high season," she says. Kaoustou also explains why Milos is often called "the ultimate island for couples."
Anastasis Karvounis, who manages accommodation rentals in various parts of the island, describes what visitors will discover during night walks in Adamantas and Plaka, and explains why "Milos is an island for foodies." He also talks about a personal favourite place on the island — "the abandoned sulfur mines and the magnificent beach that lies beneath them."
The article, along with half a dozen beautiful photos of Milos scenery, can be found at page 126 of the Minoan Wave 2021 digital edition on Issuu.com.
In July, the Travel.gr website published an easy-to-read Milos guide that suggests cool things to do and see, as well as places to eat and sleep
"Milos is an island that has it all: beaches of unbelievable beauty, eerie settings, catacombs, old pirate stories, volcanic craters, Cycladic hospitality, superb all-suite hotels, and a sensational sunset," writer Voula Akrivaki says in an introduction to a Milos guide she compiled for the Greece travel experience website Travel.gr (the piece was translated into English by George Kolyvas). "In an inexplicable way, the island has an immediate calming effect on visitors. It is home to Europe's biggest mineral mine and offers over 70 beaches capable of covering all moods and preferences," she adds.
The easy-to-read guide suggests things to do and places to see, with a specific section on where to swim, and also recommends notable restaurants and accommodation options.
The article includes a scenic 4.5-minute aerial video of top island attractions.
Milos: Island of contrasts and balance was published on July 6 2021.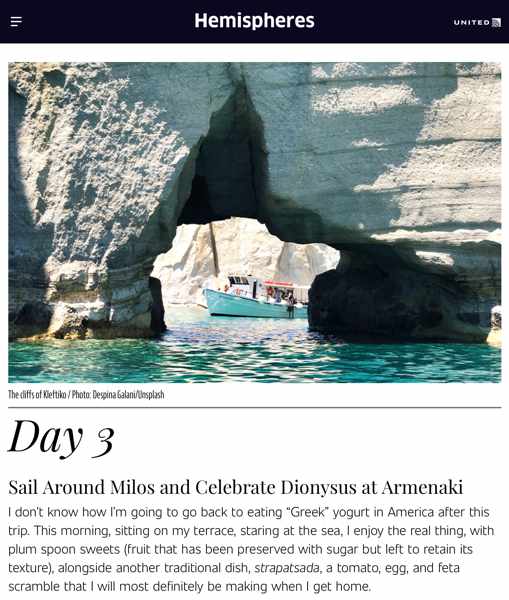 A sailboat excursion was one of the Milos highlights described in a trip report for the United Airlines magazine, Hemispheres 
Writer Ellen Carpenter paid a whirlwind visit to Athens and Milos to pen a "Three perfect days" feature article for Hemispheres, the on-board magazine of United Airlines.
We were amazed to read about all the places and things that Carpenter was able to see and do during her extremely limited time on Milos. Despite a late afternoon arrival by plane, she managed a visit to Sarakiniko and a dinner at O! Hamos in Adamas, where we've had superb meals ourselves.
The next day, she enjoyed a sailboat day tour with Thalassitra Sailing, which took passengers to Kalogries beach, Kleftiko, Tsigrado and Paleochori beaches, and Polyaigos island, passing Klima village on the return to Adamas. Carpenter's evening diversions included a tour and wine tasting at Kostantakis Winery followed by a delicious meal at Armenaki restaurant on the Pollonia village waterfront.
Although we recommend staying a minimum of three nights on Milos (we suggest planning for five or more), Carpenter's article shows just how much a visitor can see during a quick island hop when more time simply isn't available.
Carpenter's conclusion: "The Greek islands are more alluring than ever, and Milos, in particular, is seducing visitors with its siren song of serenity and otherworldly beauty. Heed the call."
Get the full details in her July 30 2021 report Three Perfect Days in Greece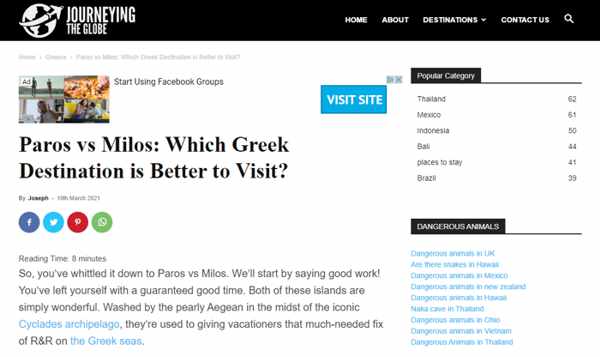 Journeying the Globe considers whether Milos or Paros is the "better" island to visit
The adventure travel blog Journeying the Globe pitted Paros against Milos for an interesting comparison piece in the spring.
In Paros vs Milos: Which Greek destination is better to visit, published March 19 2021, freelance writer Joseph examined similarities and contrasts between the two Cycladic islands based on important travel criteria such as price, food, accommodations, beaches, getting around, things to do, and "general vibe."
"Both of these islands are mega stunners," Joseph says.
But we won't be spoilers by revealing his conclusion as to which might be better than the other — we recommend you read Joe's post to see what he advises, and why.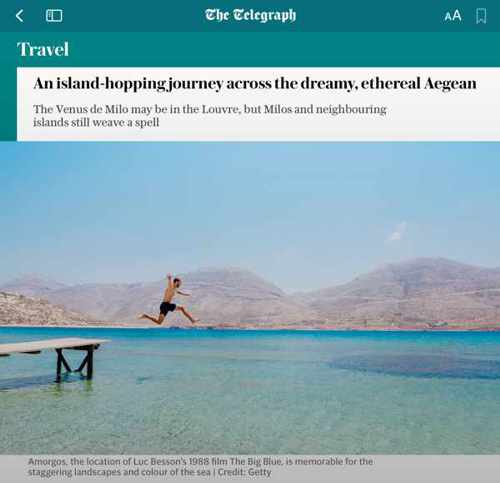 Milos was one of three spellbinding Cycladic islands profiled in an island-hopping article in The Telegraph
Milos was the first stop in a short summer island-hopping getaway by writer Michelle Jana Chan.
In a brief trip report for The Telegraph, she relates renting a car "to explore the seahorse-shaped island known for tales of unscrupulous pirates in centuries past," swimming and cliff-jumping at Sarakiniko, and visiting the place where the Venus de Milo sculpture was discovered.
Her easy-to-read article can be read in the August 8 2021 article An island-hopping journey across the dreamy, ethereal Aegean.
— Mini-guides recommending Milos —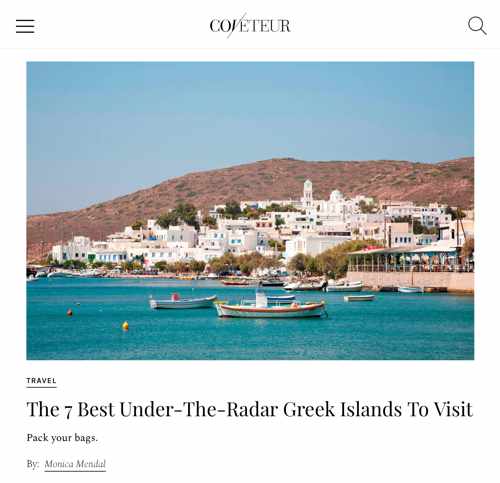 The Milos port town Adamantas (also known as Adamas) is seen in the lead photo for a Coveteur magazine mini-guide to the Cyclades islands
In July, lifestyle publication Coveteur magazine  cited Milos as one of  The 7 best under-the-radar Greek Islands to visit.
"Milos, in all of its rustic, small-town charm, is unanimously beloved by locals and visitors alike," says writer Monica Mendal.
Her mini island-hopping guide is a quick and easy read since each of the seven islands is described in a succinct one-paragraph blurb that suggests  top places to visit, dine and stay. But  it does confirm what others have been saying — Milos is one of the best lesser-known islands in the Cyclades, and offers a completely different holiday experience than the heavily-touristed Mykonos and Santorini.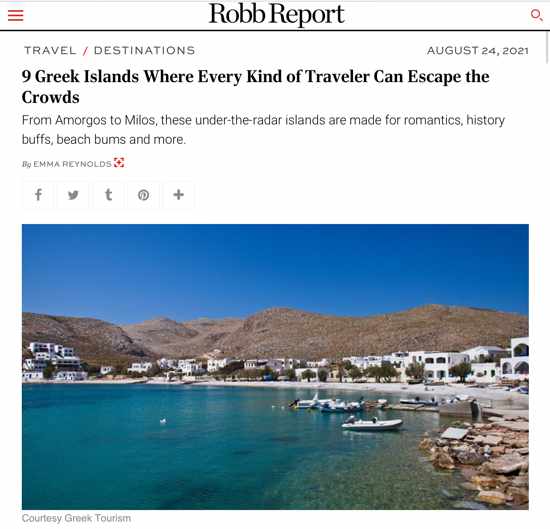 Robb Report recommends Milos for romance seekers
Milos made it onto another list of recommended Greek islands, this time in an August 24 article in Robb Report, a global luxury publication read by more than 571,000 high-net-worth people in 28 countries.
Penned by Emma Reynolds, the quick-to-read mini-guide suggests 9 Greek islands where every kind of traveler can escape the crowds.
Reynolds selected what she thought would be the best islands to visit based on specific personal travel preferences such as history, adventure, wellness, family time and more. In describing Milos as her choice as an ideal destination for romance, she explains why Milos is known as "the island for lovers," and advises where visitors can experience the island's "true spirit."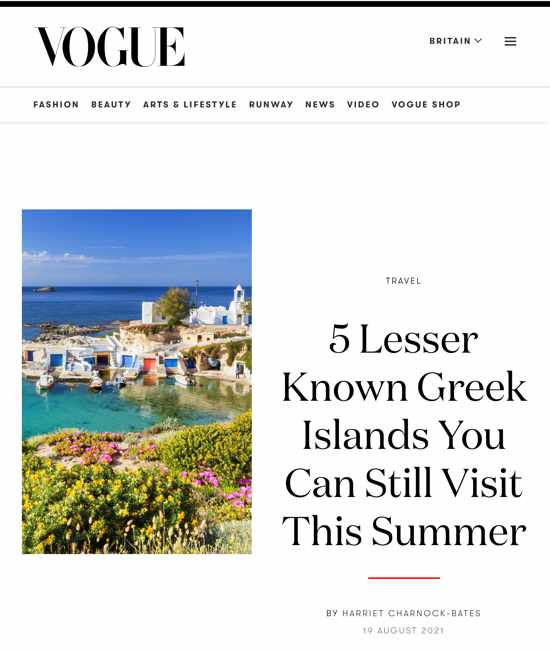 The postcard-pretty fishing settlement of Mandrakia is shown in the heading for a U.K. Vogue guide to Milos and four other islands
"A place of cliffs and higgledy-piggledy boathouses, there's an otherworldly allure at play here," writer Harriet Charnock-Bates says of Milos in her article 5 lesser known Greek islands you can still visit this summer, published August 19 in the British edition of Vogue magazine.
She short-lists unique beaches "worth writing home about," suggests how to enjoy "a superlative view of the coastline," and recommends where to go to "watch the sun melt into the Aegean."
— Travel blog articles —

The World Pursuit travel blog compiled a guide to  beaches, villages and other top attractions on Milos
Well-travelled digital nomads Natasha Alden and Cameron Seagle visited Milos for the first time this summer, and compiled a comprehensive travel guide for their website, The World Pursuit.
"Milos has everything you could want out of a trip to the Greek islands. Great food? Epic beaches? Amazing sunsets? Friendly people? Yup! All those things are what make Milos so special," says the introduction to the blog post 20 best things to do in Milos, Greece,  which was written by Natasha.
As expected, beaches figure prominently on their must-see list, but villages (including Mandrakia, where they stayed), sunset viewing spots, historic sites and day trips to nearby off-the-beaten path islands also made their top 20 round-up. As did Medusa, the restaurant where Justin Bieber popped in for his now-famous sardine lunch.
The World Pursuit guide includes a map and general information about transportation around the island, places to stay, and best times to visit. But what we enjoyed  the most were the gorgeous photos that illustrate the article.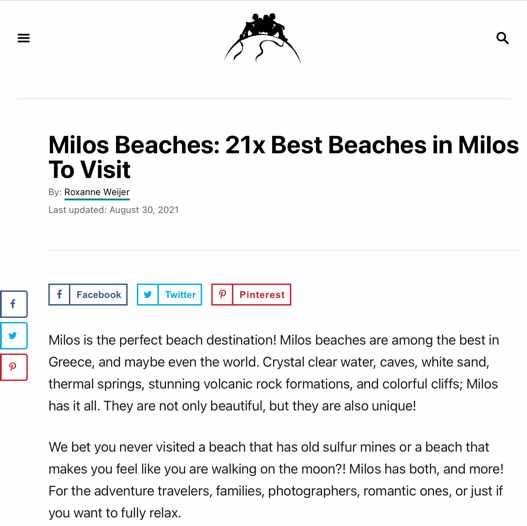 The Once Upon a Journey blog profiled the most famous as well as a few little-known beaches on Milos
Milos holds bragging rights to a staggering number of beaches — anywhere from 30 to 40, according to most travel publications, or as many as 84, a figure mentioned in the Hemispheres magazine article Three Perfect Days in Greece, which we showed you earlier in this post. Though the actual number may be open to question, travel experts do agree the island is blessed with an extensive variety of beaches — far more, in fact, than most visitors would ever have time to see (let alone find).
Yet, despite the staggering number of seaside spots to choose from, most travel writers tend to visit and refer to pretty much the same areas as everyone else: Sarakiniko, Tsigrado, Papafragas, Fyriplaka, Paleochori, Provatas, Firopotamos and Kleftiko. Those may be among the most popular and most-visited (no surprise there, since they get the most publicity), but there are so many other unique and interesting beaches waiting to be discovered. So we were happy to see that the Once Upon A Journey blog post 21x best beaches in Milos to visit recommended several of the less familiar but nonetheless splendid seasides.
The listing, by Dutch travel bloggers Maartje Hensen and Roxanne Weijer, is filled with terrific photos of the island's world-famous swimming spots as well as off-the-beaten path beaches and serene, secluded coves that can be reached only by boat. The accompanying text describes each place and indicates what, if any, facilities (beach beds, taverns, canteens) might be available for visitors.
We were glad that Maartje and Roxanne included the Sykia cave on their list; it was one of the two most memorable stops on our sailboat tour of Milos in 2007 (the other was Kleftiko), as well as one of the most amazing natural sights we have seen in all the Greek islands, yet it rarely appears on the radar for many bloggers and travel writers. (You can read about our own excursion, and see our photos from the cavern, in our blog post Our sailboat tour to Sykia and Kleftiko on Milos.)
— Architecture & design magazine profiles of Voronoi's Corrals on Milos —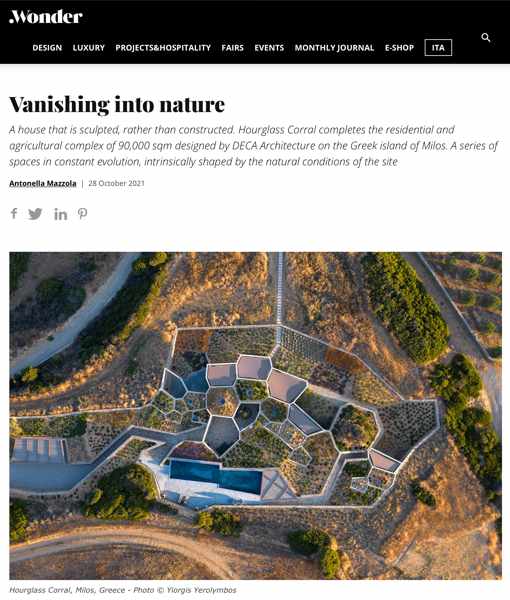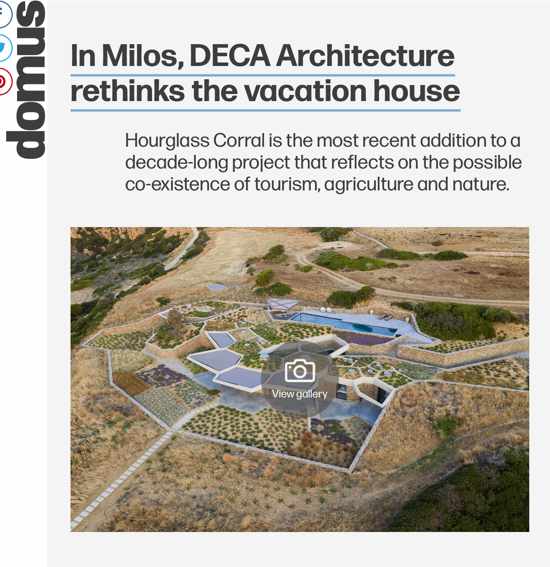 An astounding holiday home and agricultural complex on Milos enthralled the world's architecture and design communities in 2021. Two design publications, IFDM (top) and domus, profiled the project this year.
Milos came to the attention of architecture and home design enthusiasts and professionals when industry publications profiled Hourglass Corral / Voronoi's Corrals, an extraordinary holiday home and agricultural complex built into a hillside above the island's southern coast.
An award-winning design by Athens-based DECA Architecture, the project was completed in 2020 and attracted international publicity this year when building and design magazines published feature stories and photos of the amazing property.
A video presentation on the DECA website describes the remarkable project as a "residential landscape" that proposes "a new paradigm for sustainable development, where agricultural production co-exists harmoniously with inhabitation."
You can read about the project and view photos in:
♦ the October 28 2021 article Vanishing into Nature, published by IFDM | Furniture Interior Design Magazine; and
♦ the June 16 2021 feature In Milos, DECA Architecture rethinks the vacation house, published by the Italian architecture, design and art magazine domus.
Even better is the DECA Architecture website page for Voronoi's Corrals, which is chock full of information about the project as well as fabulous photos and videos of the property and its breathtaking location on Milos. The images and film offer incredible views of Milos you won't see in travel publications or blogger videos.
— Milos hotel profile & review articles —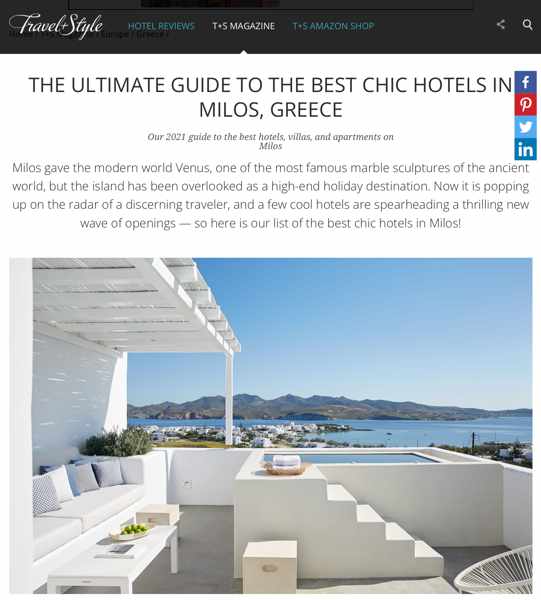 Hotel review site Travel + Style spotlights 21 cool places to stay on Milos — and gives honourable mention to two dozen others
Until just several years ago, travel writers often commented that one of the few drawbacks to visiting Milos was its rather limited range of accommodations, and its even scarcer supply of upscale digs.  As a consequence, Milos "has been overlooked as a high-end holiday destination," notes the luxury hotel review website Travel + Style, which is read by a well-travelled and affluent global audience.
But "discerning travellers" are now discovering Milos, thanks to a "thrilling new wave of cool hotel openings," the website says in its June 22 2021 feature story, The ultimate guide to the best chic hotels in Milos, Greece.
The article is illustrated with beautiful, dreamy photos that might give you the instant urge to pack your bags and book suites at one of the 21 highlighted hotels. The report also lists another two dozen accommodation properties that the website says are worth checking into. We found the pictures of views from the Milos Breeze and Aqua House to be the most appealing of the bunch, but we undoubtedly would be happy to stay at any of the places that made it onto the Travel + Style list.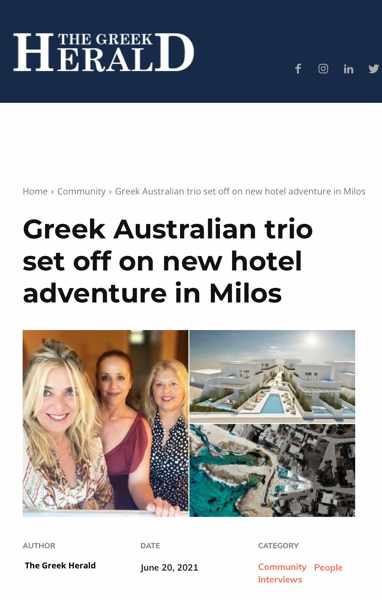 Australian newspaper The Greek Herald profiled three Greek-Australian women who opened the White Pebble Suites this year
One of the this year's new arrivals, White Pebble Suites, received widespread publicity and acclaim both before and after its official opening in mid-June.
Situated in Pollonia, the luxury boutique hotel was established by three Greek-Australian women — Lefka Georgantis, Helen Logas and Aphrodite Lambrou — who share backgrounds in the travel and hospitality sectors.
In the June 20 2021 article Greek Australian trio set off on new hotel adventure in Milos, The Greek Herald newspaper from Australia tells how the women brought their hotel project from just a dream to reality.
White Pebble Suites also caught the eye of the Danish design and interior company Tine K Home, whose website published the profile Hideaway on Milos, Greece's most photogenic island.
In July, the Greek travel, culture and lifestyle website Insights Greece wrote about White Pebble Suites in its article Stunning new boutique hotel opens in Milos.
The hotel also drew praise from Fodor's Travel, which ranked it as one of The ten dreamiest hotels in the Greek Islands. and from The Sunday Times, which listed it in the November 18 piece Best Greek island hotels.
And it was featured in the White Pebble Suites: Hotel in Pollonia profile on the hotel and travel website Stay Some Days.
You can see more of the hotel at its own web and social media links:
Website: White Pebble Suites
Instagram: @whitepebblesuites
Facebook: @whitepebblesuites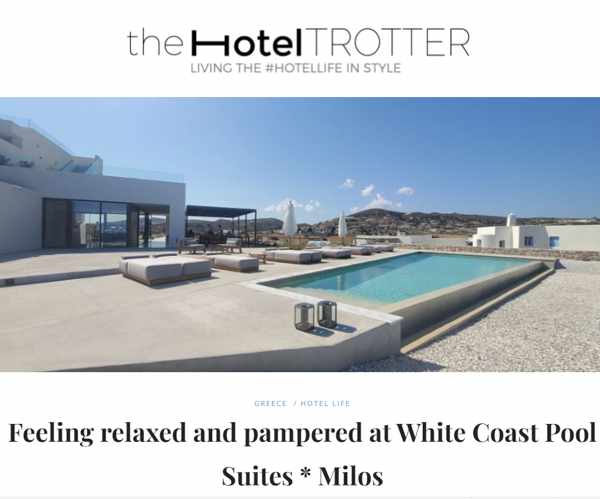 The Hotel Trotter says the White Coast Pool Suites embraces its guests in "an enchanting microcosm of haute bohemia."
Milos welcomed a second new luxury hotel in mid-June — White Coast Pool Suites — and it, too, swiftly grabbed the attention of international travel and hotel websites and publications.
Advance publicity included the Home Journal article White Coast Pool Suites set to open its door in June, and the Forbes magazine preview of 69 of the newest summer hotel openings around the world.  The French edition of Vanity Fair magazine also gave the hotel a thumbs-up in its report, Les hôtels qui nous font rêver au bords de la Méditerranée.
In the Travel + Style feature that we discussed earlier, White Coast ranked #1 on their list of 21 chic hotels on Milos.
Greek journalist Eleni Stasinopoulou spent several days at White Coast in July, and recounted her sumptuous experience in a profile published in The Hotel Trotter, a website focused "on stylish hotel moments around the globe."
Her article Feeling relaxed and pampered at White Coast Pool Suites Milos describes the boutique hotel as "an ultra-luxurious, adult-only accommodation that perfectly balances the island life in the raw with the high-end pampering," and notes it was "created to meet the high standards of the romantic jet setters of this world."
Stasinopoulou's piece also looks at the hotel's poolside restaurant, Bianco Drinks & Gastronomy.
Meanwhile, one of the hotel's first guests was Sabrina Chakici, who details her delightful experience there in a clip posted at the top of Part 3 of this series.  She gives viewers a tour of her suite and private infinity pool, as well as the hotel restaurant and main swimming pool, starting at the 6:30 mark of her video.
Continue reading and watch the videos in Part 3: How Milos wowed the world in videos and travel vlog reports