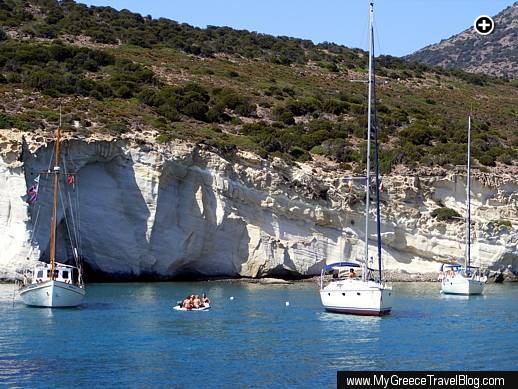 Excursion sailboats anchored off the scenic cliffs at Kleftiko near the southwest tip of Milos. Click the photo to view it full-size.
Stunning scenery: It has been nearly six years since we took a sailboat tour along the scenic western coast of Milos, but my memories of the trip are still so vivid it seems as though it happened only yesterday.
As I described in the preceding post — Island sail tour is a must for Milos visitors — sailboat excursions and boat cruises rate among the top recommended tourist activities on Milos, thanks to the island's spectacular coastal scenery.
A sailing tour was at the top of our personal "must-do" list when we visited Milos for the first time in mid-September 2007, but we had to wait several days to take one of the popular excursions because high winds forced most boats to remain in port.
It was well worth the wait.
CONTINUED ON PAGE 2