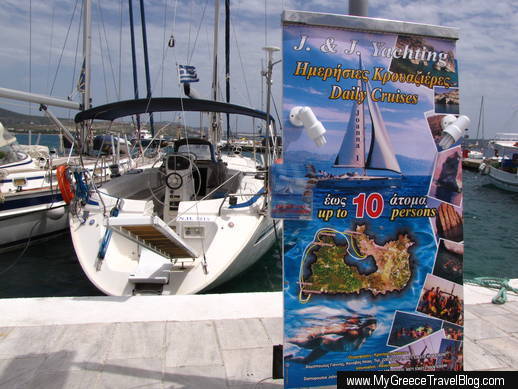 A poster at the Adamas marina advertises the daily Milos tours that J & J Yachting offers on the sailboat Joanna I
Milos must-see / must-do: One of the top tourist activities on Milos in the southwest Cyclades is a day trip that actually takes place off the island — on a sailing yacht or tour boat cruise along the marvellous Milos coastline.
Created by 3 million years of volcanic activity, Milos boasts some of the most impressive landscapes in all the Greek islands, including dozens of breathtaking beaches and a spectacular 139-kilometer-long coastline.
The stunning coastal scenery is best viewed from the sea, of course, and a variety of sailboat tours and day cruises are available from Adamas, the main port town on Milos. Excursions typically depart the Adamas marina between 8 and 10 a.m. in the morning, and return by sunset. Many of the sailboat tours take sightseers past western Milos as far as the dramatic cliffs at Kleftiko, near the island's southwest tip, while other excursions travel completely around Milos. Some tours offer trips to Antimilos, Kimolos and other nearby islands.
CONTINUED ON PAGE 2