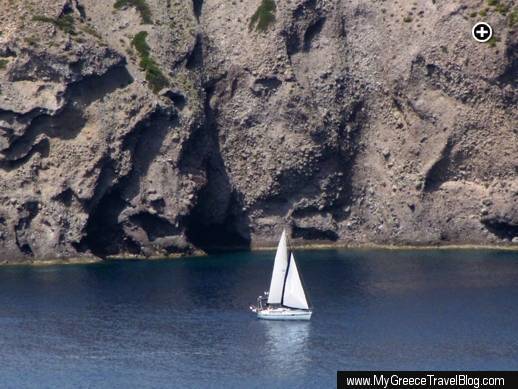 A sailboat glides near steep cliffs that soar above the northwest coast of the Gulf of Milos on Milos island. Click the image to view a full size photo.
Solstice sails: If you happen to be travelling in Greece next Saturday and would like to do some sightseeing from a fresh and fun perspective, rather than take a run-of-the-mill bus tour or guided group walkabout, head for the nearest port or marina to see if you can sign up for a sailing excursions or tag along as a deckhand for a local sailor.
Not only will you get to view spectacular Greek scenery from unique and unrivalled vantage points on the water, but you also will be joining tens of thousands of other people around the world in Summer Sailstice, an annual international event that celebrates the joy of sailing.
CONTINUED ON PAGE 2