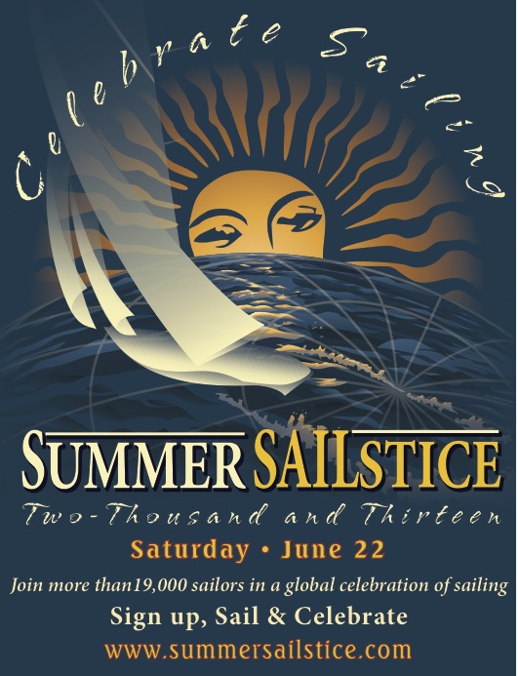 Events being held worldwide on June 22
Established in 2001, Summer Sailstice takes place during the weekend closest to the summer solstice. Since the solstice falls on Friday June 21 this year, hundreds of sailing celebrations have been scheduled for Saturday the 22nd around the world.
Although I haven't yet been able to find any Summer Sailstice events scheduled specifically in Greece, that doesn't mean Greek sailing enthusiasts aren't participating. You can be certain that thousands of seafaring Greeks will be spending the day on their sailboats, enjoying sunshine and the invigorating sea air as they ply the waters of the Aegean, Ionian and Mediterranean Seas.
Registration in Summer Sailstice events isn't mandatory, though it does give participants the chance to enter contests and win prizes. The main goal of Summer Sailstice is to encourage as many sailors and potential sailors as possible to experience and enjoy the lifestyle and sport of sailing on their nearest waterways, lakes and seas. And through a partnership with the non-profit ocean conservation groups Sailors for the Sea and Ocean Conservancy, "Summer Sailstice strives to inform and mobilize sailors, their families and communities to enjoy and conserve the beauty of the oceans while raising awareness of human impacts on the fragile marine environment and wildlife," a media release explains.
If you're an avid sailor already, you can participate by planning your own Summer Sailstice event. Check out the Organize an Event page on the Summer Sailstice website for suggestions and tips on how to set something up. If you're a wanna-be sailor or a landlubber looking for an fun new fresh-air pastime, you can easily get involved, too. Just head to the nearest island port or mainland marina to see if you can join a sailing class or take a sailboat tour. Believe me — you haven't seen Greece until you've seen it from the sea!
Sailboat tours are a 'must-do' attraction on Milos
And for those of you who may be on or near Milos island next Saturday, here's my personal recommendation: Check out the the various sailing excursions on offer at the Adamas waterfront. Milos has some of the most breathtaking coastal scenery in all the Greek islands, and it's all best viewed from a sailboat. A variety of scenic sailing tours from Adamas are available, ranging from day trips to the enormous Sykia cavern and the breathtaking Kleftiko cliffs and sea caves, to complete round-the-island tours of Milos.
Our September 2007 day trip to Kleftiko with Captain Mike on the sailboat Panormos still ranks as one of the most memorable tours we have ever taken anywhere in Greece.  I feel completely confident in saying that no visit to Milos would be complete without a sailboat tour to see some of the island's marvellous coast. See my post Island sail tour is a must for Milos visitors for information about sailboat tours on Milos.  And check out my other post, Our sailboat tour to Sykia and Kleftiko on Milos, to view dozens of photos from our excursion with Captain Mike.
Sail tours are offered on most Greek islands and from hundreds of locations on the Greek mainland, too, so be sure to join in the Summer Sailstice celebrations by going for a sail!
See the Summer Sailstice website for full details about the event and its founder, John Arndt.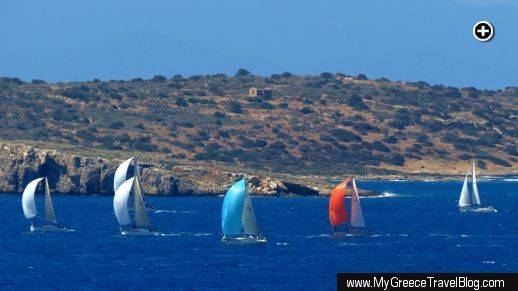 Sailboats in the Saronic Gulf near the town of Varkiza on the Apollo Coast of Greece, southeast of Athens