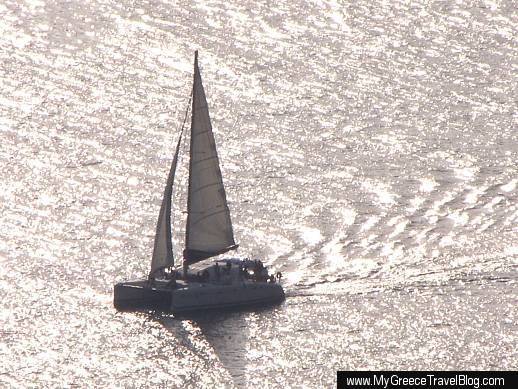 A catamaran sails down the Gulf of Milos toward the port at Adamas
Tour information available at the Adamas waterfront
How can you book a spot on a tour? Since most excursions depart at breakfast time, it's best to buy tickets the night before. Head to the Adamas waterfront around sunset, where you'll find the excursion sailing yachts and tour boats docked a short walk from the ferry port. Large posters advertising each tour are arranged on the wharf in front of the boats, displaying maps of the excursion routes as well as photos of the various scenic spots at which the tours will stop. The captain or crew for most vessels often are on hand to answer questions about their respective tours and provide prices and booking information. Brochures with contact information usually are available if none of the crew are present.
Alternatively, you can drop by the marina at breakfast time to see if any excursions still have room for more passengers. Or you can consult local tour agencies, such as Milos Travel or Riva Travel, to inquire about tour availability.
Tours offered on sail yachts and cruise boats
Sailing yachts that offer either partial or full island tours include the Panormos, the Mama Maria, the Thalassitra, the Eleni, the Oneiro, the Kirki, the Andromeda, the Joanna I, and the catamaran Chrysovalandou. Large motorized cruise boats include the Captain Yiangos and the Delfini Express.
Beware that excursions may be cancelled if strong winds, storms or other adverse weather conditions aren't suitable for sailing. In September 2007, we had to wait three days for high winds to let up before we could take one of the sailboat tours.
See my post Our sailboat tour to Sykia and Kleftiko on Milos for photos from our scenic trip on the sailboat Panormos.
Sea kayaking & camping tours also available
If you'd prefer to spend a day being more active while sightseeing along the marvellous Milos coastline, consider taking a sea kayak excursion instead.  Organized sea kayak day tours, as well as multi-day camping triips, are available from Sea Kayak Milos.  See the photo at the bottom of this post for further details.
Below are photos of some of the tour boats and posters we saw at the Adamas waterfront during our most recent trip to Milos in May 2011.
The Captain Yiangos is one of the larger excursion boats on Milos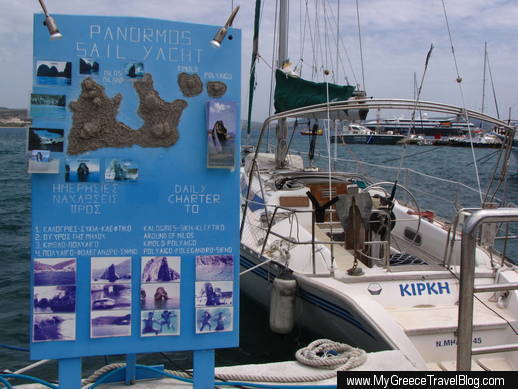 A poster for the Panormos sail yacht, which hasn't yet returned from its day trip to Kleftiko. We enjoyed our small group excursion on the Panormos back in mid-September 2007. At right is the Milos Yachting sailboat Kirki.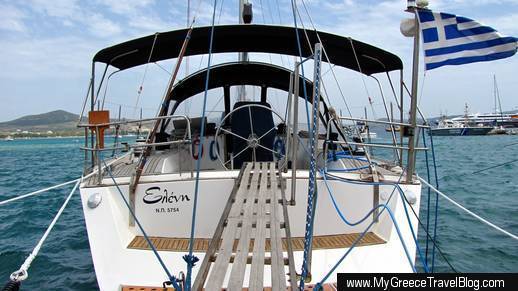 The sailing yacht Eleni, operated by Mathioudakis Yachting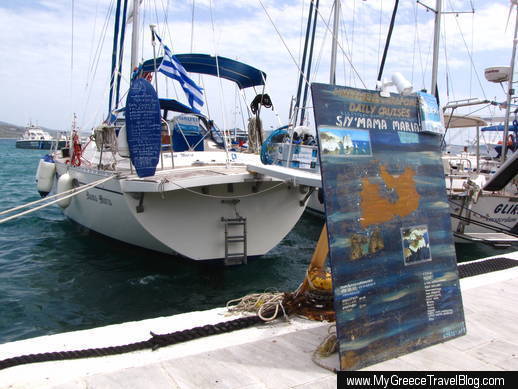 The Mama Maria excursion sailboat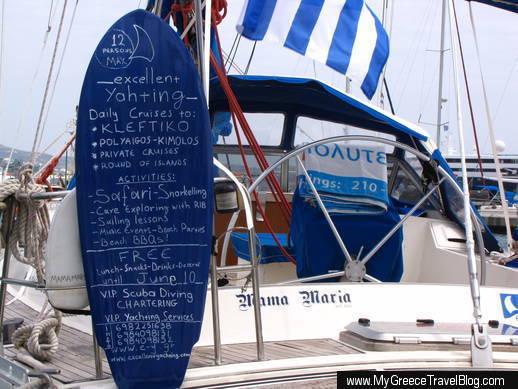 A chalkboard sign describes the Mama Maria tours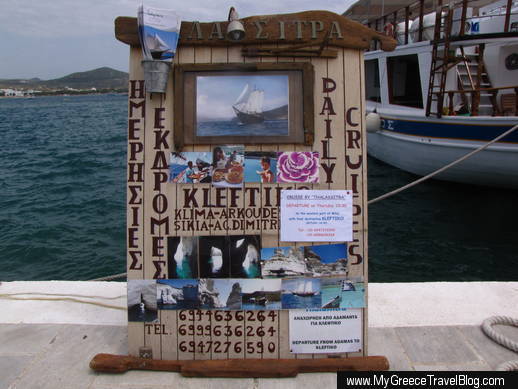 A poster for the Thalassitra, a 19.75-meter-long twin mast wooden yacht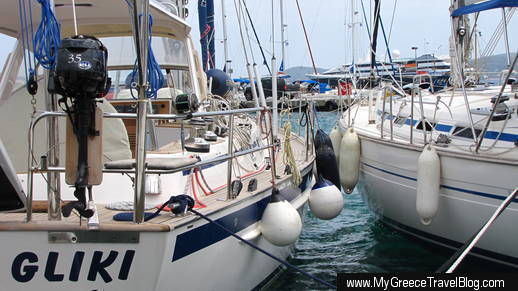 Two of the excursion boats at the Adamas marina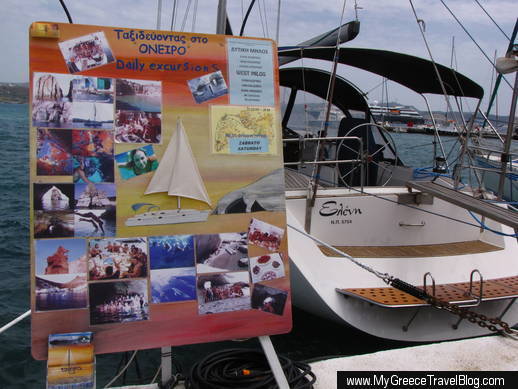 A promotional poster for the Oneiro sailboat, which hasn't yet returned from its day trip. At right is the tour sailboat Eleni.
Excursion sailboats lined up along the quay at the Adamas waterfront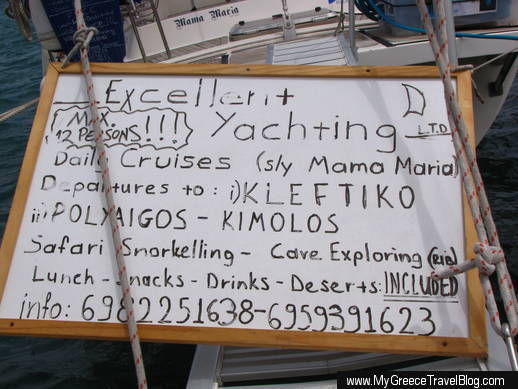 A sign describes tours available on the Mama Maria sailboat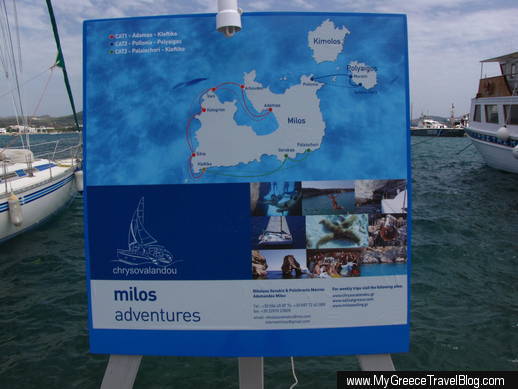 A poster advertising tours on the catamaran sailboat Chrysovalandou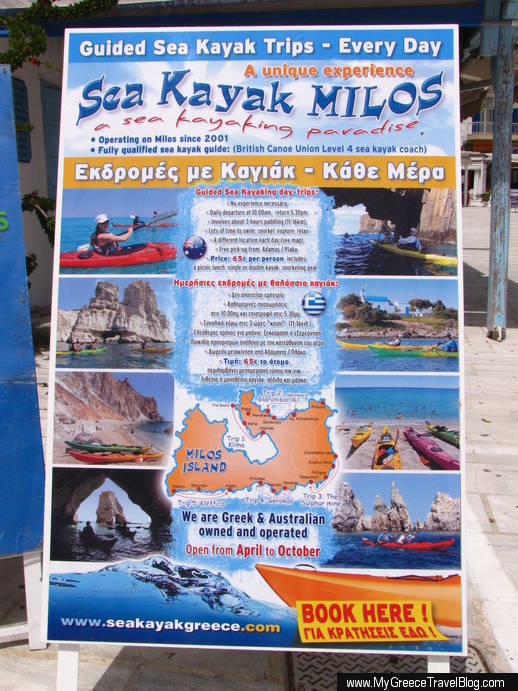 A poster advertising tours offered by Sea Kayak Milos