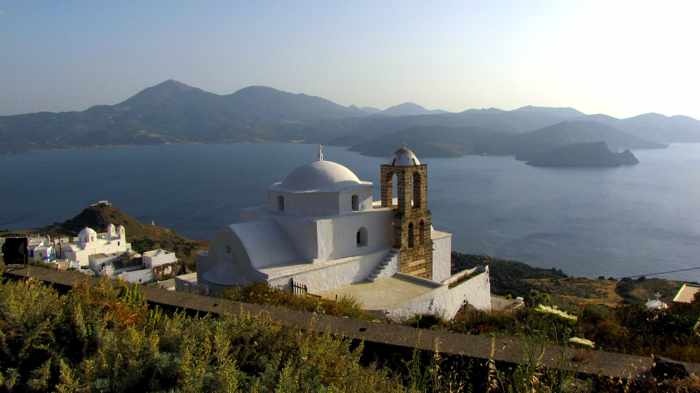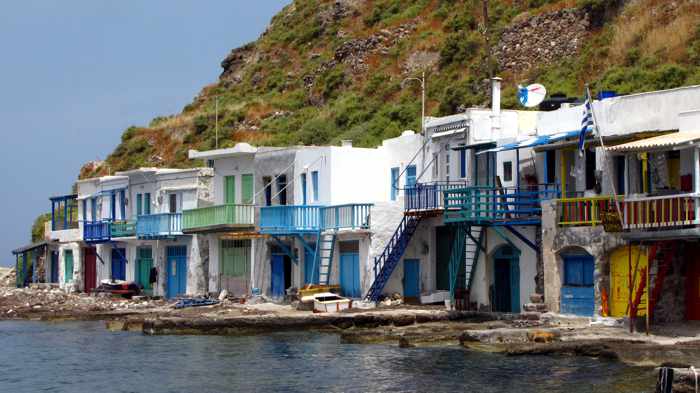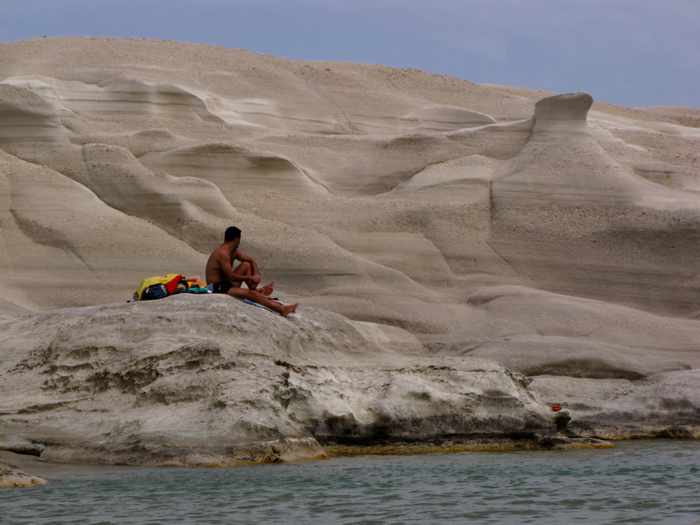 Our own photos of three Milos island landmarks: the Panagia Thalassitra Church at Plaka village (top), colourful boathouses at the Klima fishing settlement, and  the surreal coastal rock formations at Sarakiniko
Milos's moment: 2021 has been quite the momentous year for Milos, with unparalleled international publicity planting the island firmly into the minds and onto the bucket-list travel maps of millions of holiday-hungry people around the globe.
We told you this was coming.
In our blog post  Much ado about Milos four years ago (August 2017, to be precise), we described a noteworthy surge in interest in Milos, and we predicted its popularity would soar.
This year, despite the Covid-19 pandemic, that's exactly what happened: Milos was the Greek island people everywhere were taking note of, talking about, and visiting in person either for vacations or for corporate marketing photography and film shoots.
It wasn't just travel blogs, vlogs and websites singing the island's praises — Milos was the focus of attention in advertising campaigns for clothing, coffee and luxury goods;  social media posts by music and television stars; architecture and design publications; luxury hotel review websites; business and lifestyle magazines, and more.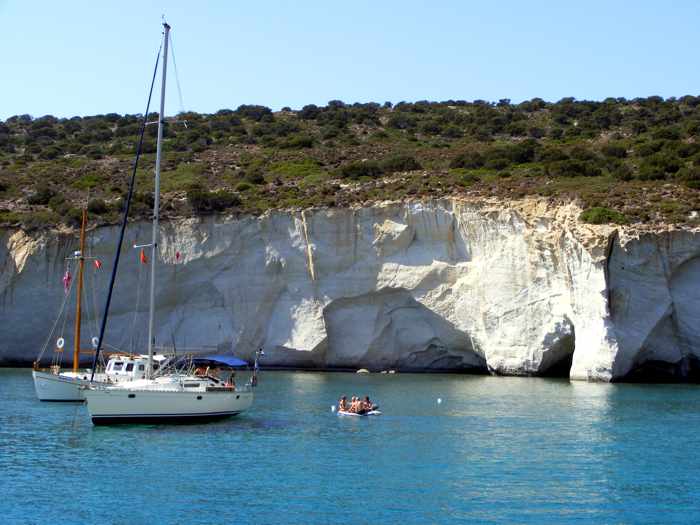 Once a hideaway for pirates, the coastal cliffs and caves at Kleftiko are now a popular stop for Milos sailboat tours
Among the Milos milestones of 2021:
♦ Readers of the most-read American travel magazine voted Milos the "No. 1 island in the world" as well as best island in Europe;
♦ One of the world's best-selling music artists visited in the spring and posted photos from the island's capital and one of its picturesque fishing villages to Instagram, where his account is actively followed by more than 200 million people;
♦ Its exquisite coastal scenery stole the show in major promotional campaigns for three of the world's pre-eminent luxury fashion brands;
♦ The island played a starring role in a television advertising campaign for a popular coffee retailer;
♦ Architecture and home design magazines drew attention to Milos with profiles of a  contemporary "corral" residence ingeniously built to blend seamlessly into the island landscape;
♦ Hotel review websites trumpeted the arrival of two brand-new luxury accommodations that opened in June;
♦ International publications and leading travel blogs published laudatory profiles of the island's appealing scenic attributes and attractions, and
♦ top travel vloggers enthralled YouTube watchers with videos spotlighting key Milos attractions and the splendid natural scenery.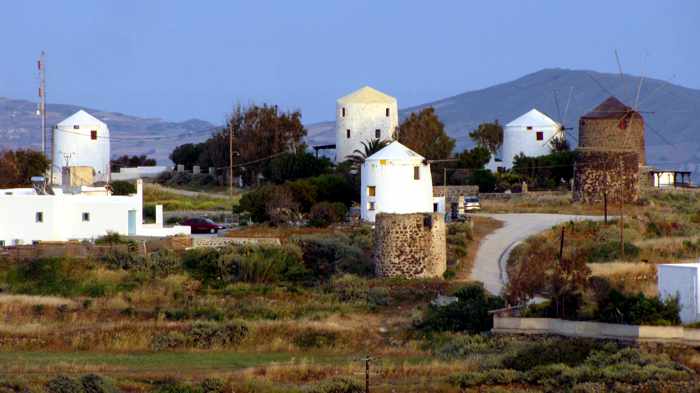 A cluster of windmills near Tripiti village. Some have been converted into holiday rental accommodations.
To see how and where Milos has made such an indelible impression this year, keep scrolling down through this post, and then Part 2 and Part 3, to view a wide-ranging collection of the feature stories and videos of the island that have appeared in mainstream and social media this year.
Below you'll see the magazine whose readers chose Milos as best island in the world, along with Milos photos shared on social media by two top celebrities, plus island scenes from the major fashion and retail marketing campaigns that starred Milos.
In Part 2, we take a look at what writers said about Milos in their reports for travel magazines, blogs and websites, as well as in articles published by business, fashion, lifestyle and hotel periodicals.
Part 3 is a collection of Milos videos that were released in 2021 by filmmakers and international travel vloggers.
The photos and video images in our three-part series will show you  what all the Milos fuss is about — and why so many travel writers and videographers think you should pay it a visit soon.
Besides screenshots of the articles and reports, we have provided links to the publications and video producers so you can read and view more of Milos, and obtain additional information to decide if it's the right place for you and your family to spend some vacation time. With scores of enticing photos and videos plus a plethora of practical information and travel tips, the links will be useful to bookmark for travel inspiration and holiday planning. 
Given the vast range of insights, opinions and perspectives provided by these different resources — including tips on times of day to see certain places, how to get there, what not to miss or what to to know before you go — this compendium could well become your ultimate travel guide to Milos.
But don't wait too long! As some of the writers and vloggers point out, the island's popularity is skyrocketing — so it's best to see this off-the-beaten-path gem soon, before it becomes a busy mainstream holiday destination.
— Milos on magazine covers —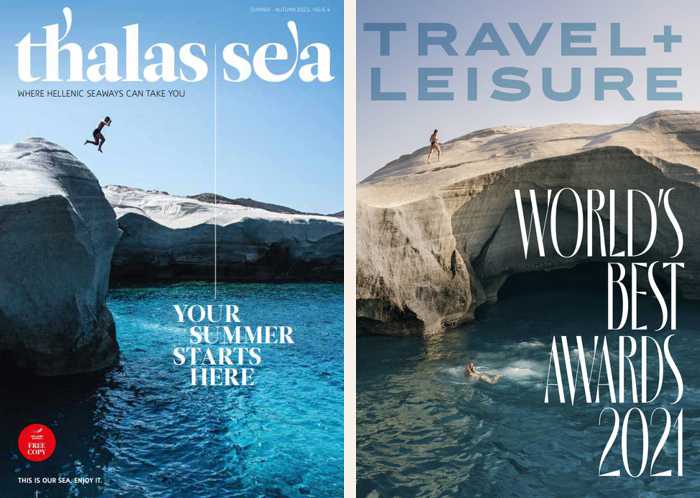 Photos of Sarakiniko — the Instagram-famous "moonscape" beach and coastline on Milos — were prominently featured on the covers of Thalassea and Travel + Leisure magazines
Milos received cover treatment from Thalassea, the official magazine for Greek ferry company Hellenic Seaways, as well as Travel + Leisure, the most widely-circulated American travel magazine with nearly 5 million monthly readers. The front pages of both featured picture's of the island's renowned cliff-jumping spot, Sarakiniko.
Inside Thalassea, a two-page aerial photo of Sarakiniko illustrates the magazine's "Reasons to Go" to Milos article.  "One look at Sarakiniko beach and you will be smitten for life," the text reads, adding: "this is an island far out of the ordinary."
You can find the article at pages 96-97 in the Summer/Autumn 2021 issue of Thalassea.
Meanwhile, the cover image for the October 2021 Travel + Leisure acknowledged Milos's great success in the magazine's Annual Reader's Awards, which voted Milos as not only the best island in Europe, but also the No. 1 island in the entire world. (More on those accolades below.)
— Travel + Leisure readers' best island awards —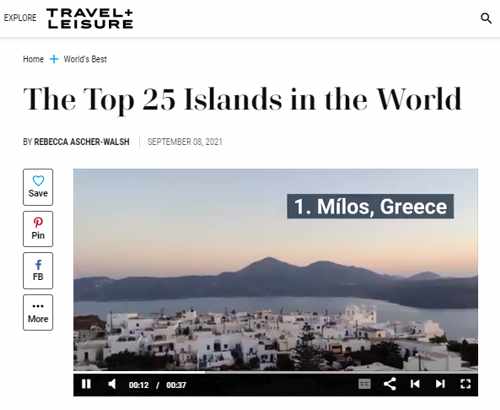 Travel + Leisure readers honoured Milos by voting it the No. 1 island in the world this year
We weren't surprised when we learned Milos has been voted top island in the world by readers of Travel + Leisure magazine. We've been there twice, and know from personal experience why people enjoy it so much.
The voting took place from mid-January to early May of this year, and the magazine said participating readers "rated islands according to their activities and sights, natural attractions and beaches, food, friendliness, and overall value."
To find out why Milos nabbed top honours, take a look at the short blurb in the T + L article The Top 25 islands in the world.
Milos had good company in the rankings, by the way. One of its close neighbours, Folegandros, earned the No. 2 spot, while perenially-popular Santorini took 13th place.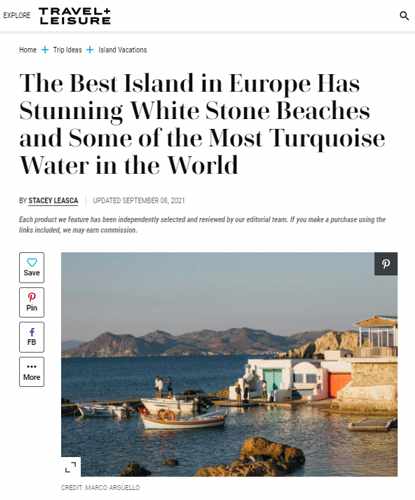 Milos was "a closely guarded utopia," writer Stacey Leasca says, until word got around that Travel + Leisure readers had voted it the best island in Europe and the world
In the wake of announcing that its readers had voted Milos as best island in Europe, and in the world,  Travel +Leisure published a report in which writer Stacey Leasca recounted her 3-day visit there in June.
Upon arrival, she recalls, it was "easy to see why previous travelers and locals alike would want to keep this place under wraps. Its rocky shoreline gives way to some of the most pristine crystal-blue waters I have ever laid eyes on. Its landscape is one sweeping hillside after another, dotted only by sparse vegetation, white-washed homes, blue-roofed churches, and a rogue goat or two. And its food is divine."
Though their visit lasted only 72 hours, Leasca and her travel companion managed to see numerous key attractions including the port town of Adamantas, the villages of Plaka and Klima, the beaches Sarakiniko and Papafragas, the ancient catacombs, and others.
To see why she says "take T+L readers' advice and go to Milos," read her report The best island in Europe has stunning white stone beaches and some of the most turquoise water in the world.
— Justin Bieber's Milos visit —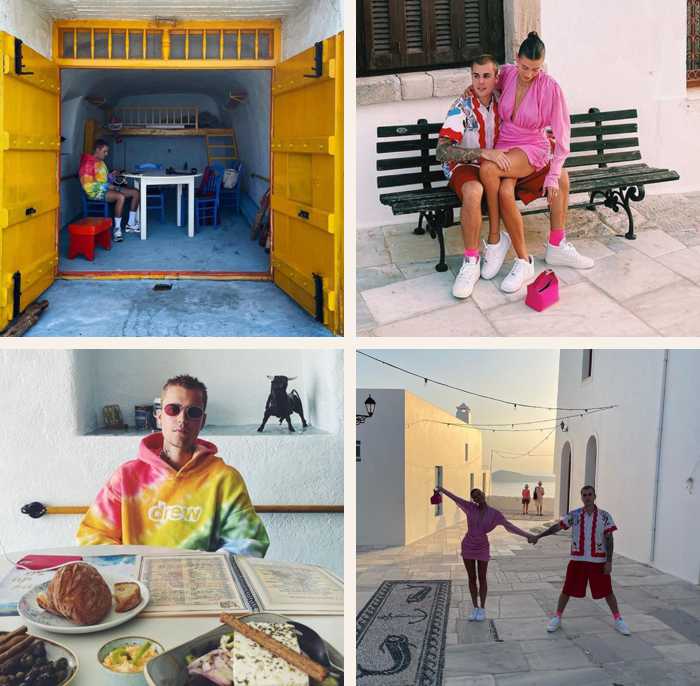 In photos shared with his 200 million fans on Instagram, singing superstar Justin Bieber is seen in a private boathouse dining room at Medusa cafe-restaurant in Mandrakia (left) and with his wife, Hailey, in Plaka village
Popular entertainers, movie stars and professional athletes wield incredible influence over consumer spending habits, which is why companies pay celebrities big bucks to endorse or advertise their products.  We can't help but speculate on the value of the publicity that Milos received — for free –when international music superstar Justin Bieber shared photos from the island on his Instagram page in late June. Considering that the Canadian-born singer counts more than 205 million followers on Instagram, he brought Milos to the attention of an enormous audience of potential travellers, many of whom had probably not even heard of the island before.
Bieber's private yacht cruise to the Cyclades islands was reported by media around the world, with some of the Greece-based reports  about his Milos visit including:
♦ the June 29 Greece Is magazine article Justin Bieber cruises the Aegean and feasts on sardines,
♦ the June 28 Greek City Times story Justin Bieber and his wife Hailey getaway to Greece in Milos.
♦ the June 29 2021 Greek Reporter article Justin Bieber's new friendship with a 70-year-old Greek fisherman
♦  Justin Bieber went on vacation to Milos  and loved sardines, published June 28 by the Athens Voice Look mag
We think Bieber deserves some credit if there's any bump in tourist traffic to Milos in the next year or two, and we're pretty certain Medusa restaurant will top traveller lists of must-visit places to eat, as well — thanks to the Bieb's headline-making lunch there. But he can't take all the credit: Medusa gets more shout-outs from travel bloggers and vloggers in some of the reports and videos you'll see below.
Between June 26 and 29, the singer posted posted from Milos and the Cyclades to the official Justin Bieber Instagram page, while he shared two images on the Justin Bieber Facebook page — which has 91 million followers — on June 28 and 30.
— Pedro Alonso's Milos visit —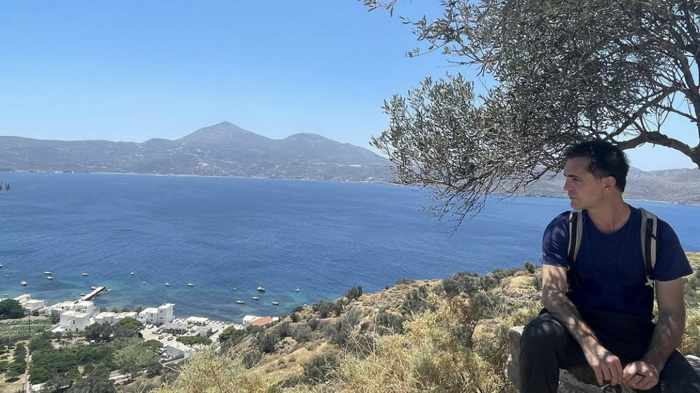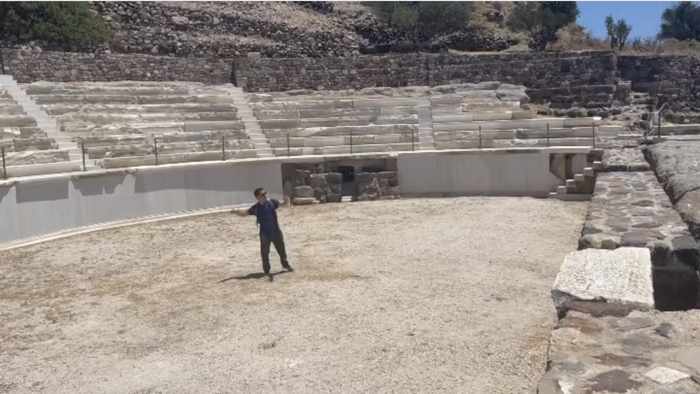 Actor Pedro Alonso gazes across Milos from a hillside vantage point (top) after reading a monologue from a Spanish play in the island's ancient open-air theatre (seen in this screen capture from an Instagram video of his impromptu performance).
About a week after Justin Bieber moved on from Milos, popular Spanish actor Pedro Alonso arrived for his Greek holiday.  Alonso is perhaps best known for playing the character "Berlin" in 36 episodes of the Netflix television series Money Heist, from 2017 to 2021.
On July 8, Alonso posted a video and several photos shot on Milos to his Instagram, which has more than 9.1 million followers. The video shows the actor at the island's Ancient Theatre, reciting a monologue by the character Rosaura in the Pedro Calderon de la Barca dramatic play La vida es sueño. The photos included a shot of Alonso sitting at a lookout spot near the theatre, and a view of the seaside village of Klima.
The actor's visit to Milos and Athens was described in the July 11 2021 Greek Reporter article 'Money Heist' actor Pedro Alonso mesmerized by Greece.
The acting monologue video and five photos can be viewed on the pedroalonsoochoro page on Instagram.
— Fashion campaigns filmed on Milos —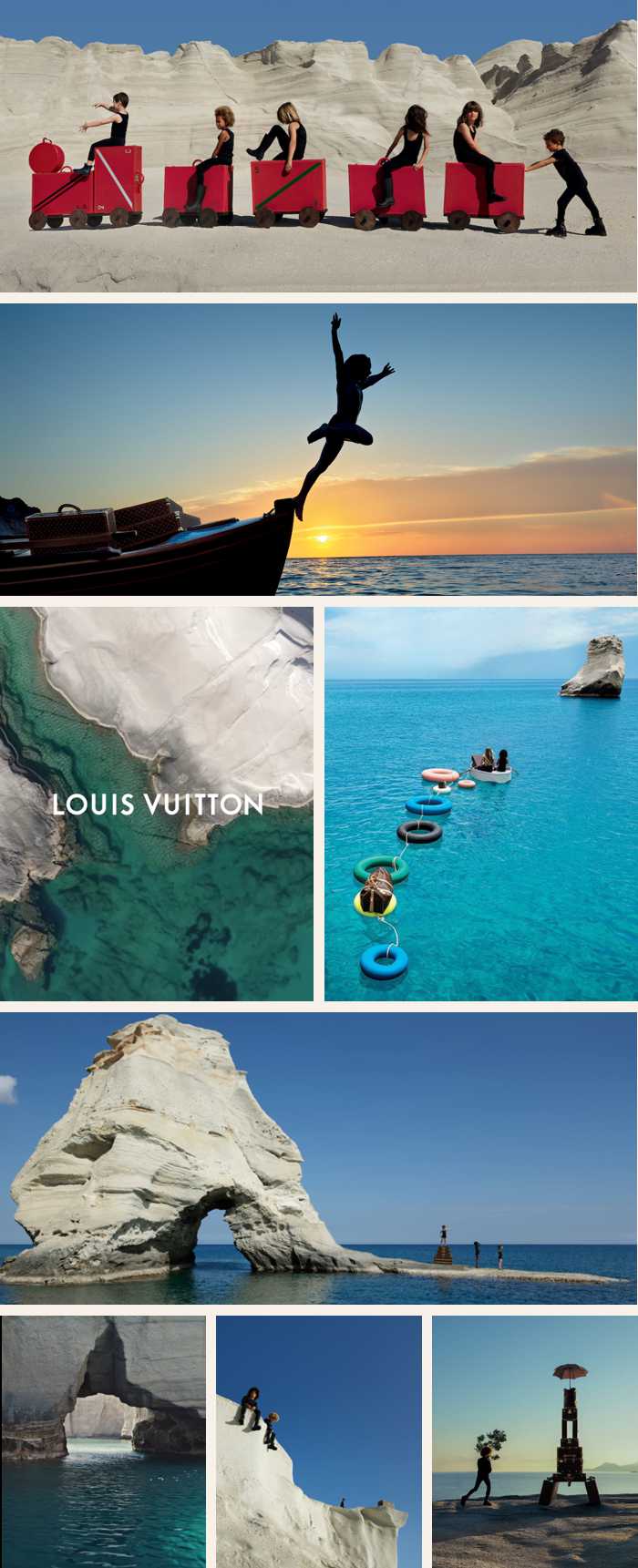 A Louis Vuitton promotional campaign spotlighted scenery on the Sarakiniko and Kleftiko coasts of Milos
Milos was one of two "dreamlike settings" that the iconic luxury brand Louis Vuitton selected as a filming location for its  2021 Towards a Dream advertising campaign (the other site was Jordan). Photo shoots took place at Sarakiniko beach and the Kleftiko coast, where photographer Viviane Sassen captured "spirit of travel" images that the company calls "an evocative ode to the inner child, set free in a reverie of otherworldly beauty and infinite possibility."
"Rich in ancient history, the Greek island of Milos beckons to a group of children, inviting them to play among its stark shores and pristine waters. With their innocent curiosity, their silhouettes emerge from the landscape to convey a limitless sense of optimism and freedom," says a description of the photoshoot theme.
You can view the full-size promotional photos and a short video at the Towards a Dream campaign page on the Louis Vuitton website.
Photos and videos also were posted between September 16 and 19 on the official Louis Vuitton Instagram page, which boasts more than 46.4 million followers.
Photos and a link to the Towards a Dream campaign also were posted September 17 to the Louis Vuitton Facebook page, which counts more than 24 million followers.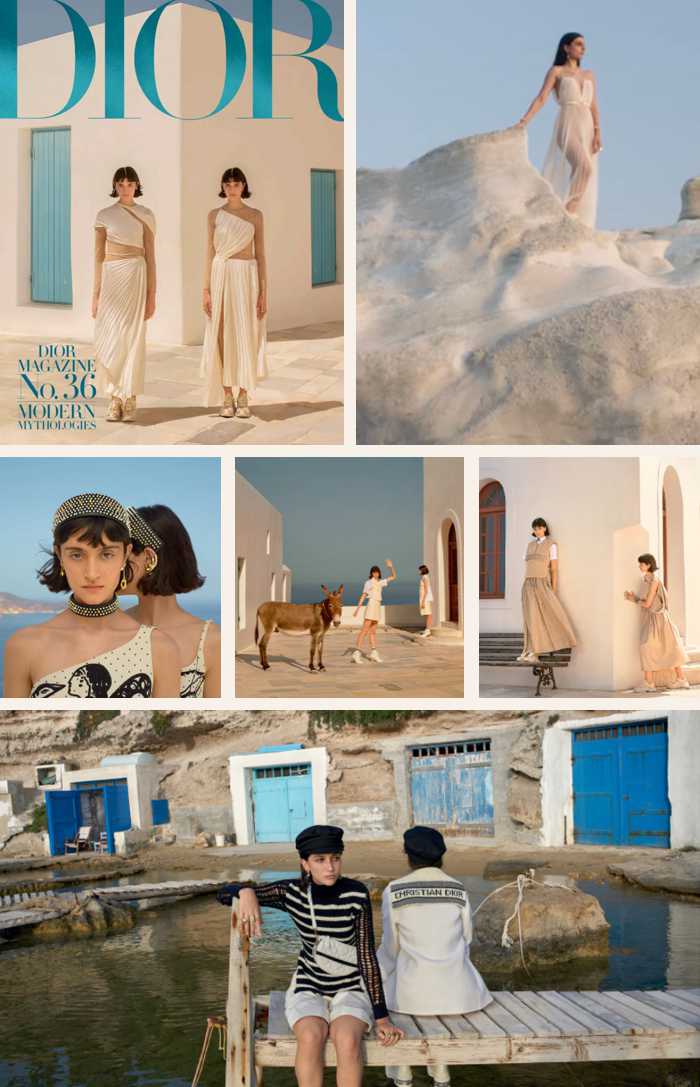 Scenes from Plaka, Sarakiniko and Mandrakia figure prominently in photos shot on Milos for the Dior 2022 Cruise Collection (above), while a 3-minute video (below) offers a behind-the-scenes look at the Dior Magazine photo project. It includes commentary by some of the photographers along with views of magnificent Milos landscapes and the Temple of Poseidon at Sounion.
Another legendary fashion house, Dior, chose Milos as one of the principal shooting locales for its 2022 cruisewear collection and Dior Magazine Issue 36 (some filming also took place in Athens and at the historic Temple of Poseidon at Cape Sounion).
The cruise fashions were designed by Maria Grazia Chiuri, who found inspiration in "classical Greece and mythical female goddesses and divinities." It was only fitting, then, that Dior photographed its models at ancient Greek ruins and mesmerizing island landscapes.
For this campaign, Dior invited ten Greek photographers — Mara Desipris, Christina Dimitriadis, Marilia Fotopoulou, Efi Gousi, Maria Koutroumpi, Dimitra Lazaridou, Ria Mort, Lia Nalbantidou, Ioanna Sakellaraki, and Olga Stefatou–  to capture their personal visions of the cruise collection's apparel and accessories. You can read a description of the project and see some of the photos shot by all 10 women on the Captivating Visions  page of the Dior website.
Campaign photos and videos also were posted in late November to the official Dior Instagram page, which has more than 38.3 million followers, and to the Dior page on Facebook, which reaches more than 18 million followers.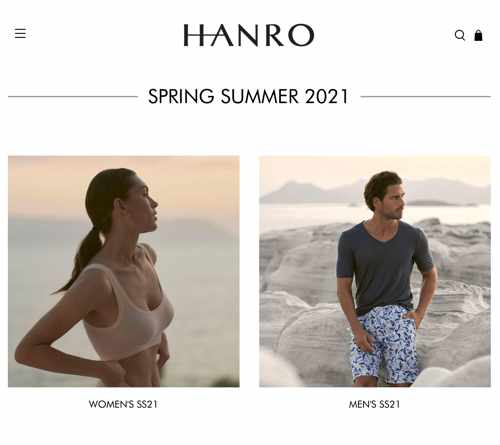 Milos also was the shooting location for HANRO's spring/summer clothing campaign 
Constant change and tumultuous current events have had a huge impact on society and individuals, leading many people to reassess their personal priorities and redefine what they consider quality of life. HANRO, a 130-year-old firm known for its fine men's and women's daywear, loungewear and nightwear, seized upon the global trend to "recharge" and  "reset" when it chose Milos as the shooting location for its spring/summer 2021 fashion campaign.
"One place that is the perfect setting for ultimate relaxation and revitalizing the soul is in the Greek island of Milos," says a description of the HANRO marketing program.
"Unassuming and sublime, [Milos] defies the forces of nature and shows us just how much beauty can emanate from constant change. Every gust of wind dances differently on the sea; every wave traces new patterns as it laps on the sand. Each ray of sunlight changes the kaleidoscope of colours and the spirit of nature. The soft sandstone and volcanic rock is constantly sculpted by the wind. Nothing is ever the same as the day before, and yet this transience harbors a great sense of calmness and strength. It teaches us to appreciate the here and now, to live in the moment, and to simply exhale and let go."
In contrast to its dominant role in the Louis Vuitton images, the Milos scenery provides a much more subtle backdrop for photos of the HANRO models, but looks inviting nonetheless. Photos and a promotional video can be viewed on the Spring Summer 2021 campaign page of the HANRO website.
— Nescafe television ad —

Greek actor Giorgos Lianos appears in a television ad for Nescafe coffee
Milos was the sun-soaked filming location for the light-hearted Nescafe Greece television campaign "Make your summer count," featuring actor Giorgos Lianos.
The ad was filmed at various locations across Milos, with Sarakiniko beach making the most appearances in the minute-long clip. And, yes, the commercial includes scenes of people jumping into the sea from the Sarakiniko cliffs while Lianos stands on the edge and watches, with a Nescafe frappe in hand.
Continue reading about Milos at the links below:
Part 2: How Milos wowed the world in magazine, website and travel blog articles; and
Part 3: How Milos wowed the world in videos and travel vlog reports.