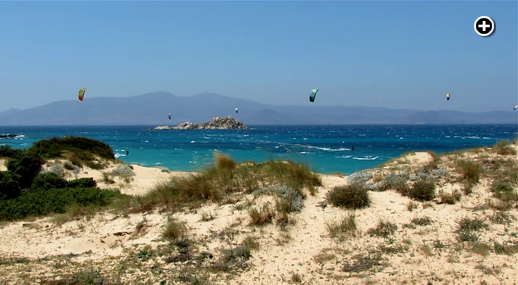 Kitesurfers challenge the wind and waves off Mikri Vigla beach on Naxos. We shot this photograph from our dune- and seaview table at Kontos Taverna. Click on the picture to view a full-size image.
 [Editor's note: This is the third instalment in an ongoing series of reports about our Greek holiday in the spring of 2014. Click here to see Part 1, and click here to access Part 2. Full-size versions of the photos shown below can be viewed in the Naxos May 21 2014 album on Flickr.]
Wednesday May 21
Hikes & bikes: Warm, bright and breezy would summarize Wednesday succinctly. Morning brought a clear sky, light breeze and warm temperatures that would climb into the high 20s (Celsius) during the afternoon. Our big decision of the day would be figuring out whether to just chill out and relax for awhile at the Lianos Village Hotel pool, do something more active like hiking or cycling, or do a bit of both.
During our leisurely breakfast, Dan and I agreed to take a short hike along the coast in the Stelida area to get some exercise first, and then see how the rest of the day would unfold. So we left the hotel and made our way down the hill to the northwest end of Agios Prokopios beach, where we could access hiking trails on Cape Agios Prokopios from the end of the road near Avali restaurant.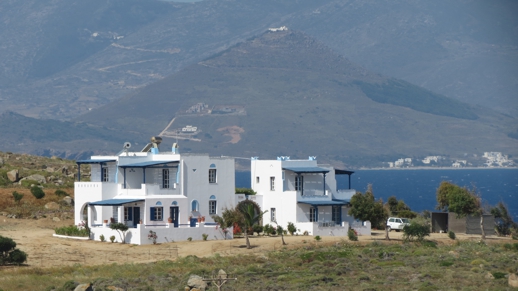 This telephoto image, shot from our terrace at Lianos Village Hotel, shows two white and blue apartment buildings on a hill overlooking the north side of Cape Agios Prokopios. That's Paros island across the channel. Walking trails on the Cape offer excellent views of the east coast of Paros.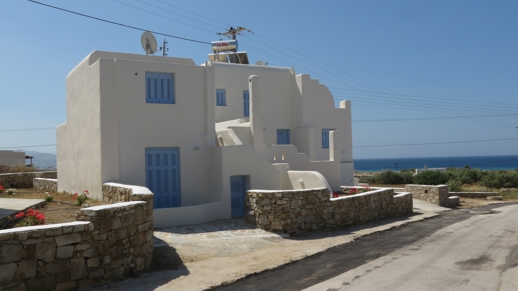 Studio apartments along the road to Agios Prokopios beach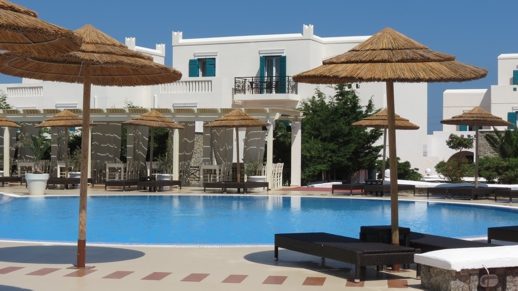 Pedestrians get a good view of the Naxos Imperial Hotel and its swimming pool as they pass the resort on the main Stelida road to Agios Prokopios beach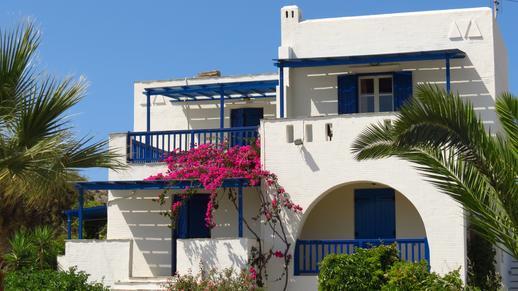 Pink bougainvillea provides a pop of bright colour on a white apartment building with blue trim next to the road to Agios Prokopios beach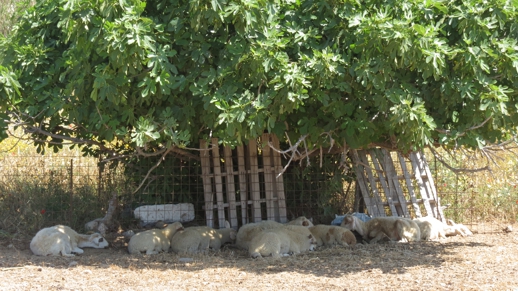 Sheep snooze under a shade tree on a farm field in Stelida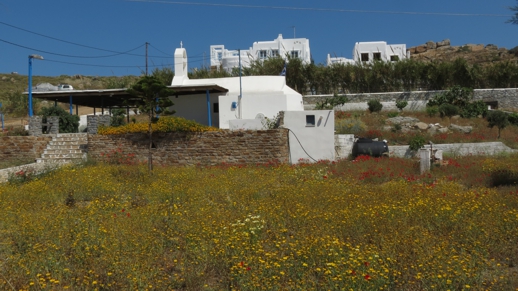 Springflowers fill a churchyard at the northwest end of Agios Prokopios beach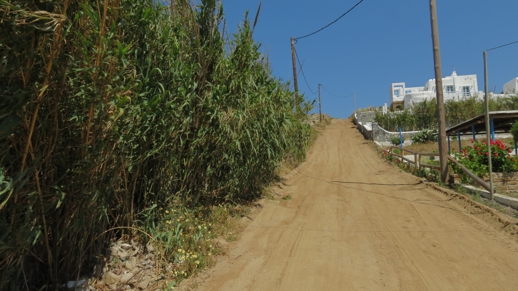 Tall bamboo lines one side of a Stelida road at the end of Agios Prokopios beach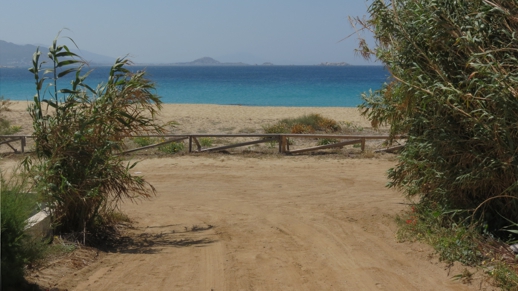 A view of Agios Prokopios beach from the dirt road shown in the photo above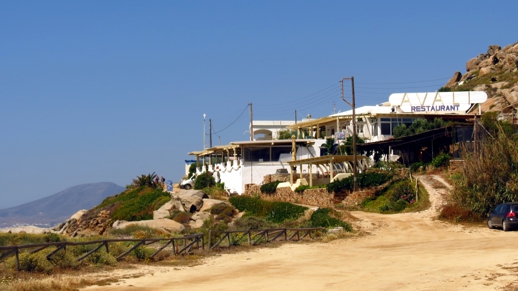 Avali restaurant is located on the hillside at the northwest end of Agios Prokopios beach. Walking trails on Cape Agios Prokopios can be accessed from the road that runs past the restaurant. Avali has the best beach views of any restaurant at Agios Prokopios; its seaview terraces are perfect places to enjoy the Naxos coastal scenery while having a drink or meal.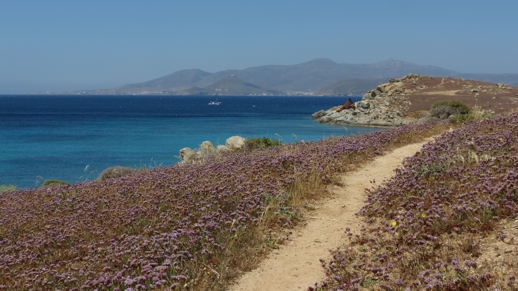 Wildflowers flank a footpath on Cape Agios Prokopios
Please click on the 2 in the link below to continue reading and view dozens more photos from our day on Naxos.
 CONTINUED ON PAGE 2