Naxos trip report continued from page 1: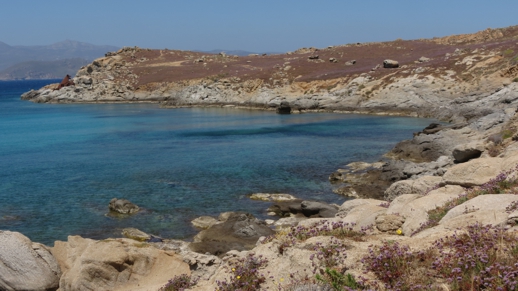 A quiet bay on the southern coast of Cape Agios Prokopios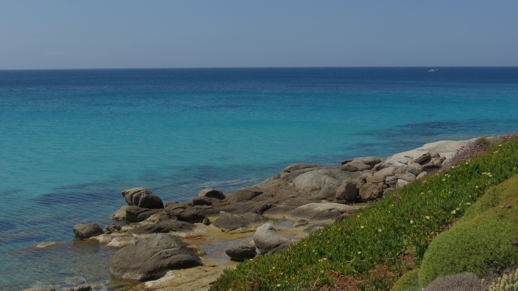 Looking out to sea from Cape Agios Prokopios
 A sudden change in plans
We got partway along Cape Agios Prokopios when we changed our minds and decided we'd prefer to spend the afternoon riding bikes rather than walking. So we turned back and hiked across the full length of Agios Prokopios beach to the main resort area, where we could visit two different vehicle rental agencies to check out mountain bikes and compare prices.
Though it was an absolutely gorgeous morning, there were only a couple of dozen people on the entire beach so far, and surprisingly no nudists in sight. That was a remarkable change from last May and October (and our previous Naxos holidays), since we would usually see more than a dozen people near the midsection of the beach, sunbathing and swimming au naturel. (Last year I shot a beach photo that showed several nudists wading in the sea; it has since become the #1 picture with the most all-time views on the MyGreeceTravelBlog Flickr page.)
Another obvious change was the presence of more than 100 organized sunbeds on one section of sand near the Stelida beach access road. We had not seen any lounge chairs and umbrellas there last year, and only saw a few on some of our previous Naxos holidays. Signs suggested the loungers might be for guests of the Naxos Imperial Hotel, but nobody was using any of the chairs at the time. I suspected there might be fewer nudists at Agios Prokopios because the sunbeds would attract more people — particularly families with kids — to that area. The naturists seemed to prefer getting naked in places with fewer people around, and may have relocated to another beach.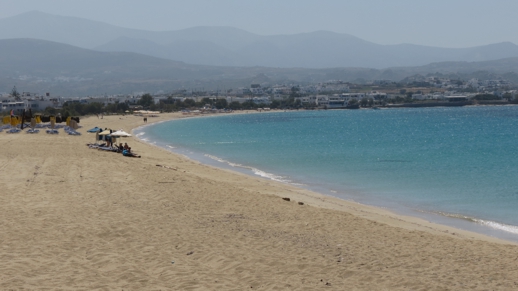 The view from the north end of Agios Prokopios beach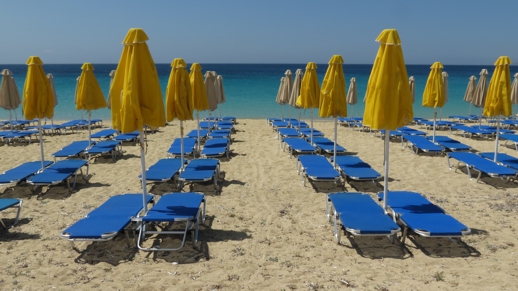 Rows of lounge chairs and umbrellas on Agios Prokopios beach. We had never seen so many sunbeds near the north end of the beach.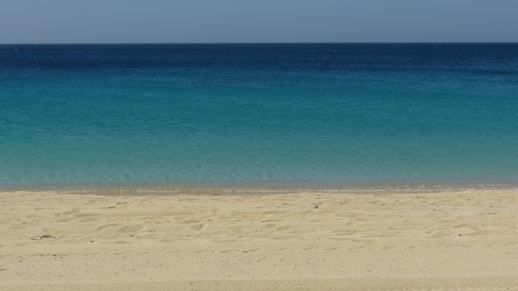 Looking out to sea from Agios Prokopios beach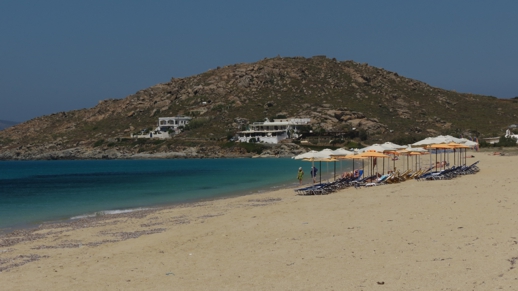 A view of the north end of the beach and the rocky hill on Cape Agios Prokopios
A bike ride to the west coast beaches

Our first stop was the Moto Power Naxos office on the main road near the Eko gas station. We had rented mountain bikes here last October, but today they had cars and scooters only. So we strolled down the road to Niko's Bikes Moto Center, which is situated next door to Niko's Taverna near the bus stop. (I have no idea if only one man named Niko owns both businesses, but there's a strong possibly that's actually the case.)
Cost for a 2-day rental would be €16 — a reasonable €4 per bike per day. We picked out two mountain bikes, signed the paperwork, and set off, riding first to Agia Anna beach and then inland to reach a smooth asphalt road that the Niko's staff said would take us to a point near the south end of Plaka beach. From there, we would follow a dirt road to Orkos, Mikri Vigla and possibly points beyond. (The coast road leading south from Agia Anna and Maragas doesn't extend the full length of Plaka beach, so we had no choice but to take the highway route). 
We didn't have a specific goal or destination in mind — we just wanted to have a good bikeride and enjoy the Naxos countryside, beaches and coastal scenery.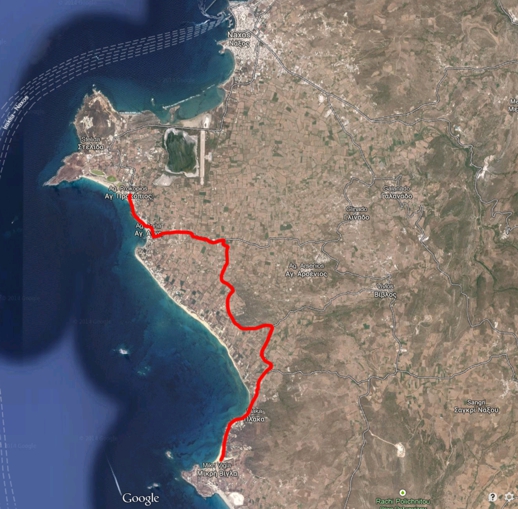 The red line on this Google map of Naxos shows the approximate route we took while cycling from Agios Prokopios beach to Mikri Vigla beach, and back.
Asphalt highways and dirt roads
About half of our ride would be along a recently-built two-lane highway with smooth asphalt pavement. The rest would be along a dirt road. The route took us through a sizeable agricultural district that extends between Plaka beach and a row of moderately-sized hills to the east. We wound our way past farm fields, small houses, luxurious-looking private villas, dozens of studio apartment buildings, and a few churches, including one with a blue domed roof. There was a considerable amount of building development along the way, with dozens of rental apartment buildings and villas in various stages of construction.
The highway eventually ends at a junction where a left turn would have taken us up into the hills. We turned right onto a dirt road that heads west to Plaka beach. We were thankful there wasn't much traffic because every passing motor vehicle — truck, car or even just a scooter — stirred up thick clouds of dust that lingered up to a minute or two before dissipating. Although several considerate motorists slowed their speed when they saw us, to try to minimize the amount of dust their vehicles would kick up in our faces, truck drivers weren't so courteous. I'm certain they were all chuckling and cackling "Eat my dust!" in Greek as they barrelled past, almost forcing us off the road.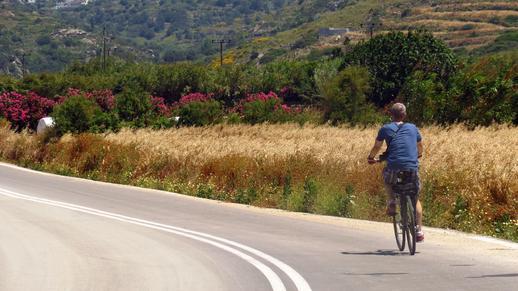 Cycling along a paved country road that runs in a southerly direction a few hundred meters inland from Agia Anna and Plaka beaches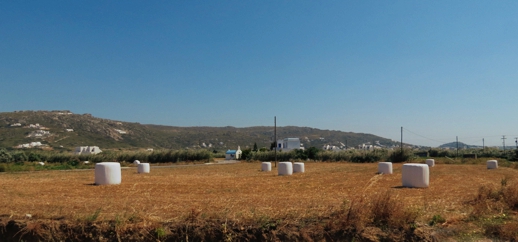 One of the dozens of farm fields we passed during our bike ride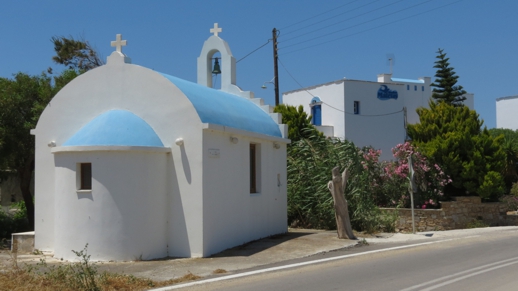 A blue-domed church next door to Mateus Studios near Plaka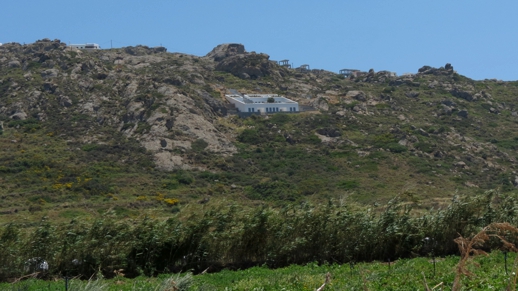 There were numerous studio apartments, houses and villas on the hills east of the highway, but this large white building really stood out …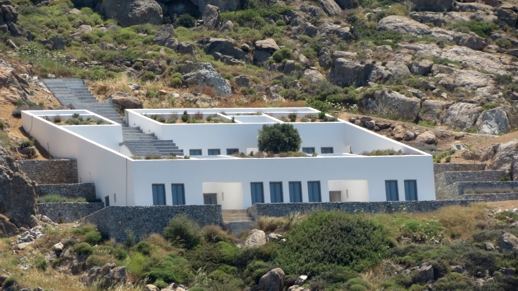 … and this telephoto image offered a better view of what appeared to be either a massive family estate or a multi-level complex of several individual apartment units. I had not seen a design like this before.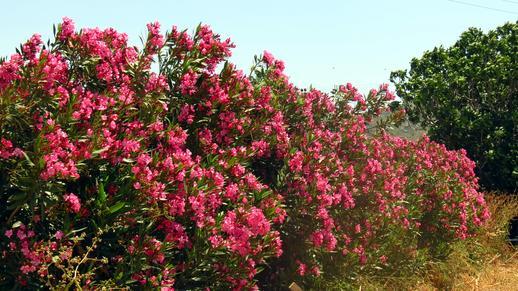 The terrain along our cycling route was predominantly brown and green, but every now and then flowering plants — like this long, tall row of pink azaleas — added brilliant bursts of colour to the landscape
To reach the beaches, we had to turn off the highway and follow this dirt road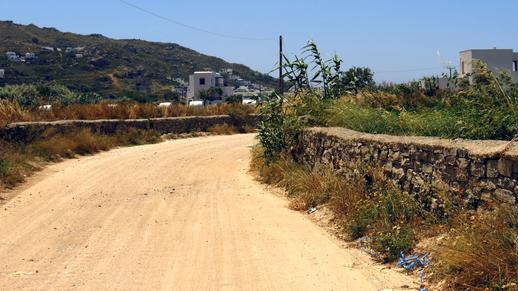 The dirt road twisted and turned along a flat stretch of land behind Plaka beach, winding its way past farms, fields, private villas and rental studios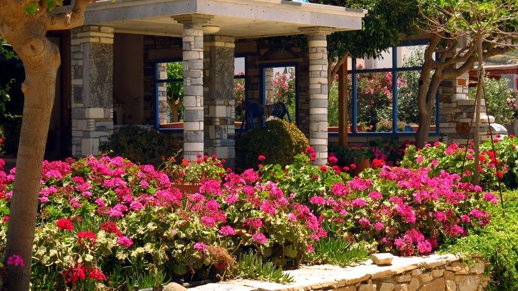 Pink and red geraniums fill a front yard garden space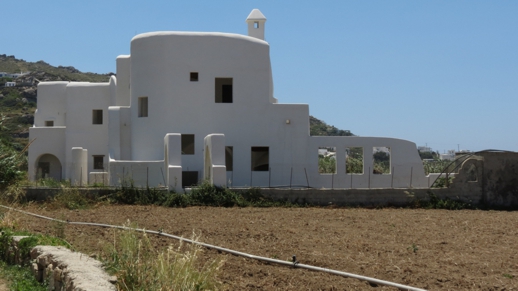 One of the many construction sites we passed during our ride. This is a side view of what is actually two large and inter-connected buildings. I couldn't tell if this is going to be two private residences or an apartment or hotel complex.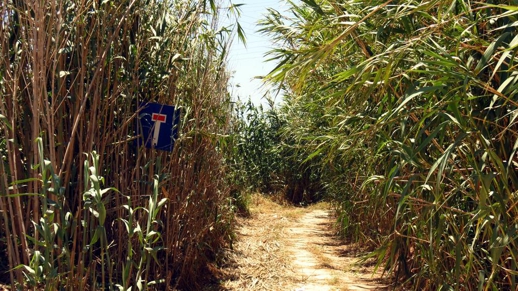 Bamboo plants tower along a dead-end dirt road behind Plaka beach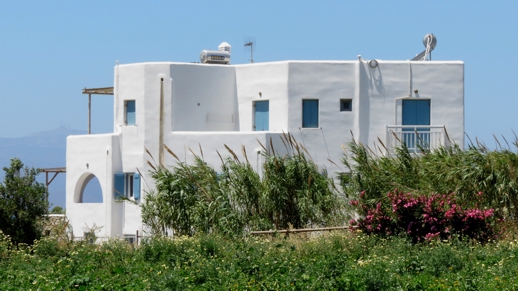 A crisp white studio apartment building near Plaka beach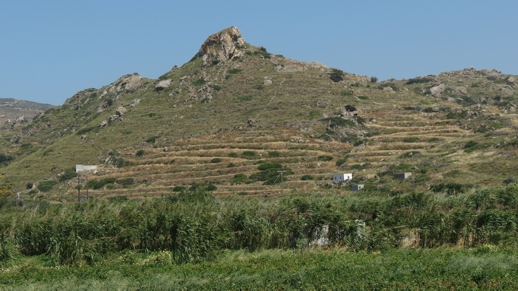 Farm fields and a terraced hillside dominate the view to the east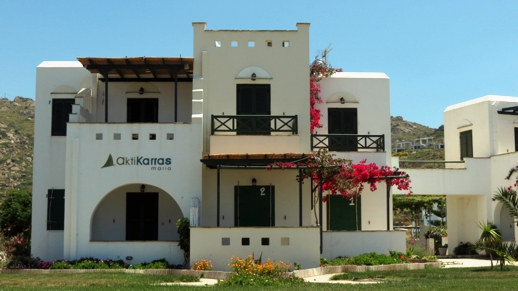 The Akti Karras Maria Hotel didn't appear to be open for the season yet. More than 90% of the accommodation properties we passed probably won't be occupied until peak travel season (July and August).
Brisk winds along the coast
The light morning breeze had become a brisk, steady wind by the time we reached the south end of Plaka beach near Orkos, where the dirt road runs close to the coast as far as Mikri Vigla. It had been an easy, comfortable bike ride up to this point, but now that it was quite windy we had to put more effort into pedalling the bikes over the uneven sand and dirt surface.  We were only about 15 minutes from Mikri Vigla beach, but we paused at the roadside next to Plaka beach for about 10 minutes to catch our breath, drink some water, and take photos of the gorgeous long beach to the north, and the scenic coastline along Orkos bay to the south.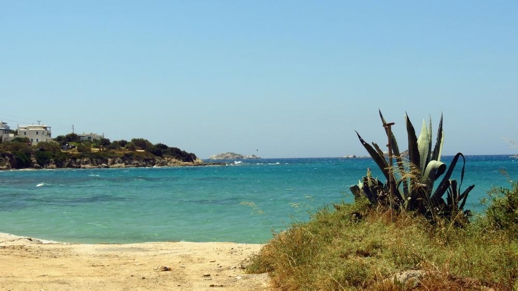 The dirt road eventually reaches the coast at this point near the southern tip of Plaka beach. Part of the Orkos area of Naxos is visible at left.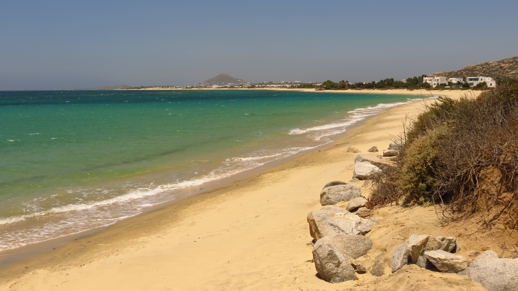 The soft sands of Plaka beach curve to the north as far as the eye can see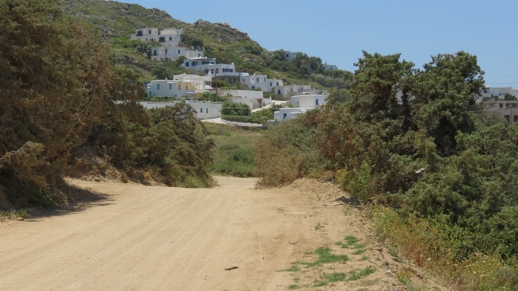 From the end of Plaka beach, this dirt road twists uphill along the coast, passing the Orkos and Mikri Vigla areas of Naxos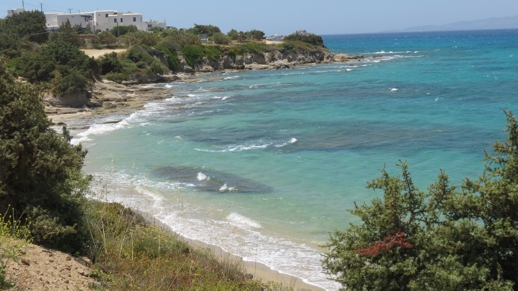 The Naxos coastline at Orkos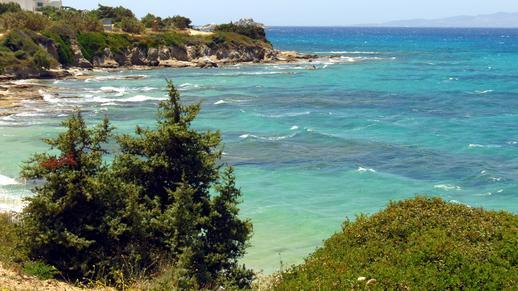 The sea at Orkos always fascinates me with its striking shades of turquoise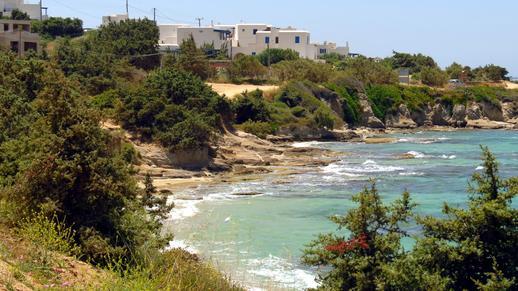 The hillside at Orkos is dotted with dozens of private homes as well as studio apartment buildings and other rental accommodations
The road through Orkos offers great views of Plaka beach across the bay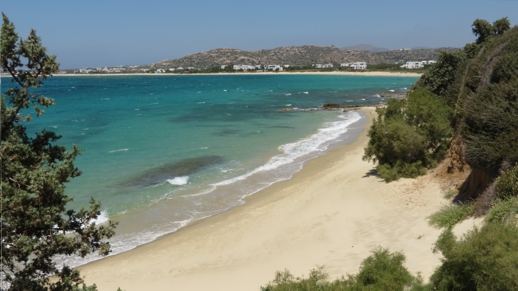 The coastline at Orkos features rocky coves and several beaches with soft light brown sand, like this one. We didn't see a soul on any of the Orkos beaches.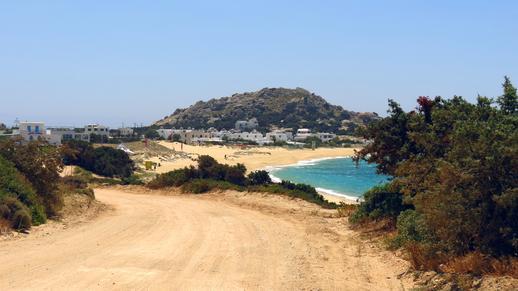 Approaching Mikri Vigla, the rocky hill and peninsula partly visible at center rear of the photo. There are two beaches here — one on each side of the cape. The beach seen here is popular with windsurfers and kitesurfers because it's prone to windy conditions. The long beach on the opposite side of the hill gets considerably less wind and has calmer seas.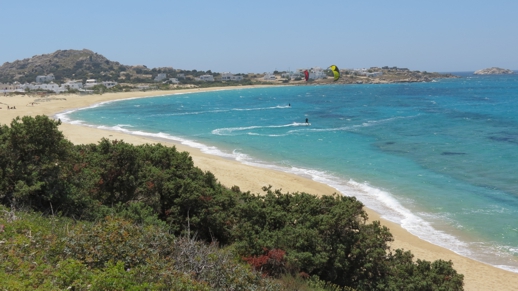 Two kitesurfers test the wind and waves at Mikri Vigla beach
A drink and snack break at Kontos Taverna
As we got closer to Mikri Vigla, strong gusts of wind blasted sand into our faces and forced us to slow our pace considerably. Our plan had been to cycle at least as far as Mikri Vigla Taverna (which I profiled in Our best food & drink experiences of 2013 post) before taking a break, but we were thirsty and feeling a bit weary from riding against the wind. When we saw the sign for Kontos Taverna coming up on our right side, we decided to stop there instead. We had never been to Kontos before, but I had heard good things about it, and was familiar with the restaurant because I had been following the Kontos Facebook page.
Kontos is located a few dozen meters back of the beach, behind a row of tall dunes, and has an open-air dining terrace with exhilarating views of the beach and sea. The scenery is wonderful, but the live entertainment — skilled kitesurfers riding the choppy sea on the north side of Cape Mikri Vigla — is an added bonus. At one point nearly a dozen kitesurfing enthusiasts were challenging the wind and waves, and it was interesting and fun to watch them skim back and forth across the bay and fly through the air from time to time.
(I will tell you about the food at Kontos Taverna in an upcoming post describing our restaurant dining experiences during our Naxos holiday.)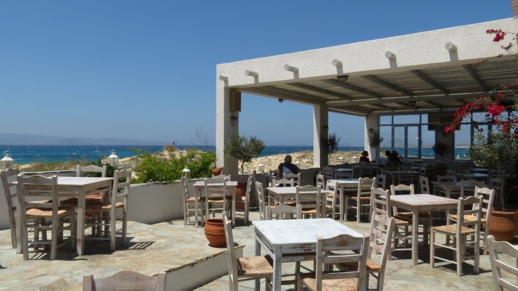 The open-air seaview dining terrace at Kontos Taverna
There are excellent views from the sheltered dining area at Kontos Taverna, too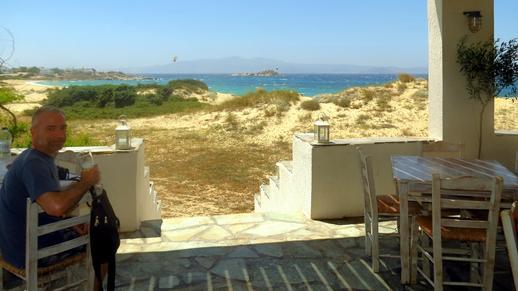 My "ringside seat" at Kontos Taverna was the perfect spot to sit back with an ice cold beer and watch the kitesurfers and scenery at Mikri Vigla
Three kitesurfers test their skills in the wind and waves at Mikri Vigla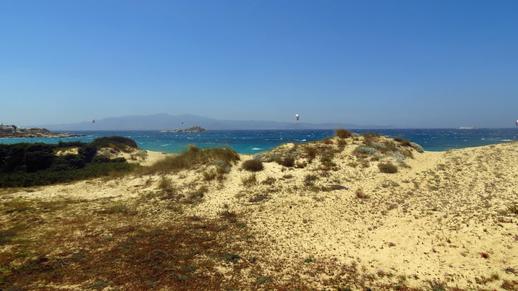 The dunes between Kontos Taverna and Mikri Vigla beach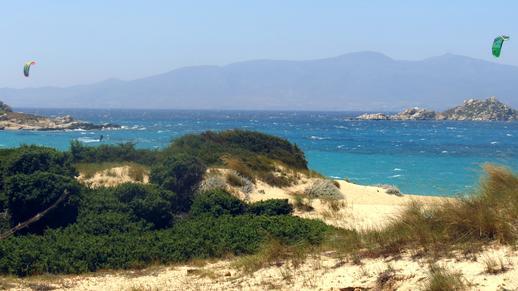 The silhouette of Paros island provides a backdrop for the kitesurfers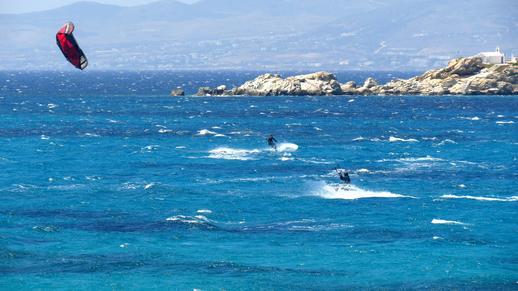 Two kitesurfers ride the waves in Mikri Vigla Bay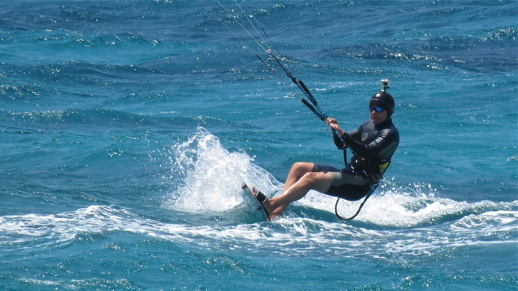 This kitesurfer appears to have a GoPro camera mounted on his helmet to catch the action just as he's seeing it himself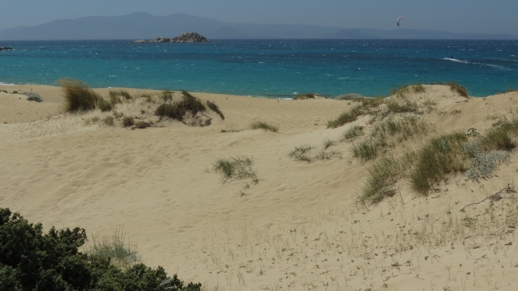 One final view of Mikri Vigla beach
An ancient tower, windmills and church
While we were at Kontos, customers at a nearby table asked the restaurant owner to recommend some sights worth seeing in the immediate area. He suggested some places they could visit, including the remains of an ancient watch tower on a hill behind Plaka beach. He told them a section of only one of the tower walls is still standing, but is an impressive sight nonetheless considering that it's probably more than 1,000 years old. While I was paying our bill, I asked for directions to the tower. It should be easy to find — just a few hundred meters from the end of the paved highway we rode through the countryside from Agia Anna to Plaka. Since we would be heading that way for our eventual ride back to our hotel, I made a mental note to take a short detour to view the tower.
We got back on our bikes with full intentions of riding farther south to the Alyko beach area, which have never seen before, but 10 minutes into our ride we gave up and turned around — it was too much work riding against the wind, and it wasn't fun being blasted repeatedly with blowing sand. We would go see the ancient tower instead, and gradually make our way back to Stelida.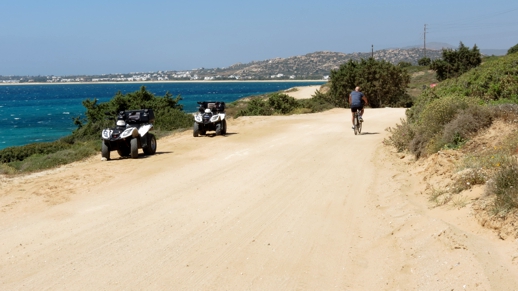 Riding back the way we came — along the road through Orkos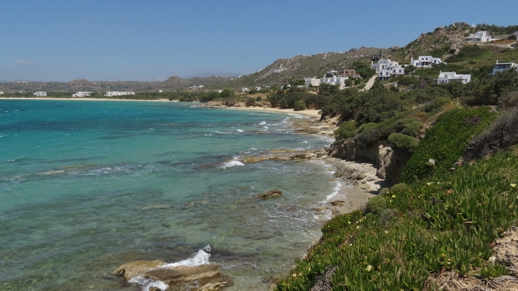 A view of several of the secluded coves on the coast at Orkos
Small sandy coves and one larger beach strip are scattered between rock outcroppings that jut into the bay at Orkos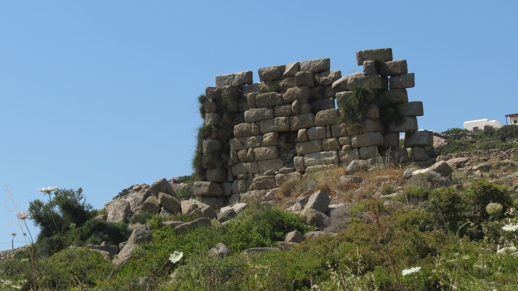 This section of stone wall is all that remains of an ancient watch tower on a hill behind Plaka beach. We were told it's more than 1,000 years old.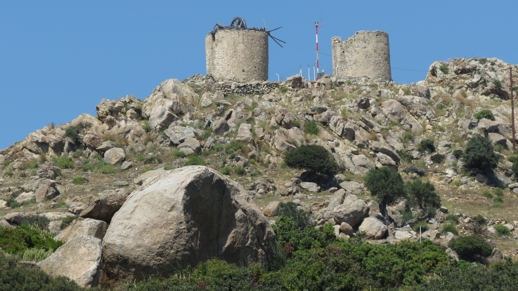 The remains of two old windmills atop of a hill near the ancient watch tower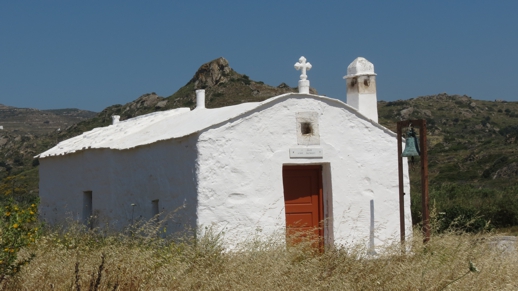 Agios Mathiou church sits on the edge of a farm field near the remains of the century-old Plaka watch tower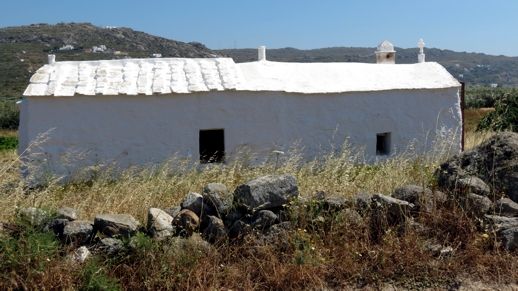 This side view shows a curious feature of Agios Mathios church — two different styles of roof construction on one building.
A cave church on the hill
That short detour of only a few hundred meters gave us views of an ancient watch tower,  two crumbling windmills, and that curious Agios Mathios church. Not far from there, we got to see another interesting site — the Agios Nikoloas cave church, a narrow chapel built against the peak of a hilltop. (It's one of numerous Naxos chapels constructed on the outside of caves). We didn't feel like hiking up the hill to take a closer look, so we settled for taking some telephoto pictures of it instead.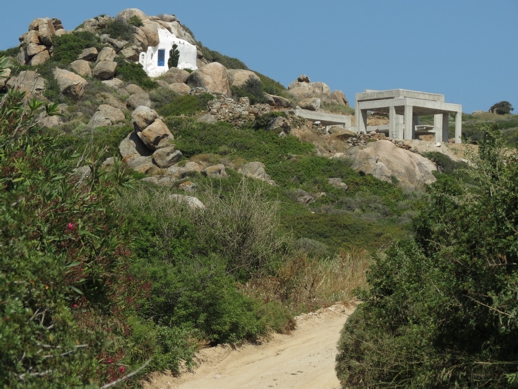 The Agios Nikolaos cave church is nestled against the peak of a rocky hilltop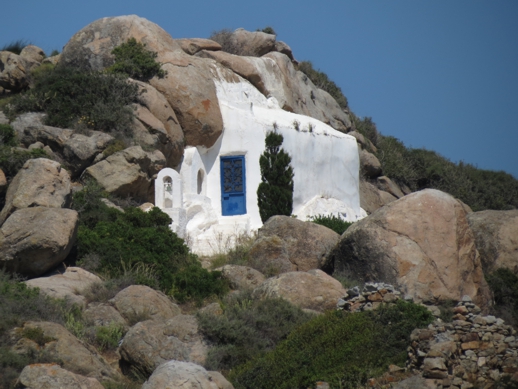 A zoom view of the Agios Nikolaos cave church high up the hill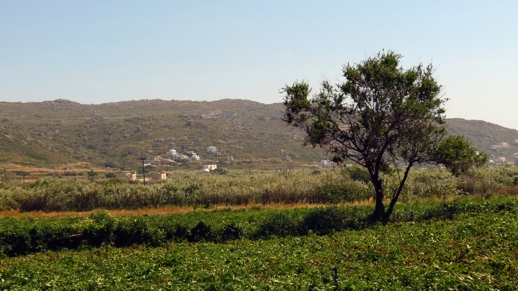 Some of the countryside we cycled through on the highway behind Plaka beach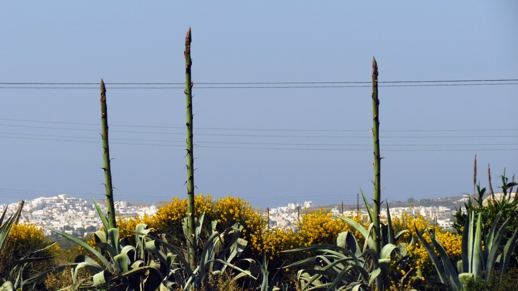 When we reached the main highway leading back to Agia Anna, we could see the whitewashed buildings of Naxos Town in the distance (behind these three agave flower stems on the roadside).
A brief stop at Agia Anna beach
We had planned to stop at the Agia Anna resort area to pick up some items we needed at the Aspasia supermarket, but we first rode to the harbour pier to briefly check out the views from there. The pier divides Agia Anna beach in two; the north side is lined with tavernas and is very popular with families, while the south side is a long, narrow strand that curves partway around a bay in which fishing boats and sailboats drop anchor. After a 10-minute stop to take photos and enjoy the views, we did our shopping at the supermarket and returned to our hotel room.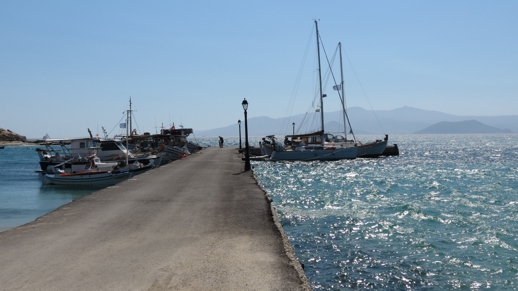 The harbour pier divides Agia Anna into two separate beaches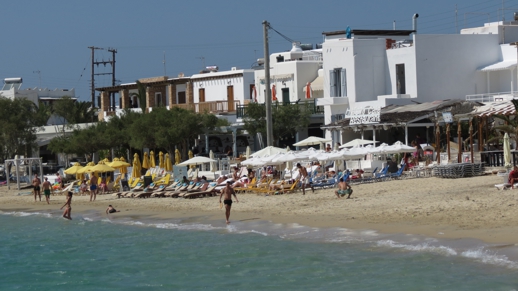 The north beach section is lined with restaurants and beach bars, and is a popular destination for families with small children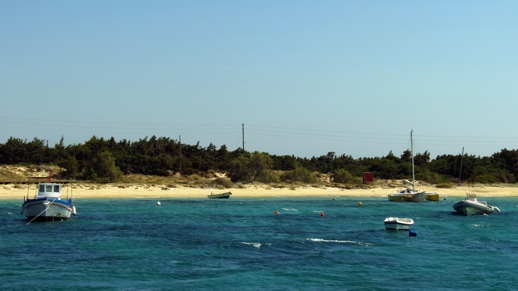 Boats anchored in the bay off the southern stretch of Agia Anna beach
Back to Agia Anna for dinner
After enjoying a glass of wine on our terrace it was time to head out for dinner, and our destination tonight was Tonia's Courtyard (Η Αυλή της Τόνιας), an Agia Anna taverna we had never tried before. We considered riding the bikes down, but they weren't equipped with lights and we didn't want to ride in the dark on the way back. So we walked. (Heck, what's a mere 30-minute walk after spending a good part of the day cycling against the wind?) 
I'll tell you more about our meal at Tonia's in a separate upcoming post. For now, let me just say that Tonia's home-cooked Greek cuisine was amazing.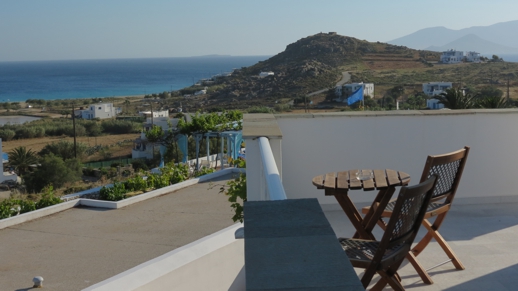 Early evening view of Cape Agios Prokopios from our hotel room terrace
Evening sun illuminates the dining terrace at Tonia's Courtyard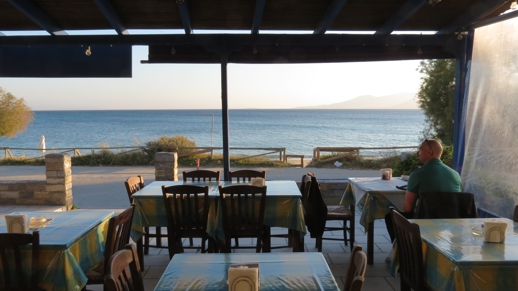 Tonia's terrace has a view of Agia Anna beach, the sea, and Paros island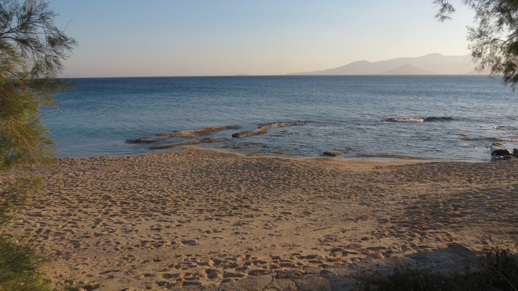 Evening view of part of Agia Anna beach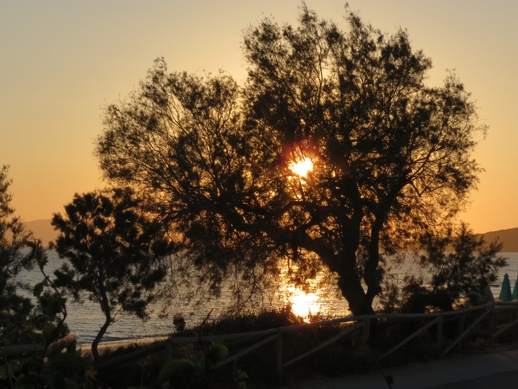 A big tree on Agia Anna beach is cast in silhouette by the slowly setting sun. We shot this photo from the terrace at Tonia's Courtyard while eating our dinner.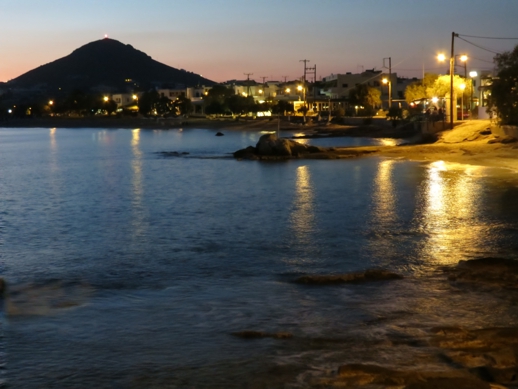 Looking north toward Agios Prokopios beach at nightfall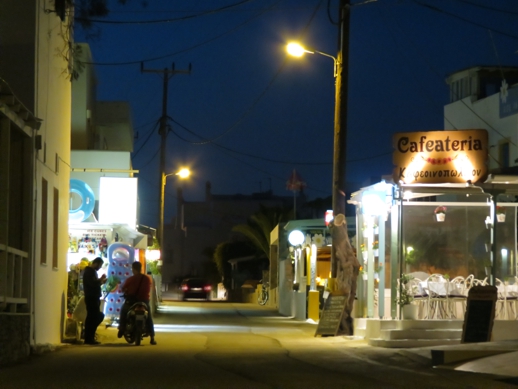 Looking down the main Agios Prokopios commercial strip toward the Super Market Naxos convenience store (left), the new Cafeateria restaurant (right), and Cafe Hideaway (partly visible behind Cafeateria).  I bought an interesting book of Naxos photographs in the convenience store.
 A souvenir book of Naxos photographs
After an excellent dinner during which we got to see another impressive sunset, we had one final half-hour hike ahead of us. We took our time walking back to the hotel, and stopped in to the Super Market Naxos convenience store at Agios Prokopios to pick up ice cream treats to eat on the way to Lianos Village. 
While in the store, a hardcover book called Top 7 Naxos caught my eye. It contains more than 110 pages of photographs that author Manolis G. Santorinaios shot at scenic locations all over Naxos — some of which we instantly recognized, but most of which we have yet to see in person (including rivers, waterfalls, water mills, bridges, bays, olive mills, ruins, threshing floors and more).
The shop owner told me that Manolis is his uncle, and that he self-published a 1,000-copy print run of the book in 2010. The pictures in the book are some of his uncle's favourite images from an extensive collection of photos he shot on the island during the last couple of decades. I thought the book would be a unique souvenir from our Naxos holiday, and when I heard it was the last copy still available for sale, snapped it up immediately.
Twenty-five minutes later we were back at the hotel. I started looking at the photographs in Top 7 Naxos but couldn't keep my eyes open — I was utterly exhausted from all the cycling and walking we had done during the day. It was time to get some sleep after another excellent and active day on Naxos.
The cover of the Manolis G Santorinaios book, Top 7 Naxos, that I purchased as a holiday souvenir for myself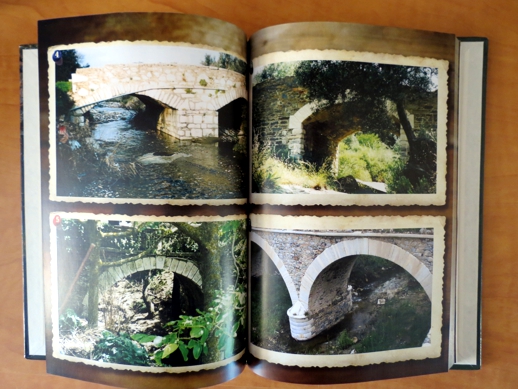 The Top 7 Naxos book contains more than 100 pages of colour photographs of Naxos landscapes, sights and attractions
[You can view full size versions of all of the photographs included in this post, along with hundreds of additional pictures, in the Naxos May 21 2014 album on the MyGreeceTravelBlog Flickr page. For general information about travelling to Naxos island, see my post Our Top 15 reasons to visit Naxos.]