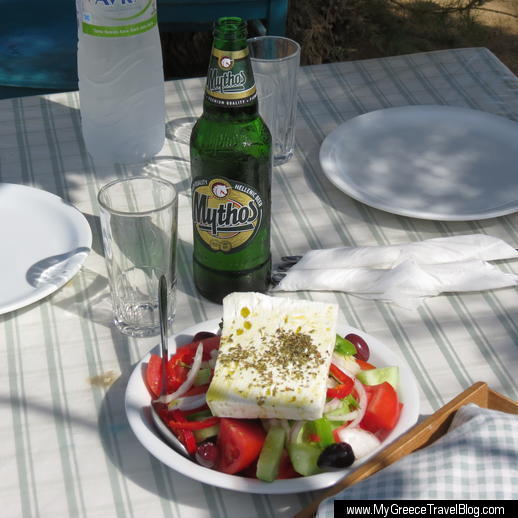 A Mythos beer and Greek salad … part of our afternoon "snack" at Paradiso Taverna during one of our Naxos beach walks in October 2013
Good eats: In my recent post Our best hotel experiences of 2013, I described the various places we stayed at in Mykonos, Ios, Naxos and Glyfada during our two trips to Greece last year. Today it's time to talk about the food we ate while we were there.
We love to eat, and one of the reasons we keep going back to Greece is that we immensely enjoy the food there, whether it's traditional Greek cooking, salads or vegetarian fare, grilled meats or fish, seafood or international cuisine.
We eat well on our holidays, and we always come home wishing we could recreate some of the most memorable meals in our own kitchen. We try, but the recipes either never turn out right or we simply can't replicate the wonderful tastes and flavours we enjoyed so much in Greece. And, of course, that's largely because we can't possibly reproduce the unique charm and character or the extraordinary locations of the places where we had dinners or drinks — or even just a cup of coffee.
Last year, we had remarkable meals or drinks at dozens of different restaurants, bars and cafés. Individual dishes at certain places were outstanding, while in other instances it was the physical premises or scenic location of a particular restaurant that gave us a dining experience we won't soon forget.
Below are descriptions of the restaurants, bars meals and drinks that impressed us the most — our best food and drink experiences of 2013.
Best beach taverna
Nikolas Taverna on Mykonos and Paradiso Taverna on Naxos (Tie)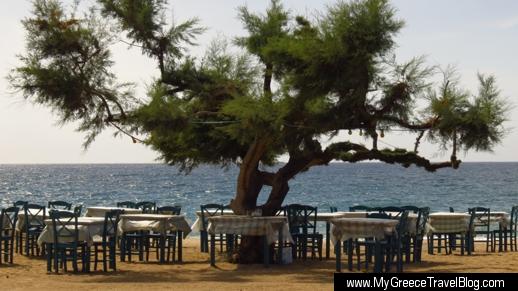 Paradiso Taverna has over a dozen tables grouped around a tree on Maragas beach on Naxos. This is one of the most-photographed sights on the island, and this scene has even been featured on Naxos postcards.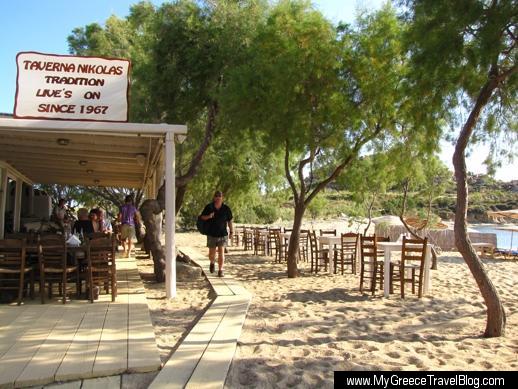 Nikolas Taverna also has tables on the sand, in this case at little Agia Anna beach between Platis Gialos and Paraga on Mykonos. The trees shade the tables part of the day, but there are more seats on the sheltered outdoor terrace (left) for people who don't want to sit in the sun.
One of the things we like most about Greece, and especially its islands, is the opportunity to have a "Shirley Valentine" moment — that is, enjoy a drink or meal right next to the sea, at a table either on a sandy beach or on a terrace mere inches from the water. It's something we can never do at home, where strict government liquor laws and rigid municipal licensing regulations require restaurants serving alcohol to keep their dining areas enclosed by fences or waist-high barriers — and well away from the water's edge.
So we're thrilled when we find tavernas that have open seating close to the water — especially if those tables offer views of marvellous scenery or striking sunsets. And if the restaurant kitchens happen to serve delicious food, too, we will feel like we're in paradise.
Superb food and good service
Two remarkable places that we have particularly enjoyed on past vacations are Nikolas Taverna at Agia Anna/Paraga on Mykonos, and Paradiso Taverna at Maragas beach on Naxos. Both have provided consistently good service and superb food, as well as exquisite settings, and both lived up to our high expectations for more of the same when we paid them repeat visits during our holidays in 2013.
The family-run Nikolas Taverna is situated on a small, quiet strand between Platis Gialos and Paraga, two of the most popular beaches on Mykonos. Our favourite place to sit is at one of the tables on the sand, under the row of trees in front of the restaurant. There are nice views toward Platis Gialos, and the setting is profoundly serene and relaxed … it's a pleasant spot to mellow out while enjoying the fabulous home-cooked Greek cuisine or fresh seafood.
Paradiso Taverna is situated at Maragas, in between two of the most popular beaches on Naxos — Plaka and Agia Anna. Paradiso has a large, tree-sheltered dining terrace in front of the restaurant building, and more tables directly across the road, under a distinctive, eye-catching tree right on the beach. Both spots offer excellent views of the beach, sea and nearby Paros island, and both are good places to watch a sunset, too. The food is as delicious as the scenery.
If you get the chance to visit either Nikolas or Paradiso for a meal, don't just order off the printed menu — take a few minutes to go inside the kitchen to see the various vegetable, meat and seafood dishes that have been specially prepared for that day. Everything will look appealing, so don't be surprised if you have trouble deciding what to order!
Two new beach tavernas we discovered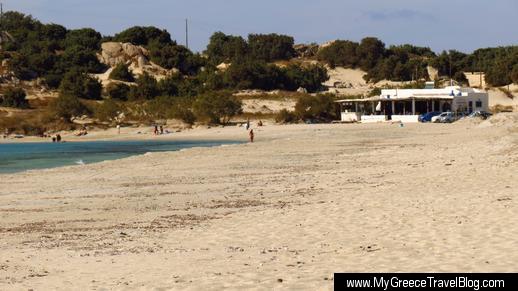 Mikri Vigla Taverna at Parthenos beach on Naxos
Honourable mention goes to two beach tavernas we discovered for the first time in 2013 and hope to revisit in the near future.
We stopped into Mikri Vigla Taverna just for a cold drink and a snack while mountain biking down the southwest coast of Naxos on October 6. We ordered only a Greek salad since we weren't very hungry, but when we saw the food in the kitchen — as well as what people at the tables next to ours were being served — we regretted that we didn't have bigger appetites. Everything looked tasty, portions appeared to be quite generous, and all the customers kept commenting on how good their meals were. It was the last day the taverna was open for the season, and the staff kept apologizing for having only a "small" selection of items to choose from. However, we were impressed with the large number of dishes that actually were available — we would have been spoiled for choice had we wanted a more substantial meal.
On October 14, we went to Aperanto Galazio with two friends from the Athens area. The restaurant is located on the beach at Varkiza, a town on the Athens Riviera. We sat on the shaded outdoor dining terrace just steps from the sand, enjoying the beach and sea views while we dined on eight delicious items, including taramosalata (a fish roe dip), Greek salad, stuffed tomatoes, zucchini fritters, calamari, fried potatoes and red and white wine. The food was excellent, the service was great, and the total price was a very pleasant surprise: just €35. We had been expecting the lunch to cost considerably more given the substantial amount of food we had ordered.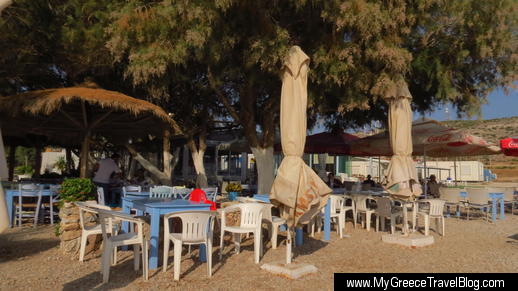 Aperanto Galazio restaurant at Varkiza beach on the Athens Riviera
Please click on the link below to see dozens more photos and restaurant reviews on page 2 of this post.
CONTINUED ON PAGE 2