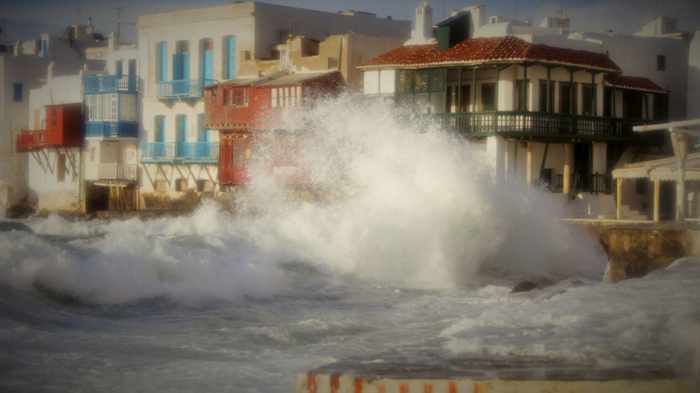 Surf sprays two storeys high as roaring waves crash ashore at the Little Venice area of Mykonos Town, flooding the entire seaside strip of cocktail bar terraces. This photo was posted on the Mykonos LIVE TV Facebook page on January 18, the day gale-force winds raged across much of Greece.
Storm scenes: When wild winter weather swept across Europe this week, Greece wound up in the path of powerful winds that pounded some places, including Syros island, with gusts reaching as high as 122 kmh — the equivalent to force 12 on the Beaufort wind scale.
The fierce winds raged relentlessly on Thursday January 18, toppling trees on several islands, damaging one of the iconic windmills on Mykonos, and preventing planes from landing at Syros airport. The storm disrupted ferry travel and shipping, too, as rough seas forced the cancellation of many sailings as well as the closure of the ports at Lavrio and Rafina. At Piraeus port, the passenger ferry Panagia Agiasou broke away from its moorings during the tempest, while waterfront areas at Mykonos Town, and Kini Beach on Syros, sustained damage from massive waves that walloped the shore.
Although most residents stayed indoors to avoid the incessant blasts of wind, which made walking perilous and even driving difficult, some did venture out to observe nature's fury and photograph the stormy conditions. I found numerous pictures and videos on social media showing skies filled with massive dark clouds, and huge waves crashing onto seafronts and beaches in Mykonos, Paros, Naxos, Syros, Rhodes, Lesvos, Samos, Skyros, Skopelos, Ithaca, Paxos, Kefalonia, Nafplio, Athens and elsewhere. Many of the images showed that, even in ferocious weather, the scenic beauty of Greece's coastal areas still stands out.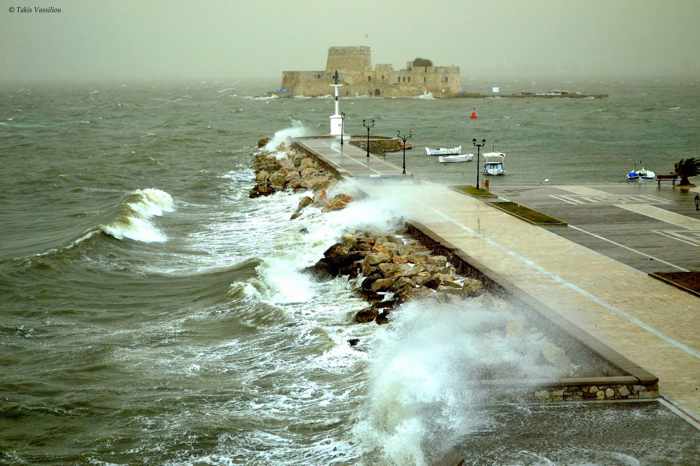 Takis Vassiliou shot this view of the Nafplio waterfront and Bourtzi sea castle, and shared the image on his Nafplio Kalimera page on Facebook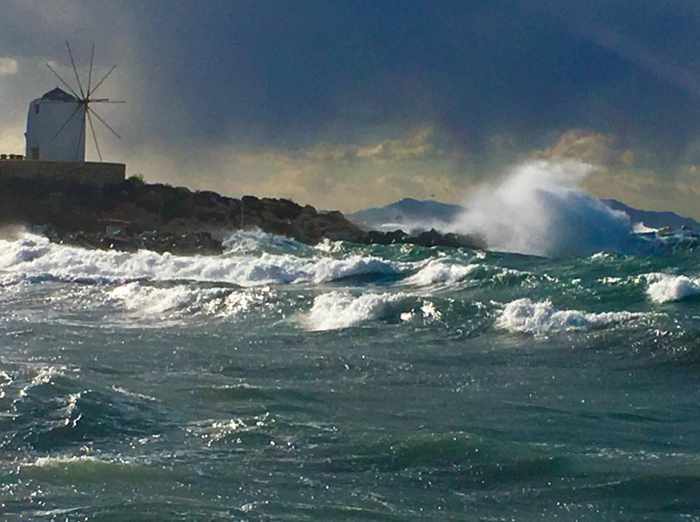 Maria Alipranti captured sunlight illuminating stormclouds and waves at the Parikia waterfront on Paros. Her photo, and more than 20 others she shot, were shared on the ΠΑΡΟΣ like page on Facebook.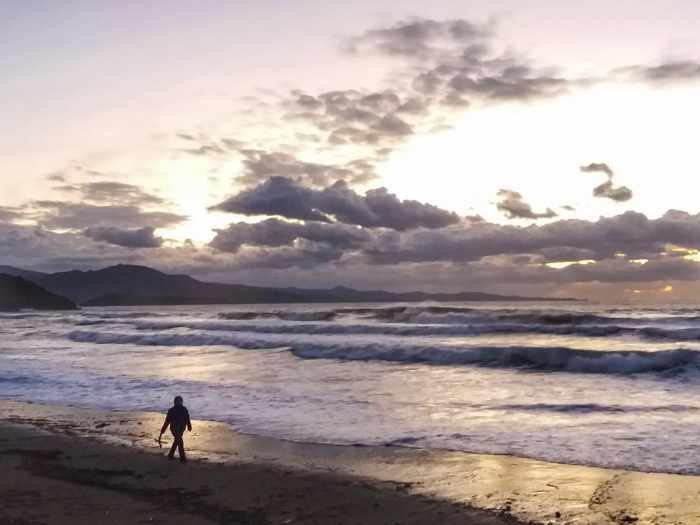 Eleonora Pouwels photographed this scene of waves, stormclouds and sunset at Psiriara beach on Lesvos 
Please click on the link below to turn to page 2, where I have posted more photos and several videos that were shared on social media.
CONTINUED ON PAGE 2