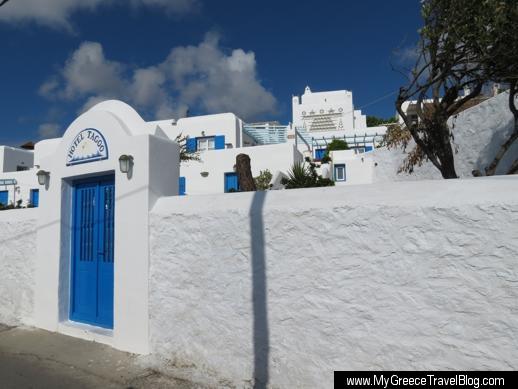 A street view of Hotel Tagoo on Mykonos, where we spent five nights in May 2013 for the fifth consecutive time. That set a personal record for us — we had never before stayed more than twice at any hotel. But also in 2013, we hit the three-visit mark at Lianos Village Hotel on Naxos and Blue Sky Hotel in Glyfada.
Where we stayed in 2013
Our May accommodations (by order of stay) were: Hotel Tagoo on Mykonos; Katerina Hotel on Ios; Hotel Katerina on Naxos (that's right, we stayed at two hotels named Katerina — but it was purely by coincidence and there was no connection between the two); and Blue Sky Hotel in Glyfada. We had never been to either of the Katerina hotels before, but had stayed at Hotel Tagoo four times previously, and at Blue Sky Hotel twice.
Our October accommodations were: Lianos Village Hotel on Naxos; Hotel Spiros on Naxos; and Golden Sun Hotel in Glyfada. We spent the first week of our holiday at Lianos Village and would have stayed there longer, but it closed for the season on October 7. So we relocated to Hotel Spiros — which was remaining open until the end of October — for the second week of our vacation. We had stayed at Lianos Village twice before, but had never been to either Hotel Spiros or the Golden Sun Hotel.
All of the hotels were comfortable, quiet and exceptionally clean, and each had friendly, helpful staff and management. All  were reasonably-priced, for their respective locations, and we would describe each of the particular accommodations as budget-friendly. We did not stay at any high-end hotels or luxury resorts on either trip.
 Best hotel

Katerina Hotel on Ios and Lianos Village Hotel on Naxos (tie)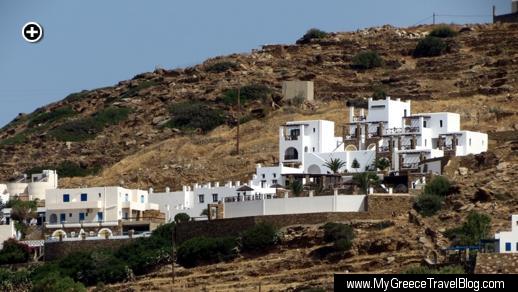 Katerina Hotel is situated on a hill high above beautiful Mylopotas beach on Ios. This is a telephoto view of the hotel from the far side of Mylopotas bay.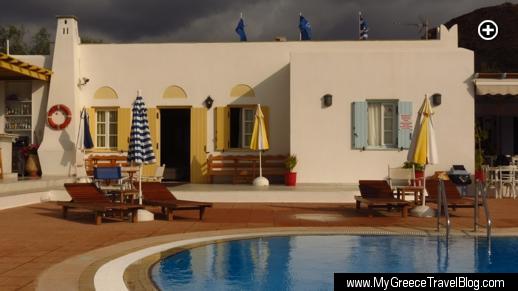 Swimming pool terrace view of the main reception, bar and breakfast building at Lianos Village Hotel on Naxos. The hotel is situated on a hillside overlooking Agios Prokopios, one of the most popular beaches on Naxos.
Katerina on Ios was our favourite place to stay in May, while Lianos Village grabbed that honour for October. But we couldn't decide which was the best hotel overall because they scored equally high marks for room comfort, views and ambience. So we called it a draw.
However, Katerina Hotel would have been the outright winner if our accommodations there had included breakfast — that detail would have tipped the scales decidedly in its favour. (Our room rate at Lianos Village, on the other hand, did include a daily breakfast.) Breakfast or not, we loved both hotels and will definitely return.
Best beds
Hotel Tagoo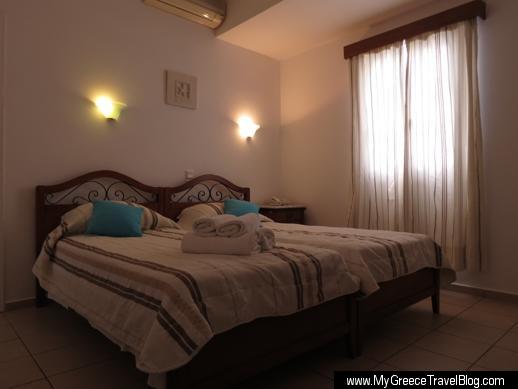 The supremely comfortable beds in our room at Hotel Tagoo
Getting a good night's sleep is tremendously important to us, as I'm certain it is for most travellers. But if you read online travel forums and hotel reviews, you'll see a lot of complaints that mattresses in Greece are too firm. In our 10 years of travelling to Greece, we have encountered our share of rock-hard beds and pancake-flat pillows, too.
Happily, we slept well at all our hotels in 2013, even though some of the mattresses were fairly firm. But the beds and pillows at Hotel Tagoo were by far the most comfortable of the bunch. We slept like babies there as a result, and I actually wanted to keep my pillow and take it with me for the rest of our trip! When I mentioned that to the hotel's manager, Anna, she told us Tagoo had replaced its beds in 2012 with the same high-comfort products used by some of the luxury resorts on Mykonos, including the 5-star Mykonos Grand. Our grateful backs and necks thank you for doing that, Anna!
Honourable mention goes to Hotel Spiros, which also had replaced its beds with softer, more comfortable mattresses in the last year or two.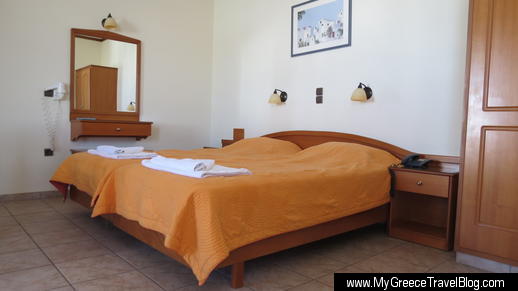 The mattresses on our beds at Hotel Spiros were comfortable, too.
Best breakfast
Hotel Spiros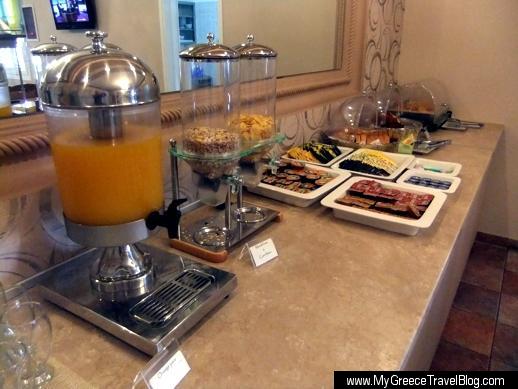 The main self-service counter in the Hotel Spiros breakfast room included hot coffee and tea, orange juice, cereals, bread, slices of home-made cake, and a choice of three hot items like mini-omelets and spinach & cheese pies.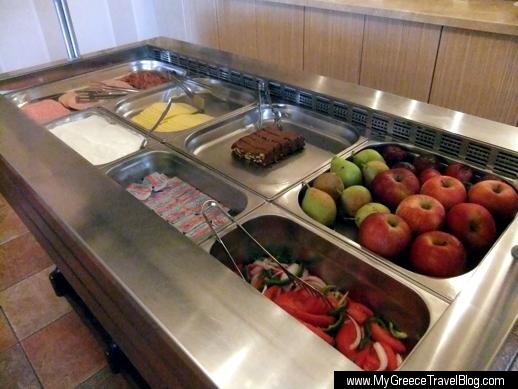 Another counter in the Hotel Spiros breakfast room contained fruit, yogurt, Greek salad, cheese, cold cuts and a chocolate pastry treat
Health and nutrition experts insist that you should start your day with a hearty breakfast and hotel owners in Greece seem to agree — most of the hotels we have stayed at have offered a daily breakfast, the cost of which was included in the room rate.  But some places either did not provide breakfast at all, or provided meals for an extra charge.
In our experience, 4- and 5-star hotels and resorts typically provide elaborate buffets with a wide array of cold and hot food items, while hotels rated with fewer stars offer a basic but wholesome selection of items including: fruit; coffee, tea and juice; Greek yogurt (of course!); cereal; bread, cold cuts and cheese (so guests can make sandwiches); and two or three hot foods, generally eggs, bacon or sausages.
The selection at most hotels is fairly standard, and we've found that the quality has been similar everywhere we have stayed. But the breakfast bar at Hotel Spiros featured a few stand-out items we didn't find anywhere else: a yummy home-made coffee cake, tasty spinach and cheese pies, and delicious mini-omelets.
Best breakfast dining area
Lianos Village Hotel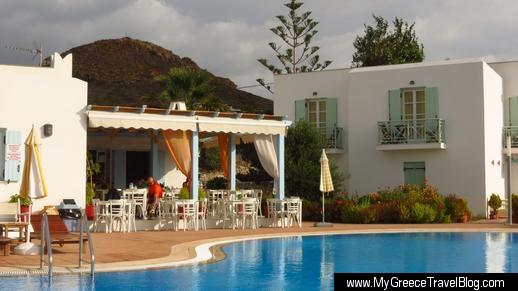 Lianos Village Hotel has an indoor dining area as well as an outdoor breakfast terrace. We always sit outside so we can enjoy the view of the hotel's colourful gardens and swimming pool, and the Aegean Sea beyond that.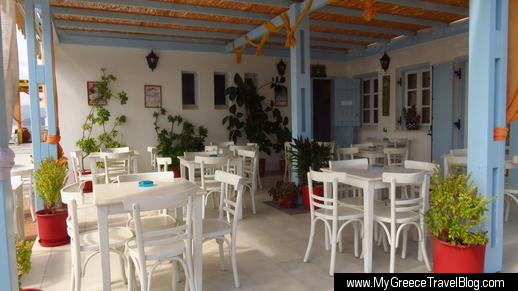 The Lianos Village breakfast terrace is a cheery spot, largely sheltered from the sun and wind. We loved having breakfast out here each morning.
We try to eat our meals outdoors as much as possible whenever we're in Greece, and that includes breakfast. Most hotels have a small outdoor area where guests can eat their first meal of the day, but some only have indoor spaces. Guests at Lianos Village can choose between dining inside or out, and our preference is the cozy pool-view breakfast terrace. I'm not a morning person, but I really enjoy having a cup of coffee and a bite to eat out here — it gets me off to a good start and sets the tone for the rest of my day.
 Best room
Lianos Village Hotel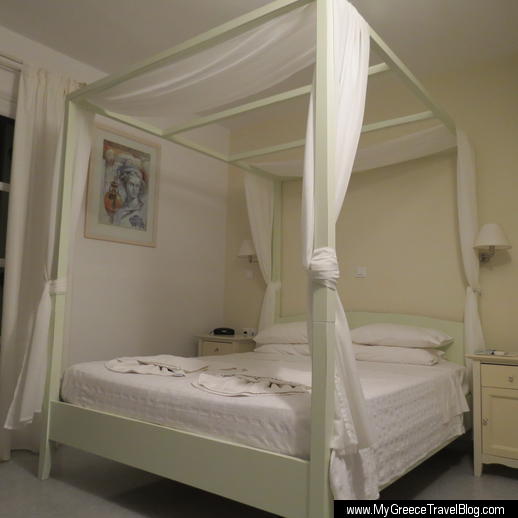 The comfortable poster bed in our room at Lianos Village Hotel
It doesn't take much to make us happy with a hotel room. Give us a cheery, bright space with a comfortable bed, pleasant lighting, a desk and two chairs, adequate drawers or cupboard space to unpack our clothes, somewhere to stash our suitcases so we won't trip over them constantly, and a bathroom with a good shower and plenty of hot water, and you won't hear any complaints. (We won't even bitch if the shower sprays water all over the floor, since we've come to expect that will happen — see my comments below in the Best Bathroom report). Toss in complimentary wi-fi service, plus a balcony or terrace with a great view, and we're over the moon. 
Our room at Lianos Village didn't have wi-fi access, but was our favourite because it had everything else — with a simple yet tasteful interior decor to ensure a pleasant home-away-from-home environment. By day or at night, it had the most comfortable feel of all the rooms we stayed in last year. Here are more photos of our room: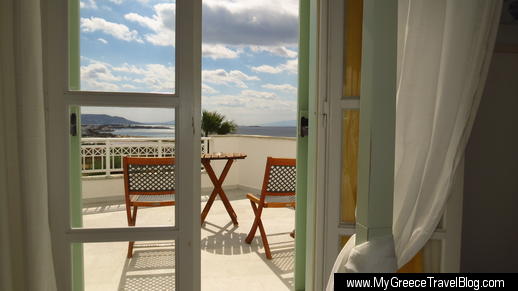 The double door to our big terrace at Lianos Village let in lots of light and gave us views of the sea, nearby islands, and the long southwest coast of Naxos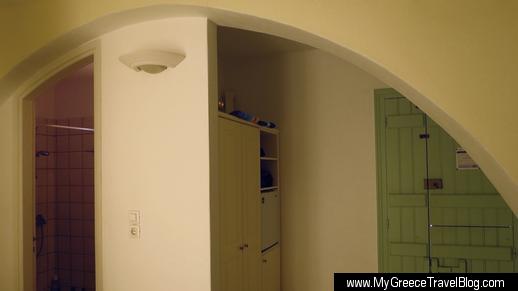 The architects threw an interesting curve into the interior design of our room at Lianos Village. At left is the bathroom, while at right is the entrance vestibule, which has a large built-in storage cabinet and a refrigerator.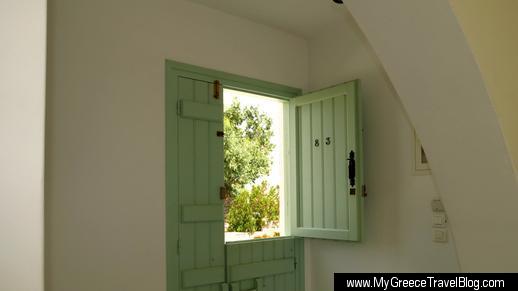 View of our room's entrance with its divided Dutch-style door, a feature we've seen at several hotels in the Cyclades.
View of Stelida mountain on the north side of the hotel. If we opened the top section of door as well as the terrace doors, we enjoyed a nice cross-breeze of fresh air inside our room. No stuffy, stale air or dampness here!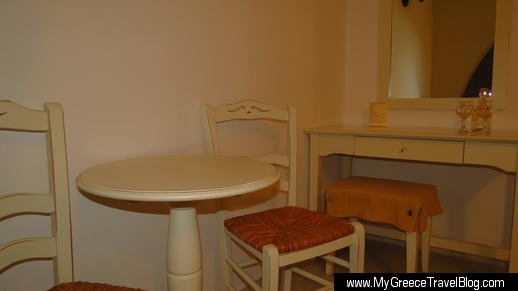 The desk provided sufficient space for writing and computer work (though the room didn't have wi-fi service), and we used the side table and chairs often.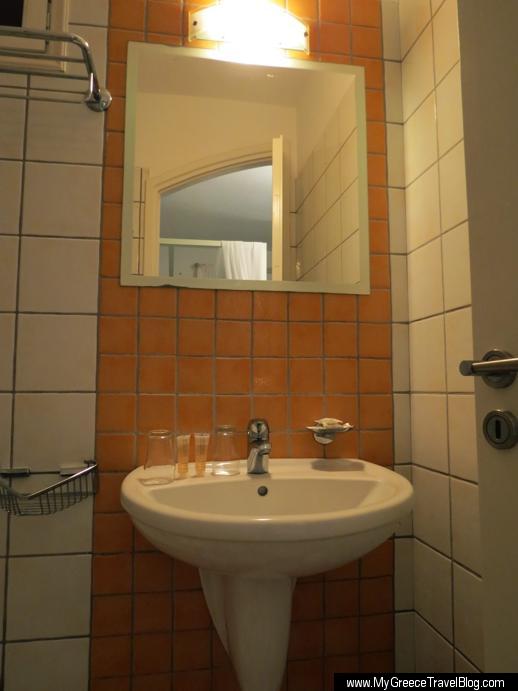 The sink area of our bathroom. The biggest drawback was the lack of shelf space to store toiletries. The metal basket off to the left didn't help much.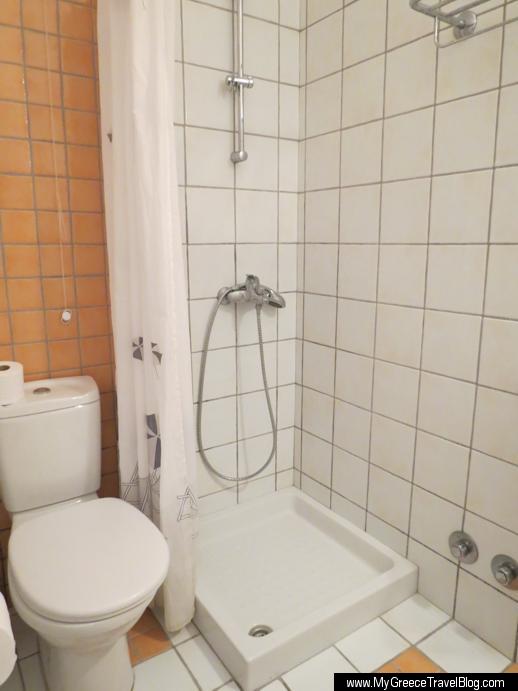 Our room had a typical Greek stand-up shower stall. Like most hotel showers in Greece, its curtain couldn't keep water from splashing out and soaking the floor.
Best bathroom
Golden Sun Hotel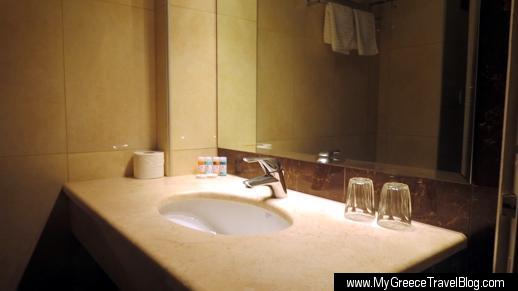 The counter in our bathroom at the Golden Sun Hotel may not look large here, but it actually did provide lots of space to store toiletries and other stuff. A stool under the counter provided even more space to put things.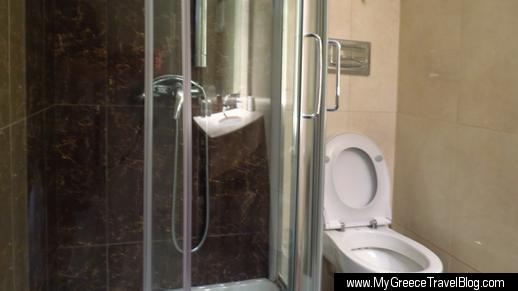 The spacious shower in our Golden Sun Hotel bathroom had superb water pressure and, best of all, didn't spill a drop of water on the marble-tiled floor.
I mentioned earlier that a lot of travellers complain about stiff beds and hard pillows in Greek hotels. There must be just as many complaints about the bathrooms.
From our experience, most Greek hotel bathrooms have cramped shower enclosures that even I find awkward to use — and I'm slim. Remember what outdoor glass phone booths used to be like? They actually provided plenty more room to move around! I often wonder how heavy and oversize travellers manage to shower in Greece. You almost need the skills of a Cirque du Soleil contortionist to soap and rinse below your torso, or pick a shampoo container off  the shower floor. And if you accidentally drop your soap, you're bound to smack both your head and your butt against the enclosure when you bend to pick it up. Ouch!
Worst of all, the vast majority of showers are simply not designed to keep water inside the shower enclosure instead of spilling all over the bathroom floor (and, in some cases, into the rest of the hotel room). Even at some luxury properties, we have wound up with sopping wet and dangerously slippery bathroom floors no matter how hard we tried to keep water from escaping the curtains or enclosure. And believe me, we really tried.
To add insult to injury, many hotels also don't provide adequate shelf or counter space for guests to store their toiletries.  Or hooks on which you can hang your clothes while you shower so they won't soak up all the water that leaks on the floor.
Golden Sun Hotel bathroom was a delight
But we didn't have any complaints about our spacious bathroom at the Golden Sun Hotel in Glyfada. It was roomy, with a wide sink counter offering more than enough space for everything we needed to put out. Best of all, it had a large glass shower enclosure that sealed tight and didn't leak a drop of water on the floor. The incredibly strong water pressure was another big plus. After two weeks in the islands, it was a delight to shower at the Golden Sun. No banging against the sides of a squishy cubicle at the slightest move, and no soggy shower curtain continually clinging to body parts. Boy did we love that Golden Sun shower!
However, I should mention that we did see three beautiful rooms at Hotel Glaros on Naxos, each of which boasted chic, contemporary-styled bathrooms with trendy, modern fixtures and hardware — just like you would see featured in the pages of an interior design magazine. We were tempted to book one of the rooms just because we liked its bathroom so much (see photo below), but since the rest of the room was too compact for our liking, we opted for a spacious studio at Hotel Spiros instead.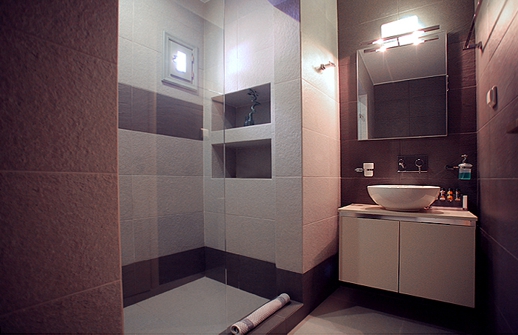 This photo, from the Hotel Glaros website, shows the sleek, contemporary design for one of the boutique hotel's bathrooms. We nearly booked a room at this hotel in Naxos Town  purely because we liked the bathrooms so much.
Best balcony or terrace
Katerina Hotel (Ios) and Lianos Village Hotel (tie)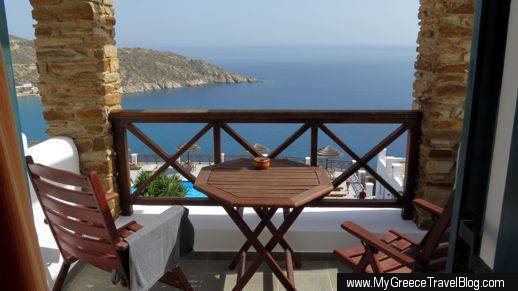 The terrace for Room 7 at Katerina Hotel on Ios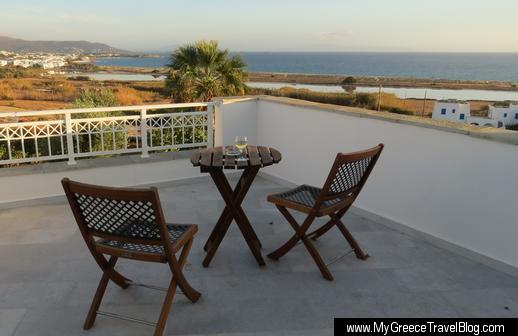 The large terrace for Room 83 at Lianos Village Hotel
Our room at Katerina Hotel on Ios had a small but comfortable terrace furnished with a teak bistro table and two chairs. The terrace for our room at Lianos Village also had a teak bistro table and two chairs, but was probably four times bigger. Both terraces were equipped with clotheslines which came in handy for drying beachwear and towels. And best of all, both had fabulous views (see below). Despite the substantial difference in size, we liked both terraces and couldn't pick a clear favourite.
Best hotel room views
Katerina Hotel (Ios) and Lianos Village Hotel (tie)
Here's a video I shot from our terrace on May 19 2013, showing the views we enjoyed while staying at Katerina Hotel
I shot this video from our terrace at Lianos Village Hotel around 9:30 a.m. on October 3 2013.  The clip begins with a glimpse of Paros island, then pans to the Agios Prokopios area of Naxos, with views of the dunes that extend along the north half of Agios Prokopios beach.
When we tried to judge the views from the two terraces we liked so much, we couldn't pick an outright favourite yet again.  Although each offered amazing sightlines of exhilarating yet dramatically different landscape and seascape scenery, we couldn't say we truly enjoyed one vantage point better than the other. 
Our Katerina Hotel views
We arrived at Ios late in the afternoon on a brilliant, sunny day in May. Even before we got to our hotel, we knew we would enjoy the view from our room because we were familiar with the hillside location of Katerina Hotel, having seen it during our 2011 visit to Ios. In fact, that view was one of our main reasons for choosing the hotel. Even though we knew what to expect, we still had a breathtaking "wow" moment when we pulled back the drapes, opened the door and shutters, stepped onto our terrace and took a wide, long look around.
To the left we could see most of gorgeous Mylopotas beach and bay, while in the distance straight ahead we could see Santorini. Off to the right we could see part of Sikinos island. And just below us was the Katerina Hotel swimming pool terrace. Awesome!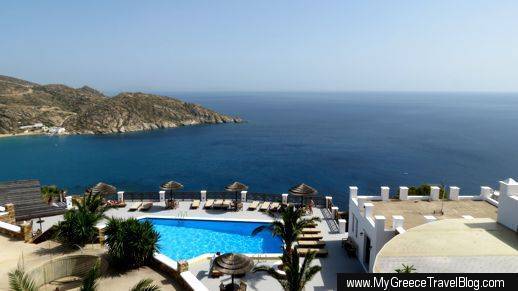 This is the view looking out to sea from our terrace at the Katerina Hotel on Ios. The sky is hazy in this photo, but in clear conditions we could see Santorini.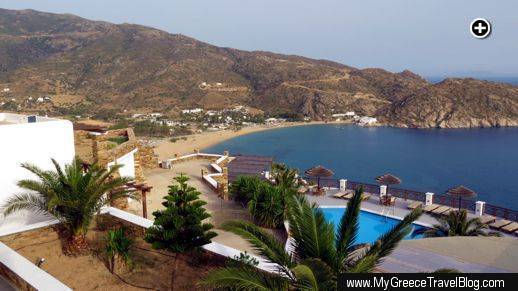 Our terrace view of Mylopotas, one of our favourites beaches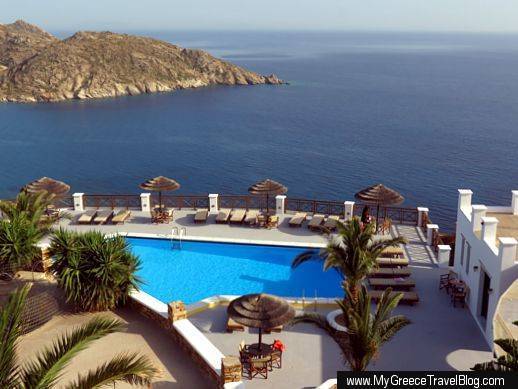 Our terrace view of the Katerina Hotel swimming pool
The view from the right side of our terrace took in some of the Agios Ioannis area of Ios near the hotel, as well as part of Sikinos island
Our Lianos Village Hotel view
Our ferry reached Naxos around 11:15 p.m. on September 30, and we arrived at Lianos Village Hotel by taxi about 15 minutes later. Of course, it was pitch black outside, so we had to wait until morning to see the view from our terrace. We thought we knew what to expect, since we had stayed at Lianos Village twice before.
Much to our surprise, the actual view exceeded our expectations. In fact, when we woke up at 8 a.m. on October 1 and stepped onto the terrace, we were nearly blown away (and not just by the strong winds!). This was our best view yet from the hotel, and it was impressive even though the weather was quickly taking a turn for the worse. The view remained good while thick, dark stormclouds moved across the region and unleashed a brief but furious thunderstorm and downpour. Then, as the clouds slowly began to break up, the scenery got even better.
Our view extended down the west coast of Naxos all the way past Cape Mikri Vigla. We could see mountains in the distance beyond the Agios Prokopios and Agia Anna resort areas, while the islands of Iraklia, Ios, Folegandros, Sikinos and Paros were visible when we looked out to sea. Amazing!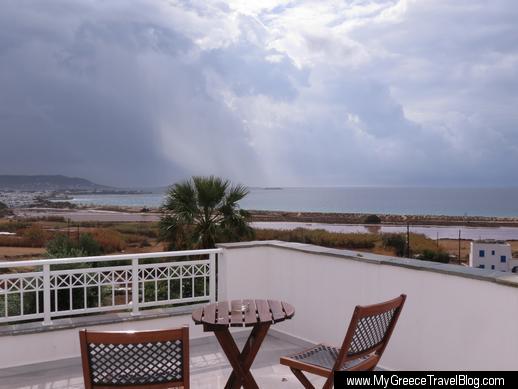 Sunshine briefly breaks through the morning clouds as a thunderstorm moves across Naxos. Even during the heavy downpour that followed, we still had a great view down the west coast of the island.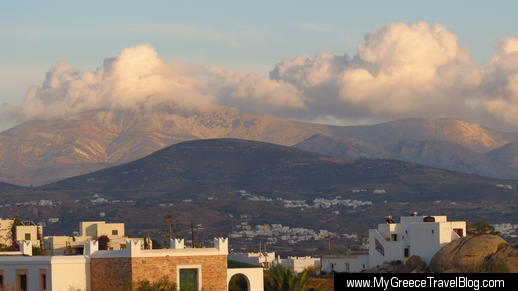 Looking to the left, we could see some of the mountains on Naxos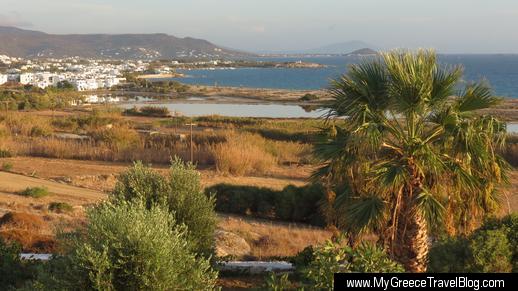 Our terrace view encompassed the Agios Prokopios and Agia Anna resort areas on the west coast of Naxos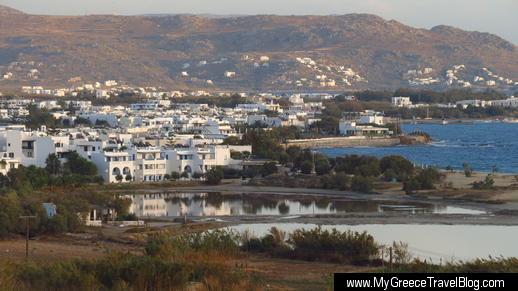 A telephoto view of the Agios Prokopios & Agia Anna resort areas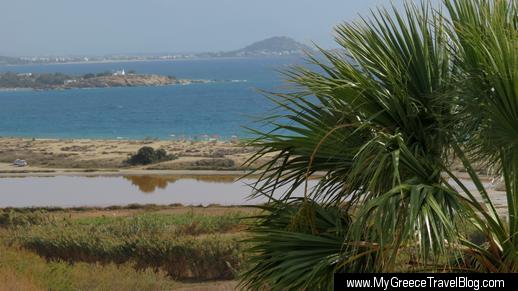 Terrace view toward Cape Agios Nikolaos and Cape Mikri Vigla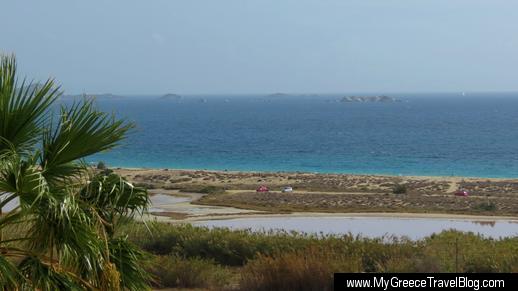 Terrace view looking straight ahead. In the foreground is one of three salt ponds known as the Red Lakes. Between the ponds and the sea is a strip of dunes extending along Agios Prokopios beach.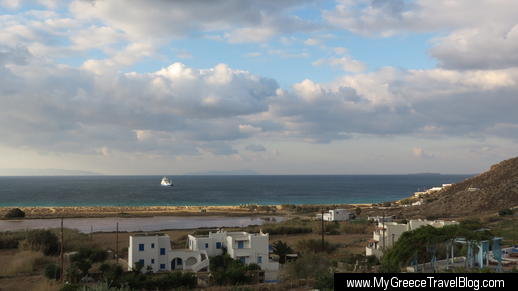 View toward the nearby islands Ios (left) and Folegandros (center), which are faintly visible on the horizon.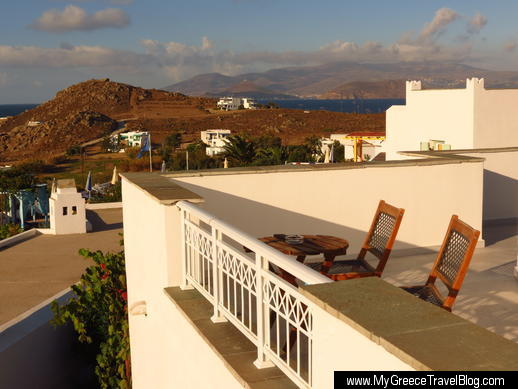 The view to our right included the rocky hill above Cape Agios Prokopios (upper left), nearby Paros island (top) and the big terrace for the room next door to ours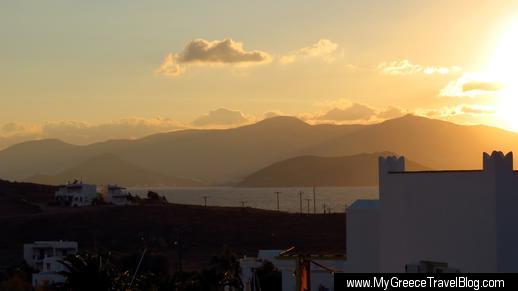 The panoramic view from our terrace was so extensive, we could see part of the sunrise over Naxos as well as some of this sunset behind Paros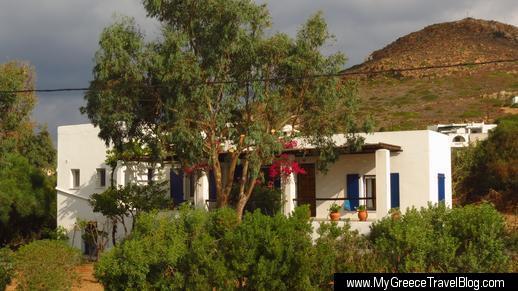 We even had a nice view from the door to our room at Lianos Village — a house across the street, and Stelida mountain rising behind it
Best sunset views
Hotel Tagoo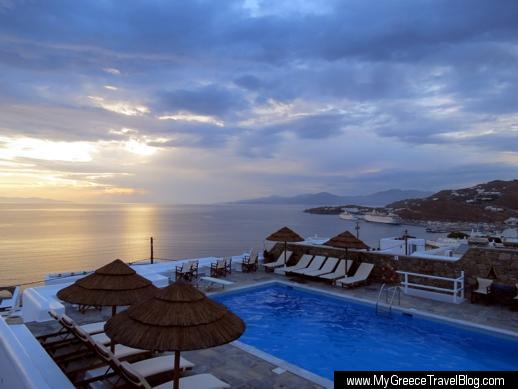 Sunset view from the upper sundeck at Hotel Tagoo on May 13 2013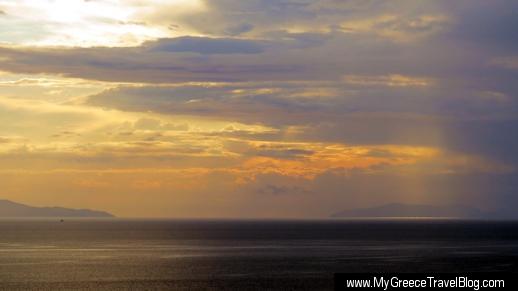 Looking out to sea from Hotel Tagoo during sunset on May 13 2013. The two islands visible in the distance are Syros (left) and Giaros.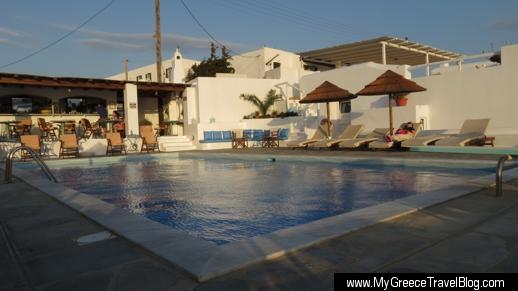 Not surprisingly, the swimming pool terrace and bar are popular places for Hotel Tagoo guests to gather for drinks while watching a sensational Mykonos sunset
Although the window in our particular room at Hotel Tagoo didn't offer a sea view, excellent sunset viewing locations were mere steps away at various places on the hotel property — the walkways that link the different hotel levels, the swimming pool terrace, and the sun deck on the highest level. And what views they were!
Hotel Tagoo's prime hillside location presents a spectacular panorama of sea and island scenery, starting with the Diakoftis peninsula at the southwest tip of Mykonos off to the left, and sweeping right across the horizon all the way to Tinos island on the right. During the afternoon, it can almost be blinding to look at the sea since the gleam of sunshine on the water is so intensely brilliant. But in the evening you can often clearly see up to three more islands — Rinia, Syros and Giaros — and of course the sunset, which from Mykonos tends to be one of the most colourful and dramatic in the Cyclades.
We got to watch two superb sunsets during our May stay at Hotel Tagoo. Honourable mention goes to Hotel Spiros, from which we saw a couple of impressive sunsets in October.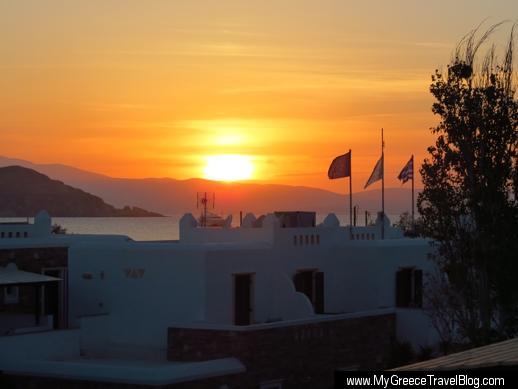 On October 9 2013, we enjoyed this sunset view from our terrace at Hotel Spiros
 Best sunrise view
Lianos Village Hotel
 October 5 2013 sunrise view from Lianos Village Hotel Naxos
How often do you get a hotel room that has a terrace from which you can watch both the sunrise and the sunset? From our experience, that's a rare privilege. In fact, we couldn't recall ever being able to see the sunrise and the sunset from the same hotel room until last October, while we were staying at Lianos Village Hotel. We got to see the sun rise above mountains on Naxos several mornings, and later watch as it descended behind mountains on Paros. A wonderful way to start and then finish a great day on Naxos!
 Best swimming pool
Katerina Hotel on Ios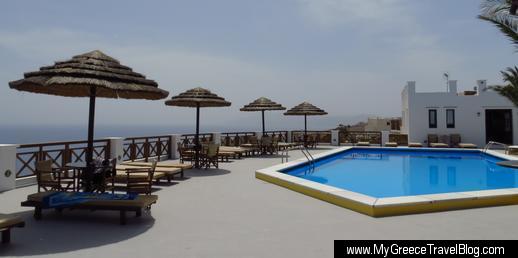 The swimming pool at Katerina Hotel on Ios
Elegant palm trees grace the large swimming pool deck at Katerina Hotel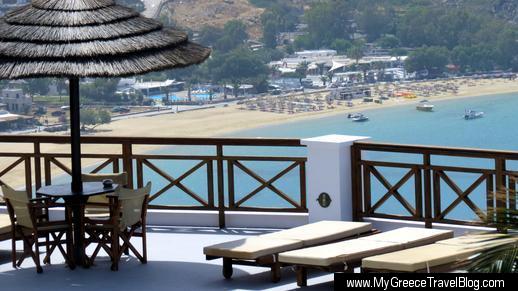 When you're not sunbathing or taking a dip in the Katerina Hotel pool, you can enjoy the terrace's amazing view of Mylopotas — the most popular beach on Ios, and one of the best in the Cyclades
Our preference is to stay at a hotel that has a swimming pool, even if we never take a dip. They often have attractive terraces that are ideal for sunbathing or simply provide a pleasant ambience for sitting, chatting and relaxing or enjoying a drink from the bar. Sometimes, but not always, the pool terraces offer good views of the sea or local scenery, too.
Unfortunately for us, we usually visit Greece in May when the water in swimming pools — which are heated only by the sun — tends to be too chilly if not too downright frigid for a dip. But in those few instances in which the water has been refreshingly cool, but not cold, we have taken full advantage and spent quite a bit of time in the pool.
Last May we really enjoyed the swimming pools at the two Katerina hotels, first at the one on Ios and then at the one on Naxos. We had anticipated we would do a lot of swimming during our October holiday, since hotel pools would have had all summer to warm up, but were surprised to find the water way too cold and we couldn't get into any of the pools at all.
We chose the pool at Katerina Hotel on Ios as the best not only since it looked nice, and had a spacious terrace with superb views of the sea and Mylopotas beach, but also because we were able to spend a good amount of time swimming in it. We really enjoyed sunbathing and sitting on the pool terrace, too, because it was so peaceful and quiet. And even if other hotel guests were sitting poolside at the same time, the lounge chairs were spaced far enough apart that nobody ever felt squished too closely together.
A close runner-up for best pool was the one at Lianos Village, which we had swum in on previous visits but found far too cold for a dip last October. It, too, is an inviting pool with a very attractive terrace and bar area, and wonderful sea and island views.
Honourable mention goes to Hotel Katerina on Naxos. Their pool and terrace weren't anywhere as nice as the other two, but the water was the most comfortable, and we spent quite a bit of time enjoying it.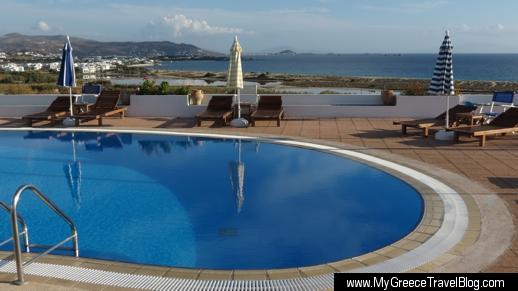 The beautiful swimming pool terrace at Lianos Village Hotel offers an incredible view of the west coast of Naxos, the sea and several nearby islands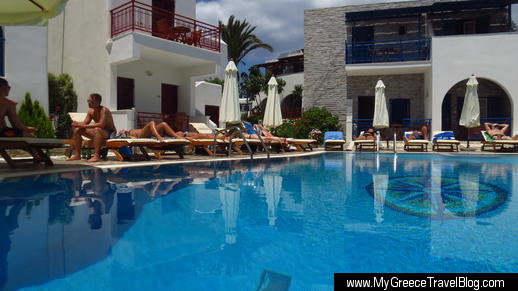 Though it didn't have a sea view and its deck wasn't as attractive and spacious as the ones at Katerina Hotel Ios and Lianos Village, we spent more time in the pool at Hotel Katerina on Naxos. The water temperature was perfect.
Best pool bar
Hotel Tagoo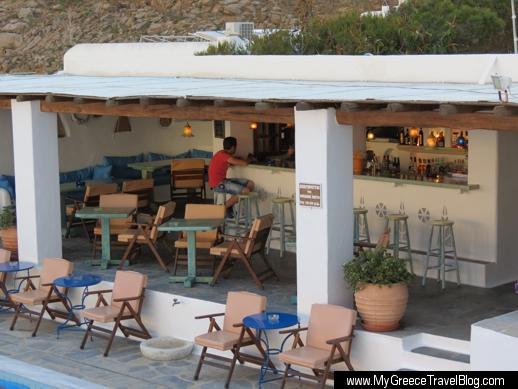 The poolside bar at Hotel Tagoo has a covered lounge area where guests can enjoy a drink sheltered from the searing sun or inclement weather
The Hotel Tagoo swimming pool bar is not only our top pick for best in 2013, but also happens to be the best bar of any hotel we have stayed at in Greece. And its host, Jimmy, is by far the best hotel bartender we have ever met. Period.
The pool bar actually is like the Grand Central Station of Hotel Tagoo — the main arrival and departure point for guests, and the most popular meeting place on the property. The pool bar and pool terrace are the first things most visitors to Hotel Tagoo see when they arrive, because it's where the hotel's upper entrance is situated, and that's where Yiannis, the shuttle bus chauffeur, drops of guests he has just picked up at the Mykonos airport or one of the ferry ports (Yiannis is husband of Anna, the manager). The bar is also the last part of the hotel that most guests see because that's where Yiannis picks them up for their transfer back to the port or airport at the end of their stay.
In addition, the bar is where either Anna or the hotel's afternoon/evening receptionist, Rouli, treat newly arrived guests to an ouzo and an informal orientation session that offers tons of useful information about the hotel as well as things to see and do on Mykonos. It's where Anna and Yiannis host the hotel's famous Greek Night from time to time. And it's also where many guests like to gather each evening to enjoy a beer, glass of wine or cocktail while watching one of the fabulous Mykonos sunsets.
It's a tremendously relaxed and social place to meet other guests (especially if you're travelling solo, as I did in 2012) but it's also a comfortable spot for a quiet drink just by yourself or with your travelling companion. Jimmy's always great fun to chat with, and on many evenings Anna and Yiannis drop by to meet with guests.
The Hotel Tagoo motto is: "Come as a stranger, leave as a friend," and if you ever get the chance to visit the pool bar, you'll quickly see why the hotel has many repeat visitors from around the world.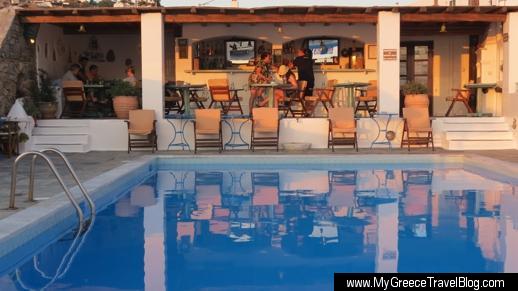 The swimming pool bar is where Hotel Tagoo hosts its occasional Greek Night parties, and is also where newly-arrived guests can attend an orientation meeting to get acquainted with Mykonos and the hotel. In this photo, hotel manager Anna chats with guests in the sitting area on the left side of the bar.
Best grounds & landscaping
Lianos Village Hotel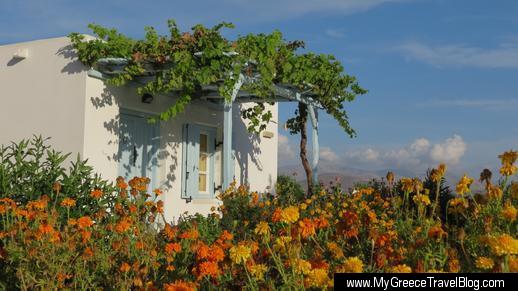 Vines enshroud the canopy above a room at Lianos Village Hotel while scores of marigolds fill the surrounding gardens
Lianos Village takes top prize for the most colourful gardens and landscaping of all the hotels we've ever stayed at in Greece. The property is bright and cheerful — its many gardens are brimming with plants, herbs, flowers and vines; the hotel buildings' shutters, doors, awnings and trim are painted in a variety of pleasant colours; and blue, white and yellow furniture and accessories add visual impact to the swimming pool terrace.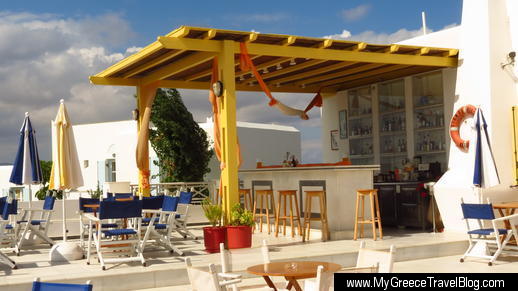 Blue and yellow furniture and accessories add bold pops of colour to the poolside bar at Lianos Village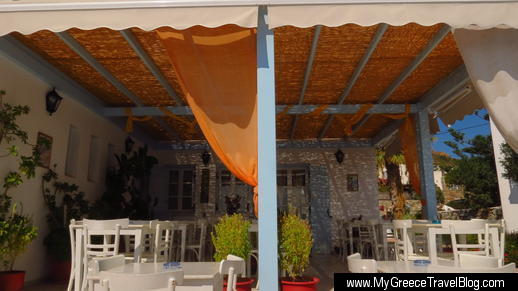 The outdoor breakfast terrace features blue and orange decor accents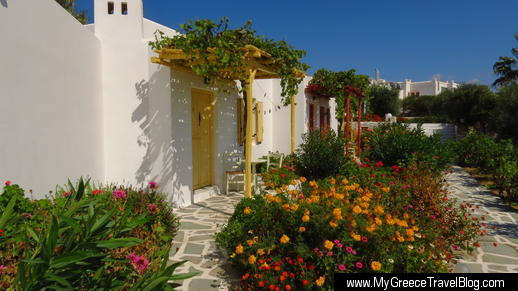 Lianos Village is a complex of eight hotel buildings on grounds filled with colourful plants and gardens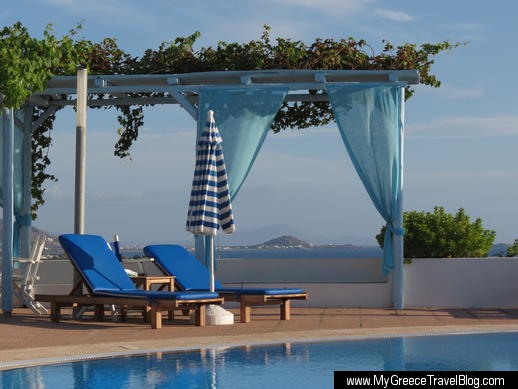 A corner of the Lianos Village swimming pool terrace features accessories in shades of blue to complement the pool and the nearby Aegean Sea
Best wi-fi
Hotel Katerina on Naxos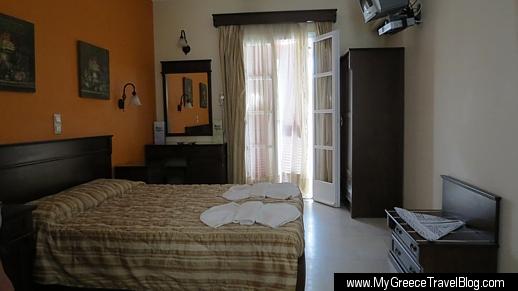 Interior of our room at Katerina Hotel on Naxos, the only hotel room in which we were able to get consistent wi-fi service with our laptop in May
As luck would have it, and with one exception, we could not get a wi-fi signal in our hotel rooms whenever we tried to get online with our laptop computer during our vacation in May. We had the same problem again in October even though we had brought along two laptops that time. (Strangely enough, we had no difficulties getting online using the same equipment on our holiday in 2012.) Guests in adjacent rooms at all of our hotels didn't seem to have any issues using their laptops and mobile devices, but we weren't so lucky and had to take our computer to hotel reception areas or drop into Internet cafés).
The exception was Hotel Katerina on Naxos, where we always had success getting online to check email and catch up on news back home. In fact, we will probably always remember our room at Katerina Hotel because that's where we were when we logged into the website for a Toronto newspaper and learned that our city's controversial mayor, Rob Ford, had allegedly been videotaped while consuming crack cocaine (an accusation he admitted later in the year when Toronto police confirmed the existence of the video).
Second-best reception was our room at Golden Sun Hotel, though the wi-fi service there repeatedly cut out.
 Best island hotel location

Hotel Spiros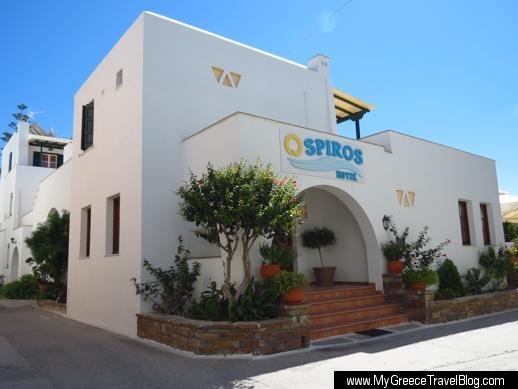 Spiros Hotel near Agios Georgios beach in Naxos Town
Purely for convenience, you can't beat the location of Hotel Spiros. It's in a quiet area of Naxos a couple of minutes' walking distance from Agios Georgios beach (St George's beach), and only 10 minutes from the heart of Naxos Town. Convenience stores are close by, while the main Naxos Town supermarket is just a 5-minute walk up the road.
Besides the bars and restaurants along the beach, there are more places to eat and drink within a quick stroll from Hotel Spiros, as are shops and numerous agencies where you can rent cars, scooters, ATVs or mountain bikes. The local bus station and the Naxos port are both a 15-minute walk from the hotel.
Best Glyfada hotel location
Blue Sky Hotel and Golden Sun Hotel (tie)
Blue Sky Hotel is situated in a residential neighbourhood of Glyfada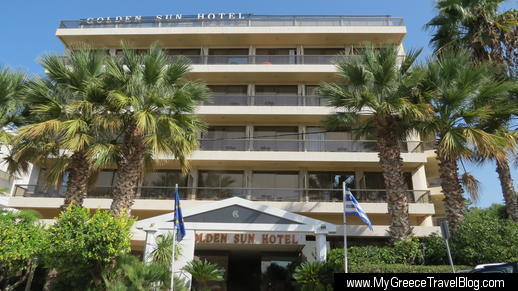 Golden Sun Hotel is situated just steps from the Athens tram line and the main shopping and restaurant street in Glyfada
For the past four years, we have concluded our island hopping holidays by spending a few days in the Athens suburb of Glyfada, where several friends live and work. In 2010 we rented a private apartment, while in 2011 and 2012 we stayed at Hotel Blue Sky, a small family-run hotel situated in a upscale neighbourhood of low-rise condo buildings and private houses. We stayed at the Blue Sky again last May, but for a change of scenery selected the Golden Sun Hotel in October. It is near the end of Glyfada's main commercial street, about a 5-minute walk from the Blue Sky.
The Golden Sun is located right beside the Athens tram line, about two minutes' walking distance from the closest tram station. The nearest shops and restaurants are just another couple minutes down the road. The Athens-Sounion highway is one block away, and the nearest stop for the X96 express bus to the Athens airport is two blocks away. Beaches are just as close as the bus stop.
Although the Golden Sun is ideally situated for proximity to public transit and fast access to main roads, online travel reviews indicate that the convenient location is also the hotel's biggest drawback. Many writers who stayed in rooms overlooking the tram line complained that their sleep was disturbed by noise from trolleys rolling past the hotel, while guests who stayed on the opposite side of the building had similar beefs about noise from the highway. Our room faced the tram, which we did not bother us (we live in downtown Toronto near a 24-hour streetcar line) — but we could understand how easily it could irritate others.
The Blue Sky, on the other hand, is several blocks to the north and out of earshot from major roads and the tram. Although it's a longer walking distance to reach public transit, the highway, shops and restaurants, the trade-off is the quietness of the area.
We give both hotels the nod for best location in Glyfada because we feel the positives and negatives of each property balance out.
 Best staff & hospitality
All the hotels! (tie)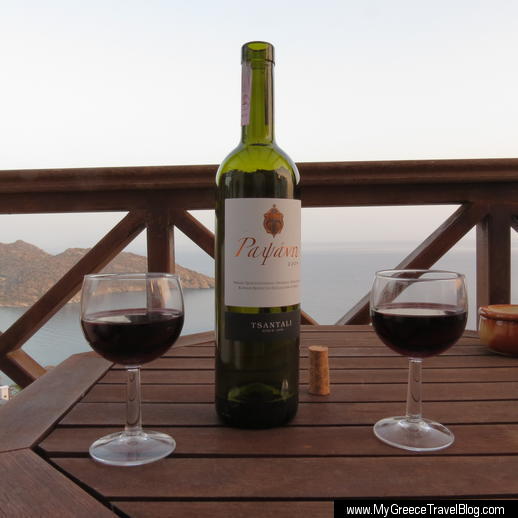 We toast the hard-working staff at all the hotels we visited during our Greek holidays in 2013. In many different ways, they each demonstrated the filoxenia (hospitality) for which Greeks are legendary. We enjoyed meeting them all, and thank them for their acts of kindness and generosity.  They're one of the key reasons we keep going back to Greece. Bravo!