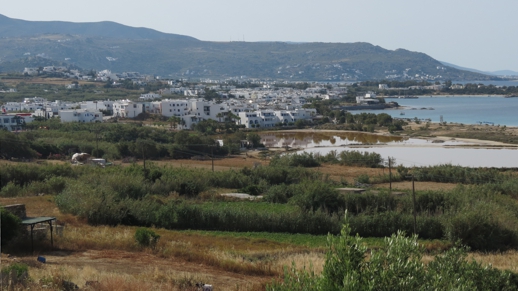 This familiar and favourite view of the Agios Prokopios beach resort area of Naxos was a welcome sight for our tired, jet-lagged eyes when we stepped onto our private terrace minutes after arriving at Lianos Village Hotel on May 19
 Never enough Naxos: Regular readers of this website will recall that we visited Naxos island twice last year and named it our Destination of the Year for 2013 because of its wide range of activities, sights and attractions and its wallet-friendly price appeal. Our list of 15 top reasons to visit Naxos has since become one of the most widely-read reports on the blog.
Well, we didn't get our fill of Naxos so we made a point to return for part of our two-week Greek holiday this spring.
Below is the first part of an ongoing series of photo-illustrated reports about places and things we saw while we were on Naxos (later installments will feature our other two destinations, Syros and Athens). I will include some information about specific hotels, restaurants and other tourist-related businesses that were either open or closed since it could be helpful to anyone planning low season trips to the Cyclades. People frequently post questions in online travel forums, wondering if beach areas might be too quiet to stay at in May, and I've noticed the responses often give the incorrect and misleading impression that virtually nothing is open at the beginning of the tourist season.
Monday May 19
We arrived in Athens early in the morning of May 19 on an Air Transat direct flight from Toronto. It was our 10th time flying to Greece on this particular airline, and probably the best flight of them all — smooth and uneventful throughout the 9.5-hour trip.
Athens was cloudy and a cool 12 degrees Celsius when we landed, and weather reports were calling for similar overcast conditions and also rain at Naxos and other Cyclades islands.
Despite the cloud cover, visibility was excellent and we had superb views of Syros and Paros as we passed over both islands during our 35-minute midafternoon Olympic Air flight to Naxos. We also got a good look at the long western coast of Naxos as the plane banked over Mikri Vigla beach during its descent to Naxos airport. [See the post below this one for important advice about carry-on baggage for flights to Naxos and other small island airports.]
The air felt warm with a touch of humidity when we stepped off the plane and walked to the tiny luggage claim room at the right-hand side of the small terminal building. By the time our bags came off the belt it was drizzling, and the light rain continued throughout our 10-minute drive to Lianos Village Hotel near Agios Prokopios beach.
This was our fourth consecutive stay at Lianos Village, and we were happy to be assigned Room 83 — the same one we had stayed in last October (there's more information about the room, as well as photos of it and its beautiful views, in my report about Our best hotel experiences of 2013.)
Please click on the number 2 in the link below to continue reading my report and view photos from our arrival day on Naxos.
 CONTINUED ON PAGE 2