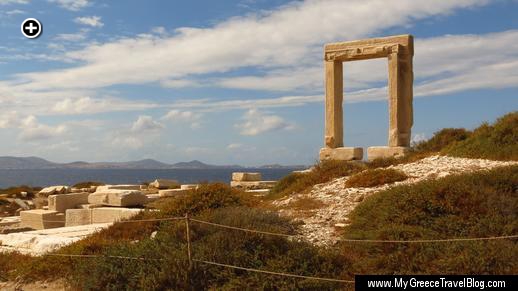 The enormous marble entrance for the never-completed Temple of Apollo greets visitors arriving by sea at Naxos island in the Cyclades.  Also known as the Portara, the monument is an internationally-recognized symbol of Naxos island.
Something for everyone: If you're trying to find a Greek holiday destination that ticks practically every box on even the pickiest traveller's checklist of "must have's" and "must see's," take a closer look at Naxos.
The largest island in the Cyclades, Naxos is equally big on the number of activities and attractions it offers visitors of all ages and lifestyles. From beautiful beaches to mountain villages; a vibrant port town with an historic castle and Old Market district; monuments, ruins and museums; excellent dining and nightlife; accommodations to suit any budget; walking trails, water sports and mountain biking; stunning scenery and sunsets; plus sightseeing excursions and tours both on and off the island, Naxos has it all.
Whether you're planning to visit for three days or three weeks, you'll never run out of things to do — if anything, you'll probably wind up wishing you had more time to spend on the island.
What's more, Naxos is surprisingly easy on the pocketbook, with reasonable prices for food, accommodations and entertainment.
All those are precisely the reasons why we named Naxos as our Greek Holiday Destination of the Year for 2013 (see our December 31 2013 post for more about that).
Click on the link below to continue reading and to see dozens of photos that illustrate our Top 15 reasons to visit Naxos, including:
♦ Ease of getting to the island;
♦ Wide range of accommodation options;
♦ Suitability for travellers of all ages and holiday lifestyles;
♦ Its fascinating main town, built below a medieval castle;
♦ Dozens of beautiful mountain villages and seaside settlements;
♦ Historic archaeological sites, monuments and museums;
♦ An extensive array of places to eat delicious local specialties and Greek cuisine;
♦ Hiking, adventure sports and recreation opportunities galore;
♦ Spectacular scenery and sunsets;
♦ Cultural events, entertainment and nightlife;
♦ Fantastic beaches;
♦ Shopping and local products;
♦ Good local transportation services;
♦ Friendly residents
♦ Tours and boat excursions to other nearby islands
CONTINUED ON PAGE 2