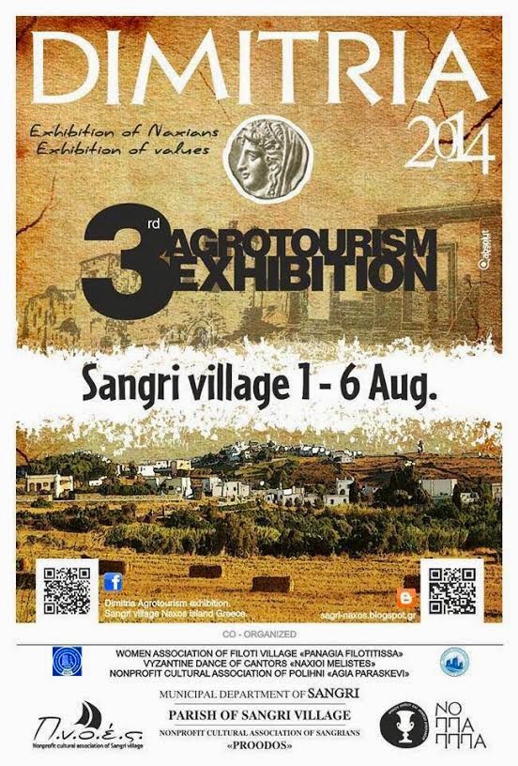 A promotional poster for Dimitria 2014, the 3rd annual Agrotourism Exhibition in Sangri village. The festival includes a variety of cultural events, including: photography, painting, knitwear and traditional antique shows.
 Month full of fun: On any given summer day, there's plenty to see and do on Naxos — as I've described in numerous posts, including my comprehensive January 6 2014 report on Our Top 15 reasons to visit Naxos.
But if you happen to be travelling to Naxos during August this year, you're going to be spoiled for choice even more — the island's calendar is packed with special celebrations and activities appealing to visitors of all ages, backgrounds and interests.
Events include painting, sculpture and photography shows; food festivals; religious feasts and celebrations; live music concerts and performances; live theatre; entertainment for kids; movie screenings; sporting tournaments and nightclub parties.
I outlined a few of the island's special events, including those held as part of the annual Naxos Festival, in my July 3 post, Cyclades islands celebrate summer with festivals for food & wine, arts & literature, culture & sports.
 Website listings for all Naxos events in August
Further details about many more August celebrations and festivities can be found on the following Naxos information websites:
♦ The Domus Festival page on the Naxos Festival website contains a chart listing the performers that will be appearing at the Venetian Castle in Naxos Town;
♦  The Bazeos Tower website contains a listing of all exhibitions and live performances being held at the 17th-Century monument, which is situated 12 km from Naxos Town;
♦  The What's On section of the naxos-web.com portal has a chart showing dates and venues for most of the events taking place on the island in August; and
♦ The Naxos and Small Cyclades website includes a detailed day-by-day list of events and activities not just on Naxos, but also on the nearby islands of Schinoussa, Koufonissia, Donoussa, and Iraklia; and
♦ the Naxos Festival Facebook page contains a wealth of photos and informational posts about the festival lineup.
Since most events take place during the evening or at night, Naxos visitors will have plenty of time to enjoy the island's fabulous beaches and scenic towns and villages before taking in the entertainment.
On page 2, I have posted dozens of promotional posters providing information about many the August events. Click on the link below to continue reading.
 CONTINUED ON PAGE 2