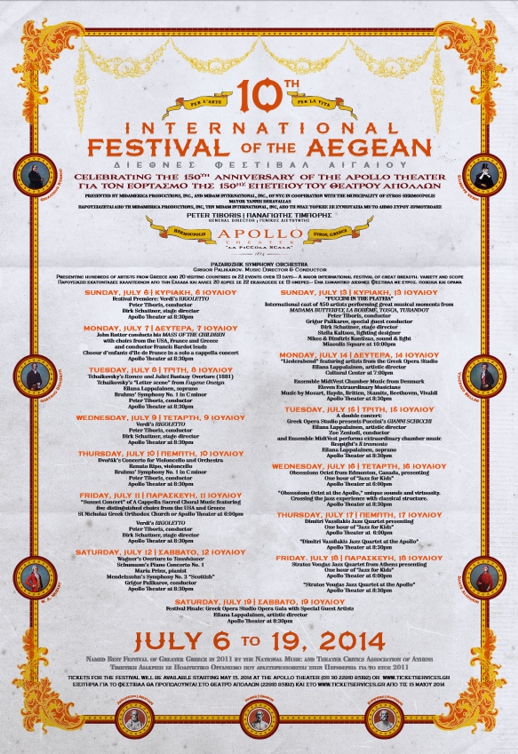 A promotional poster for the 10th Annual International Festival of the Aegean taking place July 6 to 19 in Ermoupoli on Syros island.
Food & culture fests: I love travelling to Greek islands during low season, particularly in the spring, but that means I always miss out on major cultural and gastronomical celebrations that are held only during the summer.
Just in the Cyclades group of islands this month alone, a wide variety of food & wine festivals, painting & photography shows, arts & literature events and fun sport competitions will be taking place on Antiparos, Naxos, Paros, Santorini, Schinoussa, Serifos and Syros.
(Cultural events abound in other island groups, too, and of course there are scores of religious festivals throughout the country, many of which take place during the summer. But those are topics I'll cover in future posts.)
Below is an outline of just a few of the festivities you can check out if you happen to be island hopping in the Cyclades between this weekend and the end of September. You're in for a big surprise if you thought the Greek islands were only about picturesque villages, beautiful sandy beaches and gorgeous scenery!
 Click on the 2 in the link below to continue reading about activities on Antiparos, Santorini, Naxos, Paros, Schinoussa, Syros, Serifos and Mykonos.
CONTINUED ON PAGE 2