Summer Cyclades island events roundup report continued from page 1:
ANTIPAROS
Antiparos is a small laidback island known for its famous cave, a picturesque harbour town, a long scenic coastline and scores of golden sand beaches and coves. Accessible only by ferry from nearby Paros island, it's popular with people seeking peace and quiet off the busy tourist route between Mykonos and Santorini (part of the reason it's where a number of Hollywood celebrities, like Tom Hanks, own secluded luxury villas).
I haven't been to Antiparos yet, but correspond online with some regular visitors who insist that I'll fall in love with the island and keep going back once I finally make my first visit. This month would have been a good time to go, since Antiparos will be buzzing with two main events — a photography show and a four-day celebration of summer with cycling, running, sailing and swimming competitions.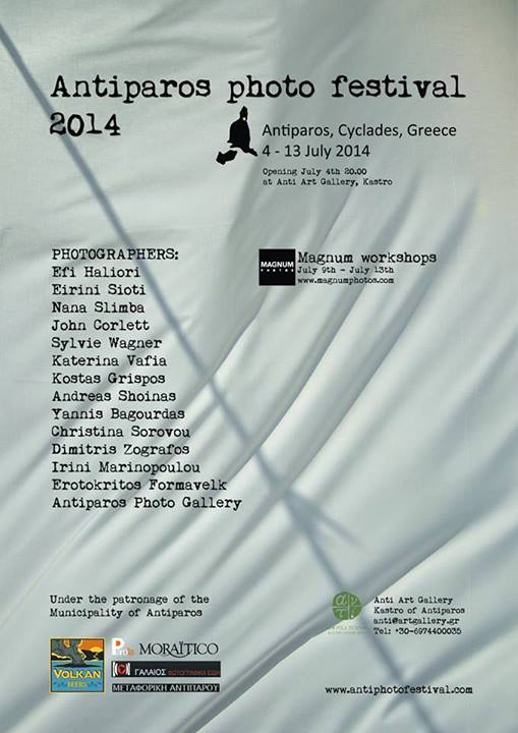 This promotional flyer lists the photographers whose work will be displayed during the Antiparos Photo Festival, opening Friday July 4 at the Anti Art Gallery in Kastro.  Additional information about the event is available on the Antiparos Photo Festival 2014 Facebook page.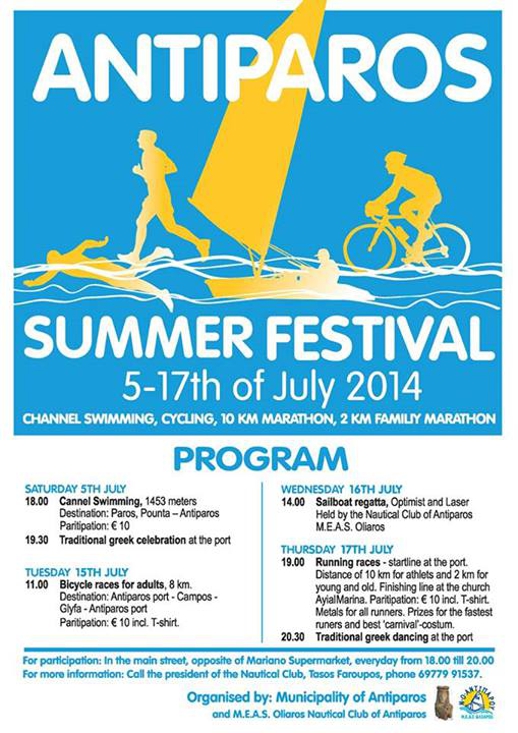 The Antiparos Summer Festival offers a variety of fun sports competitions for active vacationers and local residents. Events include a sailboat regatta, marathon runs, adult bicycle races, and a swim across the channel between Paros and Antiparos. Activities are scheduled for four separate days, while celebrations with traditional Greek dancing will be held on the evenings of July 5 and 17.
SANTORINI
The island famous for its marvellous scenery, breathtaking sunsets, clifftop villages, wineries and volcano tours also is home to one of my favourite bookstores — the internationally-acclaimed Atlantis Books. (It's included on BuzzFeed's list of 17 bookstores that will literally change your life and has been named one of the world's best bookstores by numerous publications and literary websites.)
Atlantis Books is celebrating its 10th anniversary this year by hosting the 3rd Caldera Arts & Literature Festival from July 4 to 6. The festival promises "a weekend of reading, writing, live music and performance" with events for adults and children in and around the bookstore premises on Nomikos Street in the beautiful village of Oia.
You can view a promotional trailer for the festival below. For additional information about both the store and the festival, consult the Atlantis Books Facebook page.
Meanwhile, in Pyrgos village, a special exhibition of work by renowned American travel and architecture photographer William Abranowicz starts July 6 and runs until August 15. Abranowicz has photographed extensively in Greece for about three decades, and the show will feature some of his Greece photography from 1988 to 2007. The exhibition is being held in the showroom of the corner tower in the main square of Pyrgos. (If you can't make it, check out The Greek Work page of the artist's website to view some of his images from Greece. You can also see more of his photography, including pictures shot on Pyrgos this week, on the William Abranowicz Tumblr page.)
And on Saturday August 2, the Iama Wine Store in Oia will be hosting a wine tasting event from 7 to 10 p.m. The Logotheti Family will be offering tastings of traditionally-prepared fava dishes, and samples of three fine extra virgin olive oils from Greece and other local products will be available. See the promotional poster below for further details.
The big Santorini event of the summer is the Megaro Gyzi Festival 2014, an annual celebration of arts and culture held by the Megaro Gyzi Cultural Centre.  Founded as a non-profit organization in 1980 by the Catholic Diocese of Santorini, the Centre is situated in a 17th Century mansion near the cable car entrance in Fira. The organization's goal is to promote cultural and spiritual life in Santorini.  This year's festival features painting and printmaking exhibitions, along with six concerts.  Click here to view a detailed, 16-page program for the event, or click here to view a 4-page summary of the program. Complete information about this year's festival, past events, and the organization itself, are available on the Megaro Gyzi website and the Megaro Gyzi Cultural Centre Facebook page.
You'll have a blast if you happen to be on Santorini the evening of August 24 — that's when an exhilarating fireworks show, held as part of the island's annual Volcano Festival, will light the sky above the volcano island. Known as Ifestia, the event is organized by the municipality of Santorini and celebrates the massive Minoan-era volcanic eruption that occurred around 1600 BC.  Festival events include traditional music and dancing performances, but the highlight is the dramatic fireworks display that represents the volcanic explosion. The fireworks show will be visible from most places along the island's caldera rim, but many restaurants and bars — including IDOL in Fira village — will be hosting special seatings to celebrate. Numerous boat excursions will be available, too, allowing participants to view the pyrotechnics from sea level. Some are expensive, but last four hours and include a sunset cruise, with wine provided. Others, like those offered by the Santorini Boatmen Union, are no-frills, shorter outings, and cost only €15 per person (see poster below).
A promotional trailer for the 3rd Caldera Arts & Literature Festival being held from July 4 to 6 in scenic Oia village on Santorini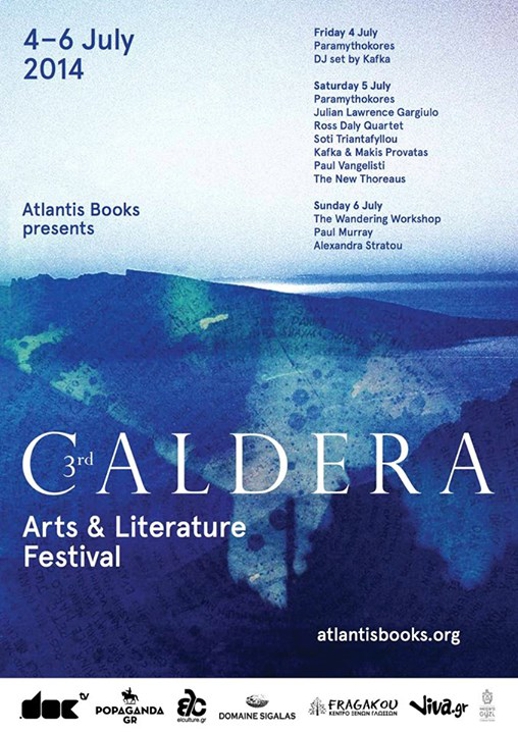 A promotional flyer for the Third Caldera Arts & Literature Festival, being hosted by Atlantis Books as part of its 10th anniversary celebrations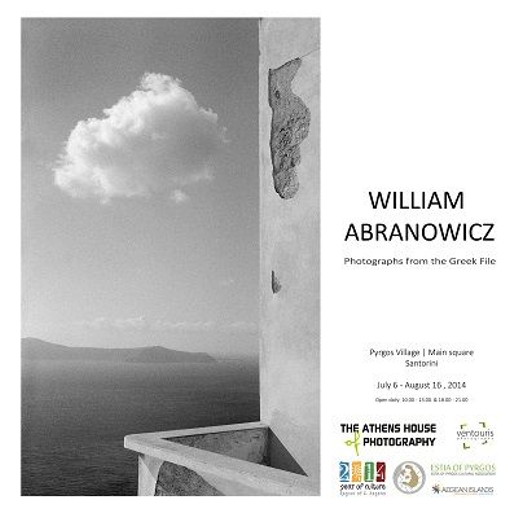 A promotional flyer for the William Abranowicz photography exhibition being held in Santorini's Pyros village July 6 to August 16
The Iama Wine Store in Oia will be holding a special Wine and Local Products event on the evening of Saturday August 2. Samples of traditionally-prepared Santorini fava will be available for tasting, as will three extra virgin olive oils and other local and Greek products.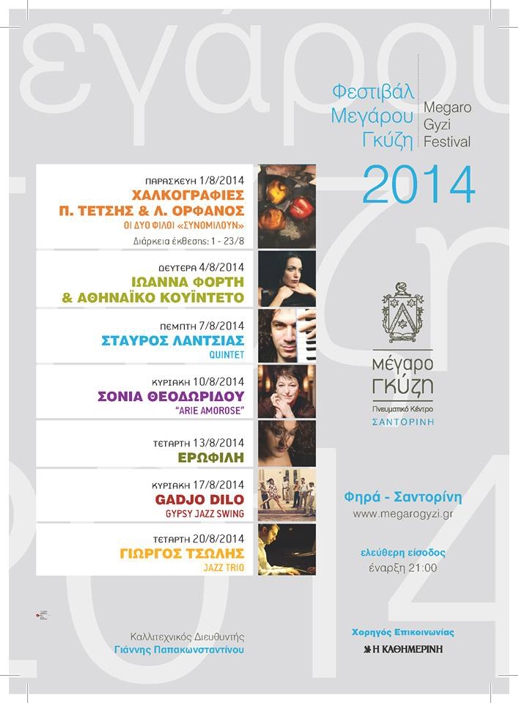 A poster of events being held on Santorini in August as part of the annual Megaro Gyzi Festival. The events take place at the Megaro Gyzi Cultural Centre in Fira, and admission is free.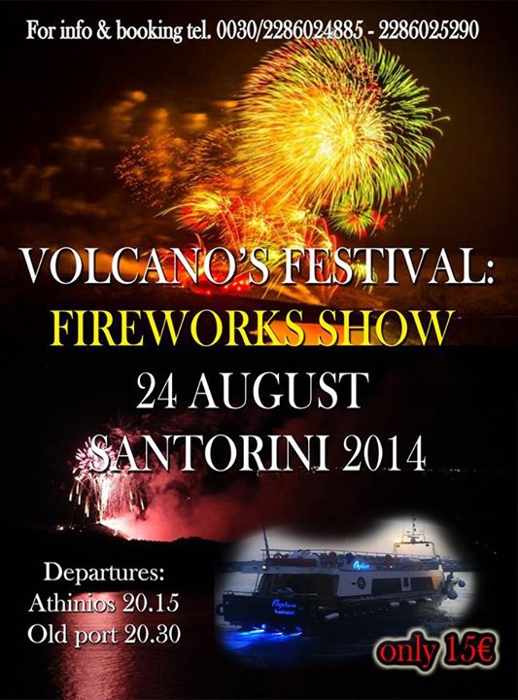 Ifestia, the annual Santorini Volcano Festival, will take place on August 24 with an amazing fireworks show above the volcano island. Boat tours to view the fireworks from sea level are being offered by the Santorini Boatmen Union, but tourists will be able to watch the show from anywhere on the island's caldera rim.
NAXOS
When it comes to islands offering plenty of things to see and do, it's hard to top Naxos — this island is absolutely bursting with attractions and activities, including the annual Naxos Festival that presents a wide variety of cultural events — including concerts and art exhibitions — from April until October. Festival activities take place in the Della Rocca-Barozzi Tower in the historic Castle of Naxos Town, which also happens to be home to the Venetian Museum of Naxos.
Additional cultural events are presented at other venues in the Castle and elsewhere on the island as well.
For instance, the castle's Cultural Center is presenting Road Journal, an exhibition of paintings by artist Mariela Konstantinidou. The show opened on July 1 and continues at the castle under July 18. It then moves to the Labyrinth Wine Restaurant in the Old Market area of Naxos Town, where Mariela's work will be on display from July 20 until September 30.
Another restaurant in the Old Market, L'Osteria Wine Bar, is holding an summer exhibition that features work by three different artists. The shows are From nowhere time, a mixed media exhibition by Kristian Zara, Synecdoche of Athens, an exhibition of fine art photography by Aigli Drakou, and Epic Art by Blank, a painting exposition by Blank. The show runs until August 30.
Meanwhile, Elli's Bar-Restaurant in the Grotta area of Naxos Town is the place to go for live musical performances by Istanbul Orchestra this summer.  The four-member group — Zekiye Yurekli (vocals), Dimitris Bousounis (guitar & vocals), MIkko Papadopoulos (bouzouki) and Peter Macray Jacques (clarinet & trumpet) — performs every Friday and Saturday until July 12, and then daily from July 13 to the end of August.
Visitors interested in history and archaeology should mark the evening of August 25 on their calendars — that's when Dr. Tristan Carter from McMaster University's Stelida Naxos Archaeological Project will speak on the subject Early Humans in the Aegean. The lecture starts at 20:30 in the Iakovos Kampanelis Museum in Naxos Town.
Cultural events at Bazeos Tower
Arts and music events take place outside of Naxos Town, too. This summer will witness an extensive series of shows and performances at the historic Venetian-era Bazeos Tower, situated 12 km from Naxos Town along the main road to Halki, Filoti and the coastal area of Agiassos.
From now until September 9, the Bazeos Tower is hosting Syn-opsis, an exhibition of work by photographer Costis Antoniades. The show features "Portraits and intriguing environments as well as a surprising and unexpected view of Naxos landscapes processed under the "day for night" technique i.e. pictures taken in broad daylight with the use of a blue filter," according to an event listing on the Bazeos Tower webpage for the 2014 Naxos Festival.
The summer cultural program at Bazeos Tower also includes mis en scène performances of relay operas from  the 2014 Festival of Aix-en-Provence in France; screenings of six French films (with Greek subtitles); a performance by the Groove Catchers jazz group; a puppet show and theater performance for children; a Greek music concert by Nikos Portokaloglou; and other events. Click here to access the Bazeos Tower webpage with full event descriptions and information about admission prices and show times.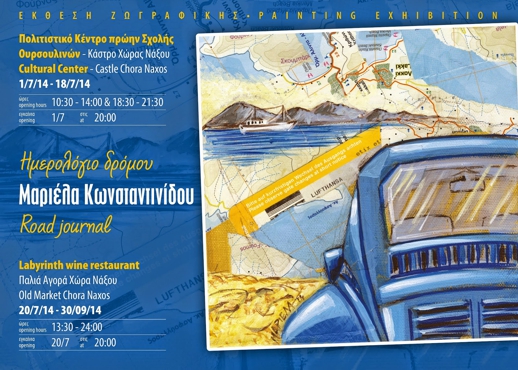 A promotional flyer for the Road Journal painting exhibition by Mariela Konstantinidou, being held at two locations in Naxos Town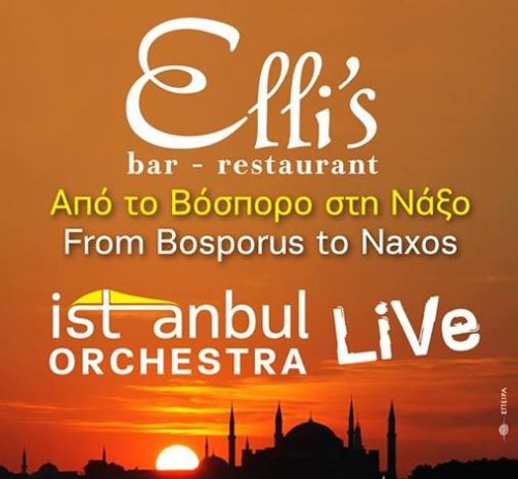 The four-member group Istanbul Orchestra will be appearing live at Elli's Bar-Restaurant each day from July 13 to the end of August.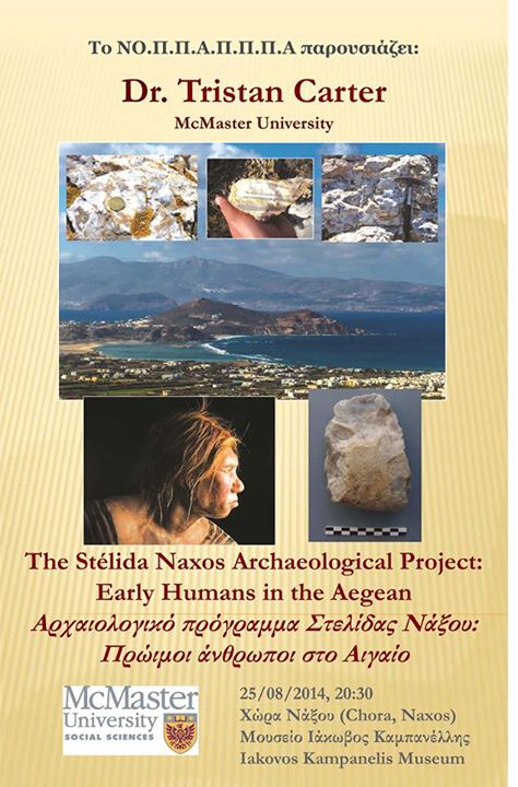 Dr. Tristan Carter from the Stelida Naxos Archaeological Project will give a talk on Early Humans in the Aegean on the evening of August 25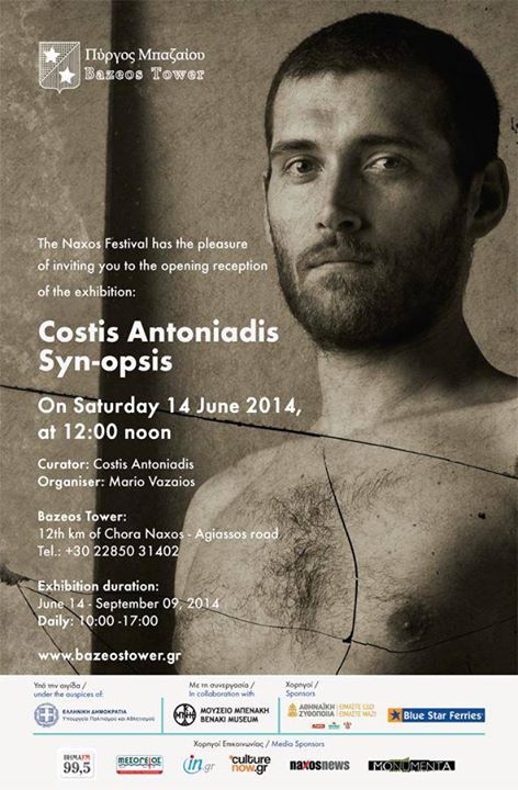 A poster for the Syn-opsis photography exhibition by Costis Antoniadis, being held at the Bazeos Tower until September 9 as part of the Naxos Festival.
PAROS
Paros is much like its next-door neighbour Naxos in that it offers plenty of attractions and activities to entertain visitors. Paros boasts dozens of beaches, scenic seaside and mountain villages, a Valley of Butterflies, the remarkable Church of 100 Doors (Ekatontapyliani), and top-rated facilities for windsurfing world cup competitions.  It, too, features numerous cultural, social and sporting events each summer.
Many of those activities — including the annual eight-day Jazz in Paros Festival — take place at the Environmental and Cultural Park of Paros (Paros Park), an 800-acre peninsula with walking trails and beaches at Ai Yannis Detis near Naoussa.  The park has an amphitheatre where cultural events are put on, as well as the Cine Enastron outdoor cinema that screens Greek and foreign films under the stars during July, August and September.
The Festival at the Park program for this summer includes musical, theatrical and dance performances, and concludes in late September with triathlons for adults and kids. The Jazz Festival, which runs from July 19 to 27, will feature singers Heleen Schuttevaêr from Netherlands, Anna Lauvergnac from Italy and Chloé Cailleton from France, plus a performance of the  "Electric" Paris Paros Project with musicians from Greece and France. In addition, a creative performance of poetry and jazz will be held at the amphitheater in Lefkes village.
One of the key celebrations of the season is the 2nd annual Festival of Products of Paros, which takes place this weekend (July 4 to 6). The festival focusses on the island's vineyards and wineries, and is aimed in part at increasing global awareness of Parian wine. Events include tastings, workshops and meetings, concerts and live entertainment. (I have been a fan of Parian wine ever since we visited the Moraitis family winery at Naoussa during an island bus tour. I've made it a point to buy bottles of Moraitis wine, whenever we can find some, to enjoy on our hotel room balconies and terraces during our island-hopping holidays.)
The 4th annual Paros Jazz Festival will take place July 19 to 25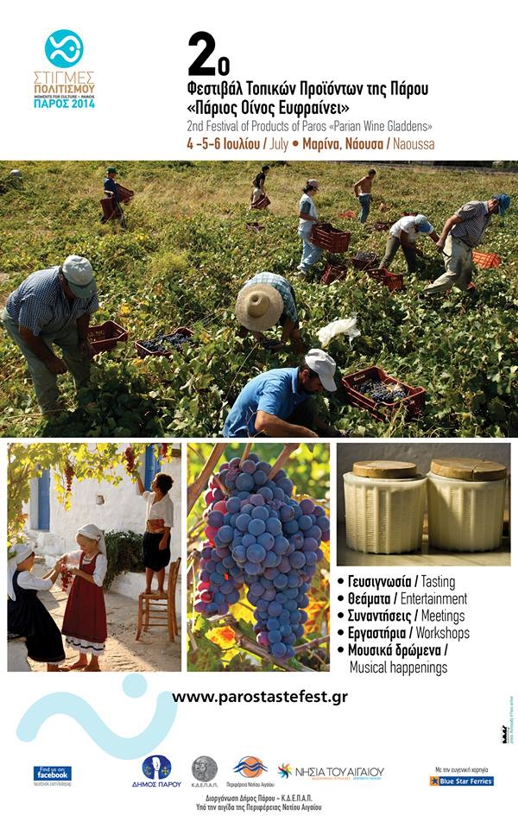 A promotional image for this month's 2nd Festival of Products of Paros and Parian Wine Gladdens celebration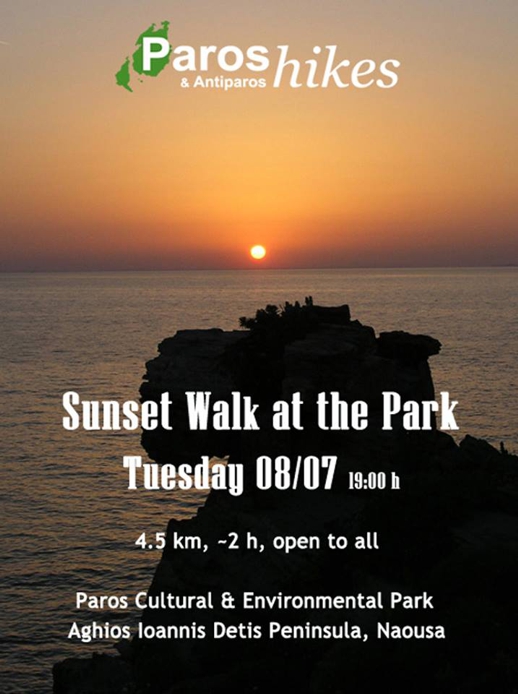 A promotional image for the July 8 Sunset Walk at the Cultural and Environmental Park (Paros Park) near Naoussa. Further information about events and activities at the 800-acre park can be obtained from the Paros Park Facebook page.
SCHINOUSSA
One of the Small Cyclades islands near Naxos, Schinoussa is only 9 square kilometers large with two tiny villages and a population of less than 300.  Schinoussa is named after a mastic tree shrub that grows throughout the island, but is famous for two other things — its 18 beautiful beaches and the local katsouni fava (yellow split peas) it produces. (It's known for other agricultural products, too, such as beans, cucumbers, tomatoes and melons, as well as beef, pork and goat meat and local cheese.)
The big summer event on Schinoussa is the 3rd Annual Fava Festival, which takes place this coming Monday (July 7) in the courtyard of the local school. The festival is timed to coincide not just with the start of the island's main tourist season, but also the end of the fava harvest period. The celebration will include live music, dancing, wine, raki and lots of fava dishes. I love fava, and really wish I could be on Schinoussa next week to partake in the party. (It's yet another island I haven't been to but would like to see, especially since I have have heard nothing but positive comments about it from people who have travelled there more than once).
On August 18, Schinoussa will hold its 4th annual Donkey Games, an event that pays tribute to the hard-working domestic animals. It promises a fun day of games and prizes with entertainment by Johnny Vavouras and the Cadillacs.
If you think you might like to visit the island some time, you can find a wealth of travel information on the Schinoussa website. And if you'd like more information about Schinoussa fava, click here to read an article on the Naxos and Small Cyclades website.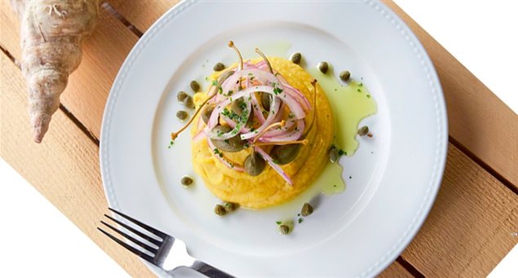 This photo of a classic Schinoussa fava purée is from the Naxos and Small Cyclades website. Schinoussa produces approximately 5 tons of the katsouni variety of fava (yellow split peas). Click here to access recipes for several tasty fava side dishes you could try making to enjoy at home.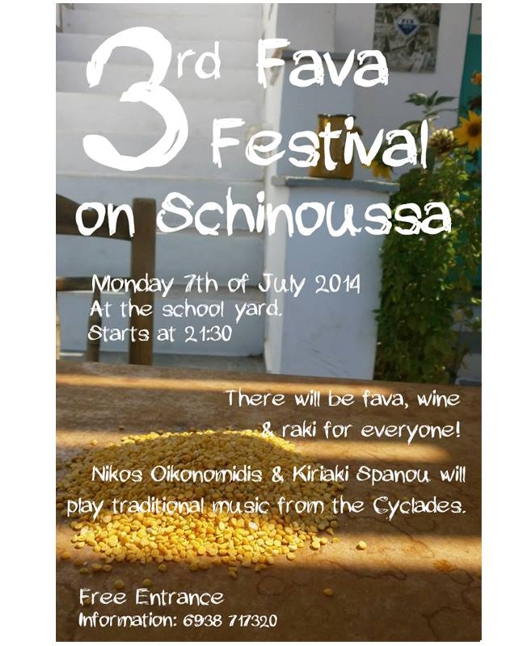 A promotional poster for the 2014 Fava Festival on Schinoussa
The 4th annual Schinoussa Donkey Games take place August 18. It's a day of fun, games and live musical entertainment and a tribute to the hard-working donkey.
SYROS
Syros is a wonderful island we got to visit for the first time in May — and hope to revisit in the near future. I'll be telling you more about it in soon in upcoming instalments of my 2014 Greek holiday report.
For now, I'll just say that Syros is the place to go for cultural entertainment during the next six weeks.
Fans of opera, classical music and jazz will want to visit Syros from July 6 to 19 to take in the 10th Annual International Festival of the Aegean at the city of Ermoupoli's landmark Apollo Theater, which just happens to be celebrating its 150th anniversary. A full schedule of performances is provided on the main page of the festival website.
That big event is followed by the 21st Hermoupolis Guitar Festival July 21 to 25, and then the Syros International Film Festival July 26 to August 1.
Music will take center stage at the Apollo Theater yet again during the 10th International Classical Music Festival of Cyclades, from August 9 to 17.  The world's oldest orchestra, the Royal Danish Orchestra (established in 1448), will be guest of honour, while a diverse selection of artists will be appearing throughout the festival.
A media release says the festival program includes "distinguished artists such as the Athens Mandolinata quintet, the soloists of the Greek National Opera, Vassiliki Karayanni, Irene Karayanni and Ioanna Forti, the counter tenor Nikos Spanatis, the pianists Alexandra Nomidou and Karolos Zouganelis, the Greek actress Magda Mavroyanni, the concertmaster of the Daejeon Philharmonic Orchestra, Korean violinist Paul Kim, the artistic director and conductor of the Athens State Orchestra, Stefanos Tsialis, the artistic director of the Sinfonia Piraeus and the Saronic islands Festival, conductor Nikos Haliassas, and the violinist Yiannos Margaziotis, concertmaster of the National Greek Opera Orchestra and artistic director of the International Classical Music Festival of Cyclades."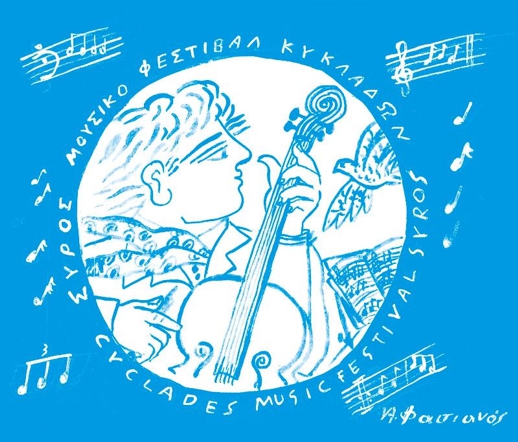 A promotional image for the International Classical Music Festival of Cyclades 2014, which takes place August 9 to 17 at the historic Apollo Theater in Ermoupoli on Syros. Click here to view program information on the festival website.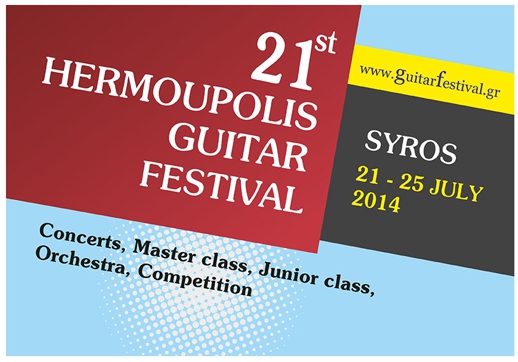 A promotional image for the 21st Hermoupolis Guitar Festival on Syros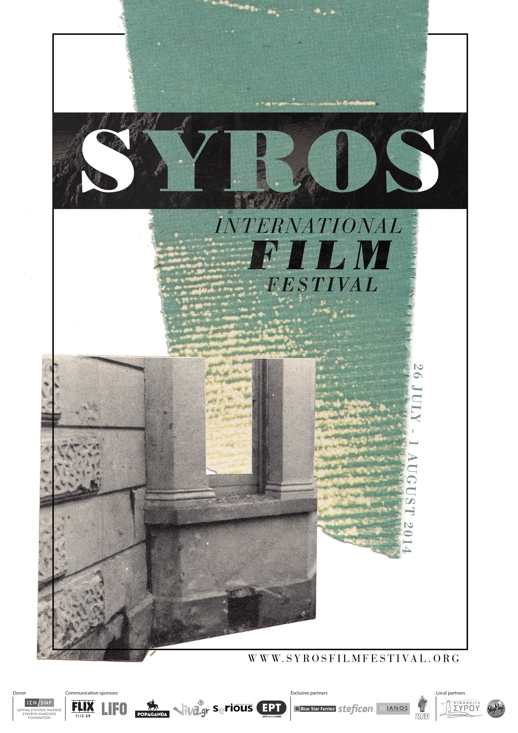 The full program for the Syros International Film Festival (SIFF) will be announced at a press conference in Athens on July 10. The festival will take place July 26 to August 1 at various locations in Ermoupoli, including the Pallas outdoor cinema, the Tarsana shipyard, the Cycladic Art Gallery and the Stars beach bar. The first SIFF was held last year and featured 24 films along with professional workshops. This year's program is expected to include around 50 films, as well as workshops, seminars and an art exhibition. Further information about the event is available on the Syros International Film Festival Facebook page.
SERIFOS
There's a big summer celebration on another small island I haven't yet visited — Serifos, situated in the western Cyclades between Sifnos and Kythnos. I've heard very good things about it from a few people, who have said it's a generally quiet and relaxing place to visit even in peak season (though apparently it can get busy on weekends since it's a convenient destination for people in Athens seeking a quick getaway from the mainland).
From late July until late August, you can bet the island will be popular with Athenians and tourists alike for another reason — the 3rd annual Serifos Festival.
The event, which begins with a concert on July 27 and ends with an art exhibition and concert on August 20, takes place mainly in Kato (Lower) Hora village, where an amphitheater with views of the sea is situated.
The Serifos Festival features musical concerts, theatrical productions, traditional music and dance performances, music workshops, art and painting exhibitions, and creative writing workshops (including sessions that focus on travel writing).
Click here to see the schedule of events for this summer's festival. Information about the writing workshops is available (mostly in Greek) on the Serifos Travel Writing 2014 blog.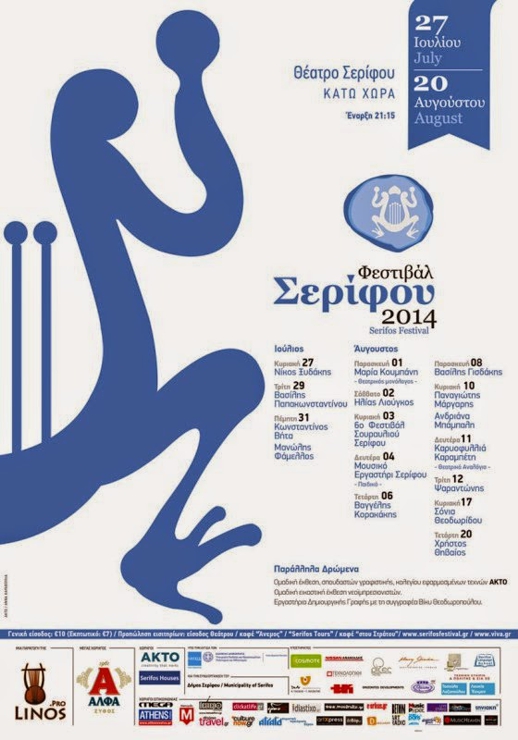 A promotional poster for Serifos Festival 2014. Information about the event is available on the Serifos Festival Facebook page.
MYKONOS
It's known for nightlife, shopping and dining, but there's more to Mykonos than contemporary popular culture.
The premier event of the summer is Kivotos Art Projects 2014, which is held at the Kivotos Luxury Boutique Hotel at Ornos beach from May through to October 1. The exhibition features paintings, sculpture, photography, multimedia and installations by 23 visual artists.  The event is presented by Aegeanale, an "international art and culture platform" that "highlights the Aegean as region of inspiration, creativity and intercultural dialogue." Below is a 2.5-minute videoclip that the Kivotos Hotel posted on its website to promote Kivotos Art Projects 2014.
From August 14 to 30, visual artist Michael Romanos will hold a unique exhibition of original works inspired by the wonderful Paraportiani Church, one of the most famous landmarks and tourist attractions on Mykonos. What's special about this particular exhibit is that viewers will get to tour the heart of Mykonos Town while enjoying Romanos's work — his art will be on display at four separate locations: the Leto Hotel, the foyer of the Mykonos Municipal Gallery, the Meletopoulos public garden, and at the Panagiotis Kousantha Library. Click here to access the artist's blog, which features photos and further information about the exhibition.
On August 16, Skoufa Gallery in Mykonos Town will open a special exhibition of work by a group of Greek artists. The gallery exhibits paintings, sculpture, jewellery, ceramics, small handcrafted art pieces and Greek industrial design products.
The Women's Clubs of Mykonos will showcase art, handicrafts and local food and products during its sixth annual Bazaar August 22 and 23. The event takes place in the town square at Ano Mera.
From August 25 to September 15, the Mykonian Hand Weaving Exhibition will showcase traditional woven art and handicrafts at Dedes' House on Matogianni Street, and at the KDEPAM Workshop in the Panachra area of Mykonos Town a short walk from Matogianni.
Kivotos Art Projects 2014_Promo video from Philip Mykonos on Vimeo.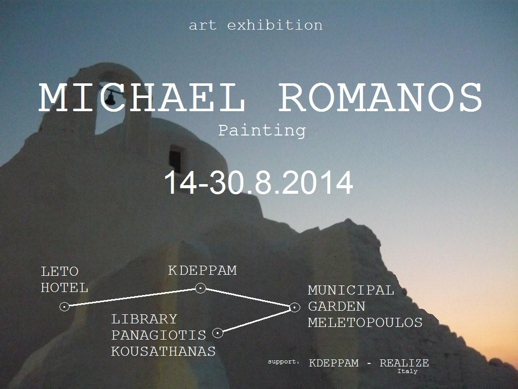 A special exhibit of original works by visual artist Michael Romanos will be held at four locations in Mykonos Town from August 14 to 30.
Skoufa Gallery in Mykonos Town will open an exhibition of work by a group of Greek artists on August 16 2014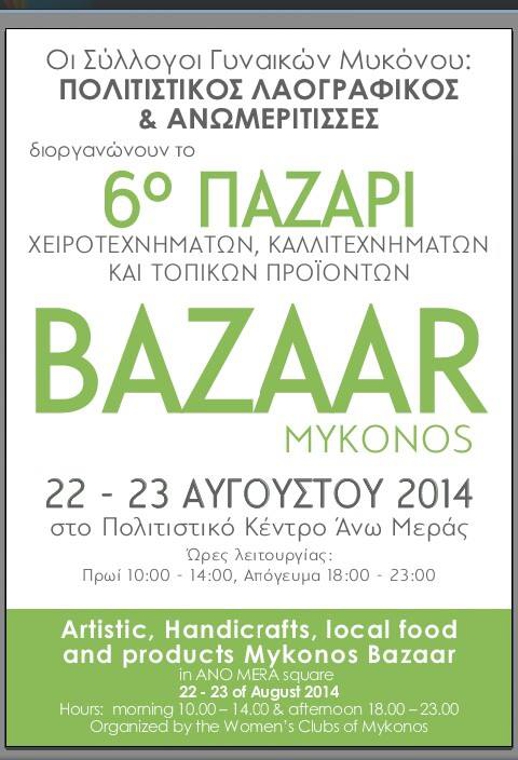 The Women's Clubs of Mykonos will hold their annual Bazaar in Ano Mera August 22-23 201. Local food and products as well as art and handicrafts will be on sale.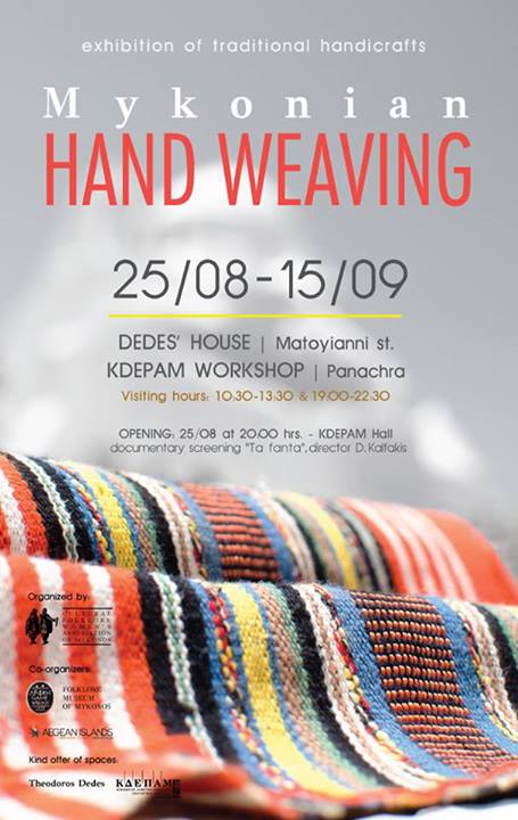 A promotional image for the Mykonian Hand Weaving exhibition, being held for three weeks beginning August 25