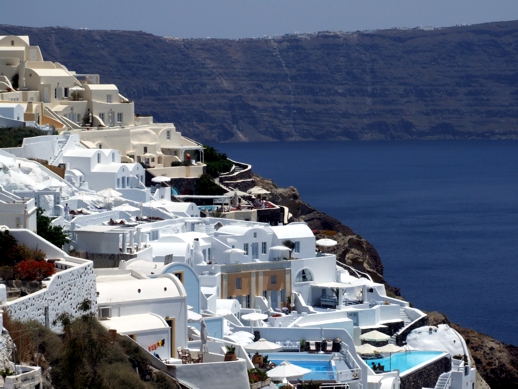 Luxury hotels crown the spectacular caldera cliffs in Santorini's Oia village
 Reader favourite: Santorini is the world's best island for 2014, according to a survey of Travel + Leisure magazine readers.
Santorini beat out three Hawaiian islands as well as Bali, Indonesia to claim top spot in T+L's World's Best Awards 2014. Last year, Santorini held fourth place.
The American travel magazine announced the results of its 19th annual reader poll on July 2.
Although Santorini was the top-rated island globally and the only European island to make the worldwide Top 10, Greek islands scored well on the Top Islands in Europe poll, claiming three of the top 5 spots.  Santorini captured the #1 rating, of course, while Crete took #3 and Mykonos claimed #5. (Two Italian islands, Capri and Sicily, took the #2 and #4 places, respectively).
Last year, Santorini and Crete held the same rankings for best islands in Europe, while Mykonos failed to crack the Top 5.
The annual reader survey is highly influential and should help Greece maintain its record-setting appeal to travellers from North America. Last year, Travel + Leisure had an average monthly print circulation of nearly 1 million copies, and its web edition achieved an average of 38 million page views per month. The publication has a readership of 6.5 million people, more than 2.4 million of whom are considered "affluent" travellers with a high personal net worth.
When the magazine announced Santorini's top ranking in a post with a photograph of Oia on the T+L Facebook page, one reader added the comment: "Now I understand why gods choose Greece to live."
Indeed!
You can view hundreds of photos of the world's #1 island in my Santorini photo collection on Flickr.  There are thousands of pics of Europe's #5 island in my Mykonos photo collection, also on the MyGreeceTravelBlog Flickr page. Unfortunately, there's no collection of Crete photos at this time — I haven't been to that island since 2004 and don't have images from that vacation online. Clearly, I've got to get back to Crete!