This five and a half-minute Skyframe film features aerial views of Skiathos Town and some of the island's stunning beaches and coastal scenery. 
In Skiathos 2015, Alexandre Ingels takes viewers on an 11-minute aerial tour of the island's lush landscapes and beautiful beaches
Inspiration & souvenirs: Going to Skiathos this summer? If you haven't been to the island before, take a look at the videos I posted above — they're bound to make you feel even more eager and excited to get there for your upcoming holiday. 
If you're one of the many lucky people who have already been to Skiathos, even for multiple return visits, the films are certain to evoke many fond memories of the time you spent on the island.
(The videos actually made me quite anxious to see Skiathos even though I'm not able to include it on the itinerary for my own upcoming trip to Greece.)
And while you're on Skiathos, keep an eye out for the newly-published photo book, Kosmos Skiathos, by Dieter Seidel.  With 120 photos of the island and descriptive text in German, Greek and English, it's an ideal souvenir that will let you continue enjoying Skiathos long after you return home from your holiday.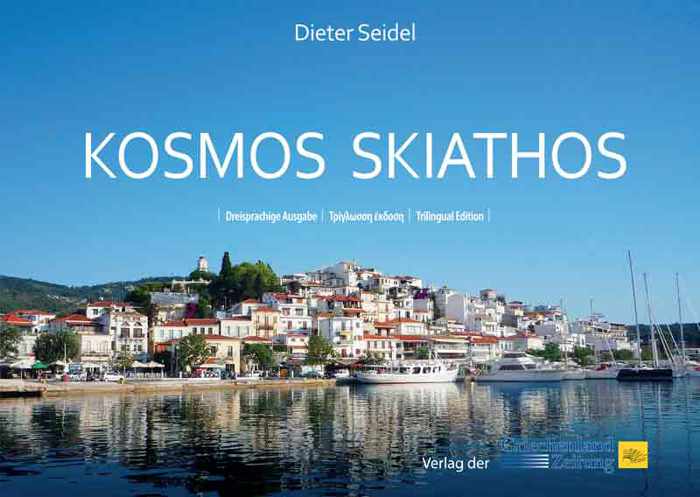 Kosmos Skiathos – Κόσμος Σκιάθος – Cosmos Skiathos is a newly published 128-page photo book by Dr Dieter Seidel
"You can approach Skiathos in three ways: by plane, by boat – and with your heart," says Seidel, who describes his book as a "confession of love" for the island.
"To me, Skiathos is the island of my dreams, my world. Nowhere have I felt as happy as I do here. I hope that my photographs of this wonderful island attest
to that feeling," he says.
The 128-page hardcover edition is published by Griechenland Zeitung and can be purchased at various locations on Skiathos and elsewhere in Greece. Look for Kosmos Skiathos at shops that carry the German-language Griechenland Zeitung newspaper and magazine, as well as at newsstands that sell foreign press publications.
Click here to see the Kosmos Skiathos listing from the publisher's online shop.
Below are images, provided by Griechenland Zeitung, that show the book's front cover as well as some of its inside pages.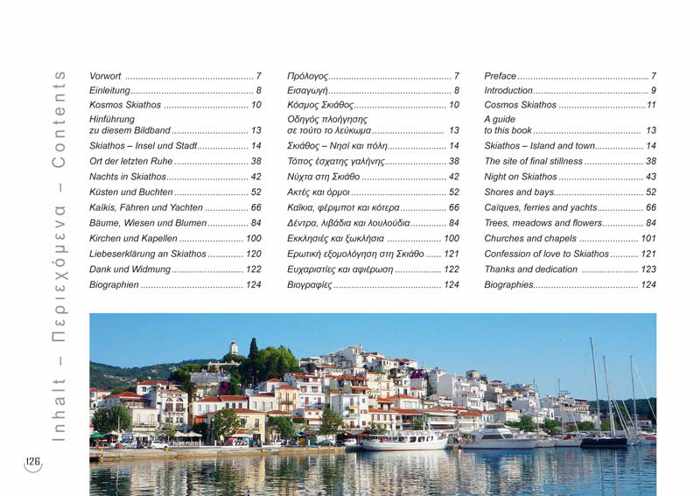 The table of contents page for Kosmos Skiathos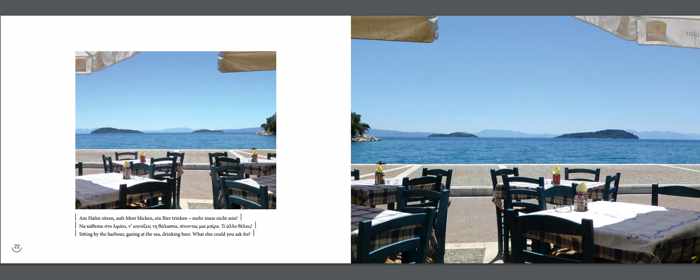 The book features 120 gorgeous photos of the island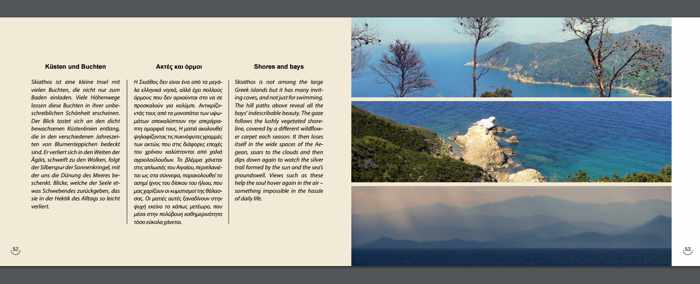 Sample pages from the chapter on Skiathos shores and bays
If you'd like to see more videos of Skiathos, check out my February 25 blog post Revisiting summer on Skiathos, and my January 23 post Set your sights on Skiathos!