Meis books are popular souvenirs for Greece visitors
Two coffee table books of Georges Meis's spectacular photographs — Thera or Santorini and The Diamonds of the Aegean — also have been popular treasures for travellers to take home from their Greek holidays. I have both volumes (in fact, they are my favourite souvenirs from all my trips to Greece), and I have seen copies of the beautiful big books being carried by other travellers passing through the Athens airport terminal on their way to catch flights home.
Meis's latest coffee table tome, Land of Crete, features 250 pages of gorgeous panoramic photos from various destinations in Crete.
I learned about the Meis exhibition at Saro Art Lounge when I was in Glyfada just over a week ago — unfortunately, only a few hours before I had to return home from my latest Greece vacation. (I must admit that, since I love Meis's photography, I felt tempted to postpone my return flight until after I got a chance to view the exhibit. I couldn't do that, of course, so now I'll have to hope I can see another Georges Meis show on a future trip to Greece.)
Visits to the exhibition are by appointment only. Saro Art Lounge is located at 65 Ag. Nikolaou Str. in Glyfada, telephone: 213 003 1126 (Mobile: 694 266 5630). Further details of the Meis exhibition and other events are available on the gallery website. Additional event information can be found on the Saro Art Lounge Facebook page.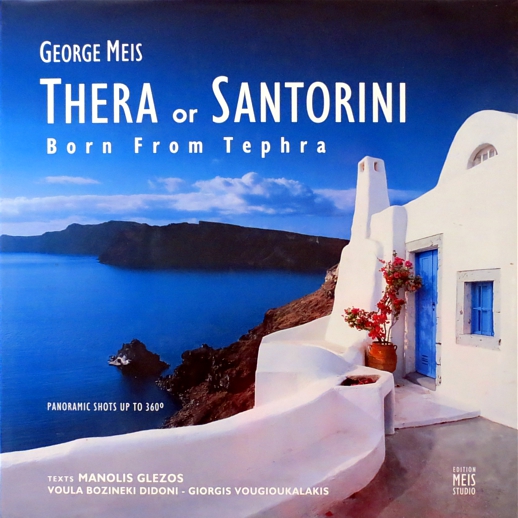 The cover of the George Meis coffee table book Thera or Santorini (above), which I bought at a bookstore in Oia, Santorini back in 2005. It's my all-time favourite Greek holiday souvenir, along with The Diamonds of the Aegean (below), which I purchased at a bookshop in Naxos Town on Naxos in 2009.