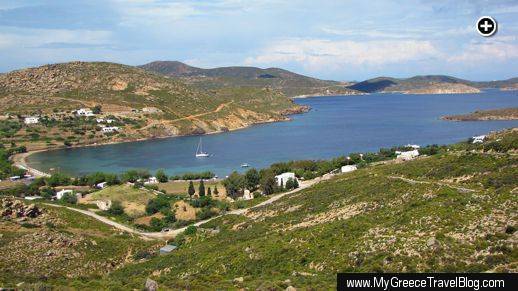 Agriolivadi Bay on Patmos, part of the Dodecanese island group. Patmos is one of five  islands that the Globe & Mail says travellers "need to see."
Good time to visit: During the past five years of economic turmoil, Greece has been subjected to extensive bad publicity in the world press, with a steady barrage of negative news stories focussing on strikes and riots and the massive social upheaval caused by high unemployment and painful austerity programs. It's refreshing to see the tide changing, with major international media outlets now regularly publishing feature articles that recommend travelling to Greece instead of avoiding it.
One article in particular — Luring tourists back to Greece by Liz Alderman of The New York Times — has been republished in major newspapers in countries around the world. In that piece, published on May 23, Alderman notes that "travelers are returning in greater numbers this year, lured by discounts of up to 20 percent on hotels in major cities and on Greece's stunning islands, as well as assurances — at least for now — that Greece won't be ditching the euro and returning to the drachma after all."
Writers at other high-profile newspapers have been filing their own reports explaining why the time is right to visit Greece, and recommending where travellers should go.
Here's a roundup of several interesting travel reports I've discovered just in the past week alone:
CONTINUED ON PAGE 2