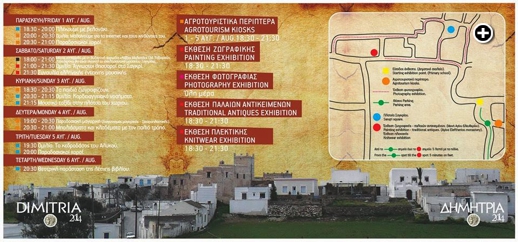 A map and program guide for the 2014 Dimitria festival at Sangri. Click on the image to view a larger picture.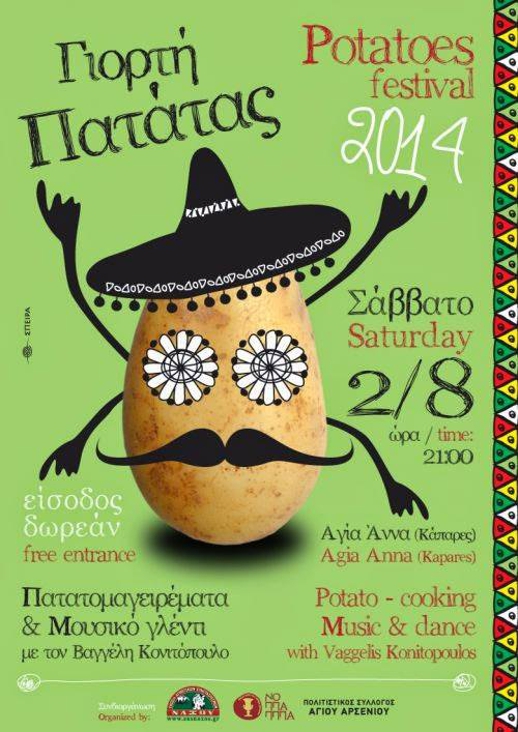 The 2014 Naxos Potatoes Festival takes place this Saturday (August 2) with food, music and dance celebrations at Agia Anna (Kapares)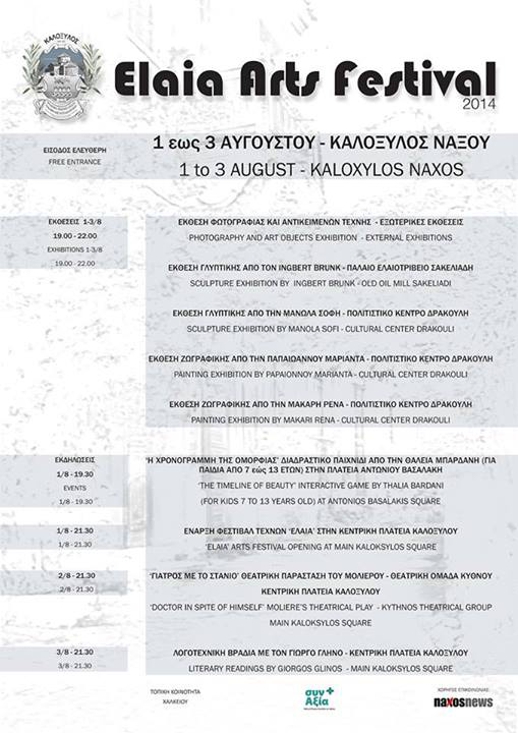 The Elaia Arts Festival takes place at Kaloxylos village from August 1 to 3 and features photography, painting and sculpture exhibitions, theatrical performances, literary readings and special programs for children. Consult the Elaia Festival Facebook page for photos and further information.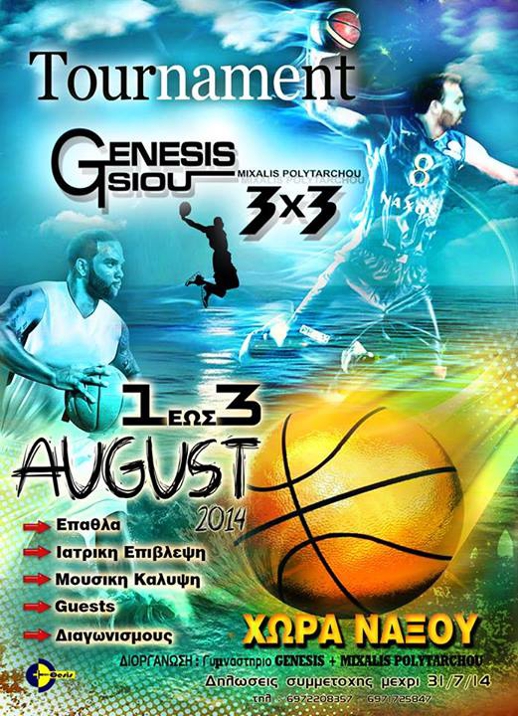 Genesis Gym is hosting the 3 on 3 basketball tournament August 1 to 3 in Naxos Town.  Professional basketball player Mixalis Polytarchou will be appearing.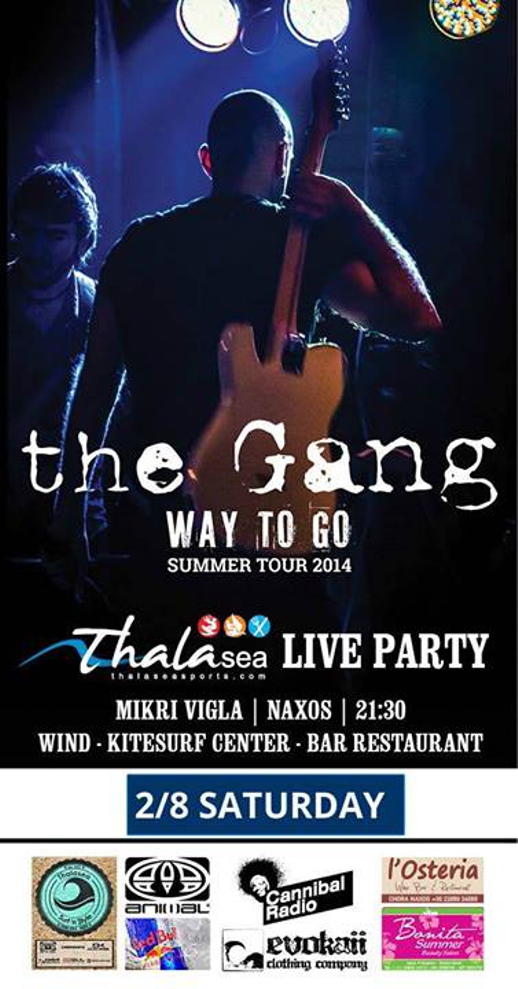 Thalasea Sports at Mikri Vigla will be throwing a beach party Saturday night (August 2) with live pop and rock music entertainment by The Gang.
The annual beach volleyball tournament takes place at Mikri Vigla on Saturday and Sunday (August 2 and 3), with competitions by men's and women's teams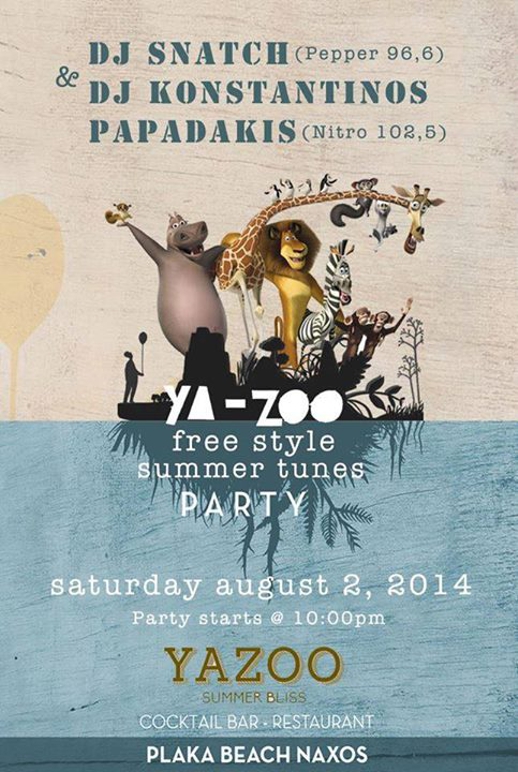 Plaka beach will be rocking on Saturday night (August 2) with the Free Style Summer Tunes Party at Yazoo Summer Bliss cocktail bar and restaurant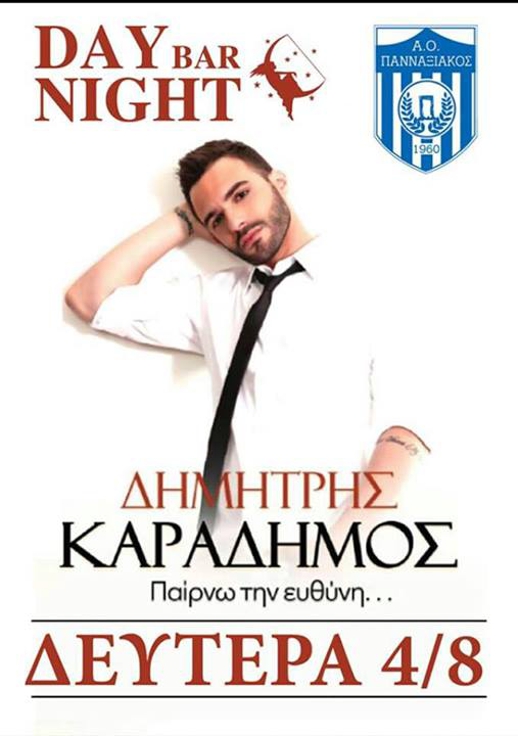 Singer Dimitris Karadimos will appearance at Day Night Bar in Naxos Town on Monday August 4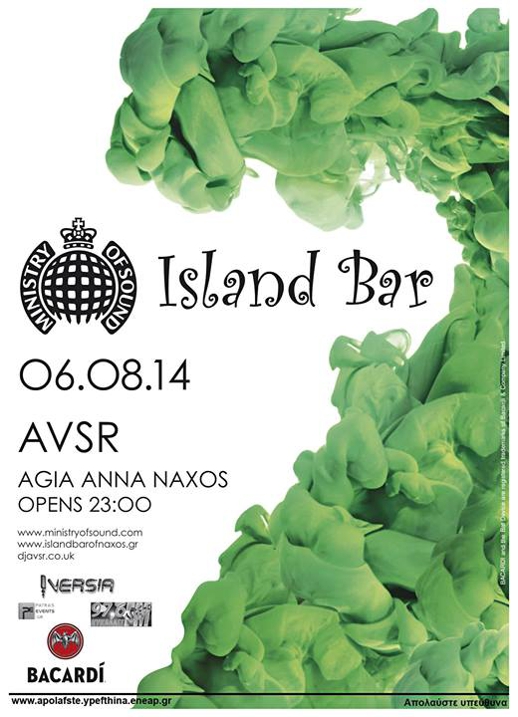 Island Bar at Agia Anna beach will be presenting Ministry of Sound Wednesday night (August 6).  Check the Island Bar Facebook page for more information about the club's summer parties.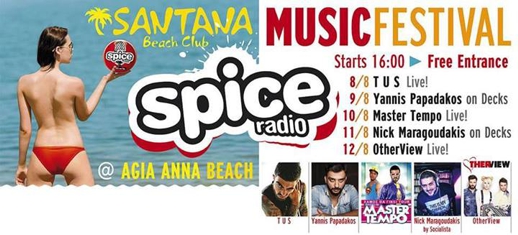 The Spice Music Festival will take place each afternoon from August 8 through August 12 at Santana Beach Club at Agia Anna
People Cocktail Bar in Naxos Town will be throwing a Party Animals event on Friday August 8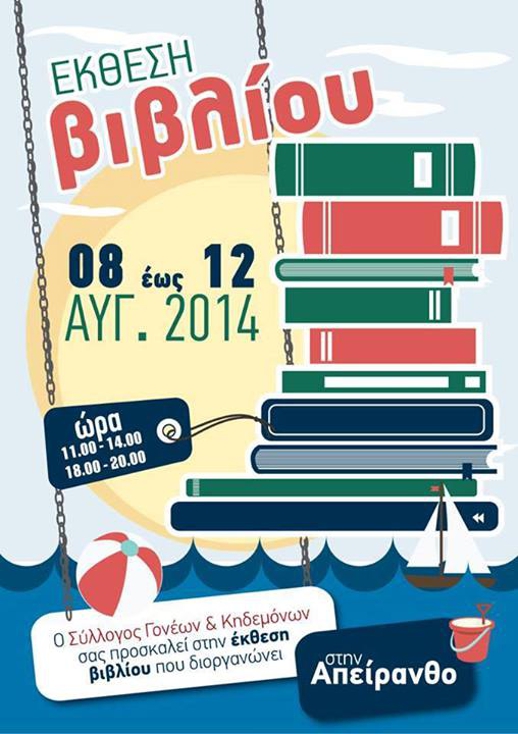 A Book Fair will take place August 8 to 12 at the Apiranthos Elementary School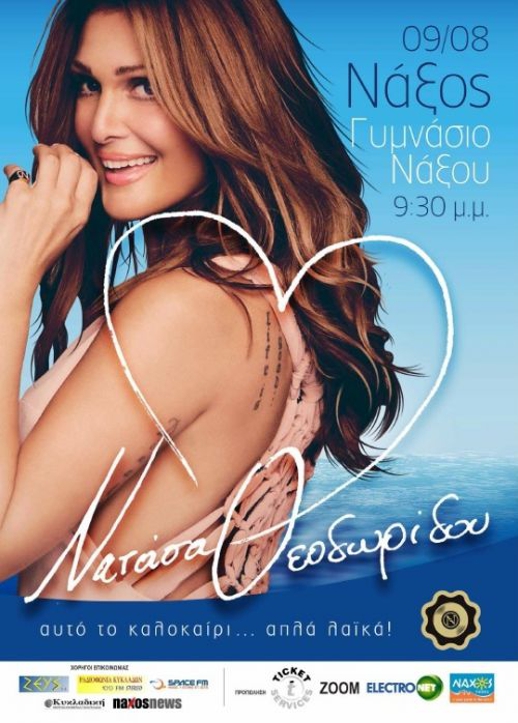 Popular Greek singer Natasha Theodoridou will be appearing in a concert performances at the Naxos gymnasium on the evening of Saturday August 9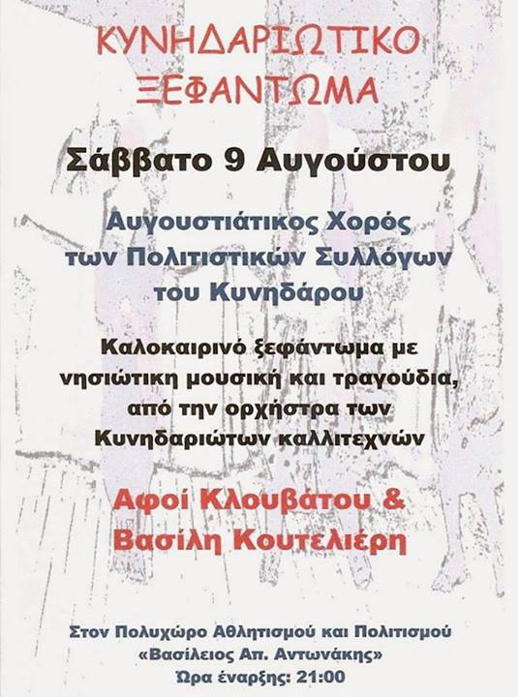 A traditional island music and dance event will be held August 9 at Kynidaros at the village's culture and athletic multispace.  The event features music of the brothers Klouvatos, Vasilis Koutelieris and their band.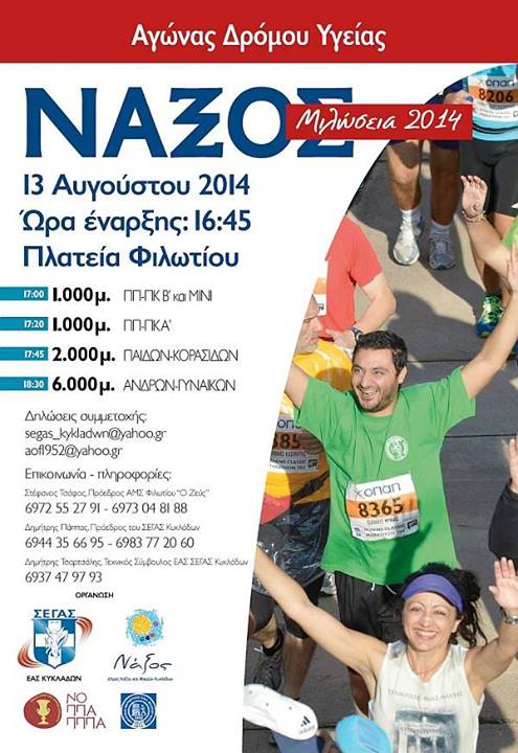 The Race of Health starts at 4:45 p.m. on August 13 at the village square in Filoti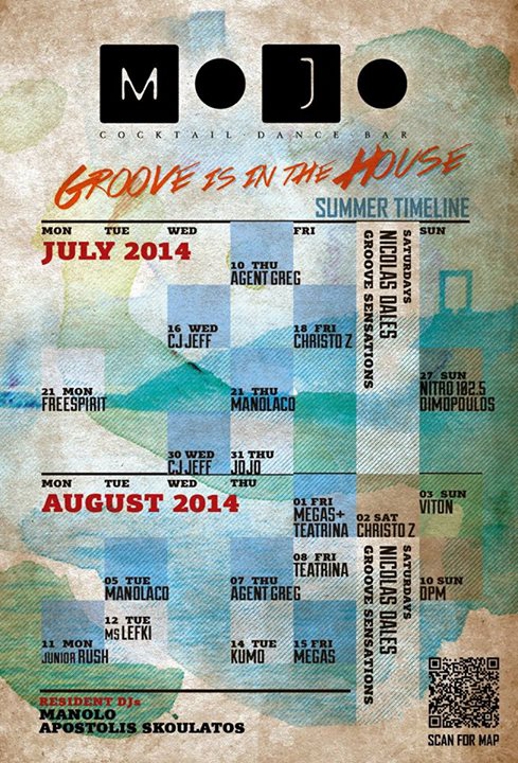 This calendar shows the acts that will be appearing for special August party events at  Mojo Cocktail Bar in Naxos Town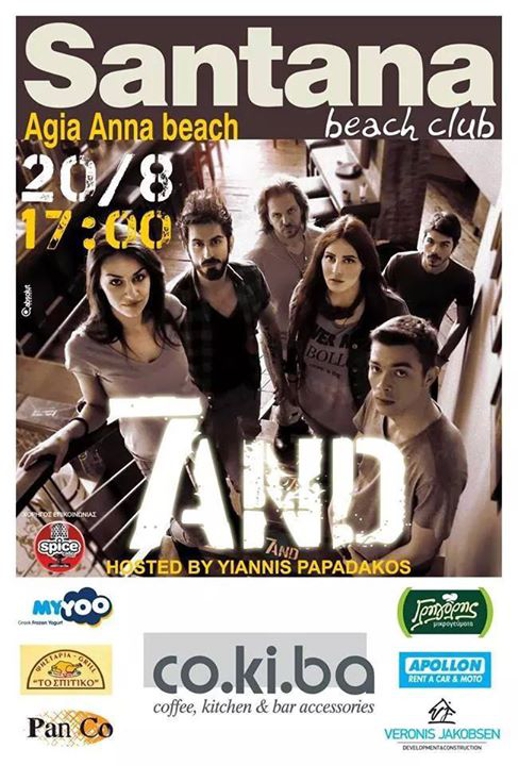 Greek pop/rock group 7and will appear at Santana Beach Club on August 20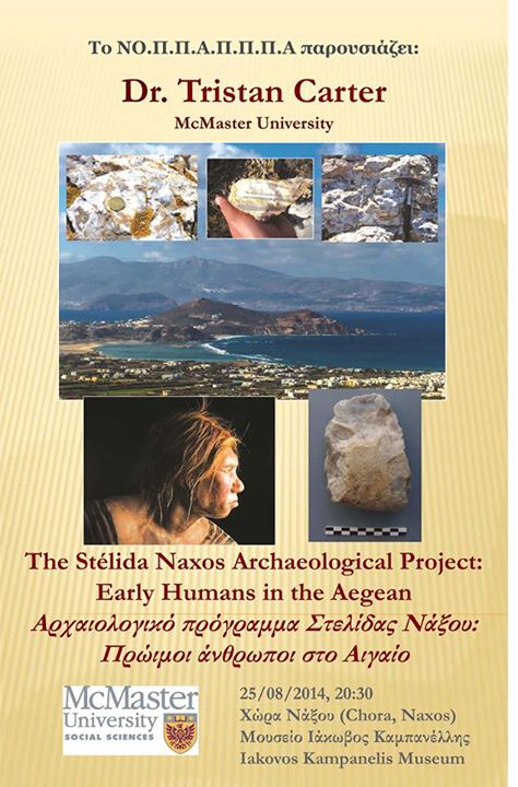 Dr. Tristan Carter from the Stelida Naxos Archaeological Project will give a talk on Early Humans in the Aegean on the evening of August 25. The event takes place at the Iakovos Kampanelis Museum in Naxos Town.
A busy month of celebrations and events will conclude with the 7th Annual Naxos Triathlon, taking place the afternoon of Saturday August 30 at the Naxos port.