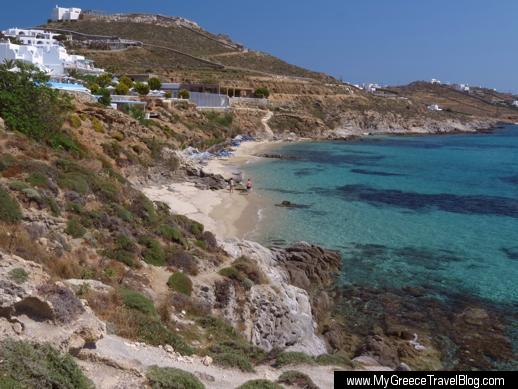 The southern section of Agios Ioannis beach on Mykonos, known the world over as "the Shirley Valentine beach" from the 1989 movie
By popular request: Ever since television networks in the U.K. and U.S.A. broadcast Shirley Valentine in late December, interest in the movie's filming locations has literally exploded. Thousands of people around the world have come to MyGreeceTravelBlog searching for information about "the Shirley Valentine beach," wondering exactly where it is and what it looks like today.
Its actual name is Agios Ioannis beach, and it's situated in the Agios Ioannis Diakoftis area near the southwest tip of Mykonos island.
Nestled in one of the most scenic locations on Mykonos, Agios Ioannis offers superb views of nearby Delos and Rinia islands. As the legendary birthplace of the mythological Greek god Apollo, Delos is one of the most important archaeological and historical sites in all of Greece, and is recognized on the UNESCO World Heritage list.
CONTINUED ON PAGE 2