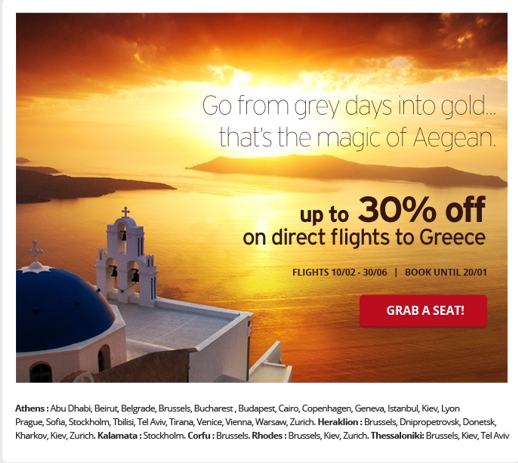 This striking sunset view of a blue-domed church in Firostefani village on Santorini illustrates a seat sale promotion that Aegean Airlines announced today
Get there cheaper: If you have been thinking about travelling to Greece sometime during the first half of this year, now could be a good time to book your flights — Aegean Airlines has just announced a sale on direct flights to Greece from more than two dozen destinations in Europe and the Middle East.
In an email sent to customers and followers today, Aegean advises that fares are available at savings up to 30 per cent for travel between February 10 and June 30 of this year.  The seat sale applies to direct Athens-bound flights from 22 different cities, as well as to its direct flights to Heraklion, Kalamata, Corfu, Rhodes and Thessaloniki from various locations.
The promotion ends January 20.
British Airways launches new routes in early May
While Aegean's sale will make springtime trips to Greece cheaper for many travellers, two new British Airways routes will make it easier for people to get to two of the most popular islands in Greece — Mykonos and Santorini.
Starting May 3, BA will fly direct to Mykonos on Tuesdays and Saturdays from Terminal 5 at London's  Heathrow Airport. The BA website says fares are as low as £85 one-way.
And beginning May 4, BA will fly direct to Santorini on Wednesdays and Sundays, also from Heathrow's Terminal 5. According to BA's new route announcement, fares will be as low as £175 one-way.
Those flights are bound to be a big hit with travellers who want to maximize their island time without having to stop over or catch a connecting flight in Athens.
Check the British Airways website for further fare and flight information.