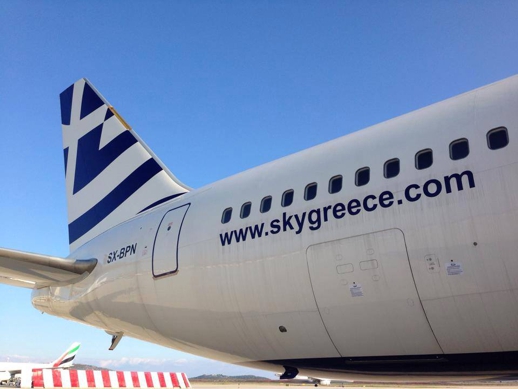 A Greek flag logo adorns the tail of the SkyGreece Airlines 767-300 ER aircraft, seen on the tarmac at Athens International Airport last month. The photo, credited to Panagiotis Karakonstantopoulos, was one of several images posted on the SkyGreece Airlines Facebook page in mid-December 2013.
Waiting game: Now that we're into the New Year, we have started making plans for our 2014 trip to Greece. We're hoping to travel sometime in May, as we usually do, but haven't yet decided where we might go — or how we will get there.
We had been hoping that SkyGreece Airlines would release its schedule and prices for 2014 by now so we could see how the new carrier's flight times and prices would compare to those of other airlines offering direct flights from the eastern U.S.A. and Canada to Athens.
We aren't the only people anxious for more news — thousands of other potential customers have been eager to hear about flight times and fares, too. In fact, SkyGreece is the most-searched subject on MyGreeceTravelBlog, and has held the #1 search position for months.
But while SkyGreece indicated in mid-December that information about its 2014 schedule might be forthcoming soon, its Facebook page hasn't been updated since before Christmas and there's still no word on when the upstart airline might begin to accept bookings.
SkyGreece posted photos & video on December 14
It appeared that flight news might be imminent when the airline published a series of photos in five separate updates to its Facebook page, all posted on December 14.
The photos included interior and exterior views of the airline's Boeing 767-300ER and its livery, as well as pictures of the airline's executive team and pilots. One post included a brief videoclip showing the jet make a low pass at Athens International Airport that afternoon. A caption for one set of photos said more information would be available "in the coming days," and on the Greek Air News Facebook page "soon", but it's now nearly one month later and no further news has been published. The SkyGreece Facebook page hasn't been updated since those posts went up.
SkyGreece does not provide contact information on either its website or Facebook page, so I haven't been able to contact the airline to ascertain when it will start flying to North America. The website still consists only of a landing (main) page, with a banner stating: "Direct flights from North America to Athens Summer 2014."
I will post an update as soon as I obtain any new information about SkyGreece operations.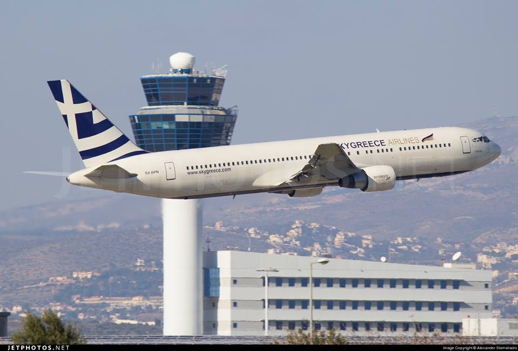 One of the photos posted on the SkyGreece Facebook page shows the airline's Boeing 767 making a low pass prior to landing at Athens International Airport on December 14 2013. The photo was shot by Alexander Stamatiadis.