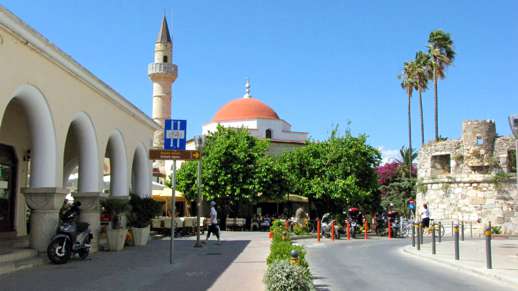 Landmarks and popular historic sites in the center of Kos Town on Kos island. British Airways will offer London to Kos flights starting next May.
More flights in 2015: It will be easier to travel from London and Zurich to several Greek islands next summer thanks to new routes announced recently by British Airways and Edelweiss Air.
British Airways will launch flights from London Gatwick to Rhodes and to Heraklion, Crete beginning in late April, and will add routes from London Heathrow to Corfu and Kos starting on May 1.
Meanwhile, Edelweiss Air will increase its service from Zurich to Heraklion starting on April 29, and will begin direct flights from Zurich to Corfu starting in June.
New BA destinations
In a new routes announcement on its website, British Airways says it will start flying from London Gatwick to Heraklion commencing April 26. Flights have been scheduled for Tuesdays, Thursdays, Fridays and Sundays. When I checked the BA website today, it was showing flights available at prices from £69 (one way).
Only three days after the flights to Crete kick off, BA will begin new service to Rhodes. Flights will start on April 29, operating on Wednesdays and Saturdays. The BA website showed one-way fares available from £109.
From May 1 to September 20, BA will fly four times a week from London Heathrow to Corfu. Flights were available today at prices as low as £83 (one way).
Also from May 1 until September 20, BA will offer two flights per week from London Heathrow to Kos. Tickets were available today at prices from £73 (one way).
With the new routes, BA will be flying to six different Greek islands next summer. As I reported in a January blog post, BA commenced twice weekly flights to Mykonos and Santorini this past spring. It will continue flying to those islands again in 2015.
New Edelweiss routes from Zurich
Edelweiss Air already operates summer flights from Zurich to Crete, Kos, Mykonos, Santorini and Rhodes. When Edelweiss recently released its summer timetable for 2015, it announced it will increase the number of flights to Crete starting on March 29, and will launch new routes to Corfu beginning June 16.
Flights to Crete will now be available up to six times per week, while during peak summer season there will be two flights weekly to Corfu.
Check the Edelweiss 2015 timetable for further details, and consult the airline's website for fares and other information.