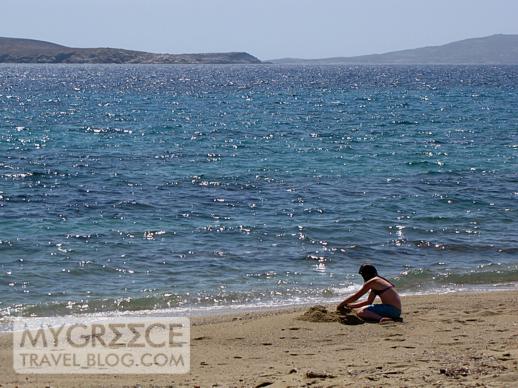 A girl plays in the sand at Agios Ioannis beach on Mykonos,  better known to many as the "Shirley Valentine beach." Delos (left) and Rinia (right) are the two islands across the channel.

Shirley was here: Like millions of other people, I first "saw" Agios Ioannis beach on Mykonos in the 1989 "Shirley Valentine" movie starring Oscar-nominated actress Pauline Collins. It only took me 22 years, but in May I finally got to see "the Shirley Valentine beach" with my own eyes (and camera). On previous visits to Mykonos I had seen almost all of the island's major beaches, but just never managed to get over to Ag. Ioannis. It's a bit out of the way, for one thing, and several people had told me it wasn't worth a special trip (they said the beach was small, wasn't very scenic, and didn't have much to offer apart from several pricey hotels and a couple of tavernas). But after renting the "Shirley Valentine" DVD during the winter, I decided it was time to finally check it out this year. It is, after all, one of the most famous beaches on Mykonos.
My partner and I walked there from Mykonos Town (with a stop to check out Ornos beach along the way) on May 17, a sunny and breezy warm day. Surprisingly, hardly anybody was at Ag. Ioannis, even though the weather was great. I could count on two hands the total number of people on the entire beach that afternoon, though there were probably twice as many gazing at the sand, the sea and nearby Delos and Rinia islands from shaded patio terraces at two of the beachside tavernas — Christo's and Hippie Fish.
After our very long (and mainly uphill) hike from Ornos we needed a break from the hot sun, too, so after taking a few photos of the beach and surrounding area, we beelined for a shaded table at Hippie Fish. It just happens to be the very taverna where Shirley Valentine got a job in the movie, and there's a sign right out front that boasts: "As seen in the movie 'Shirley Valentine.'" Well, not quite. The place was called Sunset Taverna back in those days, and looked like a typical rustic Greek taverna. Now, as Hippie Fish, it sports a sophisticated white colour palette that gives the restaurant/bar a bright contemporary look and feel. Hippie Fish still serves dishes "inspired" by traditional Greek and Myconian cuisine, but in keeping with the times (and more likely the particular demands of international travellers staying at some of the expensive luxury hotels on the surrounding hillsides), it has added a sushi lounge. We only dropped in for a drink so I can't tell you if the food is good (we didn't look at a menu, so I can't even say if the prices are reasonable), but we did enjoy relaxing on their patio, looking at the islands across the bay and watching waves wash against the sandy beach just a few meters below our table.
CONTINUED ON PAGE 2