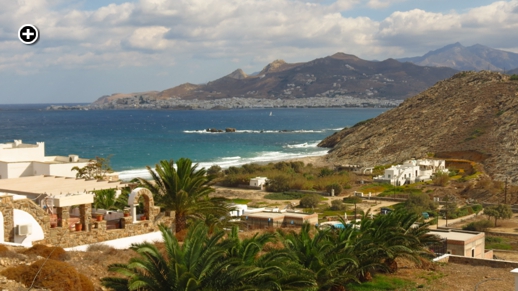 This vantage point on Stelida mountain offers a breathtaking view toward Naxos Town and the rugged mountains rising behind it on the northeast side of St George's Bay. Click on the photo to view a larger image.
Favourite destination: As 2013 draws to a close and the winter days and nights keep getting colder, we're already thinking ahead to spring and trying to decide which places we might visit in Greece on our next vacation. We're also thinking about the two holidays we took this past year. In fact, we're still sorting out the thousands of photos and dozens of videos we shot on the trips. It might take me all winter to upload the pictures to the MyGreeceTravelBlog Flickr page!
Our 2-week May vacation took us to three islands —  Mykonos, Ios, and Naxos — as well as to Glyfada and the Apollo coast southeast of Athens on the Greek mainland. For our return holiday in October, we expected to visit two islands, but wound up spending 12 days on Naxos alone, followed by two days in Glyfada and Athens.
We had a terrific time everywhere we went, but we just can't stop talking about how much we loved Naxos. We had enjoyed the island during holidays in 2005, 2006 and 2009, but this year were pleasantly surprised by the great extent to which Naxos won our hearts and admiration.
Family, friends and acquaintances have always asked which place in Greece we like the most, and until now we had to say that several islands shared that honour, since we didn't have a hands-down favourite. But that has changed. After two fabulous trips to Naxos in 2013, we'll be telling people it's our #1 place to visit in Greece.
So why do we like Naxos so much, and why have we picked it as Destination of the Year for 2013?
So much to see and do

The main reason is that Naxos offers visitors an extensive variety of activities and attractions. Even though we have now been there five separate times, we feel like we've only just scratched the surface, leaving plenty more new things to see and do on future visits.
Naxos is one of those rare places that has wide appeal for virtually every kind of traveller — singles, couples or families, the young and old alike, food lovers, history and nature buffs, and outdoor sports enthusiasts.
The island is easy to reach on direct Olympic Air flights from Athens, and is connected to the city and to other islands in the Cyclades by regular car and passenger ferry service. Once you're there, an array of accommodations await, from camping and basic rooms to self-catering studios, luxury villas, hotels and resorts. There's an equally diverse selection of cafés, restaurants and shopping, plus bars, clubs and concert performances for visitors seeking nightlife and cultural entertainment. 
For those fascinated by history and archaeology, the island boasts numerous museums and scores of monuments and ruins. Sightseers can easily spend days exploring vibrant and historic Naxos Town, visiting the island's many charming mountain villages and settlements, or photographing the stunning Naxian scenery and sunsets.
Active travellers can hike dozens of footpaths and trails or go mountain biking (either on their own, or on organized group excursions), while water sports enthusiasts can swim, snorkel, windsurf, kitesurf, sail or dive to their hearts' content at the island's many outstanding beaches.
And for tourists who want to see how other Greek islands compare, daytrips are available to Delos, Mykonos, Santorini, Paros, Amorgos, Koufonissi and Iraklia, while private boat tours, sunset cruises and fishing expeditions can be arranged as well.
In the weeks to come, I'll be telling you a lot more about Naxos, and will be posting hundreds of photos of this beautiful and amazing island. Keep checking back to see why MyGreeceTravelBlog.com has selected Naxos as Destination of the Year for 2013!
The medieval-era kastro (castle) dominates the skyline of Naxos Town, seen here from a wide sandy beach on the south side of Agios Georgios Bay