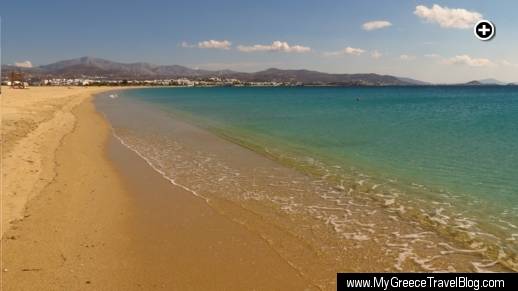 Extending more than 1 kilometer, Agios Prokopios is arguably the most famous beach on Naxos — and is often described as one of the best beaches in Greece. But it's only one of many beautiful beaches on the island. Click on the image to view a full-size photo.
 15 top reasons to visit Naxos
1. It's easy to reach
The fastest way to get to Naxos is by plane. Olympic Air offers direct flights between Athens and Naxos on 37-seat Dash 8-100 propeller aircraft. The "puddle jumper" flights, as some people describe them, take less than 50 minutes. Seats sell out quickly, so early booking is advised.
Ferry options from the Athens port of Piraeus include the Seajets SeaJet 2 high-speed catamaran (passengers only), and the comfortable Naxos and Delos multi-deck passenger and vehicle ferries operated by Blue Star Ferries. The SeaJet2 trips take just under 4 hours, while voyages for the large Blue Star liners take a little over 5 hours.
Travellers can reach Naxos from other islands in the Cyclades on such ferries as the NEL Lines Aqua Spirit, which we rode from Ios to Naxos in May 2013, or on the Express Skopelitis, which links Naxos to Amorgos along with the Small Cyclades islands of Koufonissi, Schinoussa, Iraklia and Donoussa in between.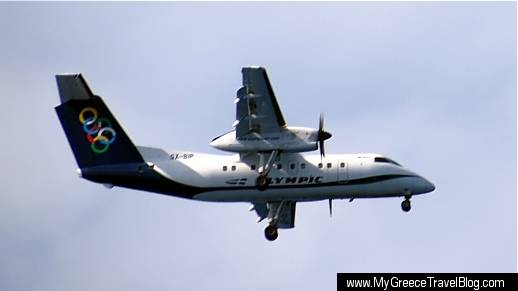 An Olympic Air Dash 8 100 aircraft soars above Mikri Vigla beach as it descends toward the Naxos airport one afternoon last October.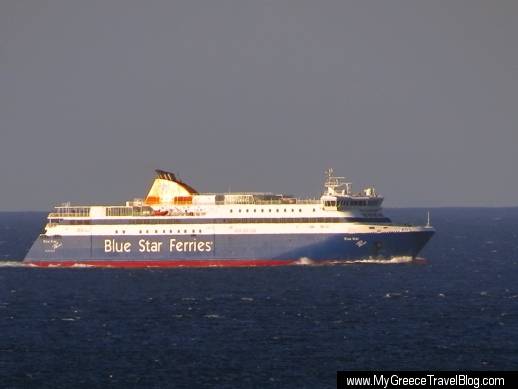 The Blue Star Paros passenger and car ferry approaches Naxos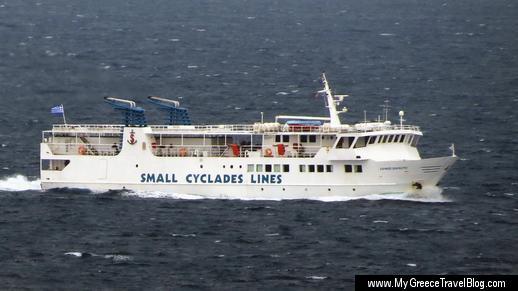 The Express Skopelitis ferry, operated by Small Cyclades Lines, links Naxos to Koufonissi, Schinoussa, Iraklia, Donoussa and Amorgos islands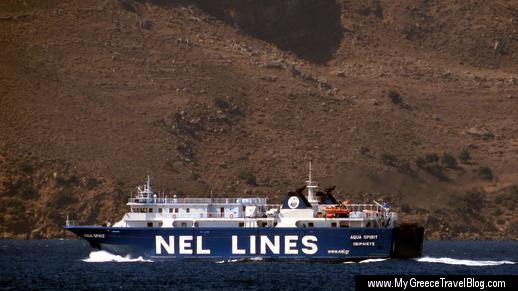 The NEL Lines Aqua Spirit passes Paros after departing Naxos. We rode this ferry from Ios to Naxos during our May 2013 vacation in the Cyclades.
2. There's a wide variety of accommodations
Naxos has accommodations to suit all tastes and budgets, from the Naxos Camping facility just outside of Naxos Town, to rooms, self-catering studios, basic hotels, boutique hotels, all-inclusive resorts, and luxury villas both in town, at beach resort areas, and elsewhere on the island.
Our favourite place to stay is Lianos Village Hotel, a complex of eight separate buildings of traditional Cycladic design surrounded by colourful landscaped grounds. We have stayed there three times, and will stay there again on our next trip to Naxos. Lianos Village is situated in the island's Stelida district, approximately 5 kilometers from the Naxos Town port, on a hillside overlooking gorgeous Agios Prokopios beach. The hotel's spacious swimming pool terrace and many of its rooms enjoy tremendous views of the southwest Naxos coast all the way to Mikri Vigla, as well as views of Paros, Ios, Iraklia, Sikinos and Folegandros islands.
We also have stayed at two other Stelida hotels: Hotel Kavos, which is just a short walk up the hill from Lianos Village, and at what is now called Naxos Magic Village, a 10-minute walk from Lianos on the east side of Stelida mountain. Known as the Naxos Beach II hotel when we stayed there nine years ago, it has wonderful views of Agios Georgios Bay and Naxos Town. We have also stayed in the Agios Prokopios resort area at Hotel Katerina, and in Naxos Town at Hotel Spiros.
Below are photos of those hotels, along with a few showing some of the many other accommodations on the island.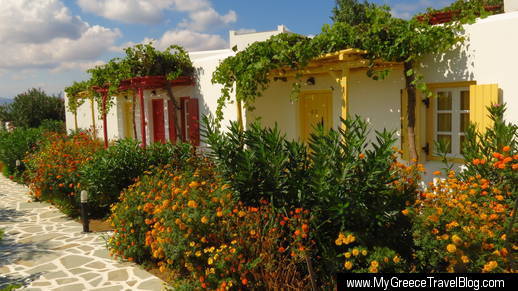 The buildings at Lianos Village Hotel are surrounded by landscaped grounds and colourful gardens bursting with plants, vines, herbs and flowers.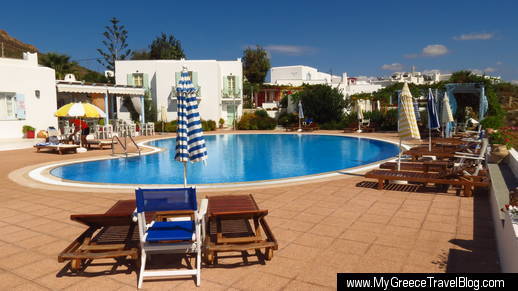 Lianos Village boasts a large swimming pool terrace with an outdoor bar. It's a great spot to soak up some sun or enjoy cocktails, coffee and light snacks.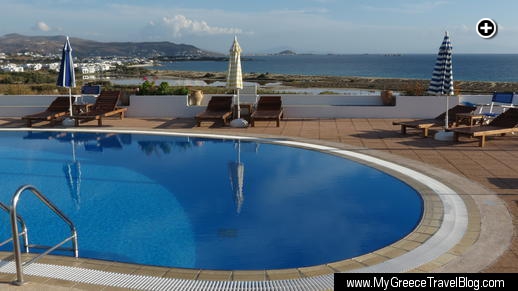 One of the features we love most about Lianos Village is its panoramic views of the Agios Prokopios area and the southwest coast of Naxos, along with nearby islands like Ios and Iraklia. Click the photo to view a full-size image.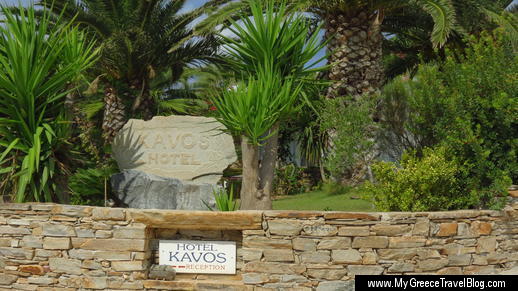 From the road out front of Hotel Kavos, passersby see more of the hotel's palm trees and lush landscaping than they do of the rooms and public areas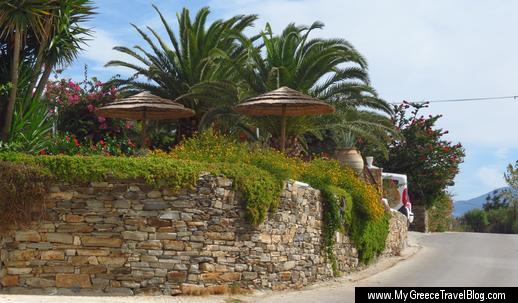 Street view of Hotel Kavos. The palm trees and umbrellas indicate the location of the hotel's sea-view swimming pool terrace.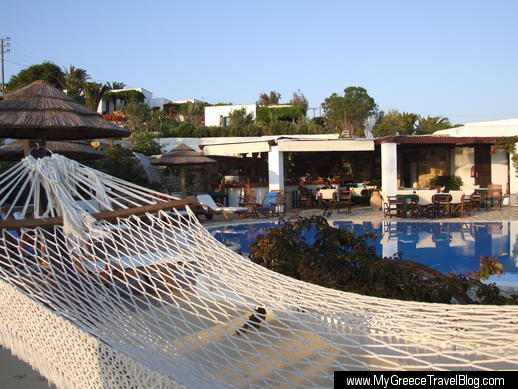 This is a photo we shot during our stay at Hotel Kavos in early June 2006. It's a view of the swimming pool, bar and dining area. The hotel's restaurant is open to the public, by the way, and serves delicious food.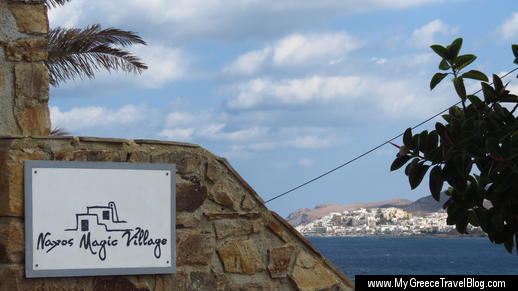 Formerly known as Naxos Beach II Hotel, Naxos Magic Village was where we stayed during our first visit to Naxos in 2005. The hotel has wonderful views of Naxos Town on the far side of Agios Georgios Bay.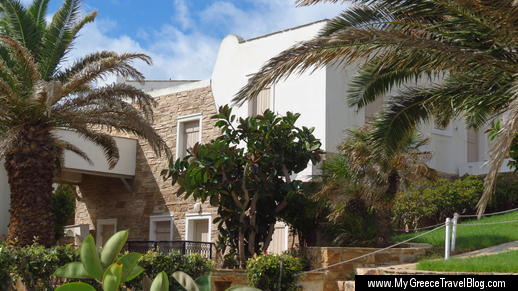 A view of the building in which our room was situated at Naxos Magic Village. The rustic studio had a kitchenette, a separate bedroom, and French doors that opened onto a terrace with views toward Naxos Town.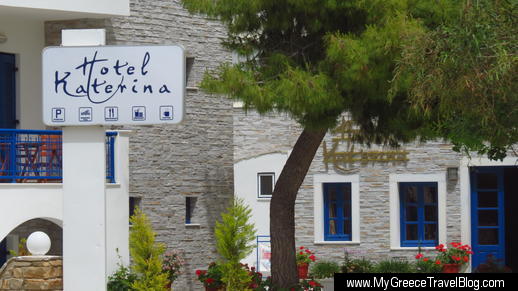 Hotel Katerina is situated in a quiet spot in the Agios Prokopios resort area, just a 3-minute walk to the beach, shops, bars and tavernas.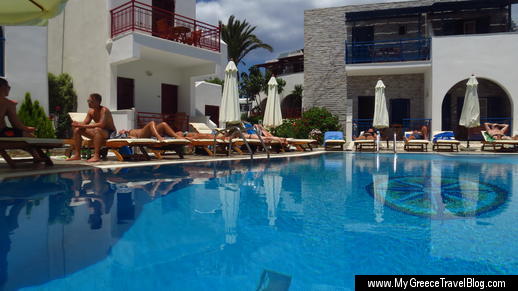 The swimming pool at Hotel Katerina. We shot this photo from the hotel's outdoor breakfast and bar terrace next to the pool.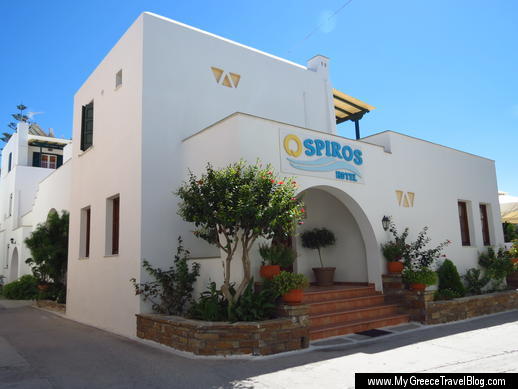 Hotel Spiros is situated in Naxos Town a short stroll from Agios Georgios beach. We stayed in one of their large kitchenette-equipped studios in October 2013.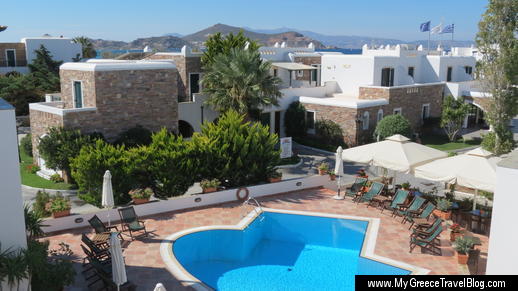 The terrace outside our room at Hotel Spiros gave us this view of the hotel swimming pool, the Naxos Resort next door, and Stelida mountain in the distance.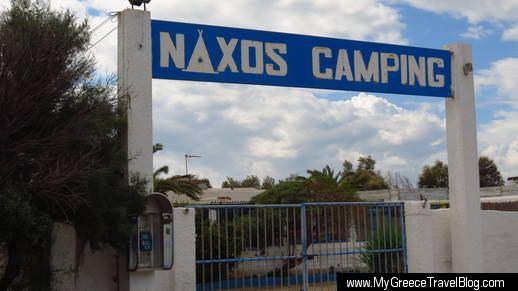 The entrance gate to Naxos Camping. Situated a short walk from Naxos Town, Naxos Camping has offered full-service campsite facilities since 1981.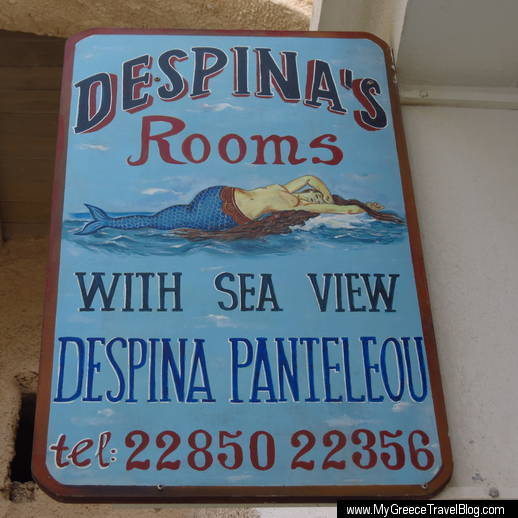 A sign for Despina's Rooms, which offers basic and inexpensive accommodation in the historic Old Town district in the heart of Naxos Town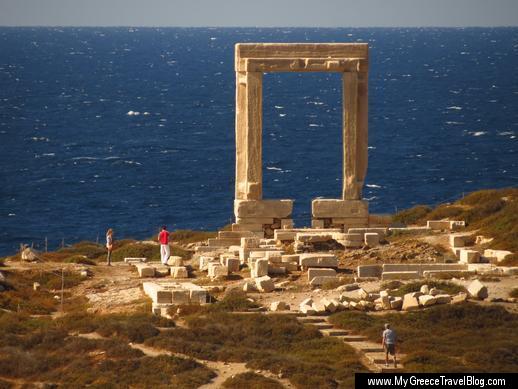 Some of the rooms at Despina's have views of the Naxos Town castle, while others have a sea view. I shot this pic from Despina's rooftop terrace.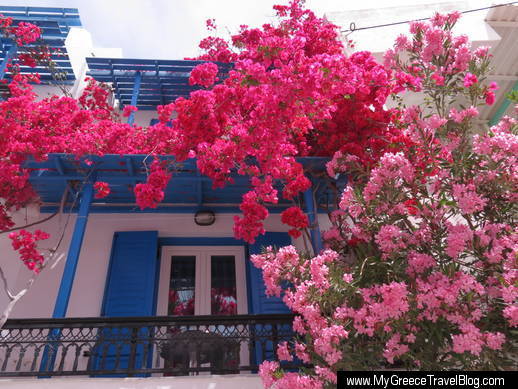 Studios Panos is situated on a side street of Naxos Town near Agios Georgios beach. Its bougainvillea-shrouded balconies make the property one of the most colourful in the area. Studios Panos has studios and apartments that accommodate from 2 to 5 guests.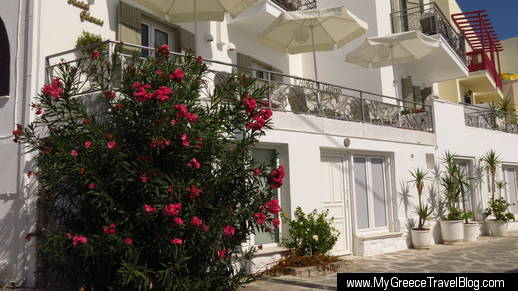 Hotel Glaros is just a few steps from Agios Georgios beach in Naxos Town. The rooms in this boutique hotel boast luxurious bathrooms — some of the best we have ever seen in the Greek Islands.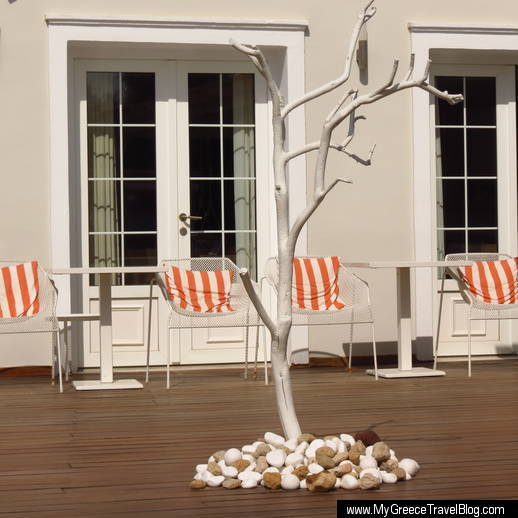 A "tree" on the front ground-floor terrace at the Nissaki Beach Hotel at Agios Georgios beach in Naxos Town.  In October we met a couple from France who were staying at this 4-star hotel; they highly recommended it.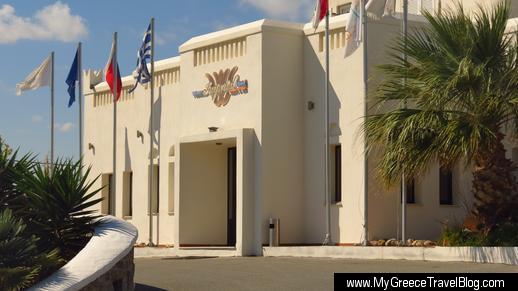 The Naxos Imperial Resort is situated in Stelida, just a couple of minutes' walking distance from Agios Prokopios beach. It bills itself as a 5-star all-inclusive resort.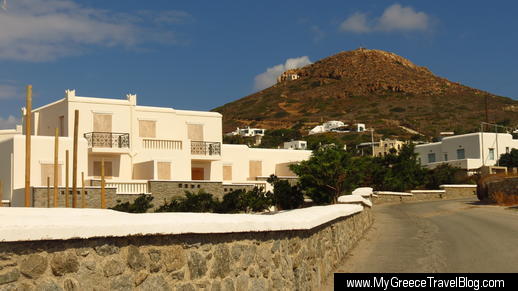 A view of Stelida Mountain and one of the buildings at Naxos Imperial Resort. The resort had already closed for the season when we arrived at Naxos on September 30; we saw staff sealing the windows and balcony doors for the winter.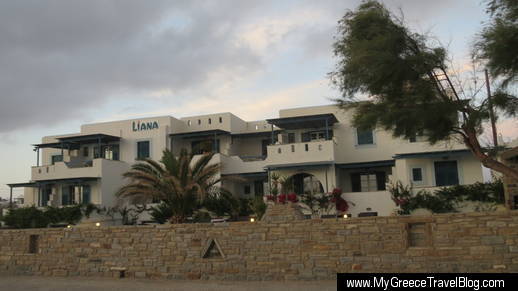 Liana Hotel at Agios Prokopios beach was booked solid when I tried to find rooms in May and October 2013. The hotel has a ground-level glass-enclosed bar that offers excellent views of the beach and sunsets.
3. Ideal for travellers of all ages & lifestyles

Naxos is an ideal destination for solo travellers and couples, families and groups, and for children, seniors and everyone in between.
During our stay at Hotel Katerina last May, most of the guests were couples in their 20s or 30s or over 50 years of age, but there was also at least one solo traveller and a couple of families with children. During our stay at Lianos Village in October, all of the guests were adults over 30. They included a dozen mountain bike enthusiasts participating in a group riding tour of the island, plus a smaller group of seniors who took guided hikes and walks every day. Guests at Hotel Spiros in October included a mix of couples aged 50+ along with one family represented by three generations — parents, children and grandparents.
Best beaches for families with young children are Agios Georgios right at Naxos Town, and Agia Anna on the west coast between Agios Prokopios and Plaka. The Aqua Fun Water Park in Stelida, on the road to Agios Prokopios, is a popular destination for families, while an arcade on the main waterfront street of Naxos Town has rides for toddlers plus games and other amusements for kids of all ages.
By the way, Naxos also is popular with holiday makers who enjoy getting an all-over tan. Naturists (mainly seniors from Germany and other countries in Europe) flock to the north half of Agios Prokopios beach (away from the family area), to a small beach at Cape Agios Nikolaos (between Agia Anna and Maragas), and to parts of Plaka beach.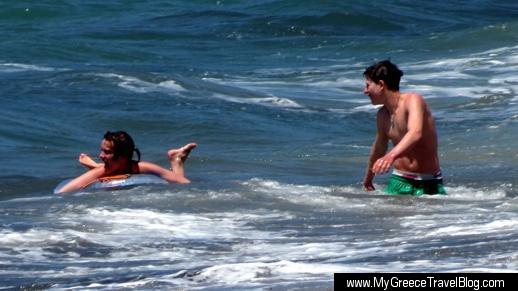 A couple in their early 20s has a swell time in the big waves at Agios Prokopios on a windy afternoon in May 2013.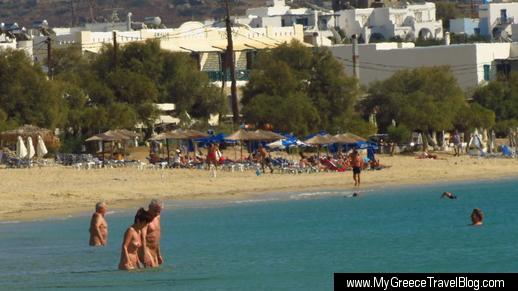 Nudists wade in the turquoise sea off Agios Prokopios beach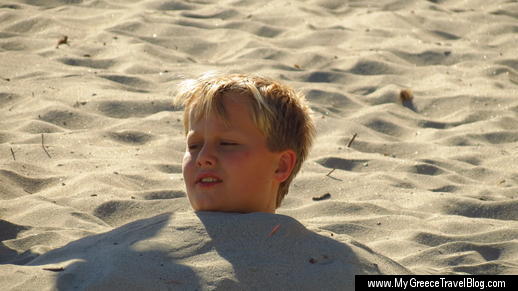 Heads up! A little boy is stuck in the soft sand after his siblings buried him while playing on Parthenos beach at Mikri Vigla.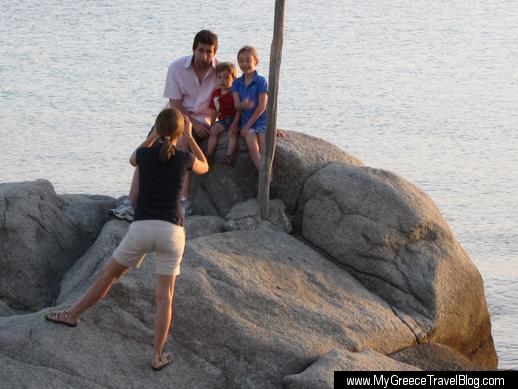 Family photo time on a rock outcropping at Agios Prokopios beach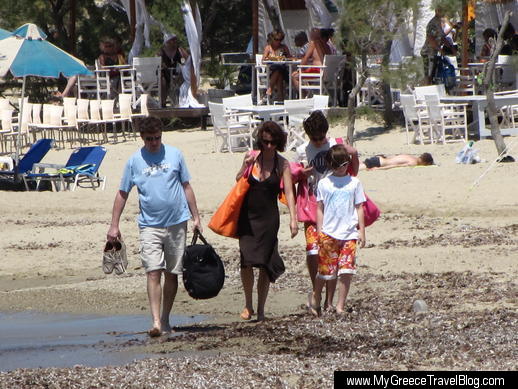 A family walks over sea grass that waves swept ashore on Agios Georgios beach at the edge of Naxos Town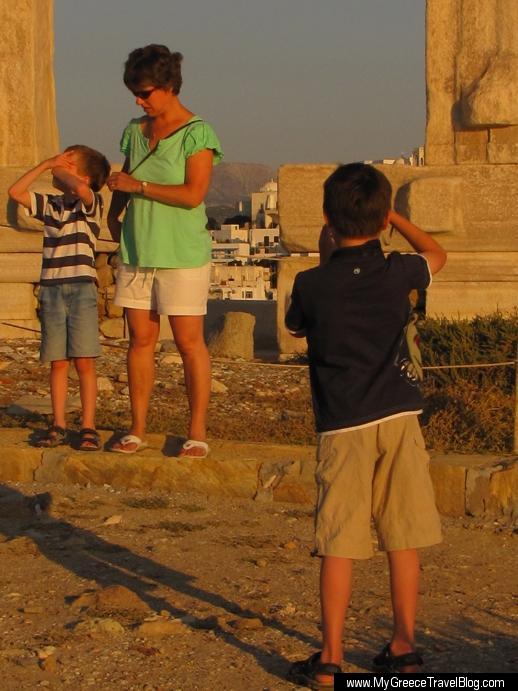 A youngster doesn't want to pose for a family picture during a sunset visit to the Portara monument
4. Historic Chora is a fascinating place to explore

Most visitors arrive at Naxos by ferry, disembarking at one of the two quays in the sizable port at Naxos Town (also known as Chora) — the island's main commercial and tourist centre. One of the most alluring and interesting towns in the Cyclades, it boasts a bustling waterfront paralia (promenade) lined with colourful shops, restaurants and bars, plus an historic hilltop castle and Old Town district featuring a labyrinth of twisting cobblestone lanes, sheltered passageways and quiet courtyards that are interesting and fun to explore day or night.
We have walked through Naxos Town dozens of times and have constantly been delighted to discover places we've never seen or noticed before. Tucked into the narrow alleys are museums, churches, art galleries and artisan studios, bookshops, clothing stores, souvenir stands, cocktail bars, wine bars and coffee houses, dessert and sweet shops, traditional Greek tavernas, and restaurants specializing in French, Italian, Spanish and other international cuisine.
Taking a long walk through Naxos Town is a must-do activity. Be sure to visit both in daytime and again at night — in the evening, the Old Town takes on a whole new look and immensely charming atmosphere when numerous shops, bars and restaurants that stay closed during the day throw open their doors, turn on their lights and play soft music to welcome customers and sightseers.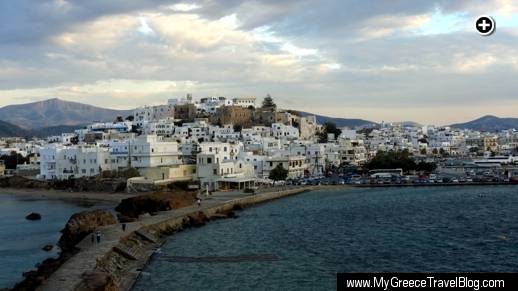 Naxos Town, as seen from the peninsula where the Portara is located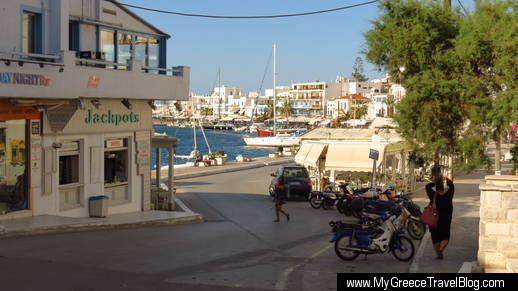 Approaching the south end of the long Naxos Town waterfront paralia from Papavasiliou Street, one of the town's principal business thoroughfares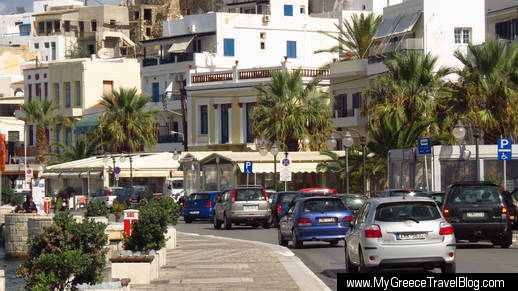 Akti Protopapadaki is the street that runs the length of the Naxos Town waterfront. The town side features a pedestrian promenade lined with shops, tavernas, banks and travel agencies, while marinas and the Naxos port occupy the sea side.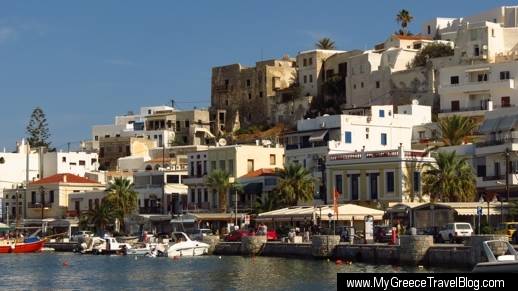 A view of the castle and Old Town on the hill above the waterfront
There are plenty of places to sit and watch the action on Akti Protopapadaki street as well as at the sailboat and yacht marina across the road.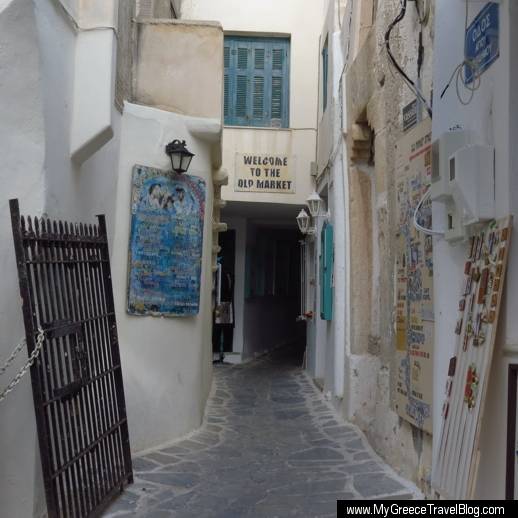 An entrance to the Old Market district of Naxos Town
A map for some of the Old Town's most popular cafés and galleries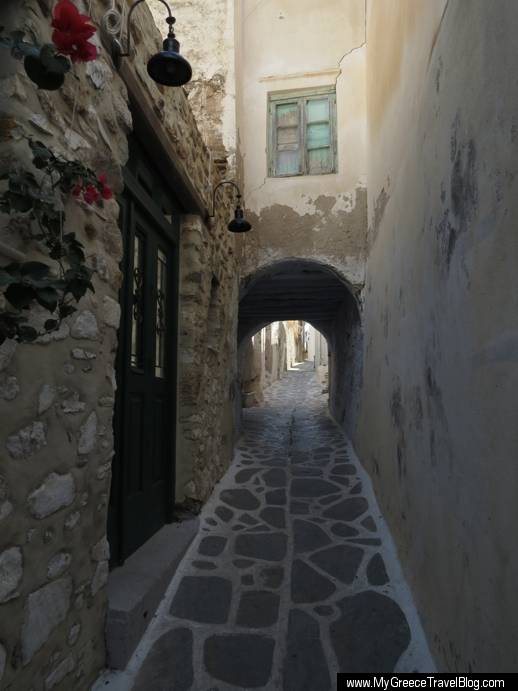 A flagstone-paved lane in the centuries-old Kastro (castle)
5. You can visit delightful mountain villages and scenic settlements
There's plenty of things to see and do in Naxos Town, but travellers should make a point to visit some of the island's mountain villages and small settlements, too, to get a glimpse of  traditional Greek life and the enthralling Naxos countryside. The mountain and valley villages include Chalki, Filoti, Apeiranthos, Koronos, Damarionas, Moni, Keramoti, Skado, Koronida and Mesi, while Apollonas is a scenic fishing settlement near the northeastern coast  tip of Naxos. Visitors can spend some time on the beach there, or hike to view the famous Kouros of Apollonos — an unfinished 11-meter sculpture dating to the 6th Century B.C. And whether you take a rental vehicle to reach the villages, or ride one of the local buses, you'll be treated to beautiful countrysides and spectacular scenery all along the way.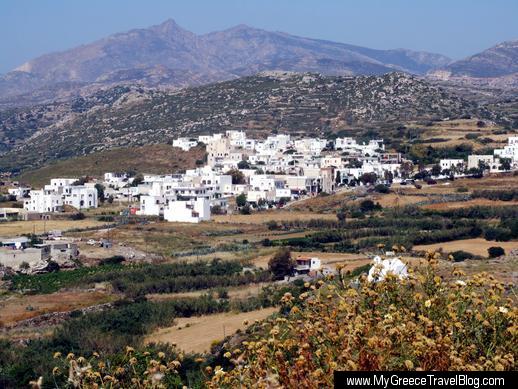 A village in the lower hills above Naxos Town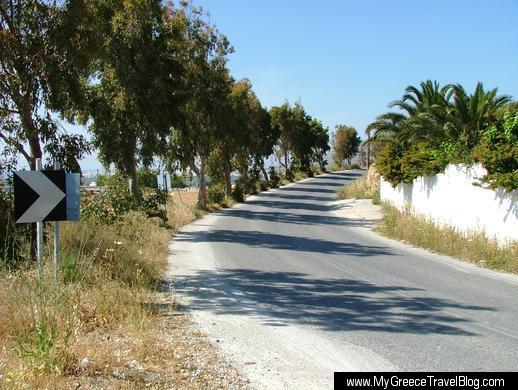 Trees cast shadows on a curve in the road near Glinado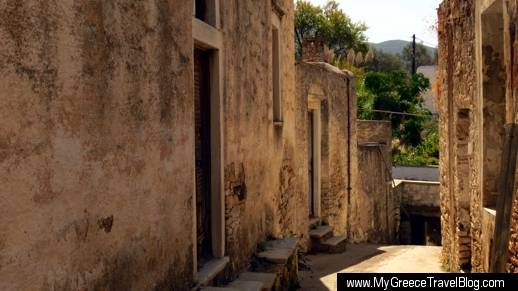 Rustic buildings along a narrow street in Chalki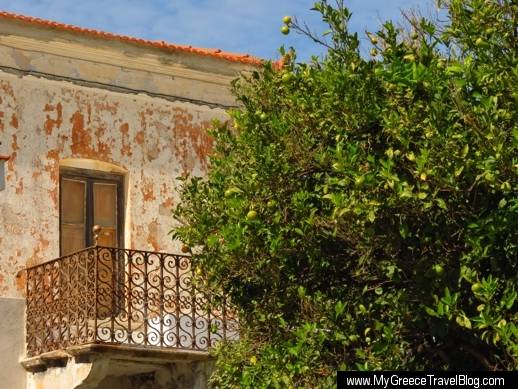 A citrus tree rises near an ornate balcony on a house in Chalki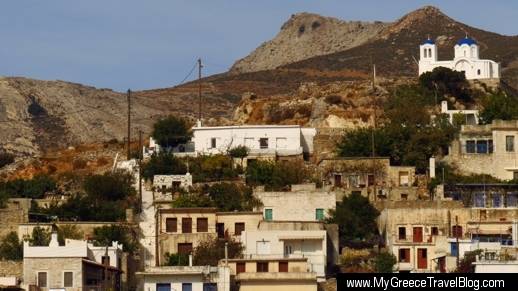 A church and houses on one of the steep mountain slopes at Filoti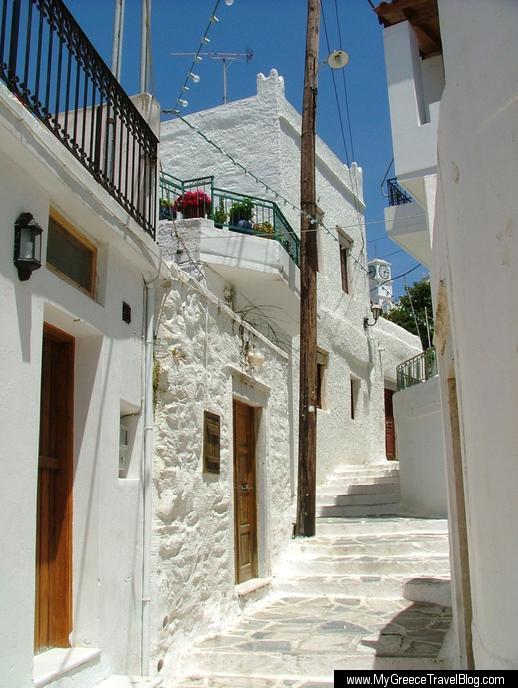 Whitewashed homes line a hillside street in Filoti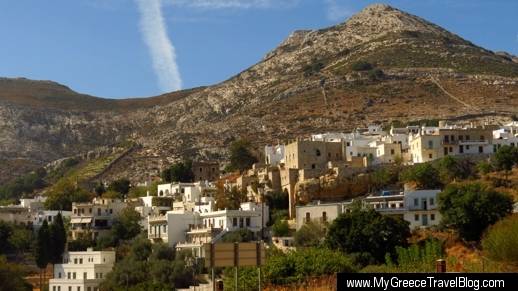 Apeiranthos is frequently referred to as "the marble village" because so many of its streets and squares are paved with or constructed from marble. Apeiranthos has four museums  — Archaeological, Geological, Folk Art and Natural History — which you can visit with the purchase of one €2.50 admission pass.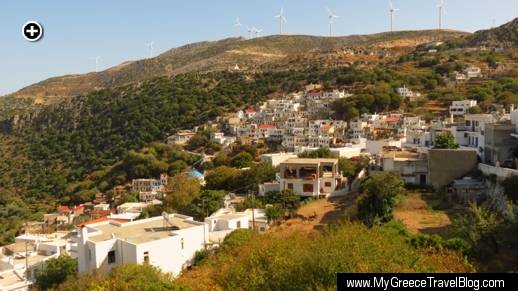 Part of Koronos, which descends deep into a horseshoe-shaped valley. Click the photo to view a larger image.
Skado village is walking distance from Koronos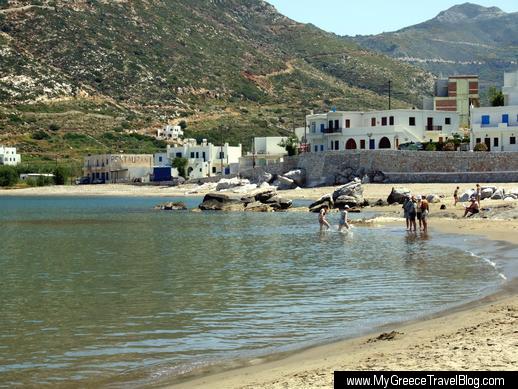 The beach at Apollonas, a fishing village near the northeast tip of Naxos
6. Naxos abounds with history, archaeology & monuments
History buffs will be in their element on Naxos, where they can visit numerous museums, monuments, Byzantine-era churches and archaeological ruins both in Chora and at various locations scattered around the island.
Four of the most popular attractions in Naxos Town are the Castle (which dates to 1207), the Venetian Museum, the Archaeological Museum and the Portara, but there's much more to see by venturing farther afield (especially if you have a rental vehicle at your disposal). Top historical attractions include the Temple of Dimitra near Sangri, the Temple of Dionysus in Iria, the two Kouroi statutes near Melanes and one Kouros sculpture at Apollonas, the Tower of Cheimarros on the lower slopes of Mount Zas, the Gyroulas Archaeological Museum at Sangri, and the remarkable Panagia Drosiani, a Christian church dating to the 6th Century.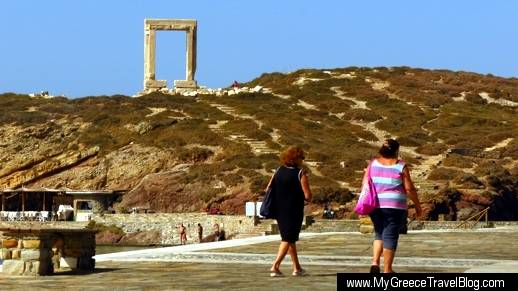 The Portara, the Temple of Apollo monument, stands sentry atop a hill on a peninsula a short walk from the Naxos Town port area.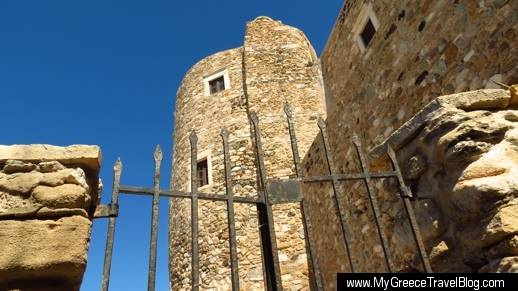 The medieval castle of Naxos Town dates to the early 1200s and is home to Venetian-era mansions, a Catholic cathedral, and the Venetian museum.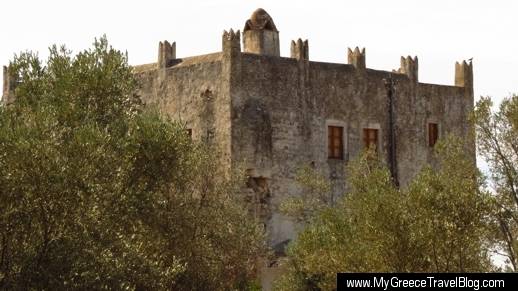 The Venetian-era Tower of Gratsia at Chalki village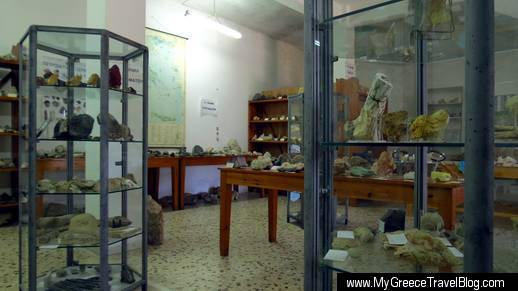 Inside the small Geological Museum in Apeiranthos. Some of the rock and mineral samples on display are utterly amazing.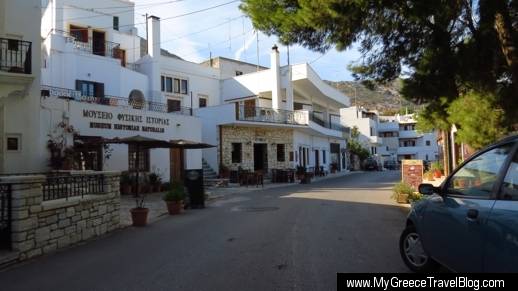 The Natural History Museum is just steps from the bus stop in Apeiranthos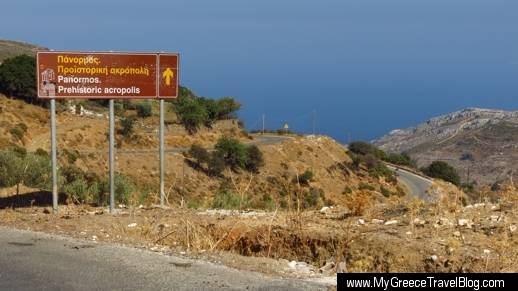 A sign on a road near Apeiranthos points the way to Panormos, the prehistoric Acropolis on Naxos
7. Good food and a tremendous variety of restaurants
After visiting villages, museums and monuments, touring the island or swimming at the beautiful Naxos beaches (more about those coming up), you're bound to build up a hefty appetite.  Deciding where to go for breakfast, lunch or dinner could be a daunting challenge, since there are scores of good tavernas and restaurants all over the island. There are tavernas and cafés almost the entire length of Akti Protopapadaki street on the Chora waterfront, with many more in the Old Town district and throughout Naxos Town. Beach resort areas such as Agios Prokopios, Agia Anna and Plaka also boast good selections of restaurants, as do each of the mountain villages. In fact, most beaches have at least one taverna serving drinks and traditional Greek cuisine.
Best of all, the prices are just as good as the food — very wallet-friendly. Many restaurants even offer one or more daily meal specials that include a glass of wine, a salad and another dish for less than €10 per person. (On Mykonos, by comparison, you would pay that much just for a Greek salad at one of the more affordable restaurants on that island.)
Below are photos of some of the restaurants and tavernas where we dined in May and October 2013, along with other places we passed by but didn't get a chance to try.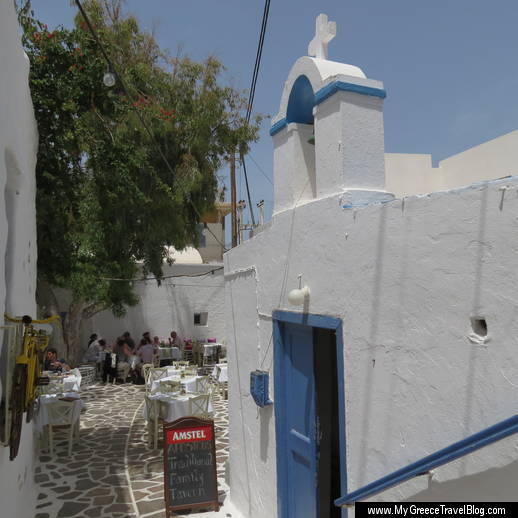 Apostolis Taverna has a quiet courtyard dining terrace tucked behind a church in the Old Market district of Naxos Town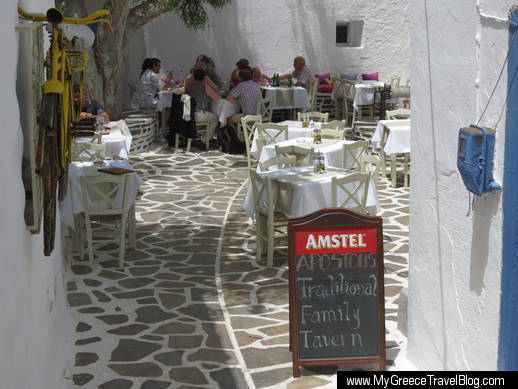 Apostolis is easy to spot if you keep your eyes peeled for the mustard- yellow bicycle mounted on the wall next to the courtyard entrance steps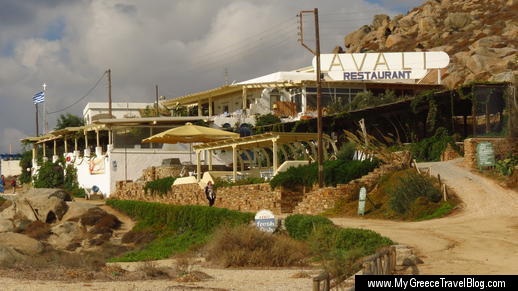 Avali taverna is situated on the hill at the northwest tip of Agios Prokopios beach. Its dining terraces have terrific views of the entire beach and bay. We had dinner here in October and liked the grilled vegetables and grilled chicken.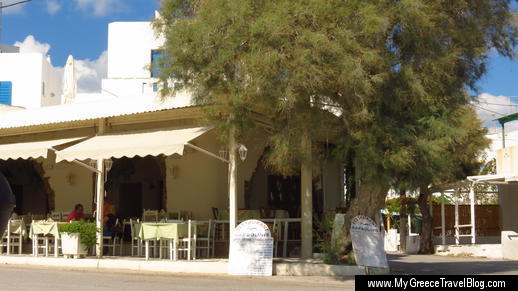 Barbounis Taverna is situated on the busy corner next to the bus stop at Agios Prokopios beach, and offers a typical menu of traditional Greek dishes. We felt satisfied with the Greek salad, moussaka and stuffed tomatoes.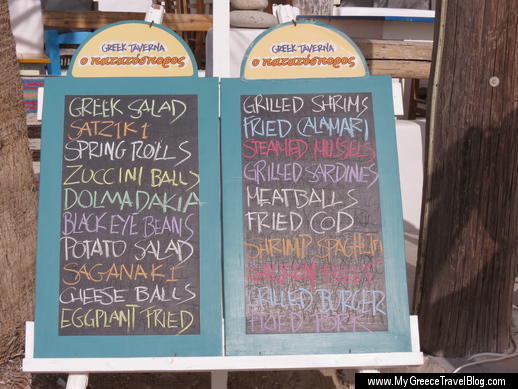 A chalkboard menu outside Patatosporos Ouzeri at Agia Anna beach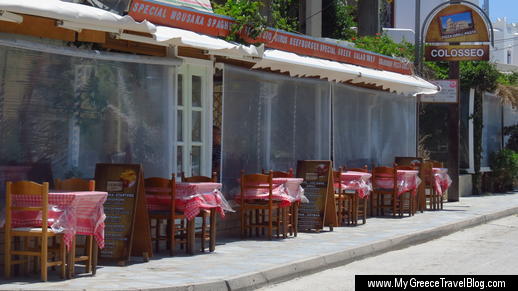 Colosseo restaurant at Agios Prokopios is popular for its pizzas and Italian dishes.  We had two delicious pizzas here in October — the Greek (topped with feta, of course), and the Colosseo Special (ham, sausage, bacon, pepperoni, tomatoes and mushrooms).  You can see some videos and more photos of the restaurant on Colosseo's Facebook page.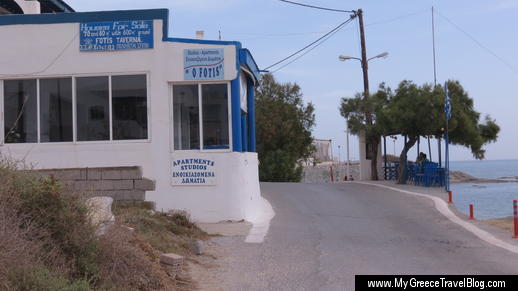 We dine at Taverna O Fotis at least once whenever we visit Naxos. It's situated at the southern end of Agios Prokopios and specializes in grilled meats and fish. We love their eggplant dip and bacon-wrapped chicken souvlaki, and particularly enjoy sitting at one of their sunset-view tables under the tree across the road from the restaurant. See my March 26 2012 post for more on Fotis Taverna.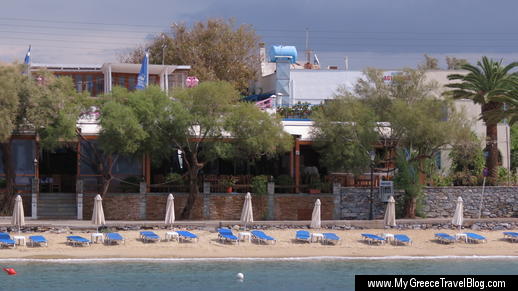 Blue sunbeds are lined up in a row on Agia Anna beach in front of Gorgona Taverna. Dimitrios and his immensely energetic wife Koula have been operating this popular restaurant for more than 25 years. The home-cooked Greek food is superb, and the portions are large and very reasonably priced. Be sure to arrive hungry! Gorgona has a huge dining room that can comfortably accommodate large groups; the night we dined there in October, three parties of more than a dozen people apiece came in. We can recommend the mixed vegetables, moussaka, stuffed green peppers and giant beans.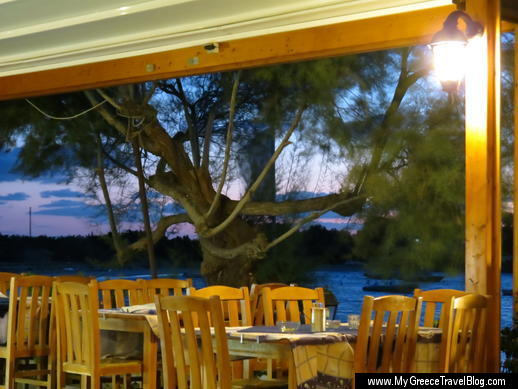 The wide, tall windows at Gorgona Taverna slide open to give diners great views of the bay and small harbour at Agia Anna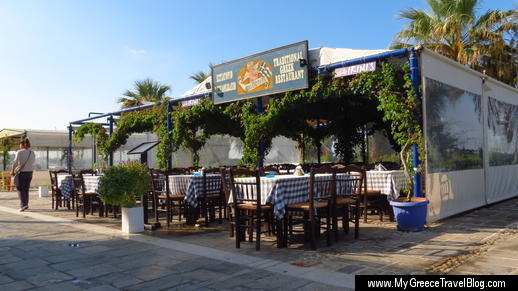 Irini's estiatorio is on the waterfront strip in Chora, close to the KTEL bus depot and the ferry port. Irini's serves hearty portions of traditional Greek dishes. We had their spicy meat balls, stuffed eggplant, fish croquettes with skordalia, and Naxian fried potatoes when we dined with a friend one night in October.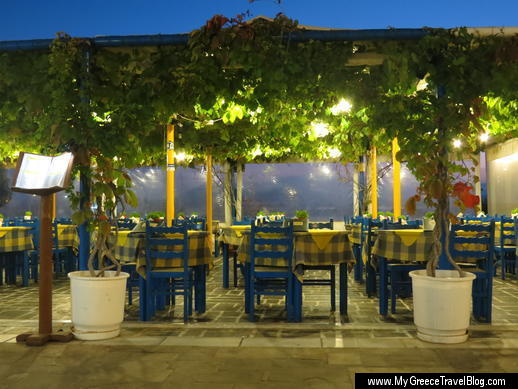 The outdoor dining terrace at I Kali Kardia (The Good Heart) taverna on the Naxos Town waterfront paralia. We ate here the final night of our Naxos holiday in October. The stuffed peppers and tomatoes were scrumptious, and we absolutely loved the roasted goat in red sauce. In fact, the goat was so good we ordered a second serving — for dessert!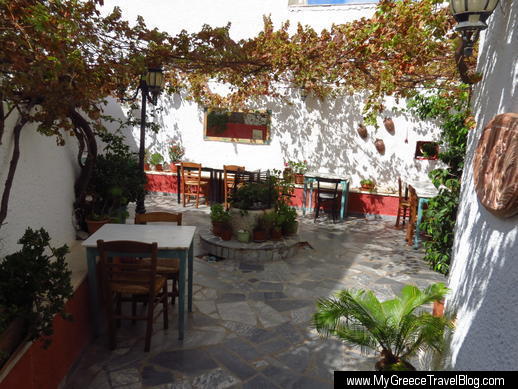 Labyrinth Restaurant & Wine Bar in the Old Town has an interior dining room as well as this pleasant outdoor courtyard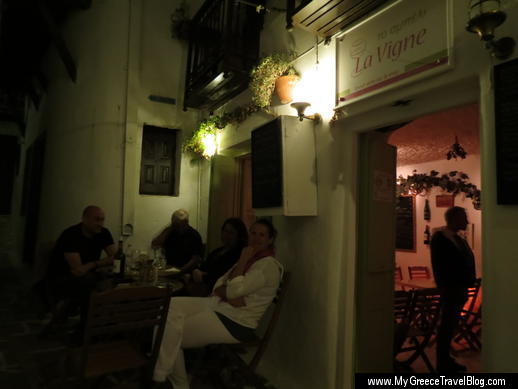 La Vigne French Wine Bar in the Old Town area of Chora. An intimate, cozy space, La Vigne is a wine bar and shop, not a restaurant, but does offer appetizers, mezes, light dishes and desserts. The food selection changes daily and according to the season.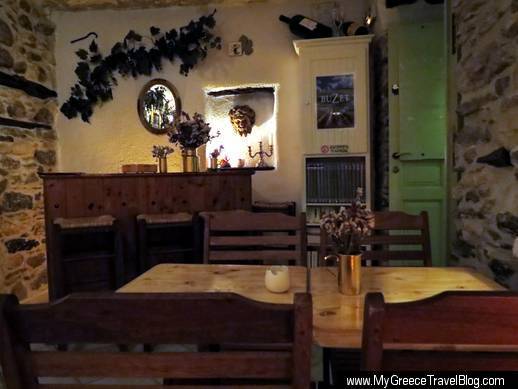 Part of the interior of La Vigne French Wine Bar.  We thoroughly enjoyed the relaxed, romantic ambience, the congenial staff, the superb wine (Bergerac 2009 Merlot – Cabernet Sauvignon – Malbec as well as  L'Instant Truffier 2009 Malbec, both sold by the glass) and the outstanding cuisine (aubergine and kefalotiri cheese bruschetta; the Brandade de Morue cod and potatoe purée; and the Colombo of Chicken Fillet with coconut cream and basmati rice. A divine dessert — a light and fluffy lemon meringue cake (yes cake, not pie!) — topped off a truly delectable and memorable meal.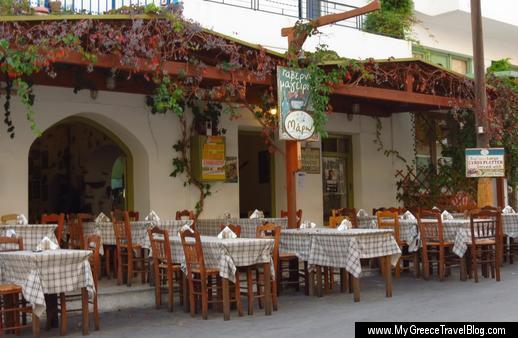 Maro Taverna in Naxos Town is popular with tourists as well as locals. We had a nice lunch here in October — chickpea balls and an Apeiranthos potato salad (a warm salad of Naxian potatoes and surprisingly piquant red onions).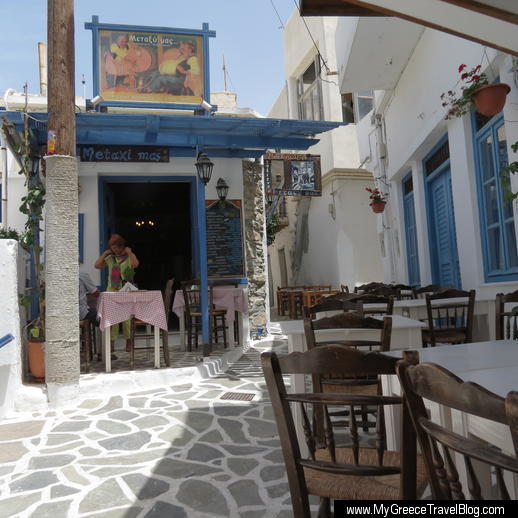 Metaxi Mas, a mezedopolio (finger food) restaurant in the Old Town, is a favourite hangout for many regular visitors to Naxos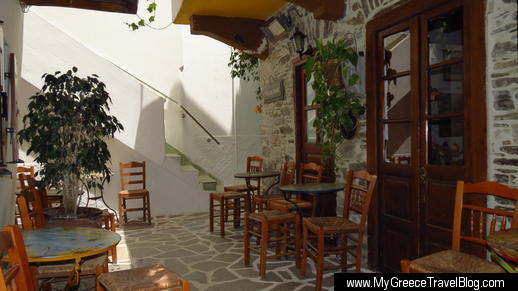 Outdoor seating at Naxos Café in the Old Town. This charming café-bar has an inviting rustic interior to match the front terrace. If you like to relax with a drink in a comfy, warm place packed with character and ambience, be sure to drop by Naxos Café in the evening.
You can't miss Paradiso Taverna at Maragas beach, between Agia Anna and Plaka. The bus stops out front, and the restaurant has tables under a tree right on the beautiful beach. The food is delicious. We had two different stuffed eggplant dishes (papoutsakia) one day and loved both of them, and I thought the fried Naxos potatoes were fantastic. Paradiso serves a great Greek salad, too.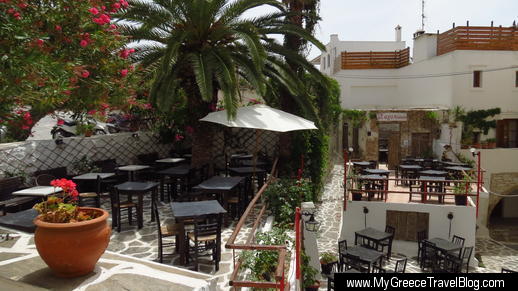 Multi-level outdoor dining terraces at Sagapwww in the Old Town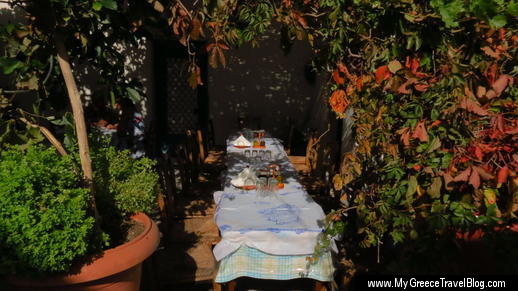 Sunshine illuminates a long table on the vine-sheltered outdoor dining terrace at Taverna Platsa Matina & Stavros in Koronos village. The taverna is worth a visit just to take a peek at its sublime setting. We've been told the food is exceptional. Unfortunately, we didn't have time for a meal since we had to catch the last bus back to Naxos Town. Matina & Stavros is on our "must visit" list for next time.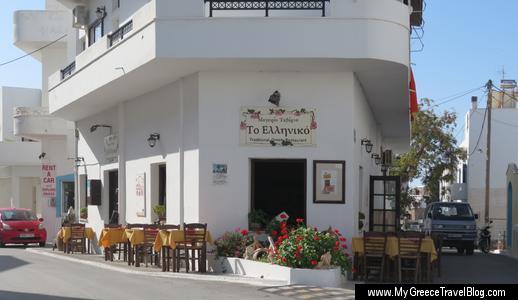 To Elliniko Taverna in Naxos Town was only a short walk from Hotel Spiros, where we stayed during part of our 2-week vacation in October. We ate here twice and had excellent meals both times. Veal in tomato sauce, fried sole filet, lamb in tomato sauce, oven roasted stuffed peppers and horta — yum!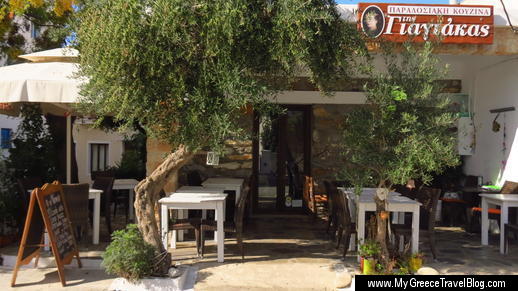 Yiayiaka's Kitchen in Naxos Town has tables out front, an interior dining room, and a rear courtyard. We ate here in October, and were impressed with the flavourful curry vegetable risotto, the Naxian pork sausages, the zucchini balls and the fried potatoes. The portions were enormous and we couldn't finish everything, a huge surprise since it's rare for us to leave food on our plates. The staff wrapped the leftovers so we could take them back to our hotel to eat another time.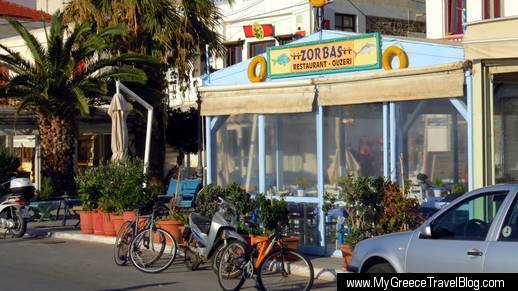 Zorbas Restaurant & Ouzeri on the waterfront at Naxos Town. We didn't dine here, but other guests at our hotel did — and said their meals were wonderful.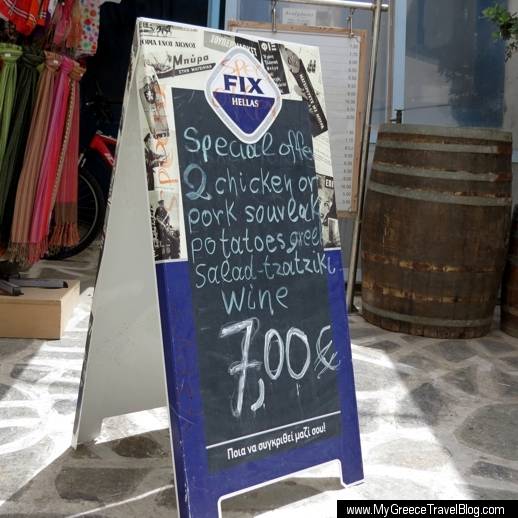 What a bargain! A sandwich board sign advertises a special meal combo offered by a taverna in the Old Town area of Chora. Dining out on Naxos is amazingly affordable.
8. Hiking, sports & recreation
Naxos is a walker's and hiker's paradise, with countless trails and paths traversing coastal areas, valleys and mountainsides. Guided private tours are available from numerous providers, or visitors can develop their own itineraries with the assistance of directions provided in the Naxos chapter of the website Walking, Hiking and Trekking in Greece, along with detailed island maps sold at places like the acclaimed Zoom bookstore on the Naxos Town waterfront.
Naxos also is a dream destination for water sports enthusiasts, with sailing, windsurfing, kitesurfing, diving, canoeing and water skiing among the most popular activities. Instruction is available at water sports centres at Agios Georgios beach next to Naxos Town, and at Mikri Vigla beach. Horseback riding and mountain biking are two other popular pastimes, while the Aqua Fun Water Park in Stelida and the Heart Rock Kartodrome near Galanados provide more opportunities for more outdoor family fun.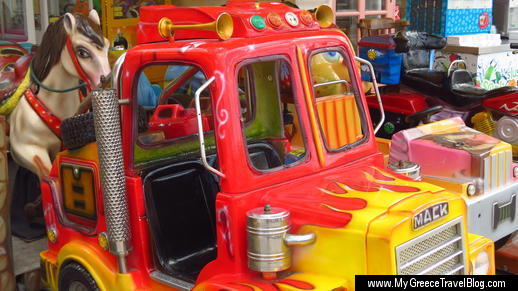 An amusement arcade on the Naxos Town waterfront offers kiddie rides and an extensive variety of games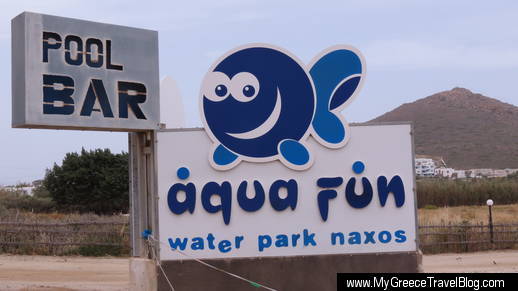 The Aqua Fun Water Park in Stelida has waterslides and swimming pools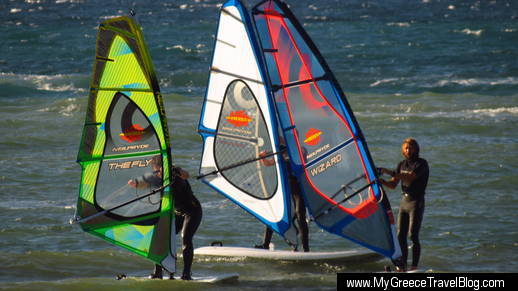 Windsurfing instruction and equipment rentals are available at several beaches on Naxos. These novices are learning the sport at the Flisvos Sportclub at Agios Georgios beach.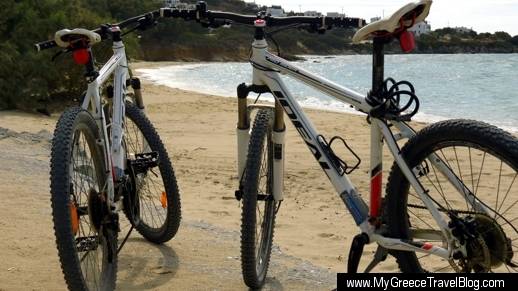 We rented these mountain bikes for a day so we could ride to beaches along the southwest coast of Naxos. We took this photo during a brief rest stop at the end of Plaka beach, near Orkos.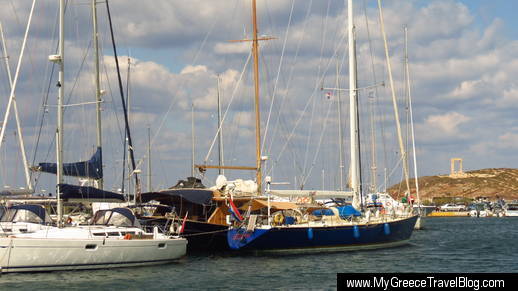 Sailboats at the Naxos Town marina, within view of the Portara monument (right). Sailing is a popular sport on Naxos, and private yacht charters and sailboat excursions to nearby islands and areas along the Naxos coast are available for tourists who want to spend some time at sea. Among the tour operators is George Fragiskos Yacht Charter, which offers day trips to the Rina Cave and Kalandos Bay on Naxos, to Koufonissi and other Small Cyclades islands, to Delos and Rinia islands near Mykonso,  and to nearby Paros.
Snorkeling and scuba diving are popular on Naxos. Blue Fin Divers offers instruction for beginners as well as diving excursions to shipwrecks, reefs and sunken airplanes for certified divers. This is a beginner class at Agios Prokopios.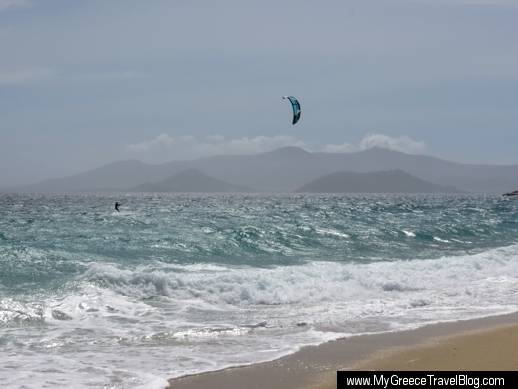 We watched several kite surfers, like this one off Agios Prokopios beach, during an extremely windy day in May. Mikri Vigla is perhaps the best place on Naxos to see expert kite surfers and windsurfers show their skills.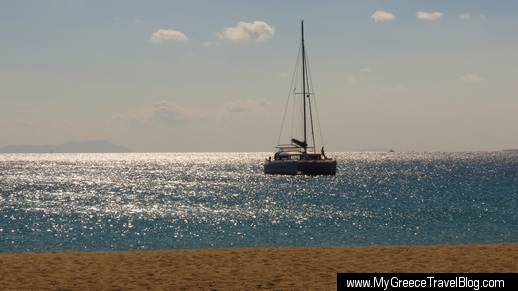 A catamaran at anchor off Agios Prokopios beach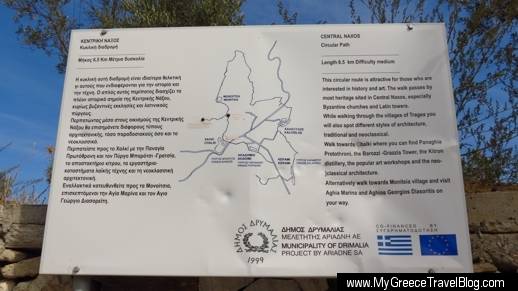 Naxos has an extensive network of walking paths and hiking trails. This sign, at Chalki village, illustrates the Central Naxos walking route.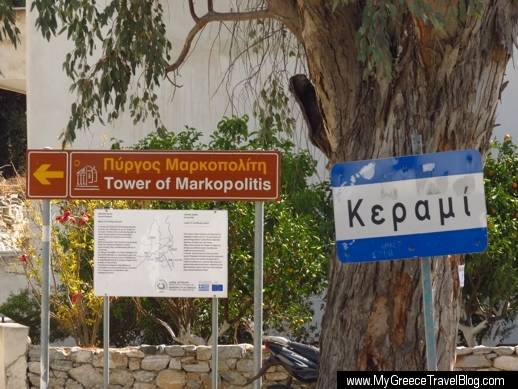 Another sign indicates a walking route at Kerami village — as well as the location of one of the island's historic sites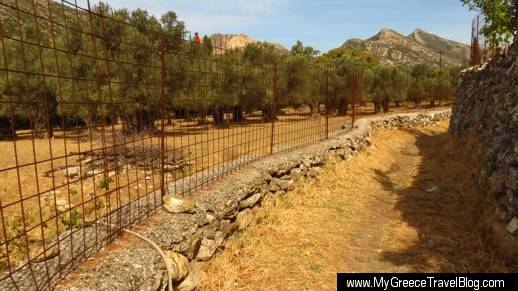 This footpath winds past a large olive grove outside of Chalki village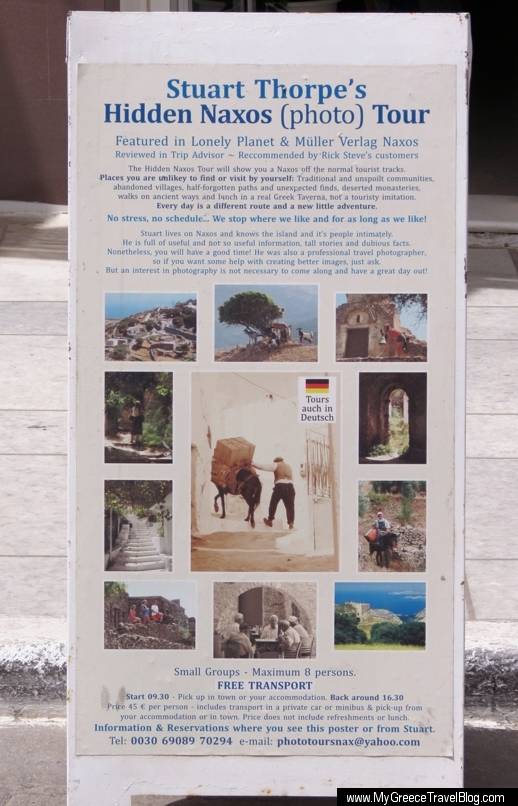 Walking tours are available from many different providers including professional photographer Stuart Thorpe, whose Hidden Naxos Tours have received stellar reviews on TripAdvisor.com.
9. Scintillating scenery, sights and sunsets
Practically everywhere you go on Naxos, you'll see something you'll want to photograph or videotape. But photos simply don't do justice to this immensely beautiful island. You really must see the spellbinding scenery, sights and sunsets in person.
The photos below are just a tiny sample of what you will see if you walk, cycle, drive or ride a bus on Naxos. You never have to travel far to see stunning natural landscapes that just might take your breath away.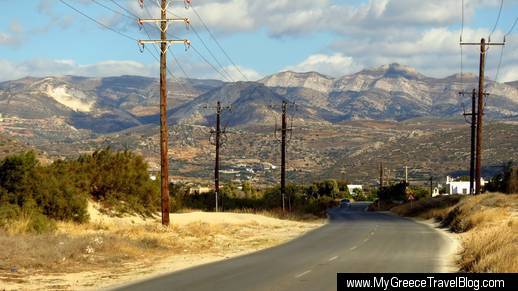 Mountains provide an impressive backdrop to the long stretch of highway between Stelida and Naxos Town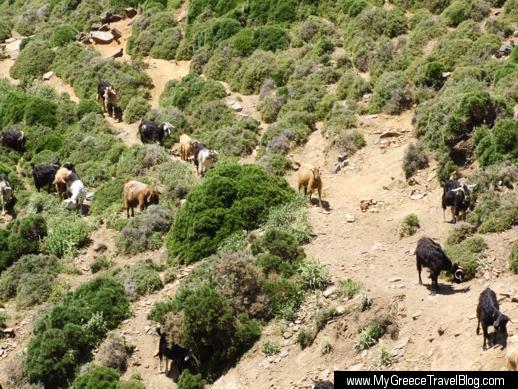 A herd of goats grazes on a hillside near Keramoti village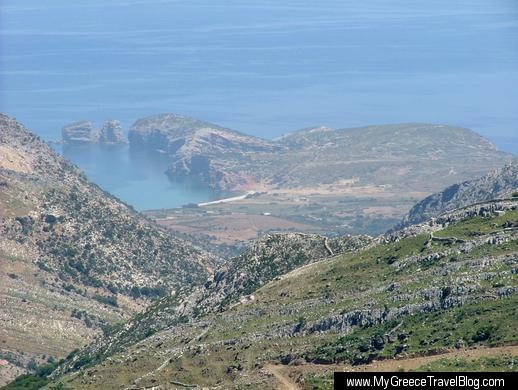 Looking toward the Moutsouna area on the east coast of Naxos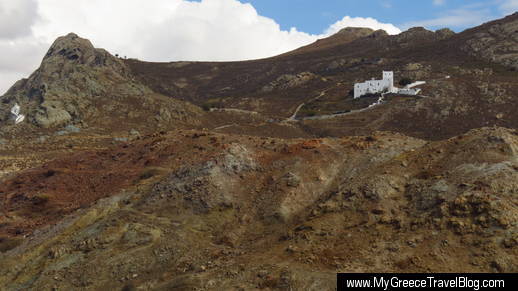 A church (upper left) and a monastery cling to the side of the rugged mountain behind Naxos Town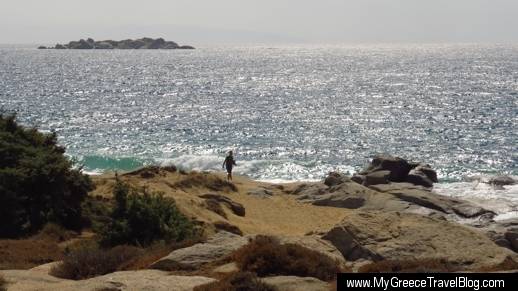 Sunshine sparkles on the sea at Cape Agios Nikolaos near Agia Anna beach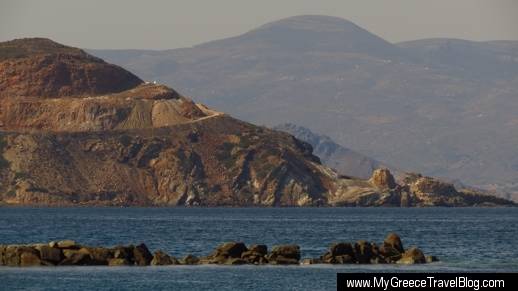 A view of Stelida mountain (foreground) and Paros island, from Agios Georgios beach on the outskirts of Naxos Town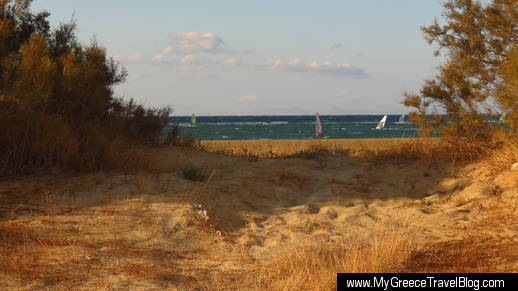 Dunes at the southern side of Agios Georgios Bay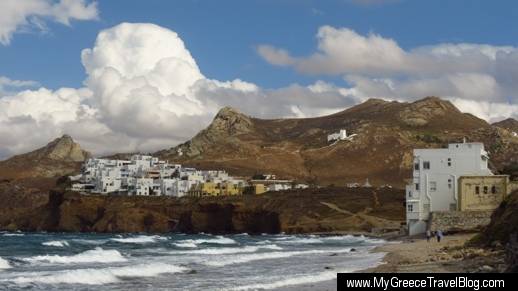 The spectacular Grotta district of Naxos Town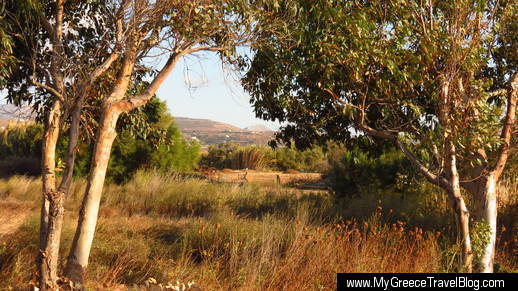 The bucolic countryside between Naxos Town and the Naxos airport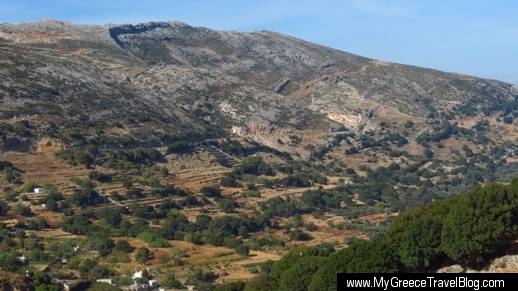 The mountain valley between Apeiranthos and Koronos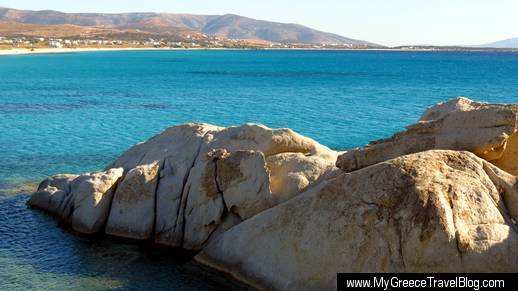 The alluring turquoise sea off Parthenos beach at Mikri Vigla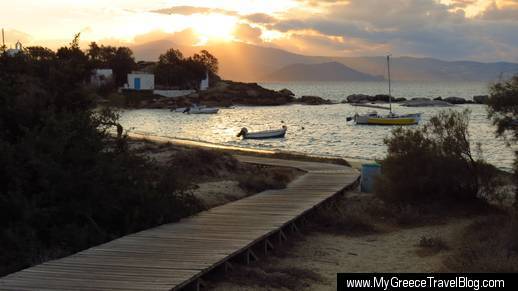 A view of the Agia Anna boardwalk and bay at sunset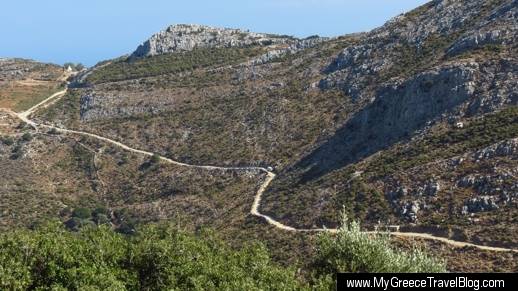 A narrow dirt road winds down the side of a mountain near Apeiranthos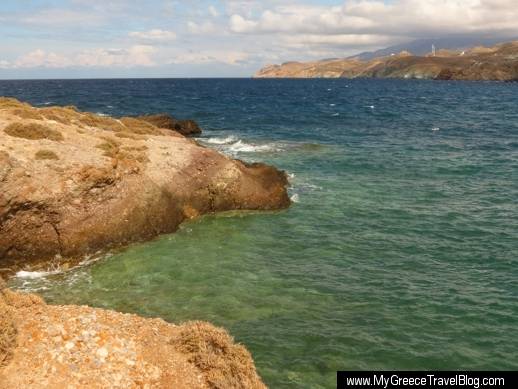 The rugged coastline north of Naxos Town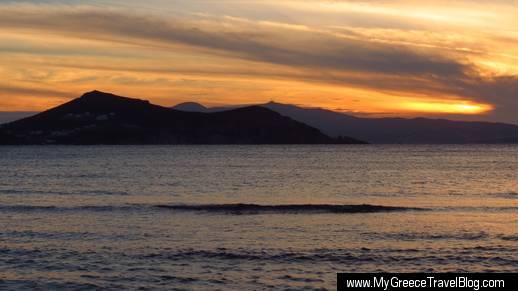 A sunset view from Agios Georgios beach at Naxos Town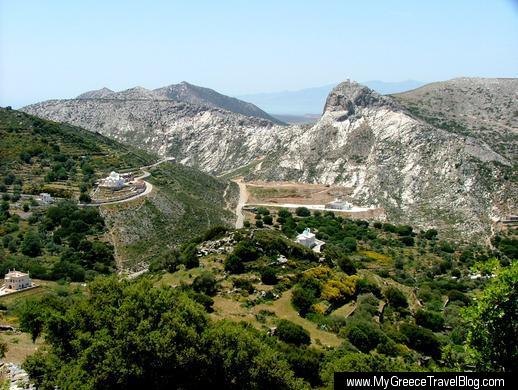 The incredible view from a lookout point high above Filoti village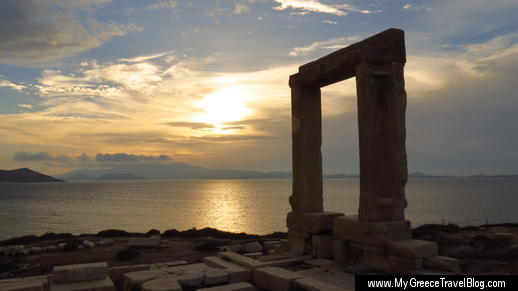 The Portara hillside is one of the best places to view a sunset on Naxos
10. Lively nightlife & entertainment
For a change of pace after a busy day of sightseeing or doing absolutely nothing at all, Naxos offers a variety of options for nightlife and cultural entertainment.
Looking for a relaxed, laid-back venue to savour a glass of wine or cocktail while listening to good music? Visit one of the jazz bars or coffee houses in the Old Town area of Chora.
Would you prefer to attend classical music and violin concerts, piano recitals or art exhibitions? Check out the schedule for Naxos Festival cultural events, held every night from April to October at the Della Rocca-Barozzi Tower in the castle at Naxos Town.
Feel like letting your hair down to dance and party instead? Head to one of the bars or nightclubs near the waterfront in Town.
And if you're staying at one of the beach resorts and want to go out for a drink there instead of trekking all the way into Town, you'll find fun cocktail bars at Agios Prokopios, Agia Anna and Plaka. They're great spots for sunset viewing in the evening, too.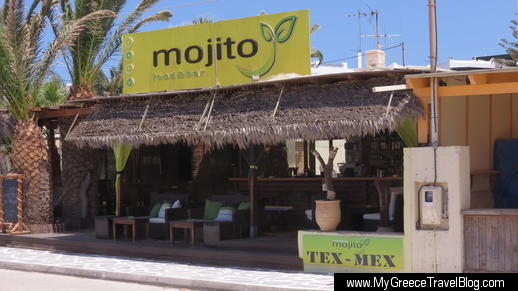 Mojito Beach Bar at Agios Prokopios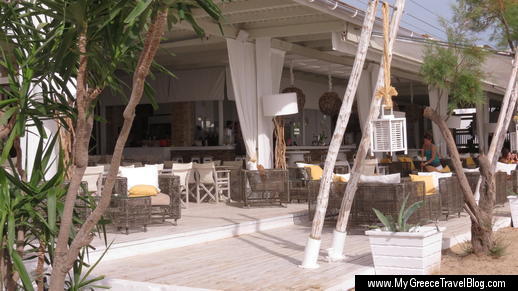 Santana Beach Club at Agia Anna
Escoba Bar in Town serves Mexican cuisine in the evening, but later at night the place turns into a party zone as the DJ spins Latin music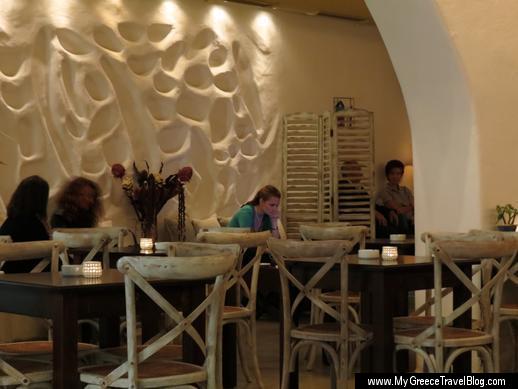 520 Bar in Naxos Town has hip decor and great views of the waterfront, and takes pride in serving products made in Greece
Another view of 520 Bar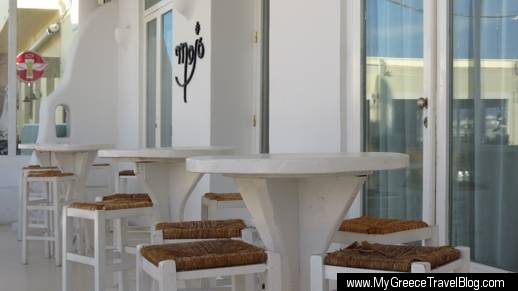 Ocean & Mojo are side-by-side nightclubs at the Naxos Town waterfront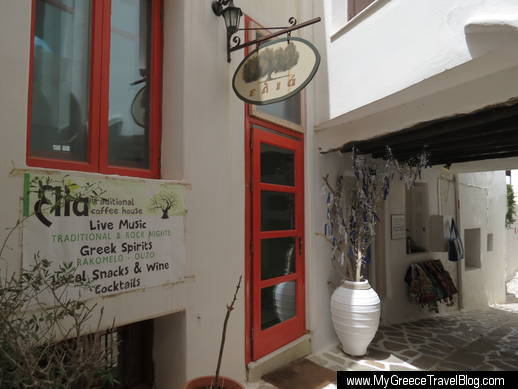 The Elia Traditional Coffee House is situated in the Old Town area and offers live Greek music as well as rock 'n' roll nights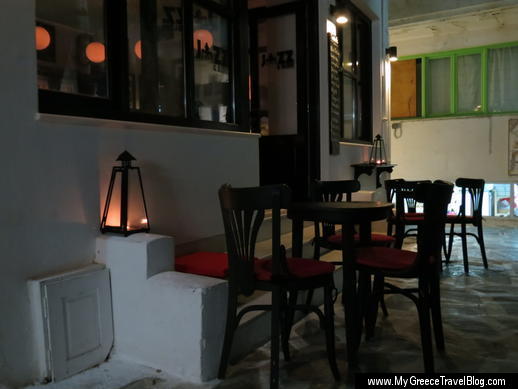 One of several Naxos Town bars where you can enjoy jazz and blues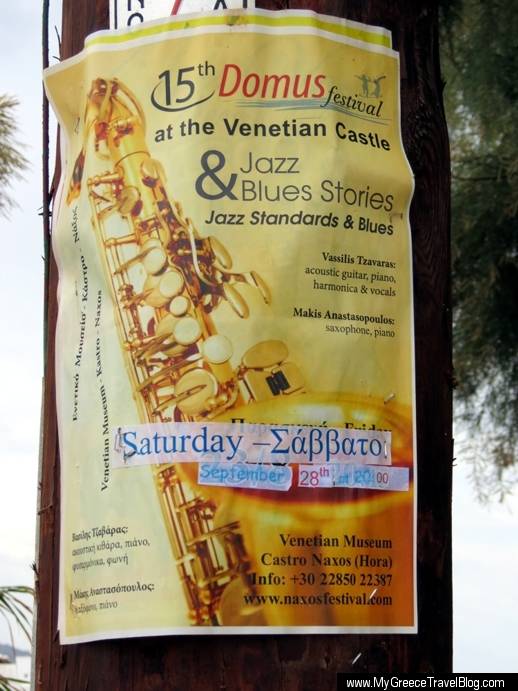 A poster for a Naxos Festival jazz and blues concert at the Naxos castle
 11. Magnificent beaches
Do you dream of going to an island where you can walk in the sun for hours, leisurely strolling on the sand from one gorgeous beach to another to another? You can bring that dream to life on Naxos!
Start at the northwest tip of Agios Prokopios, just below Avali Taverna, and follow the sweeping curve of golden sand for more than a kilometer to the main road near Barbounis Taverna. Head off to the right and walk five minutes along the coast to the Santana Beach Bar, where you'll see lounge chairs and umbrellas on the light brown sands of Agia Anna beach. Cross the beach to the harbour and you'll see a second beach strip on the other side of the quay. Follow the boardwalk at the end of that beach, and climb the dirt trail up the short hill to the brilliant white Agios Nikolaos Church.
On the coast below the church you'll see several stretches of smooth brown sand between rock outcroppings — those are popular sunbathing spots for nudists. If you walk a little farther, you'll come to another boardwalk. It will lead you to Maragas, a wide expanse of light brown sand. Keep going and you'll soon reach a ribbon of golden sand and white dunes  — fabulous Plaka beach. This is one heckuva long beach; in fact, you can walk it for nearly 4 kilometers.
There are even more superb beaches beyond Plaka, including Orkos, Mikri Vigla, Parthenos,  Kastraki and others, but it's a long hike to reach those from Plaka. We recommend visiting some of them another day; take mountain bikes or a rental vehicle to get there.
Below are photos of some of the marvellous beaches on Naxos.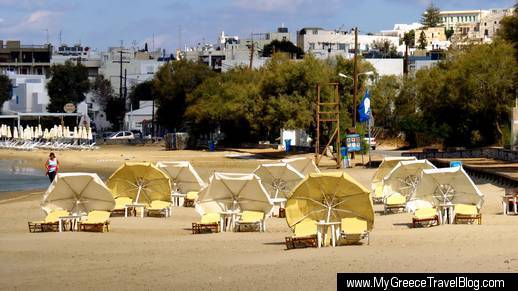 Sunbeds at Agios Georgios beach (St George's beach) on the edge of Naxos Town. With its shallow water and soft sand, this beach is a favourite for families with small children.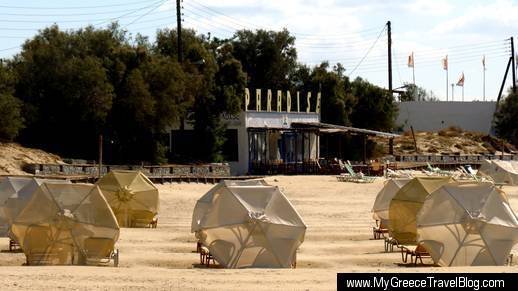 Another view of Agios Georgios beach and the Paradise Beach Taverna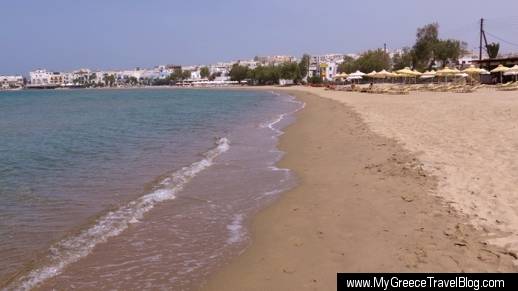 Another view of Agios Georgios beach, and Naxos Town behind it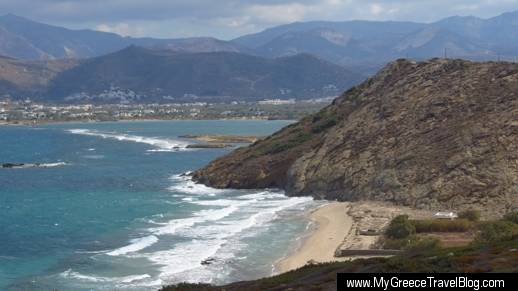 It can get extremely windy at Stelida beach, which is a good spot for solitude and sunbathing, not swimming. But it does have great views toward Naxos Town. I wrote about the Stelida district of Naxos in my March 1 2013 post.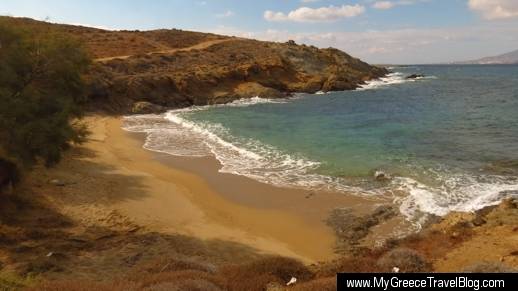 A picturesque beach on the west side of Stelida mountain, facing Paros. It's one of several beaches on this rugged stretch of Naxos coastline, but I haven't been able to find out what it — or any of the other beaches — are called.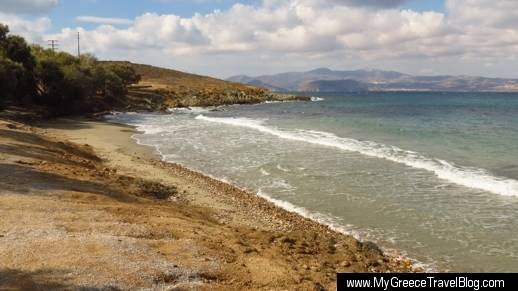 This beach is situated along the west side of the Naxos Imperial Resort's sprawling property. It has suffered substantial erosion by wind and waves since I last saw it several years ago, at which time it was a wider expanse of golden sand.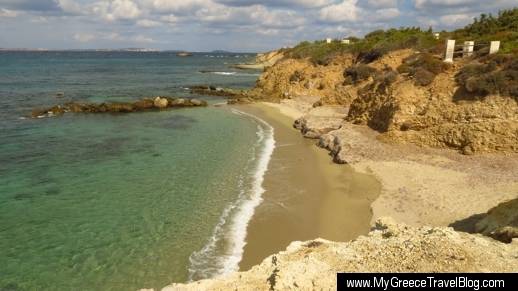 Yet another beach on the Stelida coast. Farther along are several small, quiet coves that have superb views of Paros.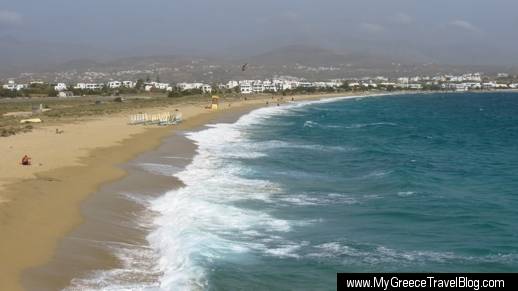 Big waves break against Agios Prokopios beach on a gusty day in May. I shot this photo from Avali Taverna on the hill at the northwest end of the beach.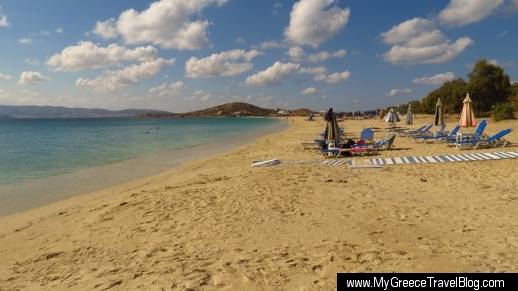 A view from the south end of Agios Prokopios, looking toward Stelida mountain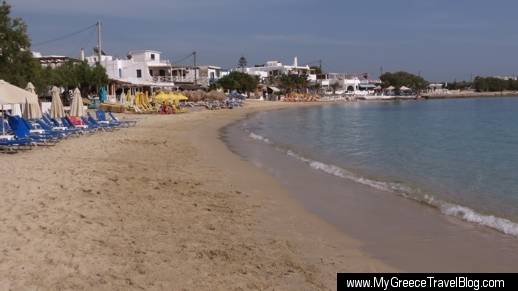 There are two separate beaches at the Agia Anna resort area — one on either side of the fishing boat quay.  This section, on the north side of the pier, is very popular with families, and has nearly a dozen different bars and tavernas right next to the sand.
The second Agia Anna beach, on the south side of the fishing boat quay.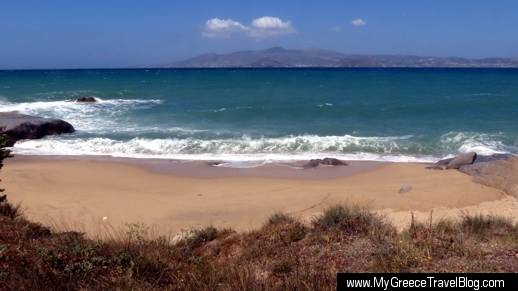 A strip of beach at Cape Agios Nikoloas, the rocky point that separates Agia Anna Bay from Maragas beach. This is one of several spots on the Cape where you're likely to encounter some nude sunbathers.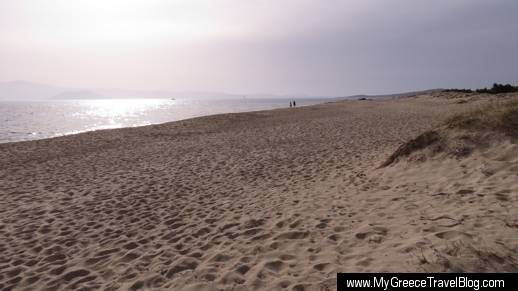 A late afternoon view of Maragas beach, looking toward Cape Agios Nikolaos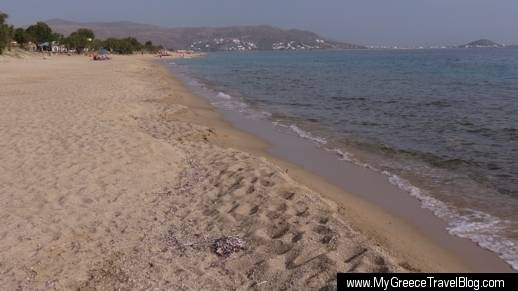 Another view of Maragas beach, looking south from the same area in which I took the photo above this one.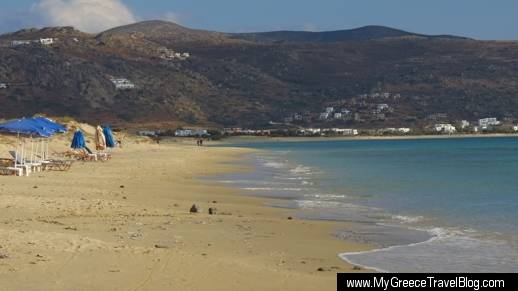 Looking south along Plaka beach, the longest strand on the island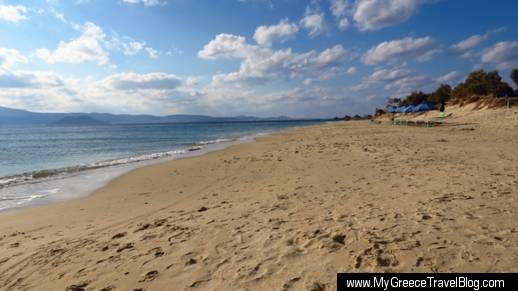 Looking north along Plaka beach. Lounge chairs and umbrellas are available in several locations along the beach, but most of the sand is wide open and free for everyone to enjoy with their own towels, mats, chairs and suntents.
Looking north from the end of Plaka beach, near Orkos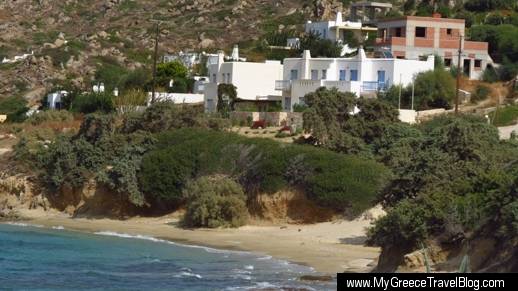 There is a series of small beaches and secluded coves at Orkos, past Plaka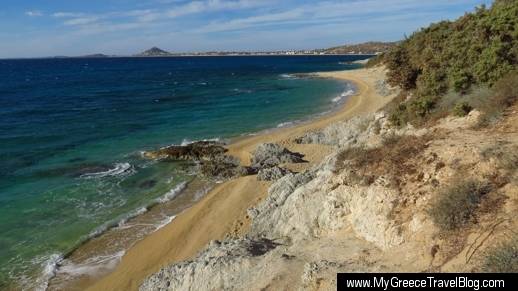 Some of the beach strips at Orkos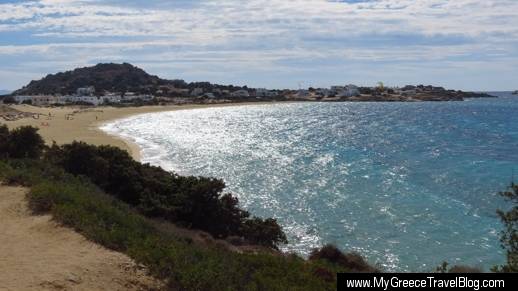 Mikri Vigla is the area past Orkos. This beach, on the north side of the rocky point that juts into the sea, is usually quite windy. As a result, it's a popular playground for highly skilled windsurfers and kitesurfers
The long, wide stretch of white sand on the south side of the point is often called Mikri Vigla beach, too, though many people call it Parthenos. The sea off Parthenos is a breathtaking, brilliant turquoise.
12. Shopping and local products
If you get the urge to splurge, you'll find Naxos Town has plentiful places to shop and browse, with a wide variety of stores and boutiques selling jewellery; shoes, clothing and fashion accessories; home decor items; sunglasses and optical products; art and handicrafts; books, magazines, cards and art supplies; toys; food and beverages; souvenirs, and much more.
Best of all, many of the products sold on Naxos are produced right on the island, including local artwork; Citron liqueurs, wines and other beverages; hand-made textiles; olive oils and soaps; sweets and treats; and an extensive selection of traditional Naxian cheese.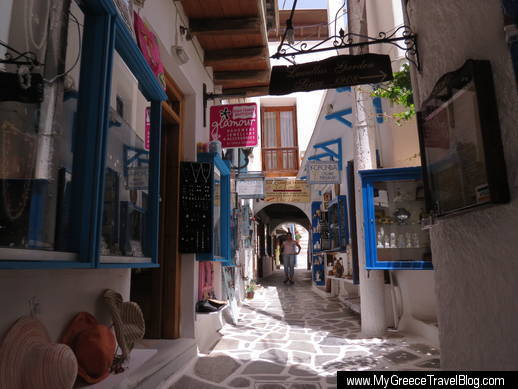 Shops line one of the stone-paved lanes in the Old Town area of Chora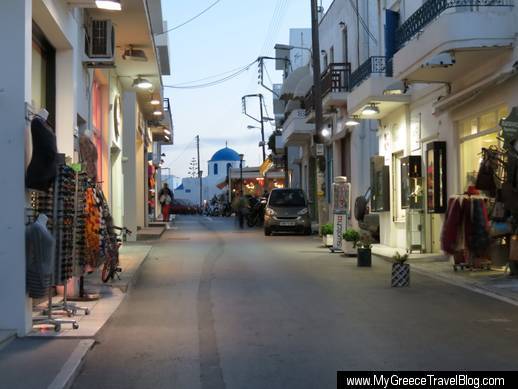 You'll find clothing, footwear and fashion shops for men, women and kids on both sides of this street near Evripeou Square (Plateia Evripeou)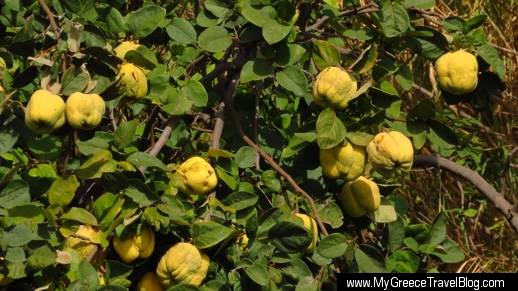 Fruit on a citrus tree near Chalki. The family-operated M.G. Vallindras Distillery produces three different types of Citron of Naxos liqueurs from the citrus leaves.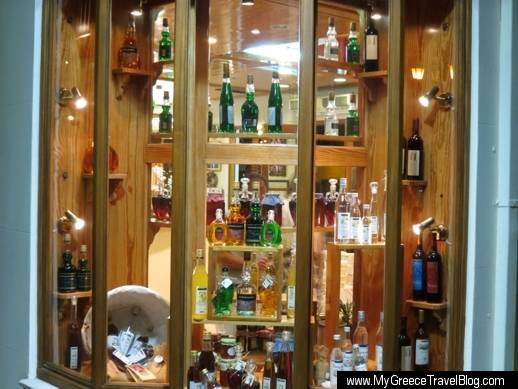 The Promponas shop on the waterfront paralia in Naxos Town sells varieties of Citron, wine and other local food and beverage products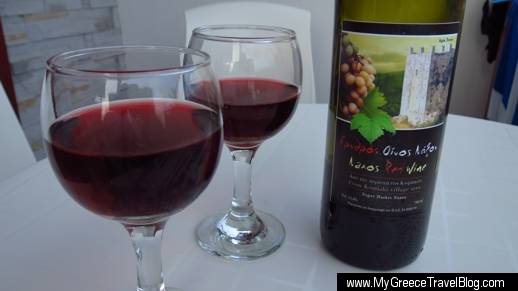 A bottle of Naxos wine, which we enjoyed while sitting on our balcony at Hotel Katerina during our holiday in May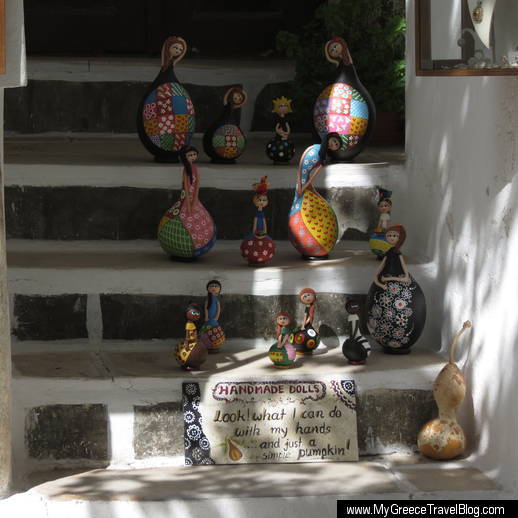 Handmade pumpkin dolls displayed at an art and craft shop in the Old Town
13. Good local transportation
Since Naxos has so much to see, and is such a big island to begin with, the best way to get around is by rental car, Jeep or ATV. But if you don't want to drive, you can still reach most attractions by using the island's efficient KTEL bus system. Comfortable coaches  provide regular service from Naxos Town to most of the major beaches and villages, and tickets are reasonably priced. In May, we paid €1.60 each to ride a bus from Town to Agios Prokopios. In October, we paid €2 apiece to ride to Chalki, and €2.30 for a lift from Filoti to Town. The return fare to Apeiranthos cost €6.20 per person, while tickets to Koronos and back totalled €8 for each of us.
An alternative way to see some of the villages is to take one of the island bus tours that are offered almost every day. Information about tour availability, times and pricing is available from any travel or ferry ticket office on the island.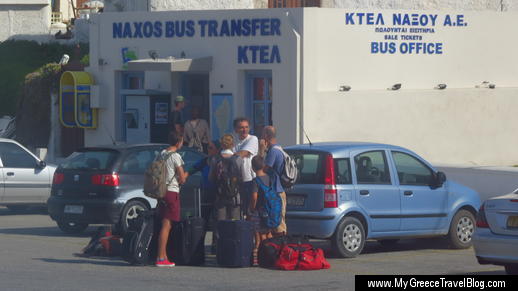 The KTEL bus office is situated close to the port in Naxos Town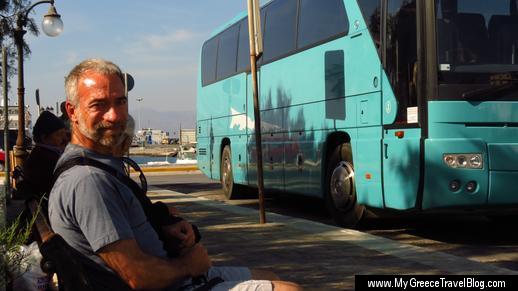 Waiting to board a bus bound for some of the mountain villages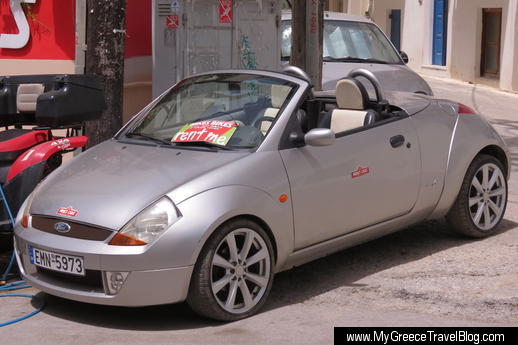 If you prefer to rent a vehicle to get around Naxos, you have your choice of mountain bikes, scooters, ATVs, cars, Jeeps. This Ford convertible was available for hire at one of the many rental agencies in Naxos Town.
14. Off-island excursions
Once you've seen everything you want to see on Naxos, or if you just want a change of scenery, consider taking a day trip to another island. Since Naxos is conveniently positioned in the Central Cyclades, travellers can easily visit at least seven nearby islands on excursion boats and charter sailboat cruises (but not all on the same day, of course).
Panteleos Cruises offers excursions six days a week to Iraklia and Koufonissi, Delos and Mykonos, Koufonissi and Amorgos, and Santorini. Similar day trips are provided by the Alexander cruise boat. Depending upon weather conditions, George Fragiskos Yacht Charter takes passengers on the Annabella sailboat to Paros, Iraklia or Schinoussa in the Small Cyclades, Delos and Rinia, and to the Koufonissia islands (Ato and Kato Koufonissi).
Information about day trip packages can be obtained at any of the travel agencies on Naxos.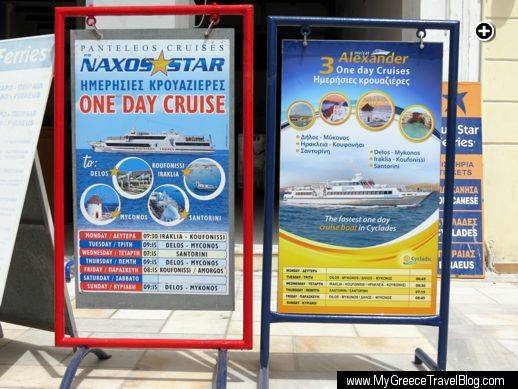 Signs outside a travel agency advertise day trips to nearby islands on the Naxos Star and Alexander tour boats. Click to view a full size photo.
15. Friendly locals
Greeks are famous for their hospitality, and of course that includes the local residents on Naxos.  You can expect a warm welcome from the staff at hotels, shops, restaurants, bars and other tourist-focussed businesses, of course, but you're bound to see a lot of friendly faces elsewhere, too, like the ones in the photos below.
Cats and kittens on a road in Filoti village
This was one of several sheep we would see in a field we would pass while walking from Hotel Katerina to the grocery store on the south side of Naxos Town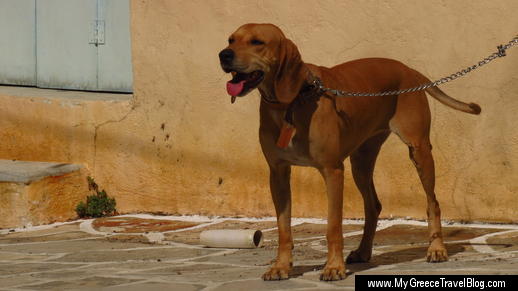 A friendly dog greets tourists wandering through Chalki village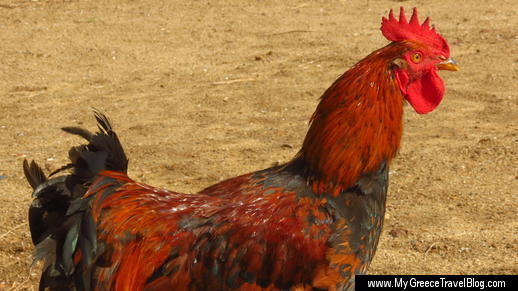 This rooster kept following close behind us while we walked along the coast on the west side of Stelida mountain.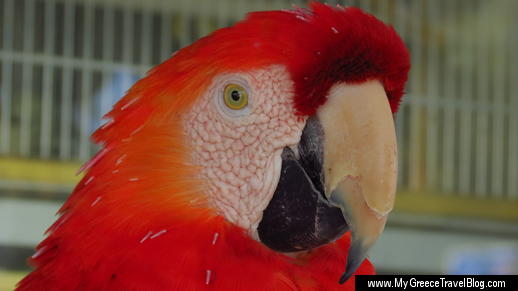 We met this magnificent macaw outside a pet shop in Naxos Town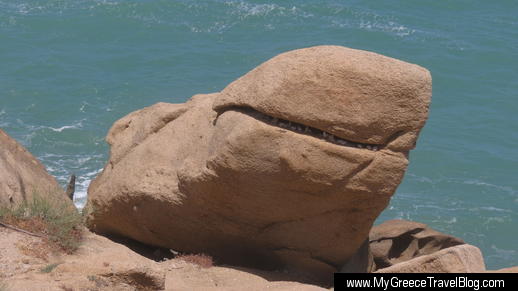 The grinning landshark at Cape Agios Nikolaos always makes me smile
This is a link to the Naxos: our 2013 Destination of the Year album from the MyGreeceTravelBlog.com Flickr page. It contains full-size versions of the photos posted above. Click once on the image to view a small-format slideshow, or click twice to open the album and view the pictures individually.