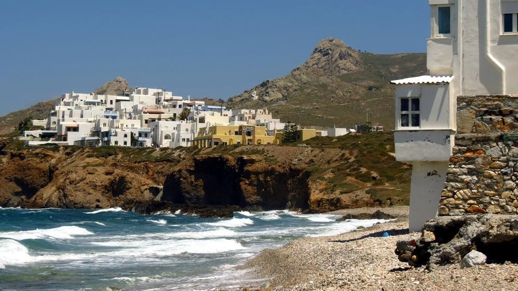 Our fourth day on Naxos included visits to wind- and wave-battered Grotta beach at Naxos Town (above) as well as the tantalizing long stretch of soft sand and dunes at fabulous Plaka beach (below)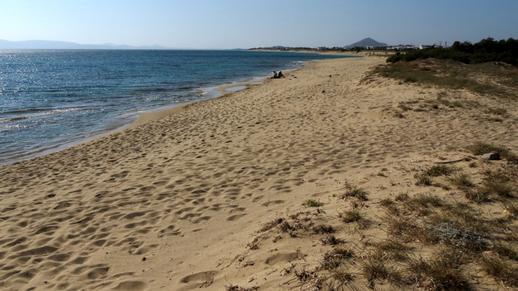 [Editor's note: This is the fourth instalment in an ongoing series of reports about our 2014 spring vacation in the Cyclades and Athens. Click here to see Part 1, click here to access Part 2, and click here for Part 3. Full-size versions of all the photos posted below can be viewed in the Naxos May 22 2014 album on Flickr.]
 Thursday May 22
 Back on the bikes: Thursday brought more excellent summer weather — sunshine, clear skies and warm temperatures. The hotel swimming pool looked oh-so-inviting but, with 24 hours remaining on our mountain bike rental, we were keen to spend time riding rather than sunbathing and swimming.
The strong winds that blew in yesterday had stuck around, however, and after our challenging ride to Mikri Vigla we weren't keen to pedal through gusts and dust in a second effort to reach Kastraki and beaches farther south. We would leave that trek for a future trip and ride into Naxos Town instead.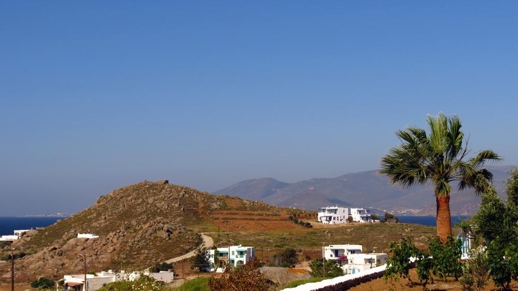 Blue skies prevail in this morning view from Lianos Village Hotel toward Cape Agios Prokopios on Naxos (left) and Paros island (right rear).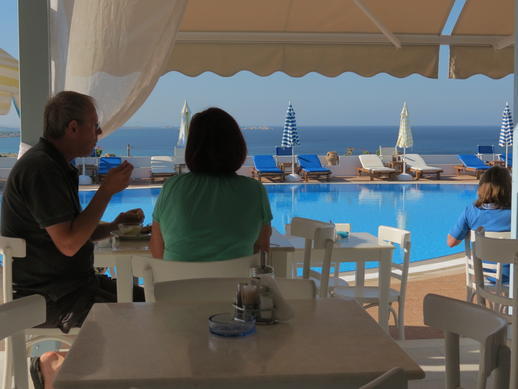 There was lots of blue in the view from our breakfast table at Lianos Village — the hotel swimming pool, the Aegean Sea, and the clear sky overhead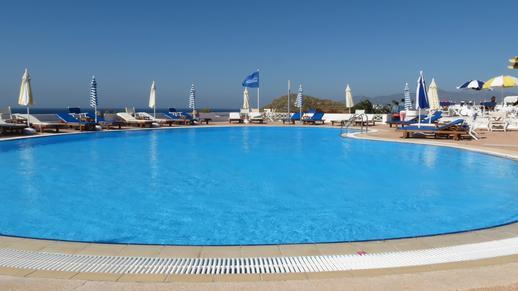 It was tempting to stay at the hotel just to sunbathe, swim and snooze, but we gave the pool a pass and pedalled our bikes to Naxos Town
A walkabout in Naxos Town
The bike ride from the hotel to Protodikeiou Square in Naxos Town took us around 25 minutes. The trip should have been faster, but construction work on the road through Stelida delayed us slightly, while the strong winds blowing inland from St George's Bay slowed us down on the long straight stretch of highway between Stelida and the edge of Naxos Town.
When we finally got off the bikes to lock them to a lamp post near the Fotis Greek Cuisine restaurant, we felt a sudden blast of dry heat. The wind had kept us comfortable during the bike ride, but now that we weren't moving the sunshine radiating from the pavement and reflecting off the whitewashed buildings made it feel as though Naxos Town was 20 degrees hotter than Stelida. We dashed to the shaded side of the street, but it didn't feel significantly cooler standing out of the sun. This was going to be one heck of a hot day!
Before going any further, we stopped into Naxos Travel Agency (located at Protodikeiou Square a few doors down from Scirocco restaurant) to purchase the tickets for our Saturday ferry trip to Syros. With that important task out of the way, it was time to explore Naxos Town — one of our favourite port "cities" in the Cyclades — for a few hours.  We would walk to the Old Market area and then head up to the Castle that towers above the town, hoping we would be able to walk in shade as much as possible.
Click on the 2 in the link below to continue reading this report and view dozens more photos of Naxos.
 CONTINUED ON PAGE 2