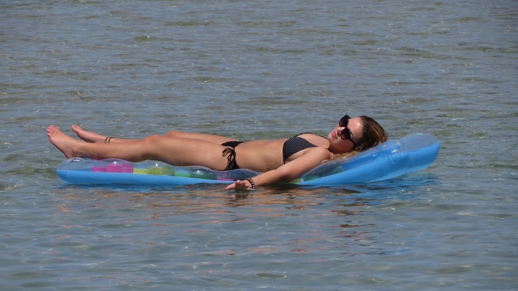 Ah, this is the life! A bikini-clad young woman catches some rays from the comfort of an air mattress floating on the calm waters at St George's Beach. Naxos basked in gorgeous summery weather on May 20.
 [Editor's Note: Full-size versions of all the photos that appear in this post can be viewed in the Naxos May 20 2014 album on the MyGreeceTravelBlog Flickr page.]
Tuesday May 20
Suddenly summer: When I woke up around 9 a.m., I almost felt scared to open the curtains to see what the weather was like. Would it be another day of clouds and rain, as had been forecast? Or would we get lucky and have a hint of nice weather instead?
We got lucky! There was sunshine and a bright blue sky — an absolutely gorgeous morning. It looked like our spring vacation was starting off the exact same way our holiday had begun last fall — with clouds and rain our first day on Naxos followed by sunny clear skies the rest of the trip. I couldn't wait to to have breakfast outside — our first outdoor meal since we were in Greece last October.
I always love starting my day with a cup of coffee on the poolside breakfast patio at Lianos Village Hotel. With colourful gardens and a swimming pool just steps from our table, views of the beautiful blue Aegean Sea,  and a few of the neighbourhood cats lingering at our feet, the sun-shaded terrace is the place where I have enjoyed eating breakfast the most out of all our trips to Greece. The setting and atmosphere make me feel completely carefree, content and relaxed.  A little voice inside my head keeps repeating: "Kalimera! You're on vacation! You're in Greece!" I wish every morning could begin like this!
Sunshine and an almost cloudless sky greeted me when I pulled open the door and stepped onto our terrace our first morning on Naxos. This was our view looking south to Agios Prokopios and Agia Anna.
Please click on the number 2 in the link below to continue reading my trip report and view dozens of photos from our day on Naxos.
 CONTINUED ON PAGE 2