Trip report on our first full day on Naxos, continued from previous page:
Extensive roadwork throughout Stelida
We were nearly finished breakfast when the morning peace and quiet was interrupted by noise from a work crew operating heavy equipment on the street in front of the hotel. They were filling in a shallow trench that had been dug into the pavement so water pipes could be replaced. During the ride from the airport to the hotel our driver, Chris, had told us the municipality was running behind schedule trying to complete a major water pipe replacement project that had started late last fall. Although some of the streets in the Stelida district had been repaved, many were still under reconstruction — including the stretch of road directly in front of the hotel.
Lianos Village staff had apologized to us for the inconvenience, but the work wasn't very loud and didn't bother us. Besides, we weren't even going to be at the hotel during the hours the work was taking place, so it wouldn't impact on our holiday at all. Things may have been different had we been staying at the Naxian Collection luxury villas or the Naxos Palace Hotel, which we passed during the ride from the airport. The main road from Naxos Town to the island's west coast beaches passes both of those properties, and an entire lane of asphalt along the highway in front of them had been ripped up, creating one very long and very messy construction zone. The dust clouds created by the steady stream of passing vehicles (the road is also a bus route) must have been a big nuisance to staff and guests staying at those accommodations.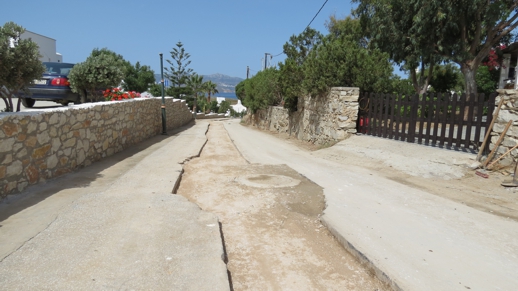 Roadwork on the street in front of our hotel was nearly finished — crews had filled in the long excavation and just had to patch it up with a layer of new asphalt. Most streets in the Stelida area were undergoing similar construction work.
Today's destination: Naxos Town
With the roadwork underway, it was a good time to head out and see the island. There were no firm plans on our agenda other than going into Naxos Town so I could purchase talk and text time for my Greek mobile telephone.  Naxos Town (or Chora, as it is also known) is approximately 5 kilometers from the hotel, and we were going to get there on foot as we always do. We try to walk as much as possible since hiking lets us experience the sights, sounds and smells of Naxos and really get to feel and know the island thoroughly.
And by "smells," I'm referring not just to the fresh sea air, but also to the rich aromas of plants, flowers and wild herbs — like sage, thyme and oregano — that grow in abundance in huge thigh-high mounds on hillsides and roadsides. There's one fragrance we frequently smell on Naxos more than anywhere else — it's strong, and reminds us of caramel — but we have never been able to pinpoint its source to any particular plant. We also notice a mustard-like odour from time to time, but again can never tell where it's coming from. If you happen to know what plants we're smelling on our walks, please drop me a line!
We left our room and headed north through Stelida, passing the Kavuras Village Hotel, a large family-oriented resort with children's playgrounds and sports facilities we have not seen anyone use in several years. In fact, we haven't seen any people on the property at all during our last two visits to Naxos, so we thought the place had gone out of business. This time we noticed delivery trucks in the parking lot and saw staff cleaning the grounds and doing outdoor maintenance work. Obviously, Kavuras is still in business — it just isn't open when we visit Naxos in low season.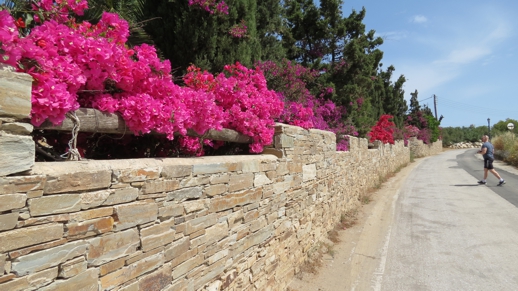 Bougainvillea brightens a stone wall along a street in Stelida …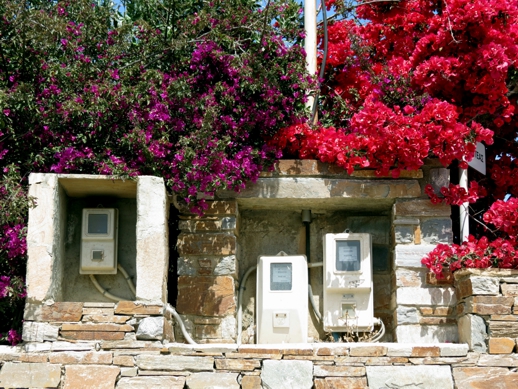 … and provides a colourful backdrop for a set of utility meters
A block of bougainvillea
At the intersection in front of the Kavuras Village entrance we turned onto another street. The left side of the road always grabs our attention since bougainvillea in varying shades of pink, red and violet bursts above a shoulder-high stone wall providing privacy for luxury villas on several lovely private estates. Across the road are some farm fields and the bare concrete shell of a partially-constructed hotel which has been there since our first visit to Naxos in 2005. Partly-built homes and hotels are a common sight on Naxos and other Greek islands, and on return visits to several destinations we have noticed that construction has gradually progressed on some buildings or been finished on others, whereas a few building sites remained totally untouched. This one looks like it will never be completed.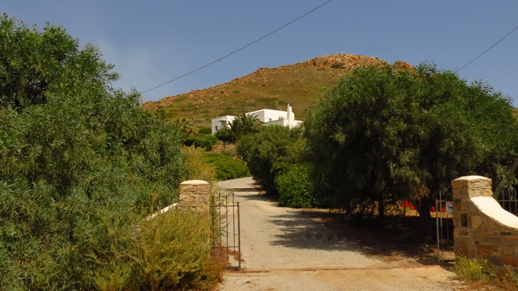 The gated entrance to a private estate on the side of Stelida mountain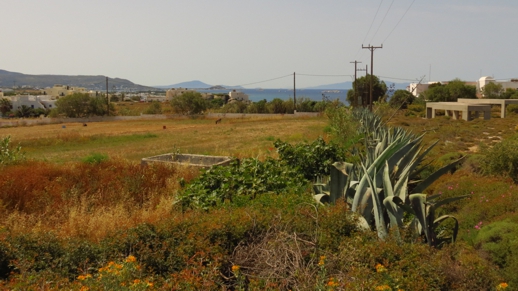 A Stelida farm field has a view of the west coast of Naxos. At top right is part of the concrete shell for a hotel construction project that was never completed.
Panoramic views from hilltop hotels

A short stroll past the gated villas brings us to a hilltop intersection where three hotels — the 5-year-old Mediterranean with self-catering accommodations, the 4-star adults-only Kouros Art Hotel, and the 3-star Golden Sun Hotel — enjoy scenic views of Stelida, the sea, St George's Bay and part of Naxos Town. We paused for a few moments to savour the scenery. No-one was in sight at any of the hotels although they all appeared to be open — or at least preparing to welcome guests soon. Vehicles were parked outside the Kouros, lounge chairs and umbrellas were neatly arranged on the Golden Sun's swimming pool terrace, and all the windows and balcony doors at the Mediterranean were open wide, presumably to clear the rooms with fresh air following the winter shutdown.
High up the east side of Stelida mountain above the Kouros we could see a construction crew working on three big white villas near the Dream View Hotel. Since 2009 we have noticed considerable residential construction on Naxos, particularly on the steep west side of Stelida mountain where a large subdivision of luxury homes has been established and appears to be gradually expanding onto the north face of the peak. The mountainside homes would boast absolutely breathtaking panoramic views — the west side of Stelida faces Paros; the north looks across a wide expanse of open sea toward several Cycladic islands, and the east offers sightlines to St George's Bay and Naxos Town in one direction, and to Agios Prokopios in the other. 
Some of the buildings at the Golden Sun Hotel complex in Stelida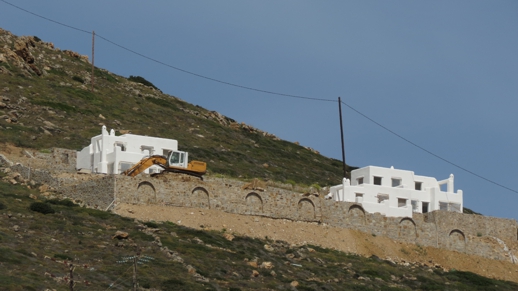 Villa construction on the east side of Stelida mountain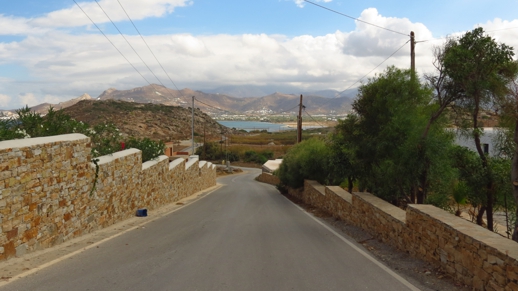 We shot this photo from the street outside the Mediterranean Hotel while visiting Naxos last October. It shows the view toward St George's Bay and Naxos Town. Our walking route would take us down this road to the south end of St George's bay. From there, we would walk along the water all the way into town.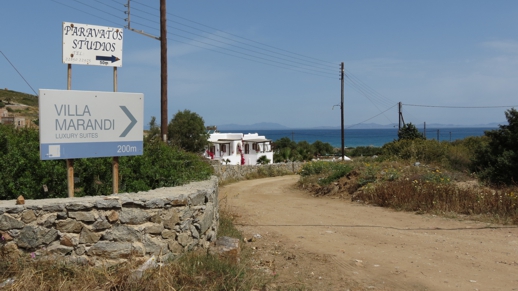 From the top of the road leading to Villa Marandi Suites and Paravatos Studios, we could see Tinos, Rinia, Delos and Mykonos islands in the distance
A great day for windsurfing on St George's Bay
Since the sky was so clear today, we could see Tinos, Rinia, Delos and Mykonos islands from our vantage point at the top of a dirt road leading to the Villa Marandi Suites and Paravatos Studios near Stelida beach. Last October, we had been able to see nothing more than vague silhouettes of these islands because there had always been a misty haze above the sea.
The next 10 minutes of walking took us past a rocky hill on our left, and farm fields to our right. We could hear goats, cows and roosters, but thick rows of tall bamboo prevented us from seeing where they were. From time to time the light breeze carried the distinctive caramel and mustard odours our way, but we still couldn't tell which plants they were emanating from. The mystery would continue to intrigue us!
Soon we were on the long straight stretch of highway that cuts between the southern end of St George's Bay and large natural salt ponds near the Naxos airport. After hiking along the road for about 10 minutes, we turned off onto a trail that leads to a very wide and flat expanse of golden sand beside the bay. It was extremely breezy in this open area, and nearby on the bay more than a dozen windsurfers were taking advantage of the windy conditions. The water is slightly more than waist deep at this part of the bay, so it's a perfect place for novices to learn or practise windsurfing, sailing and other water sports. (The Naxos Surf Club and Flisvos Sports Club both offer equipment rental and instruction from facilities at St George's beach.)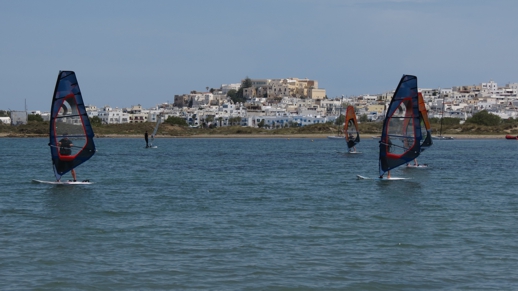 The historic castle dominates the Naxos Town skyline in this view from the south side of St George's Bay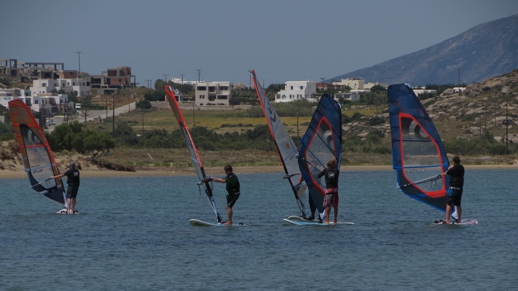 Novice windsurfers practise their technique in the bay's shallow waters
We reached St George's Beach in 70 minutes
We watched the windsurfers for awhile; most were beginners who repeatedly fell from their boards, but several who had more experience were making impressive circuits around the bay. We continued walking along the sandy seashore until we reached a point where some fallen trees blocked our seaside path, forcing us to detour behind some dunes and across a farm field before we could resume walking next to the water. We soon passed the Naxos Surf Club where staff were busy organizing dozens of windsurfing boards and, a few minutes later, reached the Flisvos Sports Club at the south end of St George's beach. From here we had just a short walk to reach the popular hotel and tourist resort area on the edge of Naxos Town. It had taken us a grand total of 70 minutes to reach this point after locking our hotel room door — not long at all, especially considering how frequently we had stopped to take photos or admire the scenery.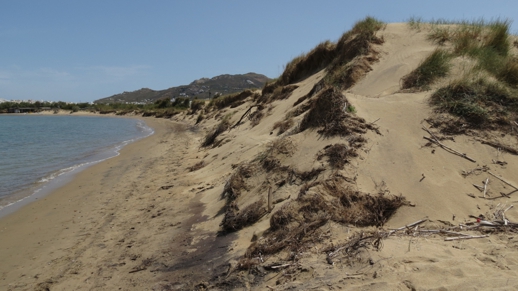 Dunes along the south shore of St George's Bay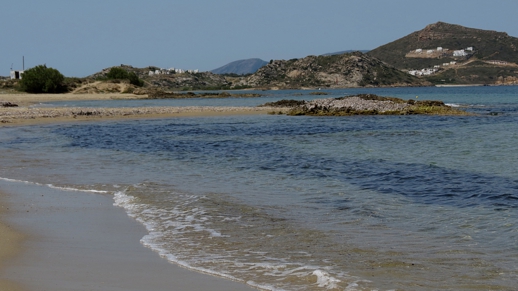 Looking toward the Stelida district of Naxos from the south end of St George's beach. Visible at upper right are the three villas being constructed beside the Dream View Hotel on Stelida mountain.
Beach busier than during the same time last year
There is a series of beach bars and cafés along St George's beach, most of which have installed lounge chairs and umbrellas on the soft golden brown sand in front of their premises. Although plenty of sunbeds were still available, quite a few were occupied, and several dozen people were sunbathing on towels or mats on the sand as well. Each café had customers sipping drinks or eating lunch while enjoying the beach and bay views. This was a significant change from the same time last May when we saw substantially fewer people on the beach and hardly anyone at the cafés and taverns. Though the beach was far from crowded, the sizeable number of people on it certainly seemed to confirm the anecdotal talk we'd been hearing that Naxos hotel bookings were on the rise for 2014.
Surprisingly, the beach bar and café at the Asteria Hotel was not yet open (it appeared to be under renovation), and the Sottovento Italian food restaurant and beach bar beside it also was closed. However, all of the other bars and restaurants along the beach, including Taverna Kavouri and Yialos Taverna, were open.
Approaching the strip of bars and cafes along St George's beach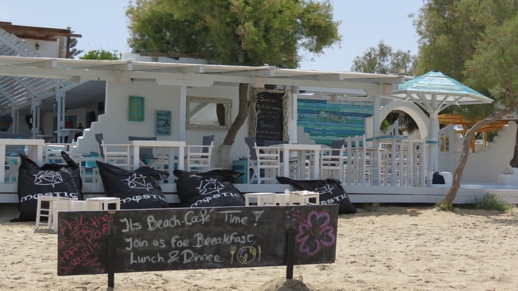 The Flisvos Sports Club café and bar on St George's beach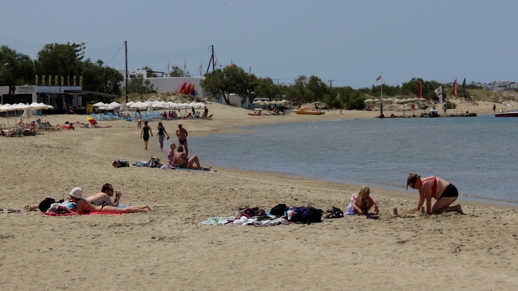 Visitors enjoying the sun and warm temperatures at St George's beach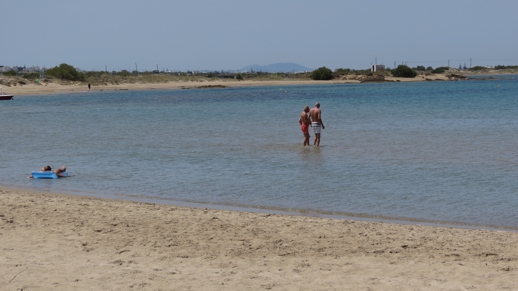 St George's beach is a popular draw for families with young children because the water is shallow and usually quite calm
Checking out a new beachfront hotel
A boardwalk links several of the beach bars and tavernas along St George's beach, and we followed it to its starting point at the Ippokampos restaurant and beach bar. The Ippokampos has a nice tree-shaded dining terrace beside the beach and boardwalk, as well as sunbeds and some cool wicker lounge chairs right on the sand. This spring, the new Ippokampos hotel opened in a fully renovated building next door to the restaurant premises.
We stopped in to ask if we could see one of the hotel rooms because we were considering a plan to spend two nights at St George's beach after our scheduled 3-night stay in Stelida. Ippokampos owner Vaggelis Spanos kindly agreed to show us a vacant room.
The 9-room hotel property has double and triple rooms with sea view balconies, and Vaggelis took us to see a double on the top floor. He told us the building had formerly housed traditional studio apartments with kitchenettes, and had been completely transformed into contemporary-styled accommodations with air conditioning, flat-screen TVs, DVD players, a kettle and a safe. We really liked what we saw — the room had a nice look and feel, it was spacious and comfortably appointed, and its balcony had a wonderful view of the beach and St. George's bay. The hotel location would be convenient for beach fun as well as for fast access to Naxos Town, while that balcony would be an ideal spot to sit and watch a sunset. Room rates are reasonable, and include breakfast. We weren't certain if we would in fact relocate to the town for part of our Naxos holiday, but Vaggelis told us the room was available for the dates we were considering, so we only had to give him a call if we later did decide to book it. If we don't get to stay there this trip, it will be our first choice for our next Naxos holiday — the Ippokampos is a nice property and its location can't be beat.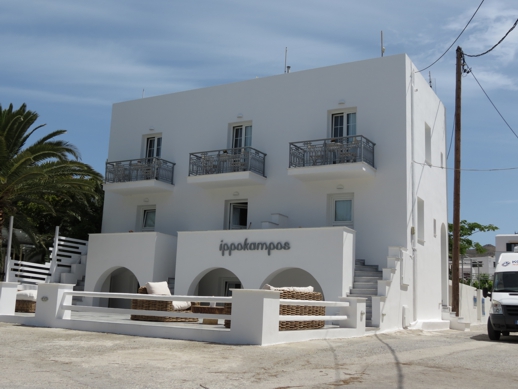 The new Ippokampos Hotel, situated next door to the popular Ippokampos beach bar and restaurant, is just steps from St George's beach. The 9 rooms have balconies that offer excellent beach and sea views.
A stroll to the Naxos Town waterfront
After chatting with Vaggelis, we wandered through streets in the beach area of Naxos Town, gradually working our way toward the waterfront near the Naxos Town Hall. We had stayed at Hotel Spiros in this area for a week last October, when the travel season was winding down, and the locals had appeared noticeably weary from the summer of exhausting long hours and hard work. Today's atmosphere felt upbeat and energetic. With so many hotel and studio apartment owners and staff painting, cleaning and renovating their properties for the summer tourists, there was a palpable positive vibe in the air. It felt nice to see the local residents' enthusiasm and excitement for the upcoming summer months as we strolled up and down the streets.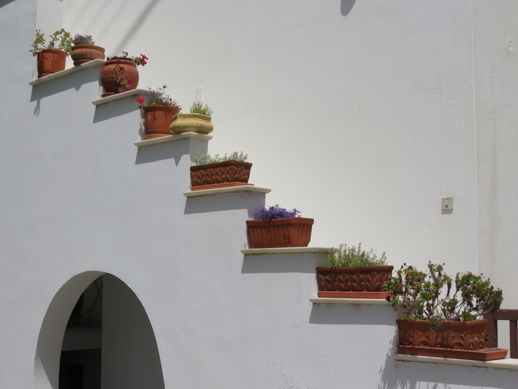 Potted plants decorate an outdoor staircase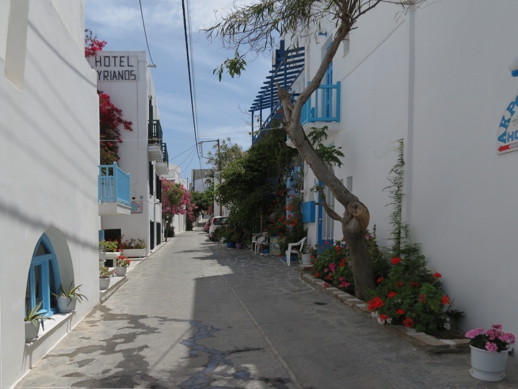 A street outside Hotel Syrianos and the Akrogiali Hotel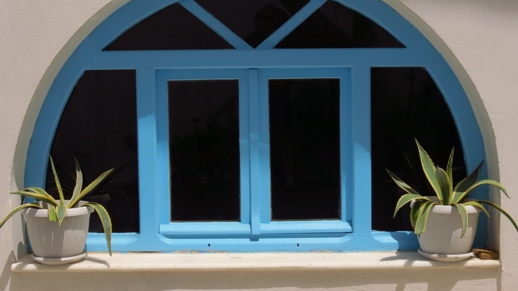 Plants on a windowsill in Naxos Town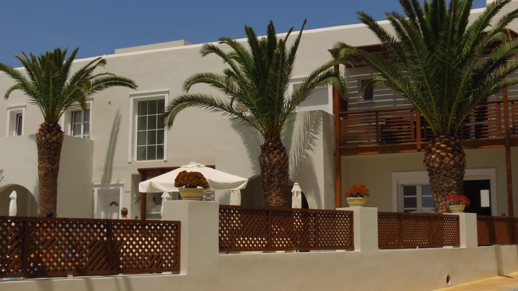 Palm trees at the 4-star Nissaki Beach Hotel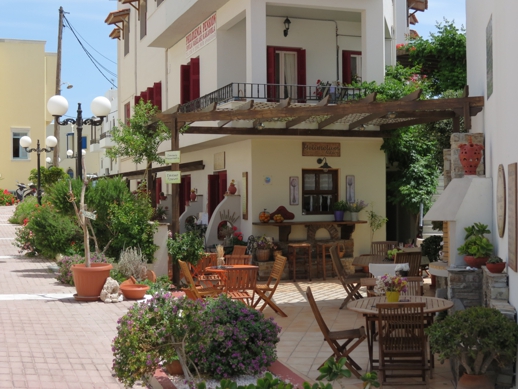 Tables in a courtyard at Philoxenia Pension in Naxos Town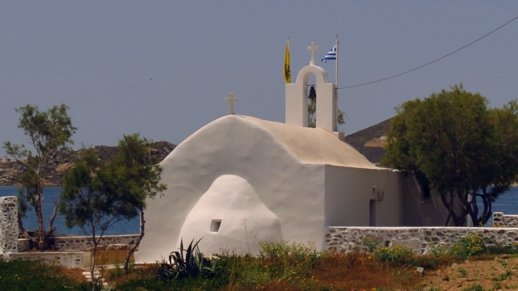 Agios Georgios church near the Naxos Town Hall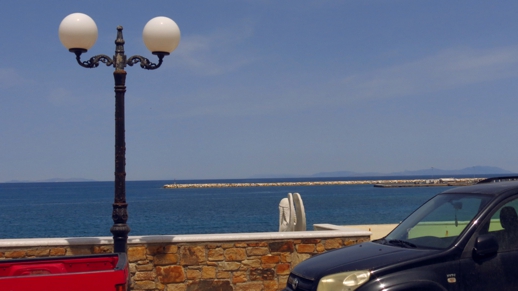 Sea view from the street in front of the Naxos Town Hall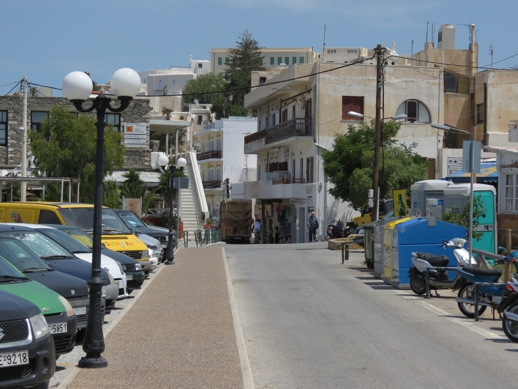 Approaching the main commercial district and waterfront strip of Naxos Town from the street that passes the town hall
A walkabout on the waterfront
The next part of our walk took us to the bustling commercial district and waterfront area situated between the Naxos Town Hall and the Naxos Port. A one-way road for vehicles and a pedestrian promenade lined with shops, restaurants, cafés and bars extends the length of the seafront; on the water side are a sailboat marina, a harbour for fishing boats and some tour boats and ferries, including the Naxos Star excursion boat and the Express Skopelitis ferry, and of course the island's main commercial port where the major interisland ferries arrive and depart.
All of the waterfront shops were open as were most of the cafés and tavernas; we saw only a couple of terraces that didn't have any tables and chairs set up yet. The cafés were packed with locals enjoying frappés and conversation, but we were surprised to see that most of the tavernas didn't yet have customers, even though it was lunch time. But there were plenty of tourists strolling the promenade and checking out restaurant menus as they passed by. Tavernas along this strip undoubtedly would be packed at dinnertime.
I made a brief stop at the Vodafone outlet to buy more time for my cell phone, then we resumed our walkabout.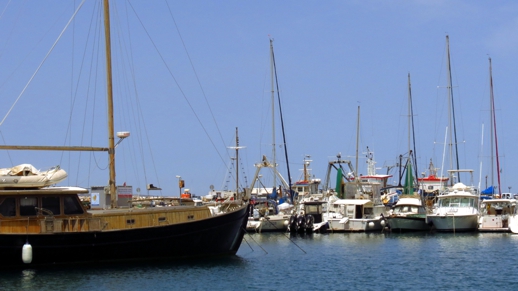 Sailboats at the Naxos Town marina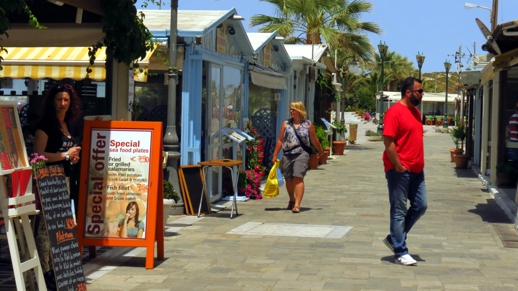 Restaurants on the pedestrian promenade along the waterfront in Naxos Town. Take a look at the prices on the "special offer" sandwich board sign — on Mykonos, one Greek salad would cost more than the 3-item seafood lunch specials being offered for €7.50 and €7.90 here!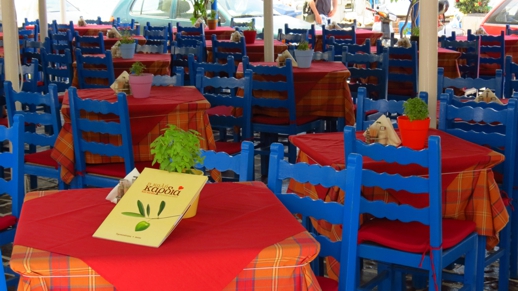 Tables on the outdoor dining terrace at I Kali Kardia taverna on the Naxos Town waterfront. We had an excellent dinner here last October.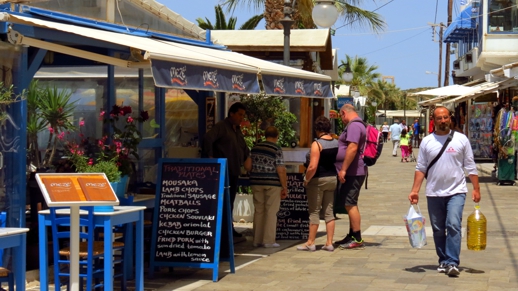 Meze2 taverna on the Naxos Town waterfront promenade
A walk through the Old Market district
To escape the blazing hot sunshine baking the waterfront, we sought shade in the narrow cobblestone lanes of the historic Old Market area of Naxos Town, situated on the hillside below the Naxos Castle. Most shops and restaurants were open here, too, but we didn't encounter many other tourists strolling the streets or browsing in the stores; in fact, the lanes and alleys were practically empty. Everybody must have been at the beaches, taking advantage of today's wonderful weather! There wasn't as much shade on the Old Market streets as we had expected, and we started feeling drained from all our walking in the intense sunshine and heat. So we headed to our usual Naxos Town hangout, Padelis Coffee Shop, to have a coffee before exploring more of the town.
After our coffee break we walked around the town some more. We have explored Naxos Town many times, but never get bored with it because we always discover plenty of new things, or interesting sights we just never noticed before. Eventually we wound up at Plateia Protodikeiou, (the restaurant- and café-lined main square in Naxos Town, where I stopped into the Naxos Travel Agency office to check ferry schedules and prices for service to our next destination, Syros. More wandering eventually brought us to a familiar taverna location where I saw a familiar face — from a restaurant on another island altogether.
We found ourselves standing outside what used to be Yiayiaka's Kitchen, and if you've read my report on Our best food & drink experiences of 2013, you will recall that I praised the Naxian sausages and curried risotto dishes we had enjoyed during a meal at the taverna last October. The premises changed ownership not long after our fall holiday when Maria and Dimitri, the husband and wife team that had run Yiayiaka's, decided to retire from the restaurant business after 29 years. Another husband and wife team, Yiota and Kostas, acquired the premises and opened a brand-new restaurant, Nostimon Hellas, this spring. Yiota was chatting with some lunch customers and I instantly recognized her because she had been a hostess at Avra Restaurant, one of my favourite dining spots on Mykonos (Kostas had been one of Avra's chefs). We had a nice chat with Yiota about her and Kostas's new business venture, and promised we would return another time for dinner — the menu included many Greek dishes we love, and I knew from personal experience that food prepared by an Avra chef would be wonderful.
A  passageway in the Old Market area of Naxos Town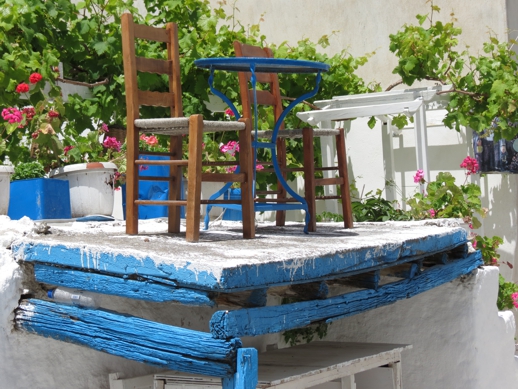 A table and chairs perched on a ledge advertise the location of a flower-filled taverna courtyard in the Old Market district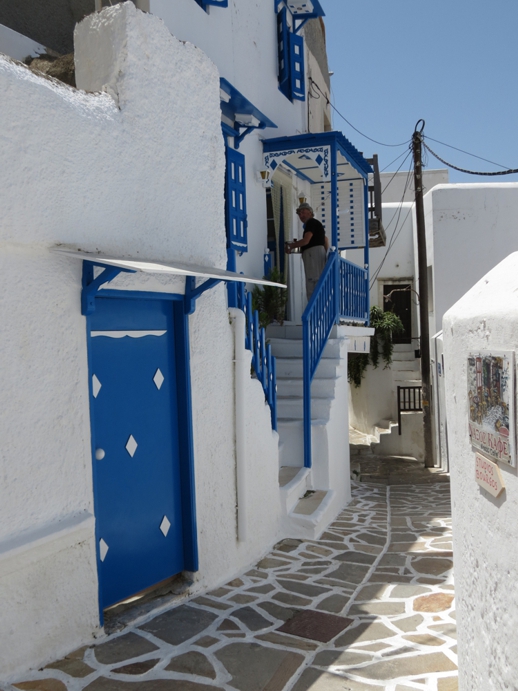 A white house with blue trim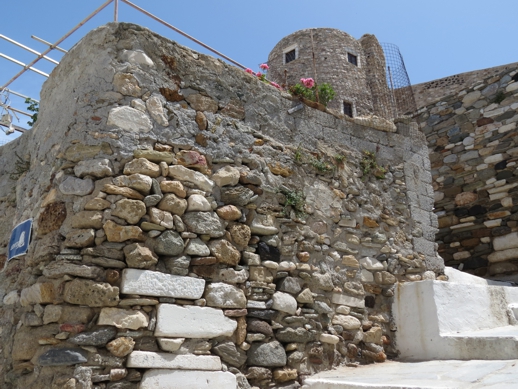 One of the exterior walls of the Naxos Town Castle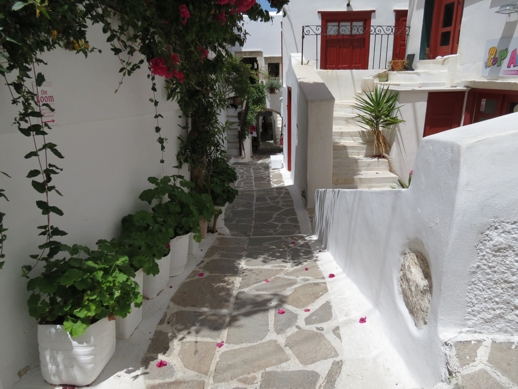 Plant boxes line one side of a lane in the Old Market area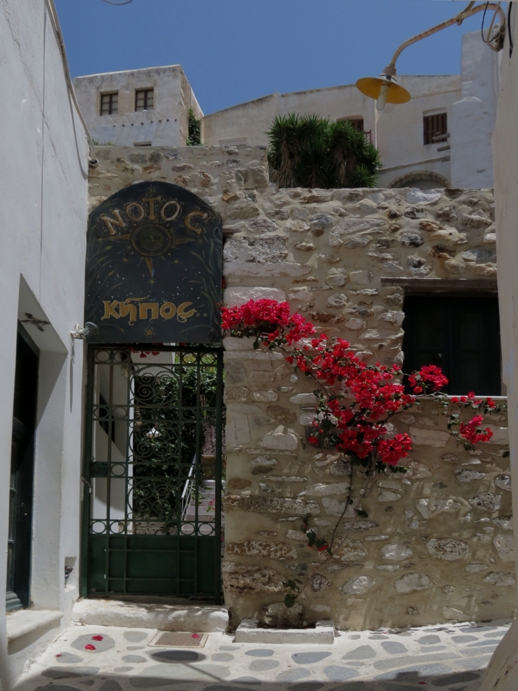 Entrance gate to the garden terrace at Notos Café and bar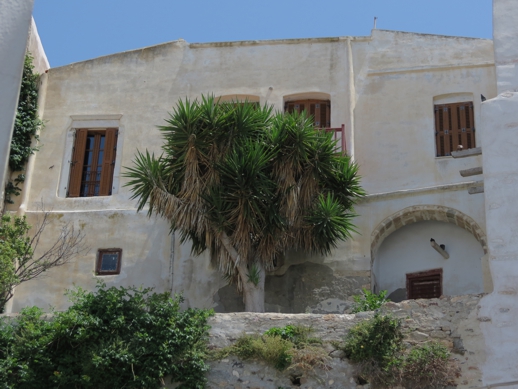 A palm tree outside one of the exterior walls of the Castle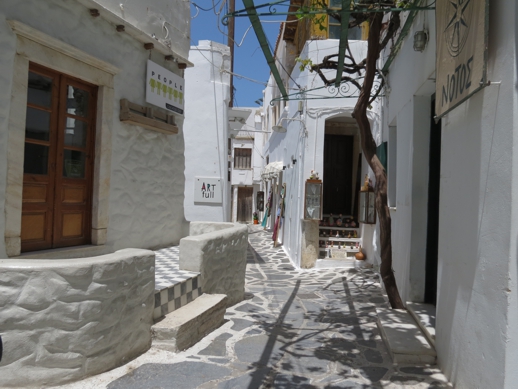 People cocktail bar (left) and Notos Café-bar (right) wouldn't open until evening, but the Art Full art shop (rear) had its locally-made jewellery, handcrafts and artwork on display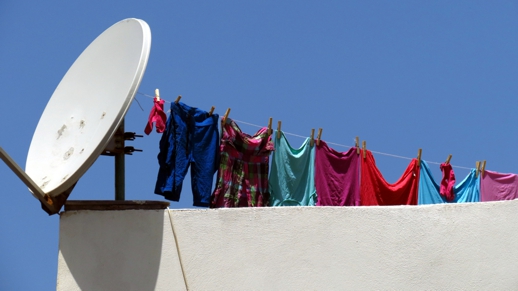 Laundry drying on a roof terrace in the Old Market area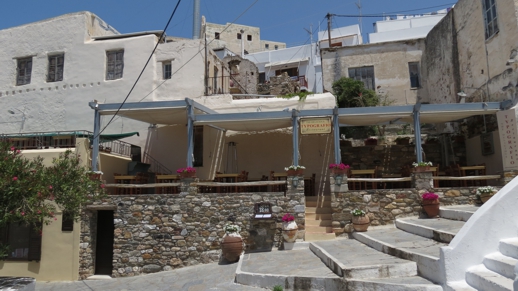 Typografio restaurant on the hillside below the Castle
Bougainvillea and a bakery sign hang above a street below the Castle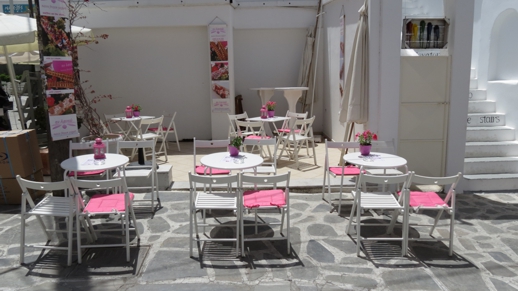 Pink cushions and flower pots provide pops of colour on the terrace of a yogurt shop near the waterfront in Naxos Town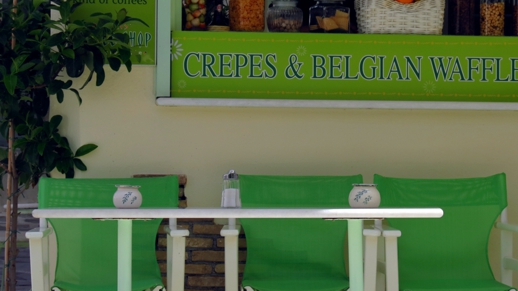 Bright green director chairs make Padelis Coffee Shop easy to find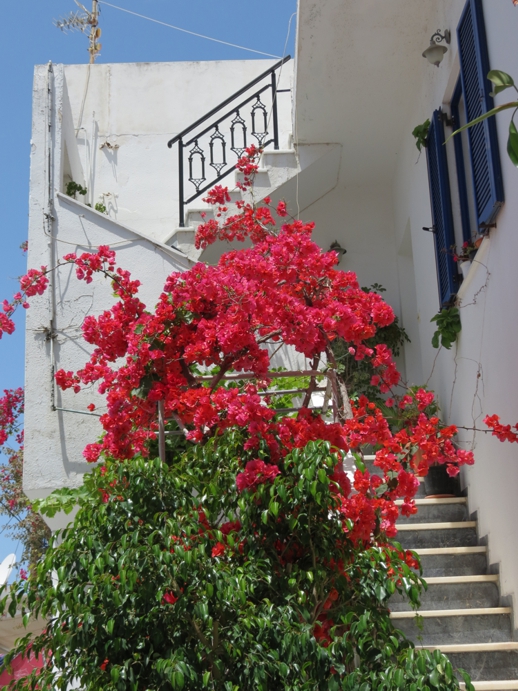 Bougainvillea brightens a staircase in Naxos Town
Pots of geraniums decorate windowsills on a building near the waterfront
 Shopping and another coffee before hitting the road

Following a trip to the big Koutelieris supermarket near the outskirts of Chora to shop for some items we needed, we were just about ready to return to our hotel. Jet lag was catching up with us and we were starting to run out of steam, so our enthusiasm for further sightseeing in Naxos Town was on the wane. I wanted to have one more coffee to perk me up for our long walk to Stelida, so we stopped for one at Heaven's Internet Cafe & Snack Bar. Then we retraced our morning route, walking along St George's beach to the highway and up the hill into Stelida, arriving back at our room around 6 p.m. Although we passed the same sights and scenery along the way, everything had a completely different look and feel since the island was bathed in the warm golden glow of the gradually setting sun. It was a very enjoyable hike back.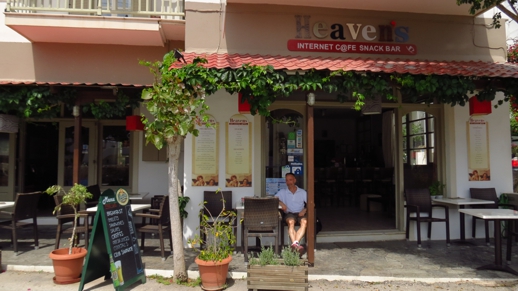 Relaxing with a coffee at Heaven's Internet Café and Snack Bar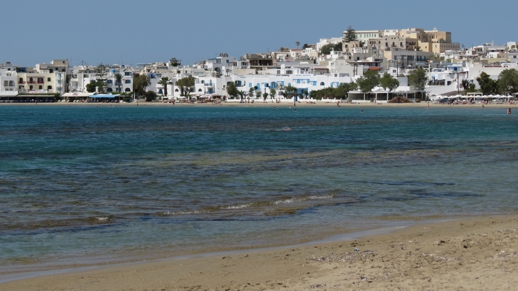 A view of Naxos Town from St George's Beach, as we began making our way back to our hotel after an afternoon of sightseeing in Chora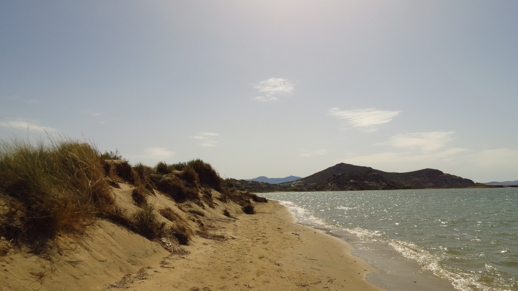 St George's beach late afternoon view of Stelida mountain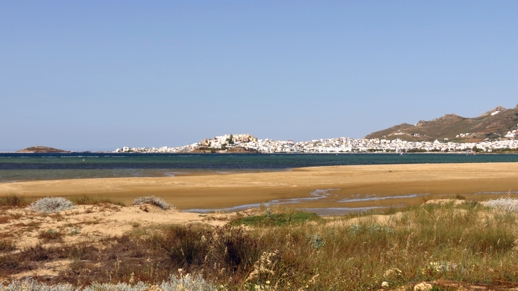 View toward Naxos Town from the south side of St George's Bay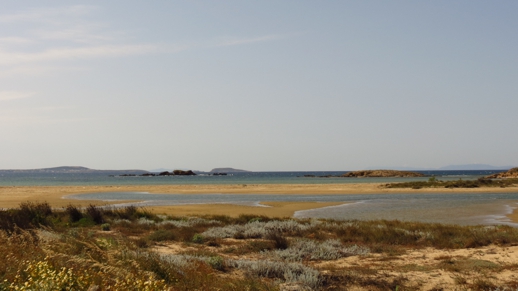 Lagoons at the south end of St George's Bay
Enjoying the panoramic views from our terrace
After so much walking, it felt great to refresh with a cool shower and relax with a glass of wine on our terrace. It was so peaceful sitting there — the only sounds were birds chirping and cows mooing. We sat back and enjoyed the quiet and our incredible views — Naxos hills and mountains in the distance to our left, the west coast beach areas straight ahead, Paros off to our right, the wide expanse of blue sea between Naxos and Iraklia and Ios islands, and wispy clouds in the vast sky. There was so much to look at, we could have gazed at the scenery for hours.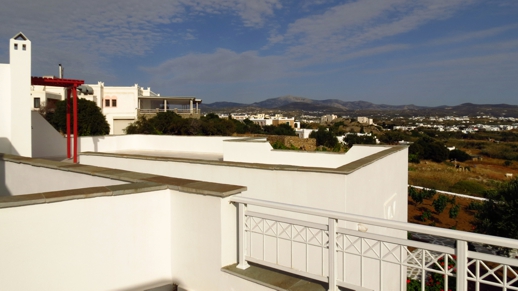 Early evening view from our terrace, looking to the east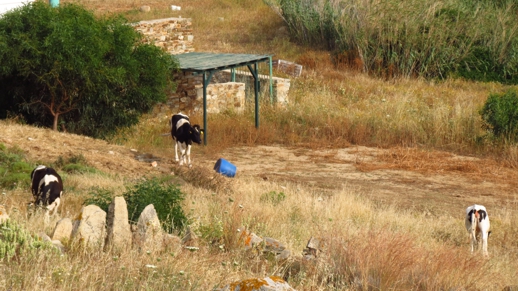 Three cows grazing a field on the hill below our hotel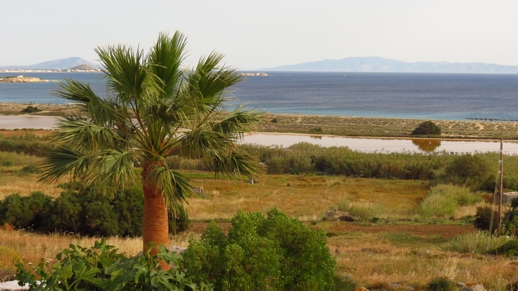 Our terrace view toward the Red Lakes, Agios Prokopios beach and Ios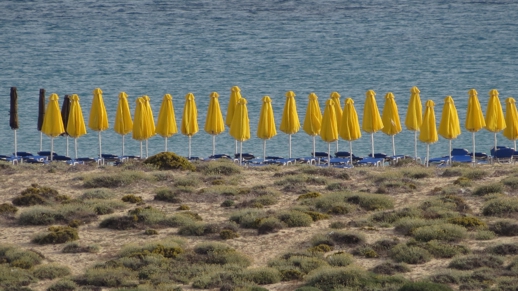 Yellow umbrellas poke above the dunes behind Agios Prokopios beach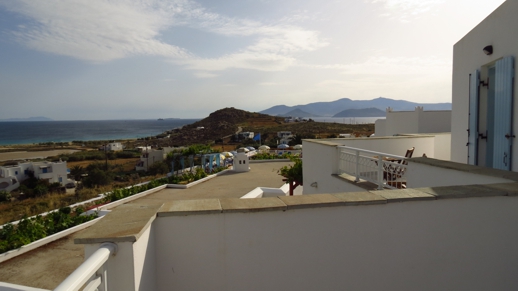 Our terrace view toward Paros island
 Off to dinner down at the beach
With the sunset approaching it was time to head out for dinner, and our plan was to go to Paradiso Taverna at Maragas beach (which we didn't get to yesterday because of the rain).  It would take close to 40 minutes to walk there, so we had to get moving if we wanted to watch the sunset from the restaurant.
Off we went, following a road that winds down the Stelida hillside to the main highway, passing several farms, private houses, rental villas, hotels and studio apartment buildings along the way. It normally takes less than 15 minutes to walk from Lianos Village to the highway (the two roads meet at the Lagos Mare Hotel), but this evening it took about five to 10 minutes longer because much of the route was under construction for waterpipe repairs.  Most of the asphalt pavement had been dug up and replaced with loose sand that had not yet been packed down to prepare for repaving. Trudging across the sandy sections was much like walking on a beach — it slowed our pace, and of course our shoes got filled with sand. Just a minor nuisance, but after a full day of walking our leg muscles were already sore enough and didn't appreciate the extra exertion!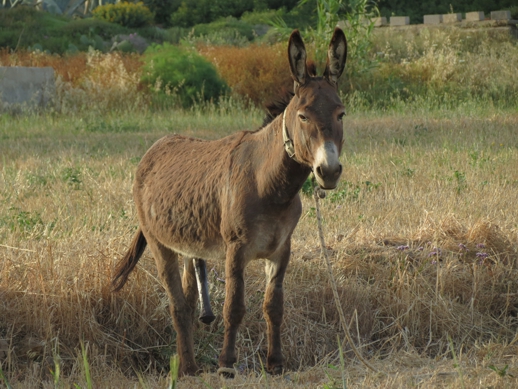 This mule looked extremely happy to see us when we walked by!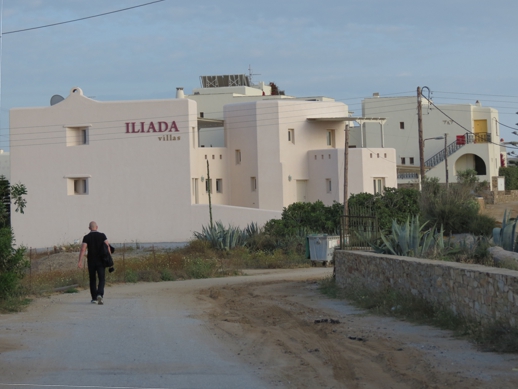 Approaching the Iliada Villas, a complex of 8 separate rental properties that can accommodate 4 to 10 people. The right side of the road running past the villas had been dug up for waterpipe work and had not yet been repaved.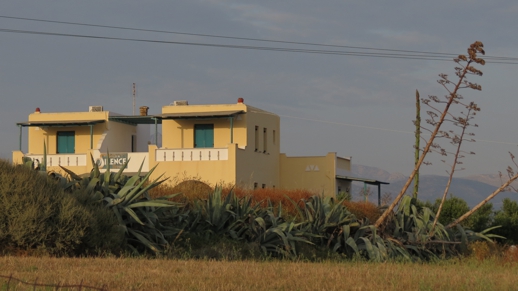 Agave flower stems (also known as Century Plants) rise two storeys tall near the Golden Silence Studios in Stelida. The name for these accommodations seemed totally appropriate this particular evening — the area was quiet, and the building was basking in the warm golden glow of the setting sun.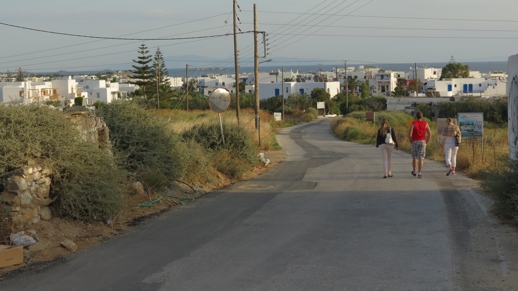 Approaching the Agios Prokopios resort area. I shot this photo from the driveway entrance to Tzivaeri taverna (just past Lagos Mare Hotel and Mitos Suites)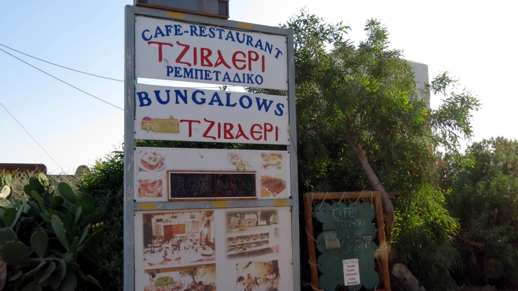 Signs at the driveway entrance to Tzivaeri Taverna and Bungalows. The taverna often features live entertainers performing Greek rembetiko music.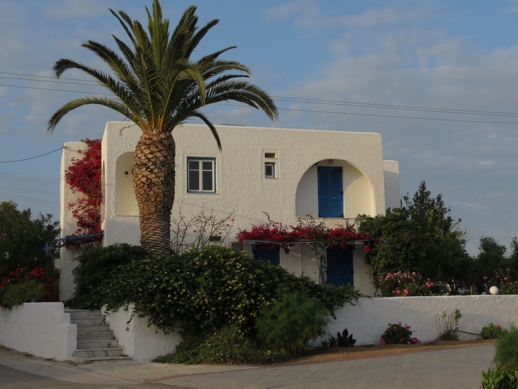 An elegant tall palm tree stands next to a studio apartment building on the main read near the Eko gas station at Agios Prokopios
Watching a wonderful sunset from Fotis Taverna
We were approaching Agia Anna beach just as the sun was starting to set, and realized we wouldn't reach Maragas beach in time to watch the sunset over dinner. It would take us 10 to 15 more minutes to get to Paradiso Taverna from this point, and since our feet and legs were aching enough already, we decided to turn around and eat at Fotis Taverna instead, since it was just around the corner.
I've written about Fotis Taverna several times, including in my Favourite Tavernas: Fotis at Agios Prokopios post on March 26 2012, and more recently in Our best food & drink experiences of 2013, where I praised the Greek salads, chicken souvlaki and aubergine appetizer dip we enjoyed there last year. We have gone to Fotis for at least one dinner every trip to Naxos since the food and service have always been reliably good, and because we enjoy sitting at one of their sunset-view outdoor tables.
This time we noticed some changes. There were now two extra tables on the roadside (we took seats at the one on the end closest to Agios Prokopios beach), and neither Fotis nor his wife were anywhere in sight. Instead, their daughter and a woman we'd never seen before were waiting on tables. The place also had a lot more customers than we had seen there in recent years.
(It turned out Fotis was there — he was busy in the kitchen, tending the grill, and when his daughter told him we'd been asking about him, he stepped over to the doorway to welcome us with a "hello" and friendly wave.  The woman helping his daughter is a Belgian who has been visiting Naxos for years, and living there for the past 18 months. Fotis hired her to help out for the summer — a smart move, considering the taverna is so much busier this season.)
We ordered our usual favourites, the eggplant dip (it's called aubergine salad on the menu) and Greek salad, but were dismayed to hear there was no more souvlaki. The taverna had been busy all day and had run out of the souvlaki and other grilled meat dishes, and only had some fish and seafood items available. We didn't feel like eating fish, but when Fotis's daughter said she had made moussaka, we ordered that. We sipped some wine and shot photos of the striking sunset while waiting for our food.
A view down Agia Anna beach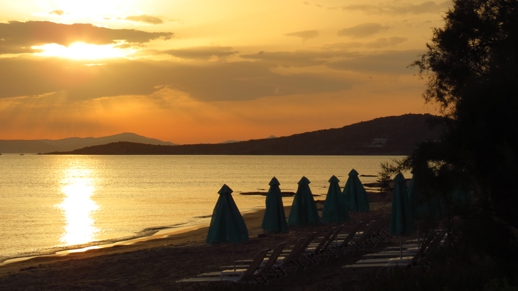 A sunset view from the north end of Agia Anna beach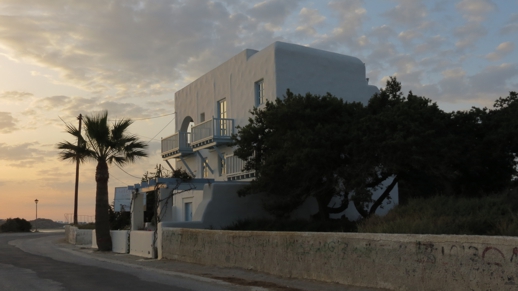 A palm tree beside a studio apartment building on the road between Agia Anna and Agios Prokopios beaches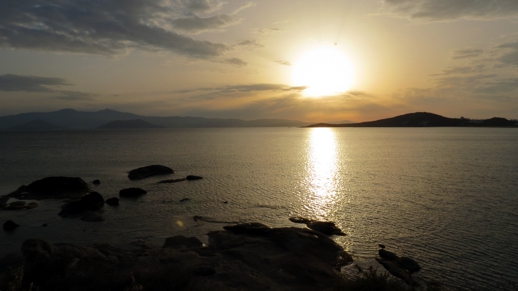 Sunset view from the shoreline near Fotis Taverna at Agios Prokopios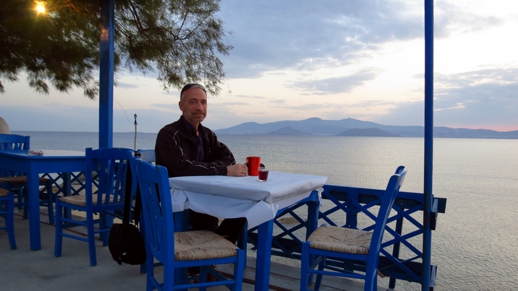 Enjoying a glass of wine at one of Fotis Taverna's seaview tables. That's Paros island behind me.
Clouds curve high above Cape Agios Prokopios as the sun dips low in the sky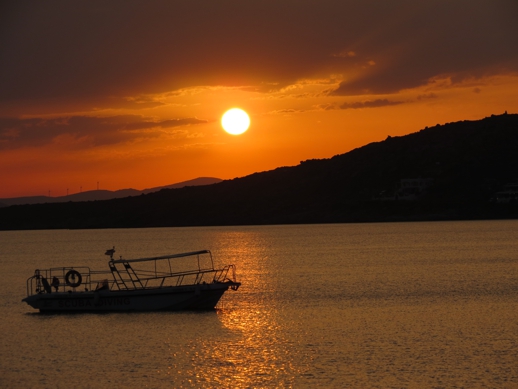 The setting sun casts a golden glow across the prow of the Blue Fin Divers speedboat anchored in the sea off Agios Prokopios beach
One final uphill walk to end the day
We enjoyed our meal, but should have ordered a serving of the delicious moussaka for each of us — one portion wasn't quite big enough to satisfy two hungry adults (when in Greece we always order items to share, as the Greeks do, rather than ordering a main dish for each of us). We considered asking for another portion, but were feeling too tired to spend more time at the restaurant. We paid our bill (€17) and started our 25-minute return trek to the hotel. By the time we reached our room, the jet lag and hiking had taken its toll and we couldn't stay awake any longer. It had been a great day and we had seen a lot, so we didn't regret calling it an early night.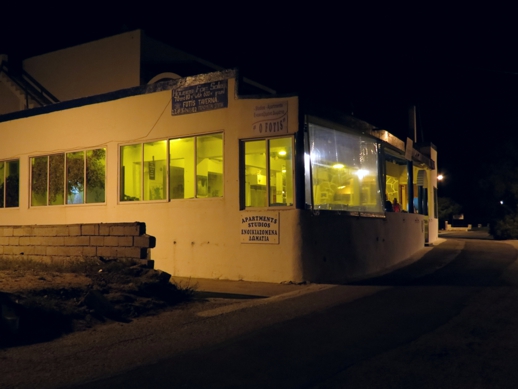 Night-time street view of Fotis Taverna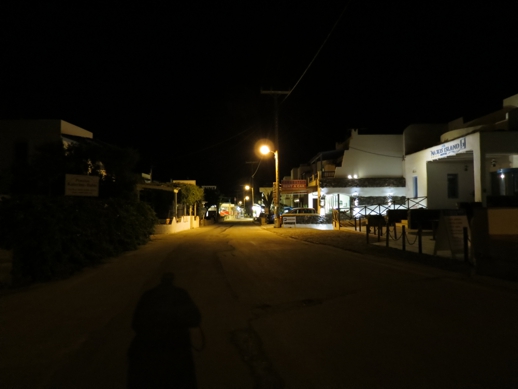 Not a soul in sight on the road in front of the Naxos Island Hotel (right), which wasn't yet opened for the summer.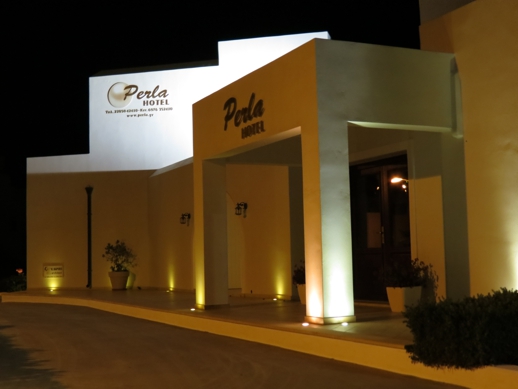 Driveway entrance to the Perla Hotel at Agios Prokopios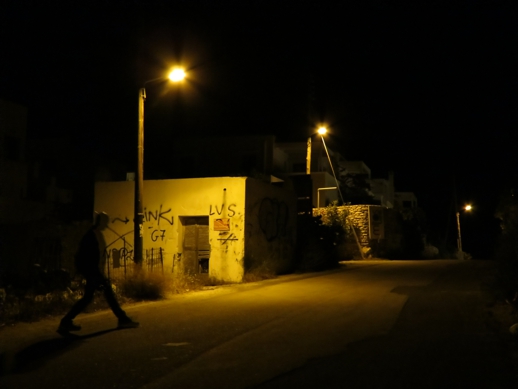 Walking up the eerily quiet road from Agios Prokopios to Stelida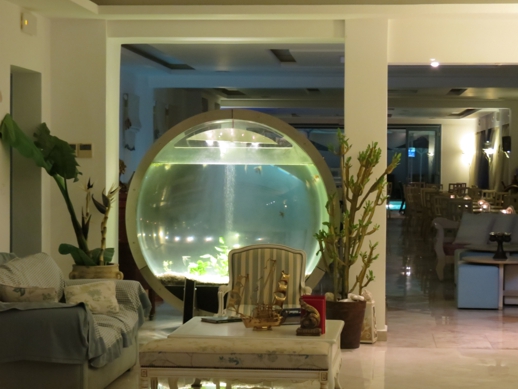 We took a quick peek into the lobby of the Lagos Mare Hotel when we passed by … the big round aquarium caught our attention from the street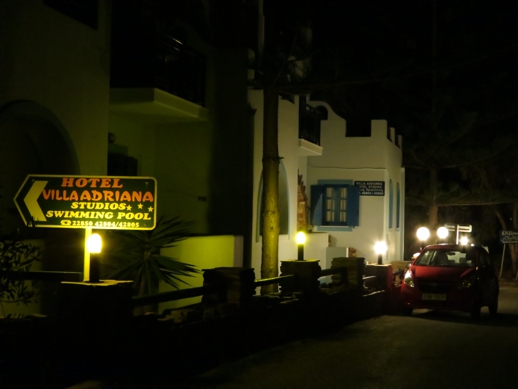 The Villa Adriana is one several hotels we pass on the road from Stelida to Agios Prokopios. There's several studio apartments and pensions along the way, too.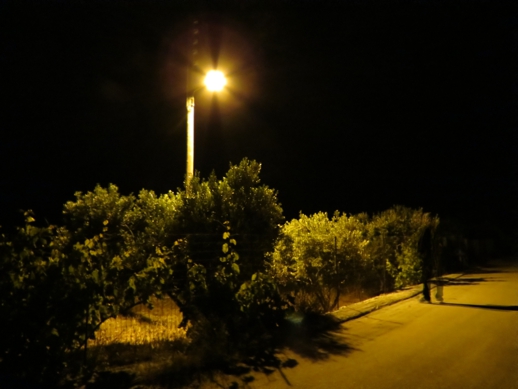 A streetlight illuminates olive trees on a farm near the Hotel Villa Adriana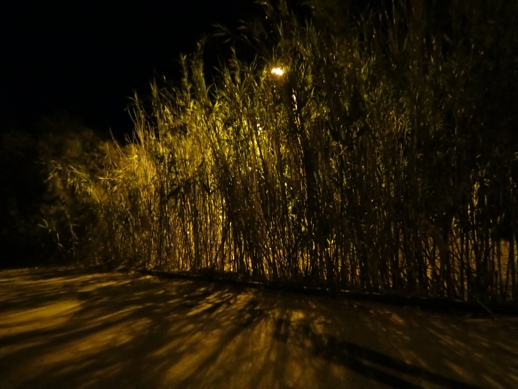 A streetlight behind a row of tall bamboo casts shadows across the road. The lighting, shadows and sound of the bamboo stalks rustling in the breeze created a spooky atmosphere along this section of the road. It looked and felt like a scene from a Hollywood horror movie!
 [Editor's Note: Full-size versions of all the photos in this post can be viewed in the Naxos May 20 2014 album on the MyGreeceTravelBlog Flickr page.]