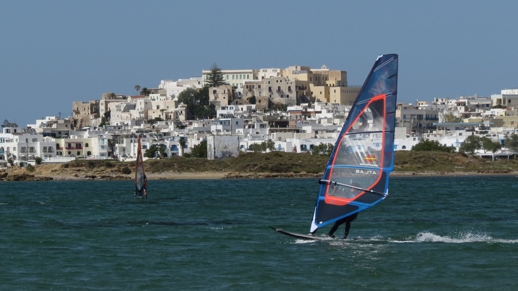 A windsurfer skims across St George's Bay near Naxos Town
Bigger album:  Just wanted to advise that more photos have been added to the Naxos May 20 2014 Flickr album that accompanies Part 2 of my holiday trip report, which I recently posted on the blog.
More than 90 additional photos have been uploaded to the album, which you can view by clicking here.
I'm currently putting Part 3 of the trip report together and hope to publish it later this week.
If you want to see more of Naxos in the meantime, click here for instant access to the Naxos photo collection on the MyGreeceTravelBlog Flickr page. The collection features thousands of pictures from our two Naxos holidays in 2013 as well as previous visits to the island, and also includes photos of the various hotels at which we have stayed.
Further information about Naxos is just a click away in one of my most widely-read posts: Our Top 15 reasons to visit Naxos