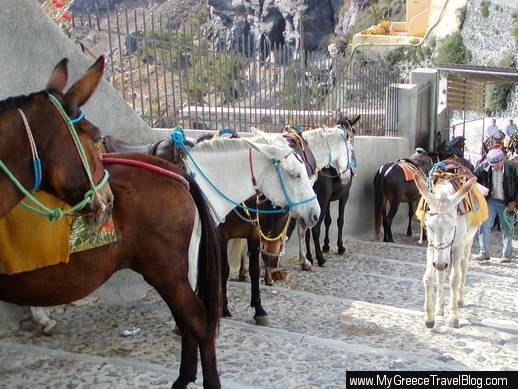 Some of the mules used to transport tourists up and down hundreds of steps between the cruiseship tender dock and Fira, the main town on Santorini
Animal abuse: An international online petition is urging local authorities on Santorini to make significant improvements to the welfare and working conditions of dozens of mules and donkeys that are forced to repeatedly carry tourists up and down hundreds of steps on the island every day, often without adequate water, shade and rest.
The petition is the latest in a series of efforts The Donkey Sanctuary has undertaken during the past 8 years as part of an ongoing campaign to reduce and prevent abuse and cruelty toward donkeys and mules on Santorini, one of the most popular tourist destinations in Greece.
I described The Donkey Sanctuary's earlier initiatives in my April 12 2013 post, Don't ride the donkeys! Why tourists should avoid taking the mule 'taxis' on Santorini, which has since become the most-read report on my website. (Please click on the link to see the article and photos if you aren't already aware of the Santorini donkey situation.)
Animals are denied access to shade, water & rest for long periods
The Donkey Sanctuary decided to launch the latest course of action after an independent report produced in 2013 "revealed that many of these animals are forced to carry overweight passengers and are denied access to shade, water and rest for hours at a time. Poor quality saddles and bridles are often used and safety guidelines are regularly ignored, placing tourists at risk of injury. "
"Over the past few years we have attempted to work with the town municipality to provide training and equipment for the taxi operators although unfortunately, the standards have not been maintained and the level of complaints has risen yet again," The Sanctuary explains on its website.
The petition calls for a number of "urgent improvements" to the welfare of Santorini's mule taxis, including provision of adequate shelter and shade, access to fresh water, predetermined weight limits for passengers, and regular veterinary and tack inspections, among others.
Names collected on the petition "will be presented to the mayor of Santorini as part of our campaign to improve standards for donkeys and mules working in the tourism industry," The Sanctuary says.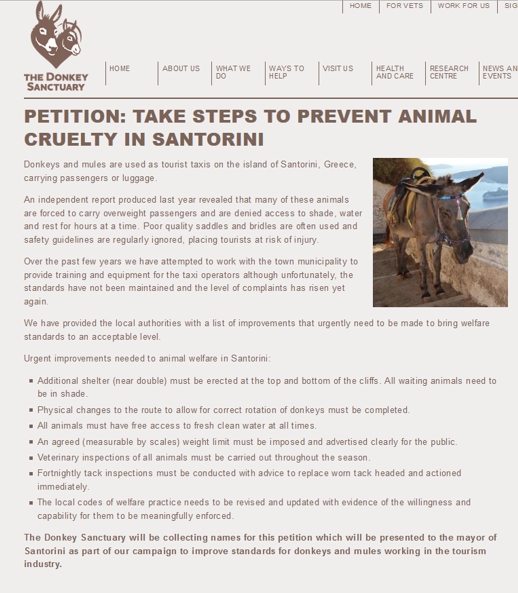 A screen capture of The Donkey Sanctuary website post explaining reasons for its petition to prevent cruelty to mules and donkeys in Santorini