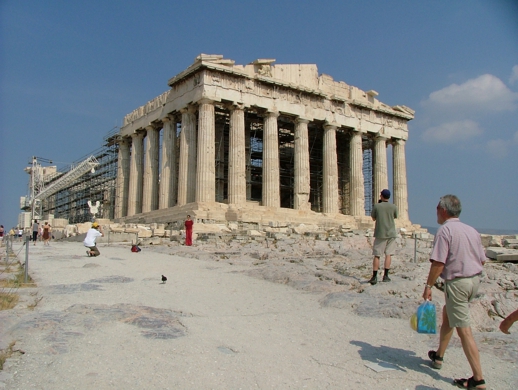 Crowds were so sparse the first time we visited the Acropolis in Athens (on the afternoon of Friday June 11 2004, to be precise) …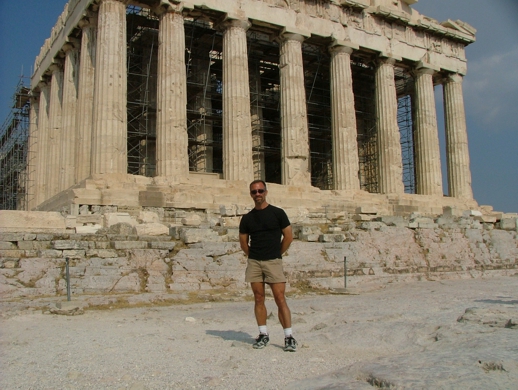 … that we were able to get this shot of me standing in front of the Parthenon — with nobody else in sight!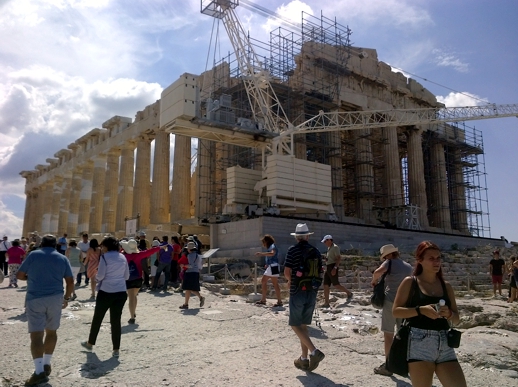 However, it was impossible to get photos of the Parthenon without any other people around during our return visit to the Acropolis on Sunday June 1 2014
No all-by-my-selfies possible: We practically had the Acropolis and the Parthenon all to ourselves when we visited the historic Athens monuments for the first time late on the afternoon of Friday June 11 2004. Even though it was only two months before the opening of the Athens Summer Olympics, the site — one of the most famous tourist attractions in the entire world — wasn't crowded. In fact, Dan managed to take a photo of me standing by myself in front of the Parthenon — with nobody else around.
There was no chance of getting another photo like that when went back to the Acropolis for a repeat visit two weeks ago. It was late in the morning on a Sunday this time (June 1), and we were among hundreds of people who kept jockeying for prime positions to get the perfect Parthenon picture. With huge throngs of tourists all around, including some guided groups with dozens of participants apiece, there was absolutely no way to take a frontal photo of the Parthenon without getting a bunch of people in the shot. Or without getting constantly jostled and bumped while making a valiant attempt.
34% increase in foreign tourists to Athens
We shouldn't have been surprised to find the Acopolis so busy — tourism in Greece is booming this year. In fact, statistics reported by the Association of Greek Tourism Enterprises (SETE) show that 500,000 more foreign visitors arrived in Greece during the first five months of this year than during the same period last year — an increase of nearly 21%.  Specifically for Athens, the number of foreign visitors surged by a whopping 34% between January and May (compared to 2013), and rose by nearly 31% in May alone.
SETE expects that Greece will reach its target of 19 million international visitors for 2014 — a tourism record for the country.
Based on the number of tourists we saw wandering around Athens during the weekend of May 30 to June 2, I'm certain Greece will set that record.
Below is a brief videoclip I shot showing a few of the tourists who were visiting the Acropolis at the same time as us on June 1. Notice that almost everyone is moving briskly — no doubt to quickly find the perfect place to take selfies with the Parthenon in the background!
Tourists at the Athens Acropolis on June 1