A special edition of Greece Is Magazine profiles events and activities in Athens during winter 2022-2023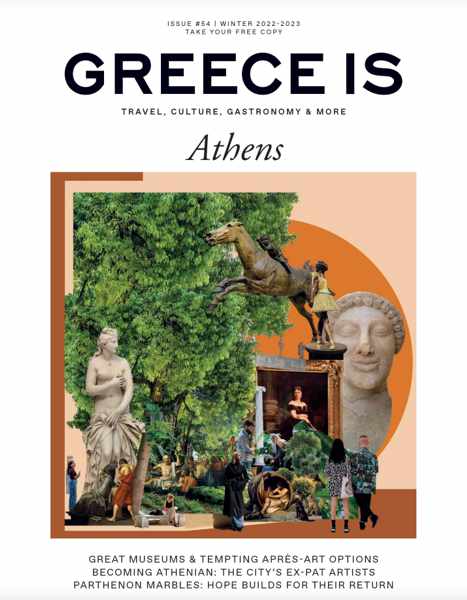 The cover of the Athens edition of Greece Is magazine for Winter 2022-2023
Winter wonders: The latest Athens issue of Greece Is magazine sure would have come in handy during a recent Christmas party conversation about winter travel plans. After friends and acquaintances described their upcoming trips to Florida, Australia, Mexico and the Caribbean, everyone looked perplexed when I said that I wished I could visit Athens. "But isn't everything there closed down?" one of my acquaintances asked. Similar questions by others in the group suggested they, too, think Greece is only a summer beach destination. 
Like many people, they just don't realize that, even during the cooler months of off-season, the capital of Greece is always brimming with engaging arts and culture events, and fun food, drink and entertainment activities.
Why wouldn't it be? It's a major international city, after all, and its 3 million residents don't go into hibernation until Greek Easter. They like to get out and about to experience their city's cultural attractions and events, and there are plenty of those to enjoy throughout the winter months — as the Athens Winter 2022-2023 special edition of Greece Is magazine points out.
Released in early December, the 148-page issue includes:
♦ A spotlight on things to see and do in Athens — both indoors and out — on mild winter days
♦ Photos and information about visiting the Makrigianni site — the ancient streets beneath the Acropolis Museum
♦ "Art & the City," a look at local hangouts for food, drinks and shopping in the neighbourhoods near the city's major museums and art galleries
♦  "At the museum with the kids," an article that highlights "tailored programs and tours" geared specifically for children — a must-read for families travelling to Athens
♦ In "Dining Out: Then & Now," writer Christos Chomenidis "connects the past with the present" as he describes visits to five noteworthy restaurants that each have "their own story to tell." 
♦ "Finding philosophy among the ruins," a piece that traces the "ancient Greek philosophers' favourite haunts in and around the Athenian Agora"
♦ "Dreaming of the blue skies of Attica," an essay that considers "why the return of the Parthenon Sculptures is a democratic imperative," and much more.
If you're planning a winter trip to Athens, or simply wondering if it's worthwhile to visit at this time of year, have a look through the magazine. You'll find lots of helpful information and great suggestions for places to visit and things to do — more than enough to keep you entertained and enthralled.
Print copies of the Athens issue are available from the Greece Is e-shop, while the online edition can be viewed, read, shared and even downloaded from this link on Issuu.com.