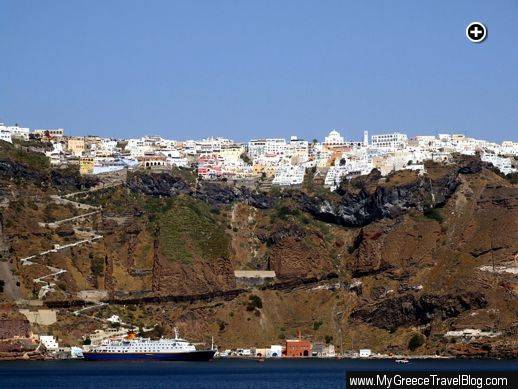 Cruise ships that visit Santorini drop anchor in the sea below the capital town of Fira and tender passengers to shore. From there, visitors reach Fira either by walking approximately 600 steps up the path (left) that zig-zags up the face of the 800-foot cliff  …
… by paying several Euros for the 3-minute ride up the cable car lift …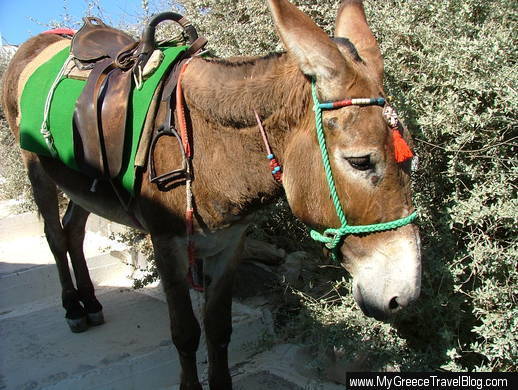 … or by riding a donkey like this one, which we encountered in Firostefani village during one of our three visits to Santorini. The donkey rides, which cost around €5, are a transport option that local mule owners provided for years before the cable car was installed. But animal welfare groups and even some cruise lines strongly urge travellers not to take the donkey "taxis" because the animals toil in poor working conditions and have been subjected to abuse and mistreatment by their handlers.
Ass transit:   Now that it's spring, tens of thousands of people around the world are finalizing their plans for holidays in Greece this summer. Many will be travelling on cruise ships that will visit several Greek Islands, including what is probably the most popular port stop of all — Santorini.  Hundreds of those people may be hoping to make their arrival at Santorini even more memorable and "romantic" by taking what they believe will be a "traditional" donkey ride up the long path that links the cruise ship dock with the town of Fira, the island's capital, which is perched atop the caldera cliffs hundreds of feet above the sea. Here's a simple word of advice if you're thinking about doing the same thing: don't.
Though the donkeys might look "cute," and the rides might appear to be a harmless and fun tourist attraction, travellers who use the mules as transportation actually contribute to animal abuse, according to animal welfare organizations and frequent visitors to the island who have personally witnessed handlers mistreating their donkeys.
The abuse takes several forms. The roughly 360 donkeys and mules that work as tourist "taxis" on the island are forced to climb up and back down a pathway with around 600 steep steps, making as many as seven trips a day between 9 o'clock in the morning and sunset. Often, the animals are required to carry tourists who, putting it bluntly, are obese and may weigh considerably more than the donkeys themselves.  And the mules must do this exhausting, gruelling work in blazing sunshine and searing summer heat, often with unsatisfactory food, water and rest periods, plus few if any breaks in the shade. To add insult to injury, they may be wearing ill-fitting harnesses that inflict cuts and sores on their bodies, while their owners or handlers may frequently strike them with sticks to make them move or hurry up. In short, they toil under cruel and deplorable working conditions.
CONTINUED ON PAGE 2